I was recently approached by a fellow Gunivore about finding the right holster for his new Sig Sauer P365. After much back and forth, KP and I decided that it wasn't an easy task to pick just one holster that was the best. People carry in different climates, for different purposes, with different body shapes, etc, which means that holsters should be tailored to the individual. KP took this idea as a challenge and went hunting for the best P365 holsters on the market. We welcome you to our journey to find the best way to carry your Sig Sauer.
How To Pick A Holster for Sig P365
While Sig Sauer proudly manufactures the "#1 selling handgun in America", the P365 comes in a variety of shapes and features. Although the original was a micro-compact model designed for EDC, there are currently 4 models each rather impressive and different.

The first thing to consider is where you want to carry your firearm. Between ankles, shoulders, appendix, and more, there are many places to conceal carry a P365. On the other hand, there are also great options for open carrying with outside the waistband holsters.
The next factor to consider is the material. Some folks like modern polymers like Kydex while others prefer a more traditional leather holster. Then there are folks who stick to a simple nylon holster, especially for pocket carrying. Either way, there are great options out there for this firearm – It's up to you to pick the right one for your specific needs.
Most Comfortable Sig P365 Holster
I must admit that I am a huge fan of AlienGear Holsters and their new ShapeShift Appendix Carry Holster is simply fantastic. This is remarkably well-designed to offer top-notch comfort, concealability, and tactical advantage. This holster is custom-moulded to fit the P365 so it sits tight but draws smoothly. Additionally, they included a "CoolVent" neoprene back layer to keep sweat and moisture out while providing sufficient padding. Like most other AlienGear holsters, these have fully adjustable passive retention so users can get a custom-feel with their holster. I hate to say it, but I'm a total AlienGear Fanboy.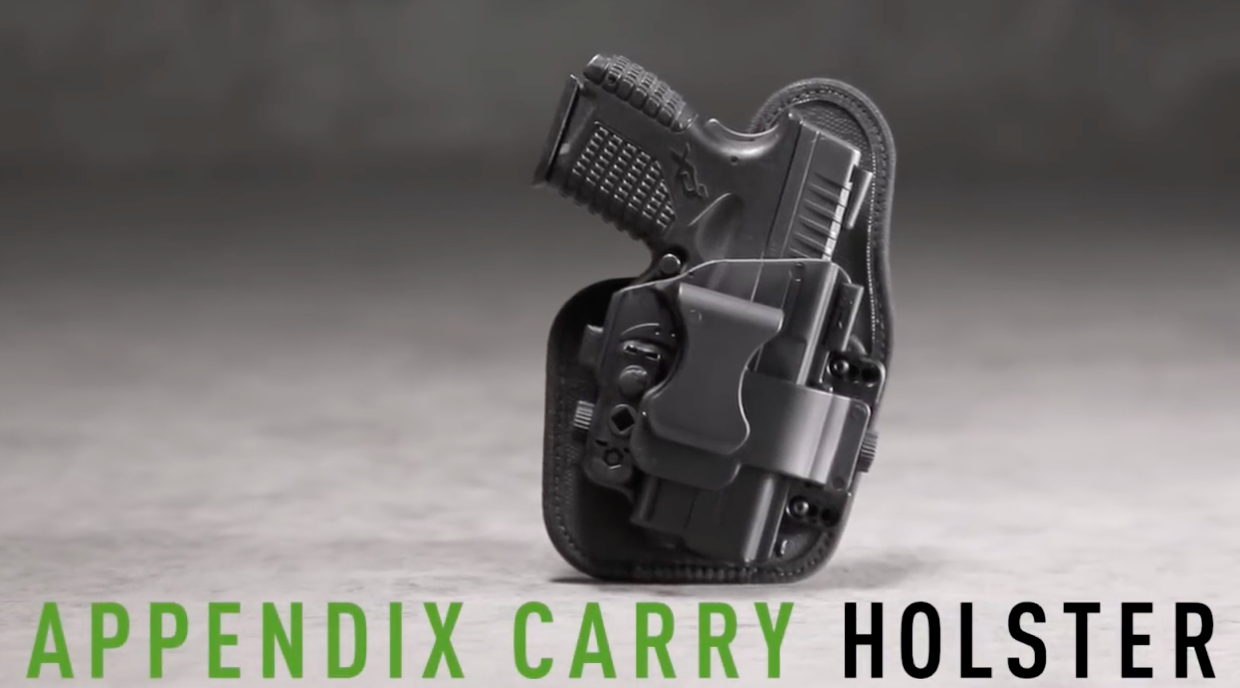 Best Sig P365 IWB Holster
For my Sig P365, I purchased a few holsters over time. I wanted to see which material worked and felt the best for IWB appendix carry. First I bought a kydex. It took awhile to find what I wanted because I'm picky. When you carry IWB, the entire pistol is compressed between your body and whatever pants you're wearing. I wanted a holster that would keep the magazine release button from being compressed and pushed. The last thing I need is to draw the pistol only to have the magazine fall out of the gun. After some research I found Clinger Kydex holsters.
I like their product and I think I would carry with it every day theoretically. The pistol clicks into place and sure enough, the magazine release button is covered and secured. That's a good feeling. Kydex is thin too, so it doesn't add much to the waistline. The only thing I don't care for is that there is no "give" with kydex. When you bend at the waist, kydex is solid, and that can be uncomfortable.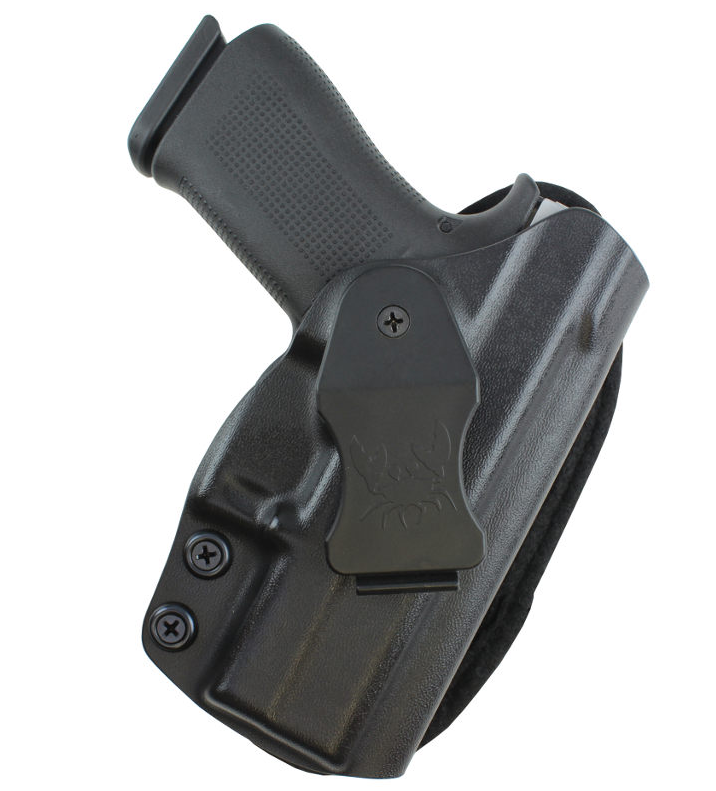 Next, I thought I would try a leather holster. Based solely on their great reviews, I bought a Jeffrey Custom Leather made for the P365. Before I gave them my credit card numbers, I emailed them asking if they could custom build a holster that would cover and secure the magazine release (I'm big on this point) and they gave me a very good explanation as to why they couldn't do it. They said leather has too much flex and it would likely compress the button at all times especially during IWB carry.
Fair enough. I bought it anyway.
I do like the holster and it's well-made. The sewing is top-notch as are the ends. The belt clip is secure and it's a very well made holster overall. It's smaller overall than the kydex although the walls of the leather are thicker. The price tag certainly made sense after I carried with it for awhile. It carries quite comfortably and was gorgeous. No real complaints on my part.
Next I thought I'd see what kind of nylon holsters were available. I have always been reluctant to buy a nylon holster because they aren't usually fitted for specific guns. Well, I wanted one that was pistol specific. So, with that in mind, I called Craft Holsters which handles the Falco brand. Craft assured me that the Falco is "formed for the P365". So, I thought I would try it out. Falco holsters are made in Slovenia. No big deal to me. Well I made the mistake of opting for the cheapest shipping method. Holy crap, it took a solid month from the email notification of the shipping date until it showed up in my mailbox.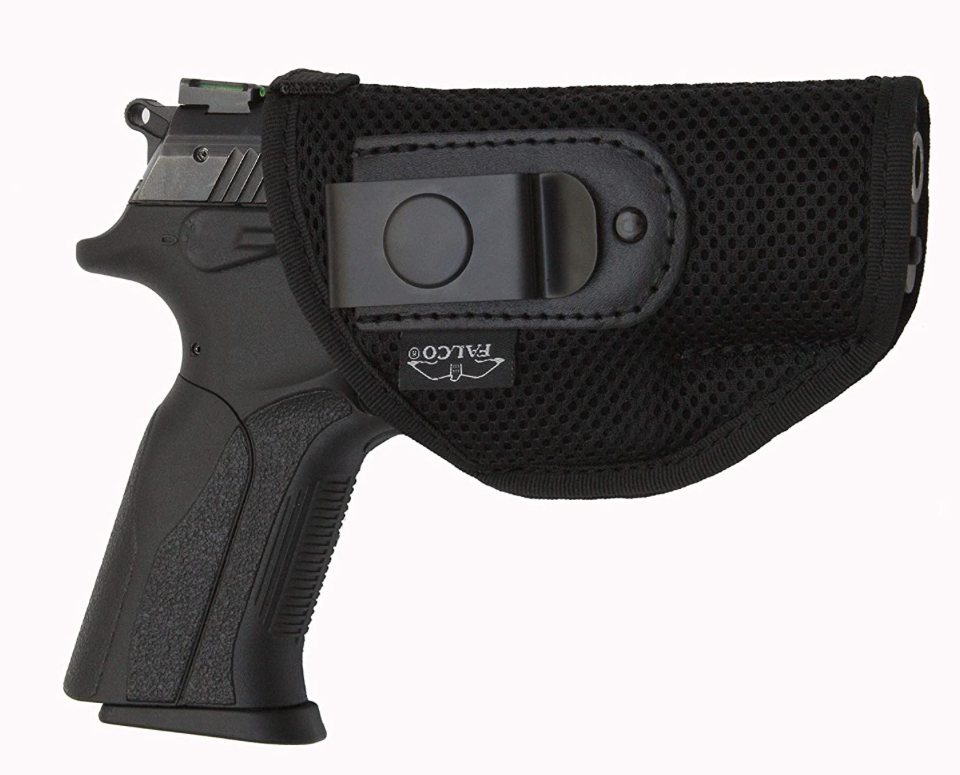 The cardboard box was unscathed as was the holster so I can't really complain too much but man was that a long time to wait. The holster is well made as far as nylon goes. The sewing is well done with no frayed ends. The clip is solid, secured in place using a nicely cut piece of leather. I must say though that this holster is not formed in any way to fit the 365. There are no contours for the trigger guard. No real contours at all for that matter. It's just cut so that the pistol fits into it.
As to which one I favor? Right now I tend to carry using the kydex. You really can't beat the safety and security of the pistol clicking into place. Also, I don't have to worry at all about scratches and marks on it. In fact, I could truly care less about the abuse factor because I know the kydex is tough enough to take it. All that being said, I'm going to give all three holsters a fair chance especially this coming summer. Like anybody else, I tend to wear shorts and t-shirt in the summer so I will see how they compare then.
Best Sig P365 Holster OWB Holster
Because OWB holsters are typically more comfortable than IWB, many people consider appearance to be more important than comfort. Nevertheless, functionality is still key with these holsters so it's all about finding that sweet spot.
As you know by now, I'm a big fan of AlienGear, so I think it's worth considering their Cloak Side OWB holster. While it may look simple, the hybrid holster is actually noticeably comfortable to carry and utilizes a leather back with a polymer plastic custom-molded cover. I like that it provides a slim profile with excellent drawing but I will admit that it's not the prettiest on the block.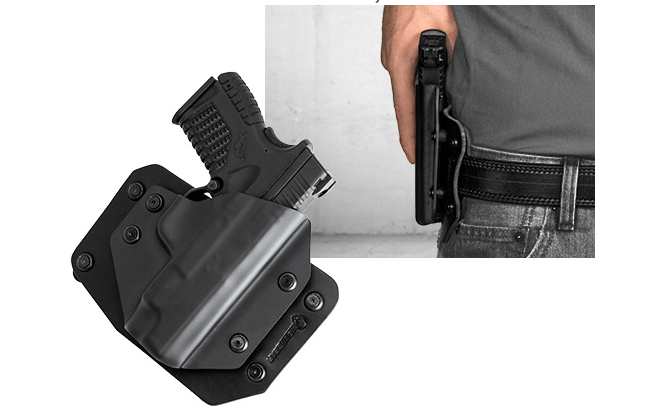 For those looking for a nice leather holster then you gotta check out Mitch Rosen and their stunning collection of holsters. A lot of folks like the leather OWB holsters from Crossbreed but I just don't love their leather holsters. However, they do have a nice hybrid holster called the SnapSlide that is comfortable, affordable, looks okay, and does fit the P365 well.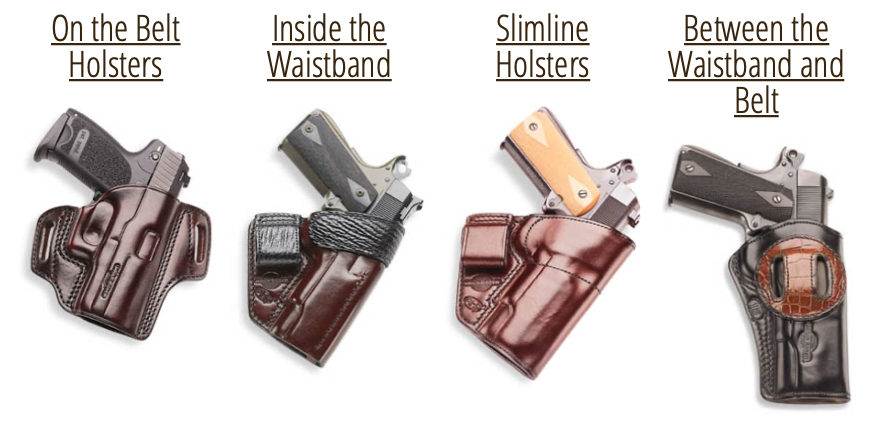 While many people choose OWB holsters to open carry, plenty of shooters prefer these even for concealed carrying. That being the case, it's not easy to conceal an OWB firearm but the Bravo Concealment P365 OWB holsters does a good job. It's got a slim profile with options for paddle attachments and pancake style loops. These are average quality holsters but they're affordable and get the job done.
Lastly, for those willing to go outside the box a little bit, there is the CYTAC OWB holster custom-molded for the 365. This is a more distinct looking holster but it's super comfortable and has great features. For instance, they have a built-in locking mechanism that won't unlock the weapon until the release is pressed while drawing. Additionally, the fully-adjustable design offers 360-degree cant rotation and works with or without a belt. Not to mention it's made with an advanced polymer that's lightweight, highly durable, and water-resistant.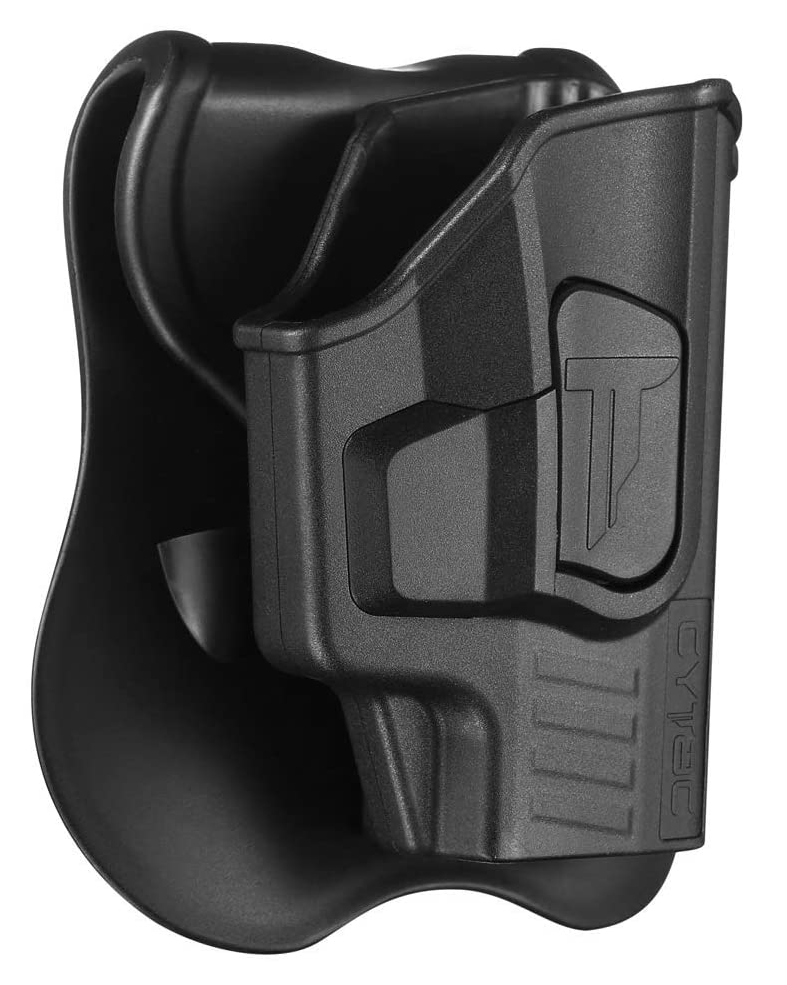 Best Sig P365 Pocket Holster
There aren't a tremendous amount of pocket holsters available for the P365 but the Desantis Nemesis is one of the best. Like many pocket holsters, this is nylon-heavy which keeps the price down. However, it doesn't feel as cheap as it looks thanks to a rubberized exterior and leather construction. The best thing about the Nemesis is that it can be carried in confidence since it barely moves out of position. As a nice added touch, the simple design breaks up the outline of the firearm for added conceivability.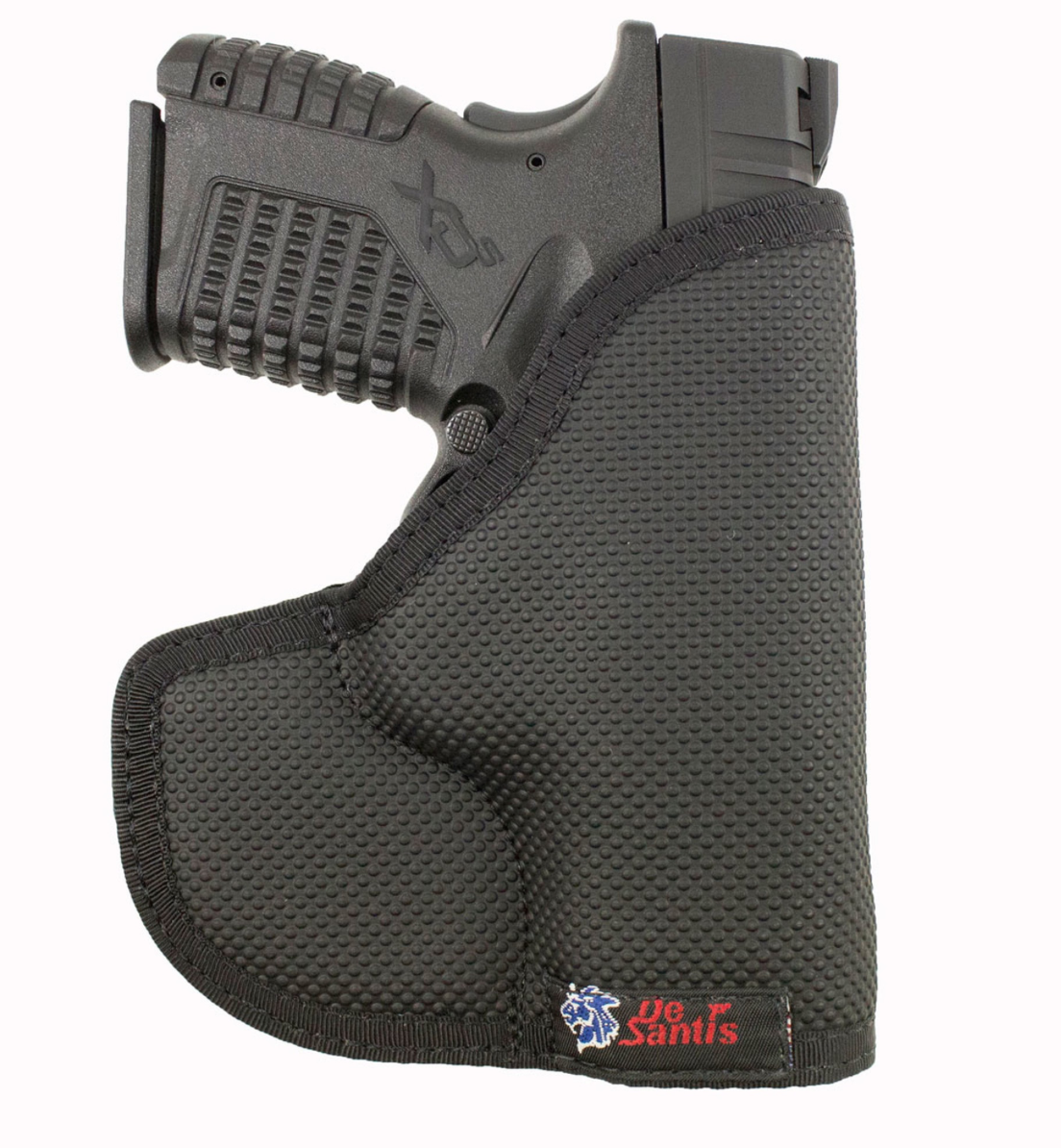 You can also go for something a bit different and check out the Talon Concealed Carry Cargo Pocket Leather Holster which is ideal for rear pocket carrying. Wallet holsters aren't so popular but they certainly can be useful in the right situation. I liked the Talon high-quality leather material and no imprint design. It wasn't easy to draw but it was good for comfortably carrying throughout the day.
For something a bit more polarizing, consider the Black Scorpion Ambidextrous pocket holster. This neoprene synthetic holster can be yours for under $10 but it's better than you'd expect. It sits comfortably in your pocket and actually has a great draw. The soft lightweight material makes it easy to pull out the firearm while an anti-slip band works well to keep the holster in place. This holster obviously isn't for everyone, but it's a great affordable option that works well with the P365.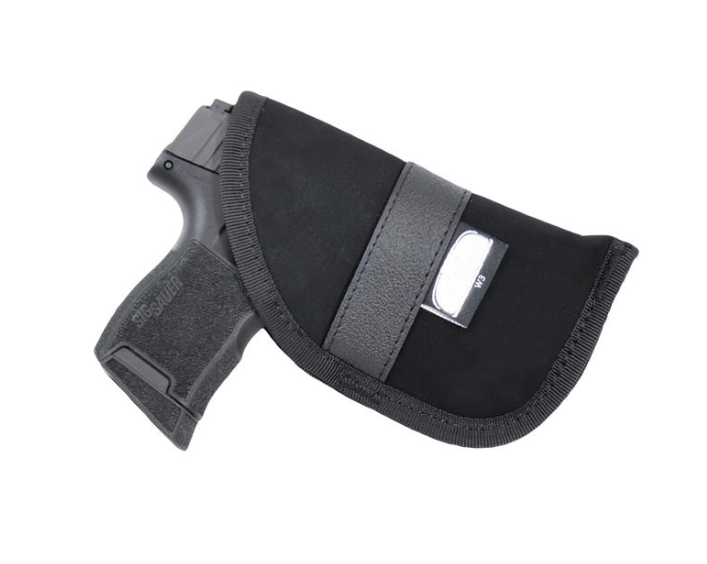 Best Sig P365 XL Holster
The Sig Sauer P365 XL has a slightly larger grip module than the standard model but it's still a solid EDC firearm. I think Sig made this variant simply because the P365 was almost too small for many concealed carry shooters. In practice, it does have new features, but it's basically just a bigger version of the original model. Assuming you don't take advantage of the added accessory options, there are several excellent holsters to choose from.
Let's start with the BlackPoint Tactical Mini Wing IWB holster. This simple yet elegant design is extremely comfortable and is particularly useful for people who live in warmer climates. It conceals super well and can be adjusted for a perfect fit. Its composite material is lightweight but plenty durable. This is definitely a top choice for carrying the XL.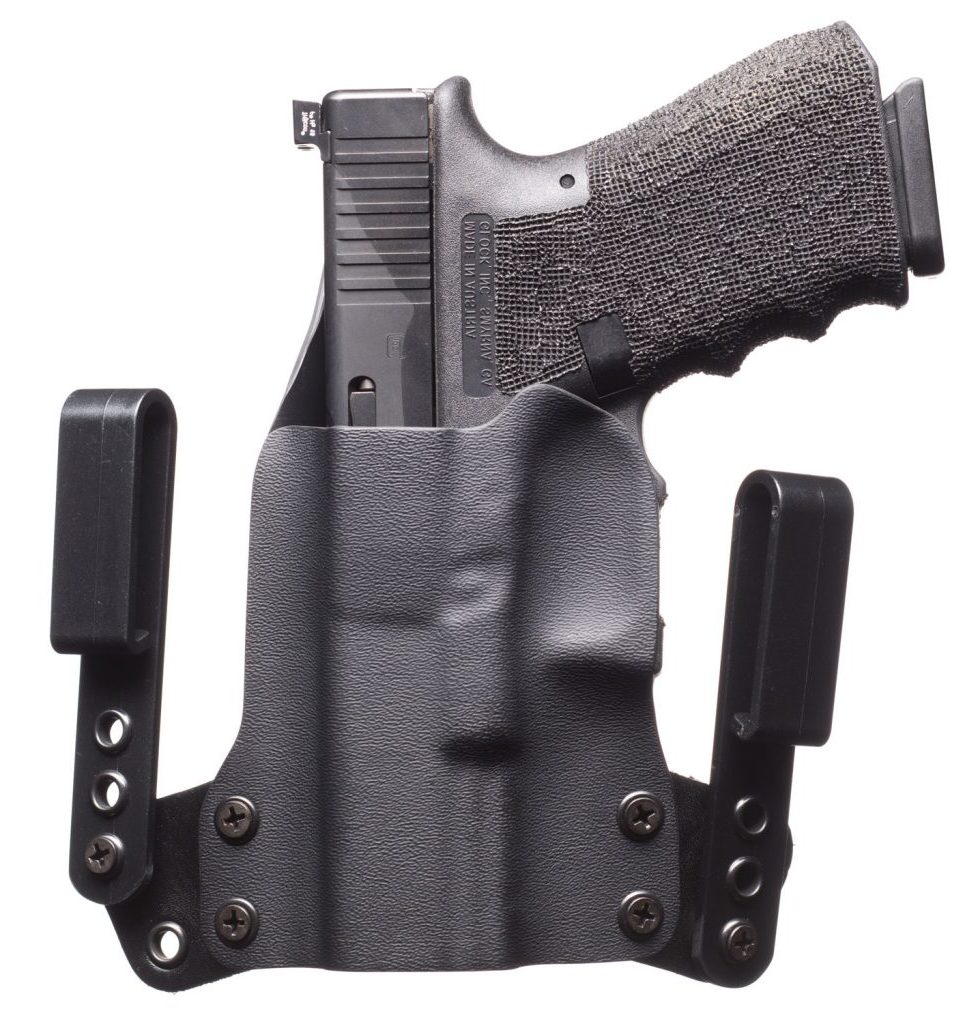 However, I also liked the IWB option offered by Raven Concealment Systems. This is one of the most minimal holsters I'd ever recommend but it's surprisingly good. The Vanguard 2 Trigger Guard Holster is tiny yet offers more than enough for responsible and comfortable everyday carry. The tuckable holster is fully adjustable for cant and ride-height plus is totally ambidextrous. Because the XL is bigger than the standard P365, I think a minimalist holster is wise decision to consider.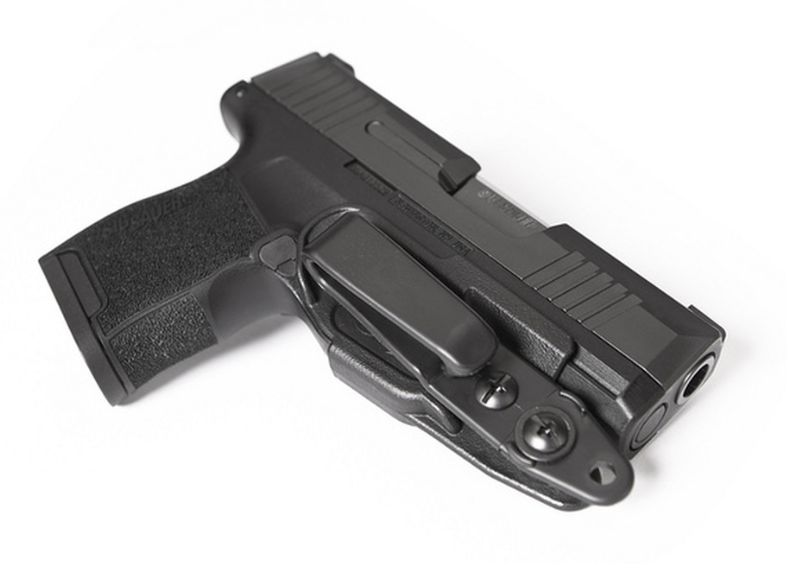 Other holsters to consider include the Concealment Express IWB Kydex and the Mitch Rosen OWB Leather Holsters.
Best 365 Holster Overall
Call me a sucker but I think AlienGear has the best holster options for your Sig Sauer P365. Whether you want IWB, OWB, ankle, shoulder, car, or what have you, AlienGear has you covered. I am a big fan of their ShapeShift Appendix Carry Holster for the P365 because I think it checks all the boxes. It's affordable, comfortable, modular, concealable, durable, looks alright, and performs great. While they don't have any full leather holsters, kydex is a great material for EDC.
Let us know your favorite holster for the P365 in the comments section!
I want to personally thank KP for helping make this article happen