Some manufacturers and gunsmiths wish to produce their own firearms and distribute them. Then there are those who use what is already on the market, and take it up a few notches. This is our review of Taran Tactical who are doing exactly that, particularly with the Glock.
Since the early 1980's, Glock has been spearheading the polymer gun business. In the late 90's, gangsta rappers in L.A. were singing about "Austrian firearms that's made out of plastic". And in the 2010's, Taran Tactical came out with an assortment of products specifically designed for Glock pistols. They are not the first ones to come out with Glock upgrades, but their wares are getting a lot of buzz and a lot of business. It seems that the hype is not for naught.
Taran Tactical Innovations
Taran Tactical, aka Taran Tactical Innovations (TTI), has been around for under a decade. But in that time it has managed to establish itself as a real asset – not only to the firearms industry, but to the film and television industry as well.
The company was founded by Taran Butler, a California-born shooter and world champion, who has managed to rack up a significant number of titles and first-place trophies in the course of his ongoing career. He is considered by many to be the most versatile competitive shooter in the world today. He has trained producers, directors, and actors for gun movies including James Cameron, Michael Mann, Jennifer Garner, Colin Farrell, Halle Berry, Chris Hemsworth, and John Wick (aka Keanu Reeves).
Taran Tactical offers complete TTI-tweaked rifles, guns, and shotguns, plus there are parts and accessories for a wide variety of firearms, and some gear and swag. TTI's connection to Glock is one which has brought it much fame, fortune, and glory – especially in the competition circuit – so in this post we're going to explore several of those Glock models in-depth and more.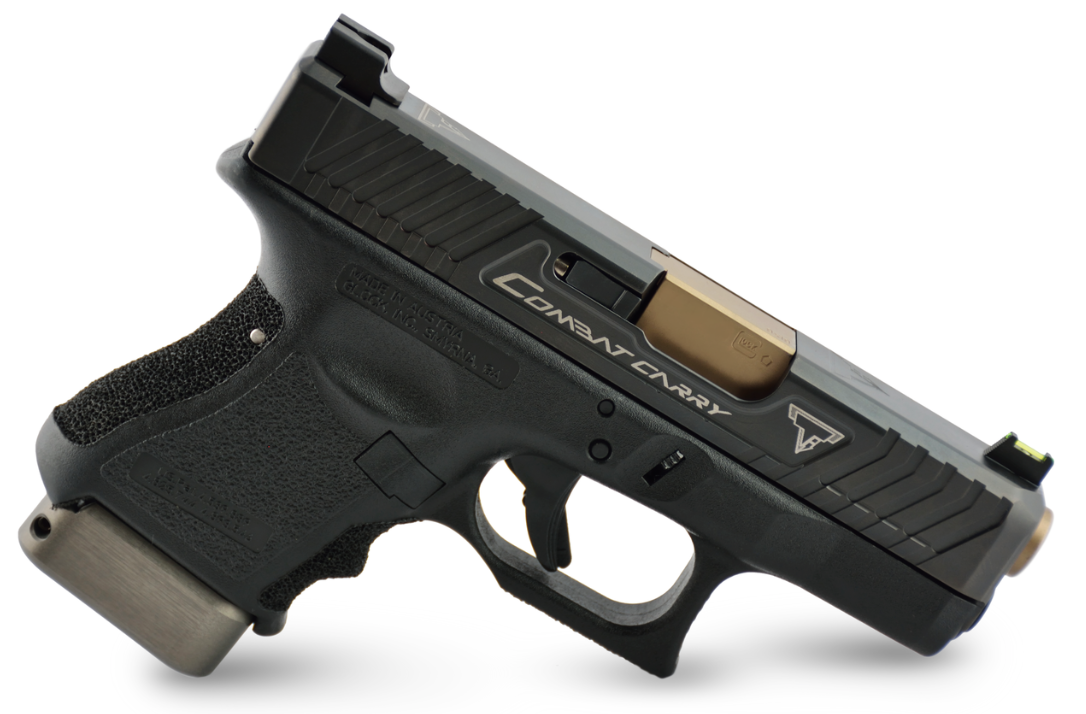 Aside from Glock, there are other enhancements and upgrades which the professionals at TTI are willing to provide for guns, shotguns, and rifles. Everything from uppers and receivers to springs, pins, mags, stippling, and trigger work. The company has done some impressive things with models by Benelli and Smith & Wesson, plus it has magazine extensions and (seriously popular) base pads for pistols, AR10s, and AR15s. 

The lead time is long, and I can't say anything for or against their customer service. People are kind of split on that, from what I've read. TTI's work is expensive but top quality, and overall the results are highly satisfying. Obviously, there will be those who will tell you to shelf that idea and instead invest the same amount of money in your very own build. Also an option, of course, but it doesn't take away an iota from TTI's professionals and their dedication to their craft.
If you are a pro competition shooter, TTI is definitely something to consider. If you're an occasional shooter, it's still a very badass setup. Plus, with TTI's expertise and knowhow, you will invariably see returns on this investment. It then becomes more of a question of price, which is a highly subjective thing. Having the means and ability to purchase something does not automatically encompass or entail the ability to afford it.
Taran Tactical Glock 43 
When Glock released its single-stack 9mm G43 in 2015, there were those who said it was late to the party. With so many other companies already covering that themselves, there seemed to be no immediate need for a Glock version. But, as it turns out, those guys who were criticizing Glock were not speaking for everyone. Same as before, the market spoke for itself.
Despite the fact that other manufacturers had indeed introduced their own versions of a single-stack polymer-based 9mm pistol long ago, civilians and law-enforcement alike were asking for Glock to make it happen. And they did.
A short time after that, TTI decided to get in on that action and manufacture enhancements specifically designed for the G43. Many shooters loved the G43 look and feel, but wanted more firepower. TTI offers magazine extensions for the original 6-round factory magazines, as well as complete magazines. These are available in a variety of colors, and with the customer's choice of +1, +2, or +3 rounds.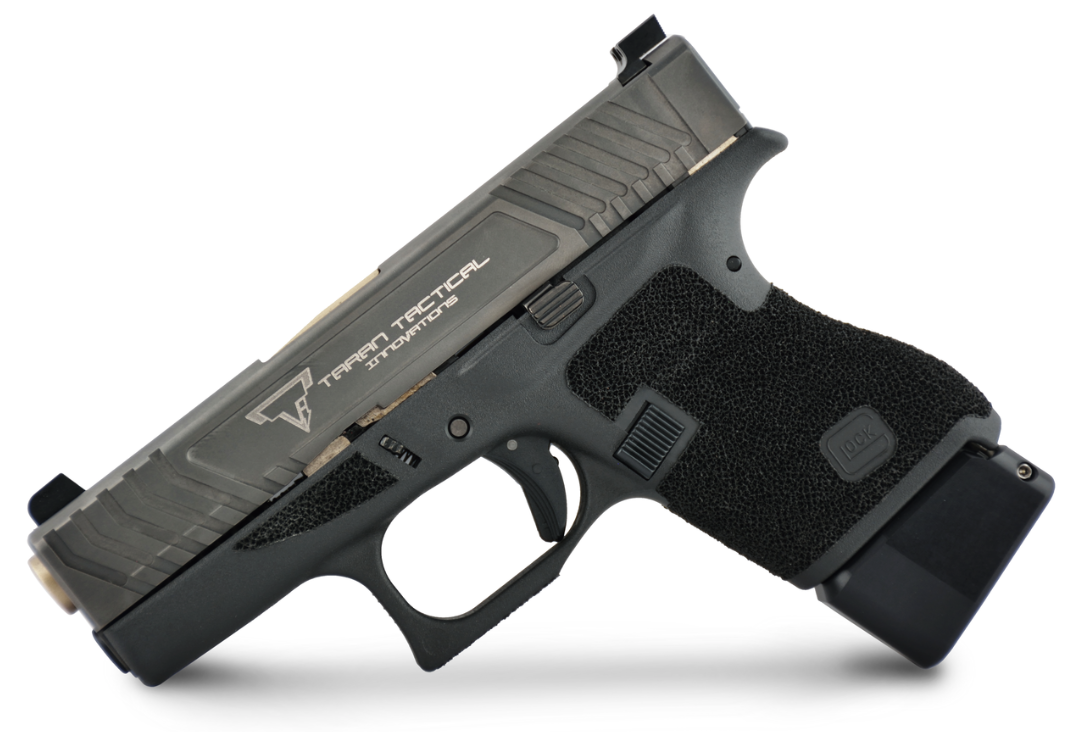 TTI also offers guide rods, magazine wells, sights, springs, parts for triggers, and more, all designed to upgrade the G43 and take it higher. There are also 3 complete models:
G43 Combat Carry + Trijicon HD XR Sights

Slide cuts
Stippling
Texturing
Trigger enhancement
Includes 3 magazines (+1, +2, and +3 base pads)
MSRP $2,399.99
G43 Combat Carry + Trijicon Bright & Tough Sights

Slide cuts
Stippling
Texturing
Trigger enhancement
Includes 3 magazines (+1, +2, and +3 base pads)
MSRP $2,349.99
G43 Combat Master with custom grip + Trijicon HD XR sights

Slide cuts
Stippling (full wrap, custom Purple Camo)
Texturing
Trigger enhancement
Includes 3 magazines (+1, +2, and +3 base pads)
MSRP $2,599.99
Taran Tactical Glock 19
The Glock 19 compact 9mm pistol was released in 1988, a few years after the introduction of their first model, the G17. The idea of a compact follow-up to the full-size pistol was a given, since there were many who were enamored with the G17, and wished to see a smaller version. When the G19 came out, it was welcomed with open arms by the civilian market and law enforcement, the latter of which were quite keen on using it as a backup weapon.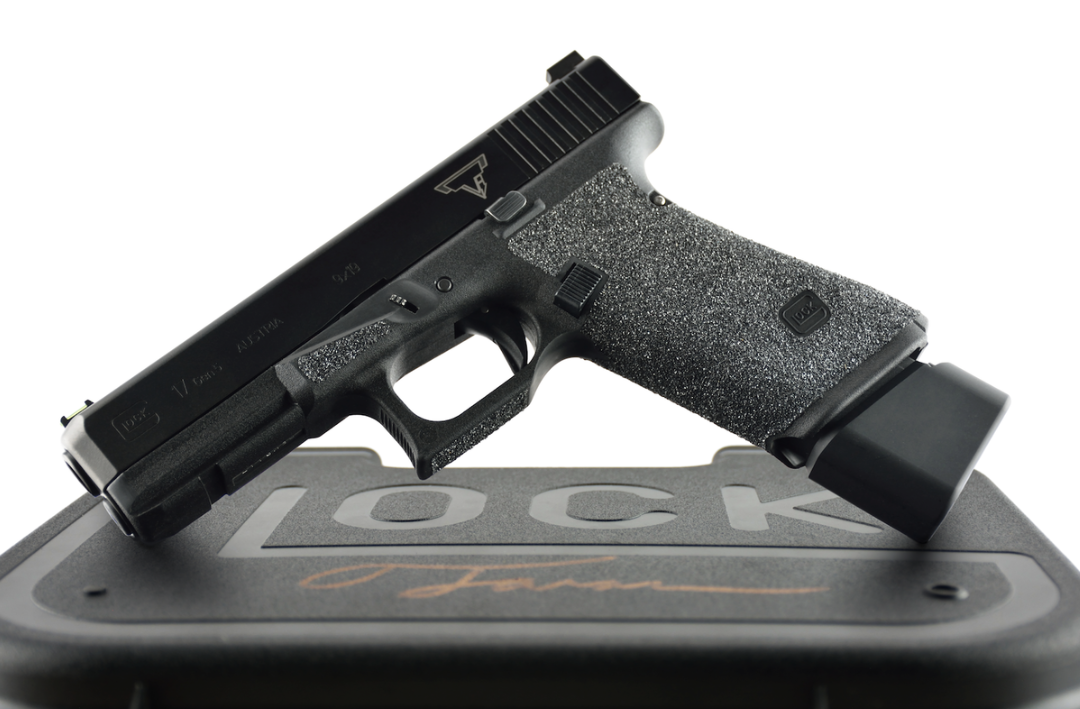 Taran manages to put their own unique twist on this popular firearm. There are plenty of Glock 19 accessories including base pads, plus springs, magwells, guide rods, complete magazines, and optics. It's easy to see why this would be a model that Taran Butler would want to improve on. I mean, if it is designated as a backup weapon, you'd want it to be no less accurate or actionable than your primary carry. Just because it's smaller or tucked somewhere less convenient, there is no real reason for it to be any less deadly and ready for quick and effective engagement.
Taran Tactical Glock 34
Glock's extended slide pistols have been around for awhile, and the G34 seems to be a friendlier version of the 17L competition model. I haven't actually shot the 17L, but I recall my fellow Gunivore Nate was disappointed with its performance. I know that around the world it was received with fanfare and some good feedback to back it up. The G34 which Taran Tactical put out is a real Bad Boy; and you know I mean it, because I never write "Bad Boy" about anything…
Glock 34 Gen 5 Carry Optics Combat Master is a sexy gun. It really is. I mean, forget just for a second about anything having to do with accuracy, functionality, versatility – it is a good-looking piece of hardware. Available with Trijicon or Leupold sights, slide cuts, trigger job, oversized release button, and other performance-enhancing goodies by TTI. Functionality-wise, it's as practical as it gets, not just bells and whistles.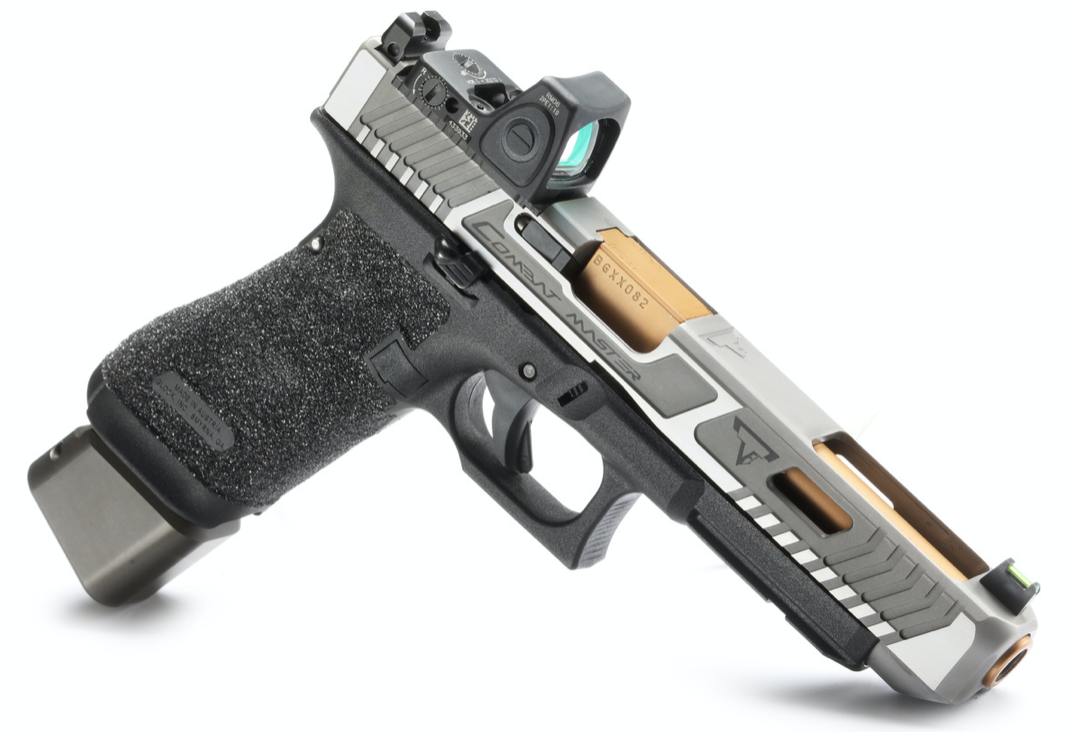 Whether you do it for the win, the rush, the feels, the camaraderie – competitions are fun events. I think you can develop a long and satisfying relationship with a pistol like Taran's G34 unit. Everything about it is meant to take your skills further and bring your game up a notch. You may win or lose the competition, but Taran's improvements will make it a splendiferous outcome either way!
This sucker is expensive at MSRP $3,199, but I'll be damned if it's not what I want for Christmas…
Taran Tactical 2011 Combat Master
The Taran Tactical 2011 also know as the TTI Combat Master or John Wick gun, is the epitome of custom gunsmithing tech brought to the consumer market. Compared to a 1911, shooting the 2011 combat master is like switching from an old Buick to a race car. It's super accurate and a real pleasure to shoot. The feel is premium, to say the least, and has remarkably smooth operation and control.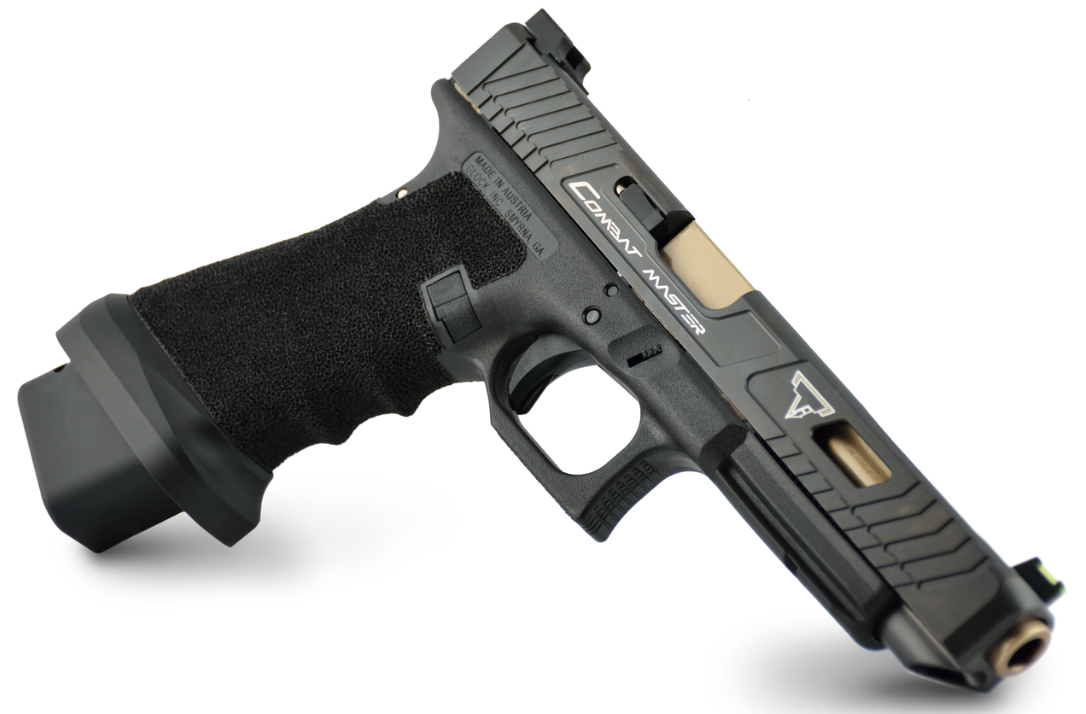 Keep in mind that this comes pre-equipped with less than a 2 pound trigger, which is insane. This is why competition shooters like Max Michel shoot guns like these to win international tournaments. And for those that are really into mixing things up, this gun also fires 9mm major, which is a beefed up 9mm that does way more damage. Overall, this will probably be one of the best pistols you'll ever shoot, in my opinion. It's really that good.
Taran Tactical Scandal
The shooting community has long joked about or admired that Butler surrounds himself with gorgeous women but things aren't so funny anymore. A video recently surfaced with Taran behind the scenes with one of his female shooters and he seemingly was coercing her into taking off her clothes. Now I'll leave it to that because we obviously don't know the context and no formal allegations have been made to my knowledge. All this video did was make people question Butler and his moral compass. There's nothing wrong with surrounding yourself with beautiful women, even if it's for marketing purposes. But crossing that line into subjugation, coercion, or even abuse is just not acceptable. In the meantime, I don't think people should boycott Taran Tactical because we simply don't know the whole story. In general, he is actually a well-liked guy and for people to react without any legitimate proof is unjust. It's obviously a complicated issue but for right now, it's just rumors.
Conclusion
The fires of the fall of 2019, which raged in California, took their toll on TTI's compound and range. Thankfully, no-one was physically harmed or otherwise injured, and Butler and Co were able to bounce back quickly. Their gun parts and accessories are as good as ever, and even those who may go with a different manufacturer or gunsmith will concede that TTI know what they're doing. It's a matter of personal taste, plus experiences of trial and error.
TTI's equipment is solid and highly reliable, whether in competition or outside of it. Purchasing equipment and gear from TTI won't immediately turn you into Taran Butler, but it can turn you into a more professional shooter if you want it too. Of course, you could invest the money and just let the gun rust and collect dust. The gun does not make the man, to turn the popular phrase.
And speaking of being a man: say what you want about Butler himself, or about his affinity for hiring young women as models/actresses/shooters for Team TTI — it has no bearing on the end product itself. Forget the hype, forget John Wick and his 'gun fu', and forget the La La Land glitter. Butler knows firearms, and he keeps on proving that. You don't become a USPSA Grand Master without knowing your stuff.
Come hell, high water, or – evidently – wildfires, TTI keeps on trucking. The U.S. gets a lot of flack for its policies on guns and gun control (or, some would say, the blatant lack of it). Regardless of competitions, I am of the opinion that the thing to stop a bad guy with a gun is – more often than not – a good guy with a gun.