The Glock 17 Gen 4 comes out of the factory in prime condition. Ever since it was released in 1982, the Glock 17 (and its brothers and sisters) continues to dominate the gun market. And with good reason, too. A Glock handgun is fit for anyone. If you can point and shoot, you can use a Glock 17.
Aside from the first question of "which holster should I choose?", many people choose to further personalize their handguns by modifying the existing parts with ones which better suit the shooter's tastes. These are the top modifications which are done on the Glock 17.
Some of these upgrades – like the extended magazine release lever and the extended slide lever – are less recommended for those who are carrying their weapon in concealment. This is because these levers could potentially get caught in clothing or what not.
The top five Glock 17 upgrades are presented in no particular order. Take your pick.
1. The Trigger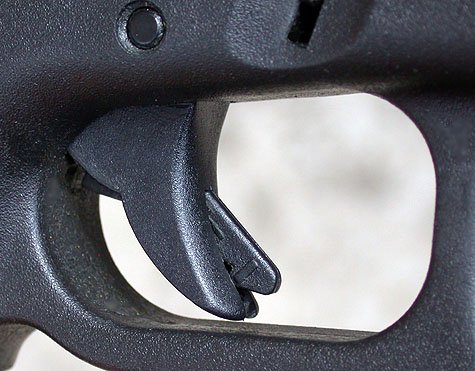 Glock produces handguns which perform wonderfully in any situation. The Glock 17 comes with a trigger which has a ~5.5 lbs. trigger pull. Many shooters – professional and non-professional – choose to replace the factory-made trigger with a lighter, 3.5 lbs. trigger.
A lighter trigger means a quicker round, and that can make a big difference in certain times. Understanding the small nuances of accurate trigger pulls will make you a sharper, safer, and more conscious shooter. This is a trait which many shooters want to acquire, and after training with a lighter trigger for a while, you will be able to see the difference at the shooting range and in your approach to trigger pulling. This can certainly help gain accuracy, and make you a more confident shooter.
Price: $20 – $40
2. The Stainless Steel Guide Rod
The original factory-made guide rod is made of polymer. There is nothing wrong with it, but in those rare times where there has been some issue with the Glock's guide rod, it was with their polymer one. The polymer guide rod has some flex and bend to it because it is made of polymer, which is a nylon-based substance.
The stainless steel guide rod will not break, will not bend, and will not flex. The weapon's energy and pressure are very concentrated, and a lot of that energy goes right into that guide rod.
The weight of the stainless steel guide rod will add a little bit of weight to your barrel, but the advantage is that it helps reduce muzzle climbing. It has been shown to improve accuracy, because the additional weight helps keep the gun on target after that first shot has been fired. The steel rod will help follow-up shots stay focused.
Price: $20 – $35
3. Slide Release Lever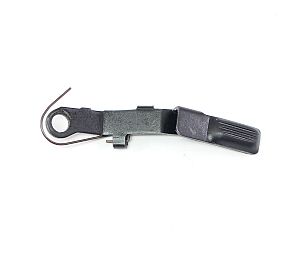 When firing the gun and running out of ammo, an empty magazine will push on an internal lever which locks the slide into a rearward position, in order to let the shooter know that there are no more rounds to fire. After inserting a new magazine, the slide release lever is pushed, which accomplishes two tasks:
A) It pushes the slide forward, and
B) Moves a cartridge into the chamber.
The factory-made slide release lever is relatively small and flat. While it is true that you can get used to anything, there are some cases in which you would like to feel more convenience.
The extended slide release lever is just that – extended. It makes the reloading process a lot quicker and easier. The flat lever is a lot more suited for concealed carry, but the extended lever is also has a lot of practicality, because it is sensed a lot easier. If you are wearing gloves, or are with hands wet with sweat or water, it can be a very different story. The extended slide release lever means you have to think less about it, because it protrudes from the gun. Not a lot. The surface is still pretty smooth, but your finger can sure tell the difference.
Price: $10 – $35
4. Magazine Release Lever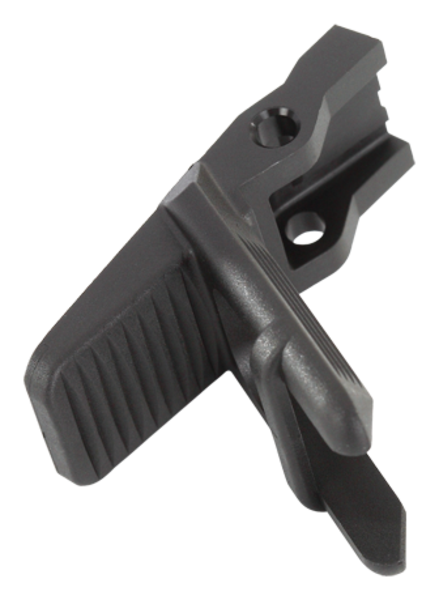 This lever has gone through some changes over the years, but one critical issue remained pretty consistent with the factory-made levers. With the factory-made magazine release levers, the shooter usually has to change grip in order to release the magazine. This means extra time spent on bringing your hand back to the shooting position. Extra time which would be better spent reloading. When you are in the middle of a confrontation, you need to make sure you have the quickest and easiest way of reloading your weapon. As the experts say: ammo in the gun equals time in the fight.
That little nub-of-a-lever gives you a real edge, so to speak. The one downside is that it may not be right for concealed carrying. That is a judgement call, and it varies from one shooter to another.
Price: $10 – $16
5. Sights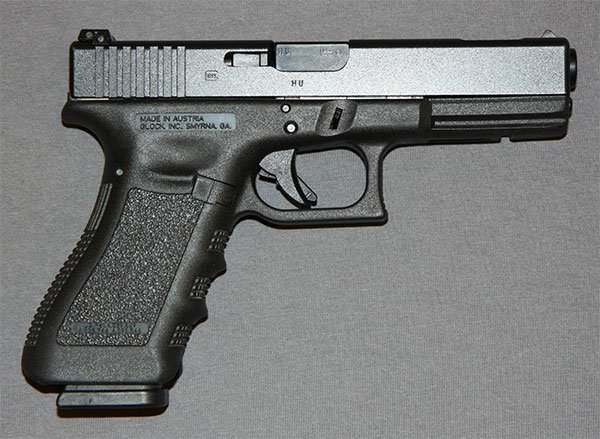 Sights, especially night sights, are probably the most popular upgrade of all. The factory-made sights are good for daytime use, but not for night / low light shooting. You can never tell what the conditions will be when you are called upon to draw your gun and fire, so it is best to be prepared. As far as sights are concerned, tritium and fiber-optic are two of the most popular choices. There are many companies who make sights for the Glock handguns, and depending on how you prefer your Glock to look and feel (the concealed carrying issue may be relevant here, as well), you will be able to find sights which will suit you.
Prices vary greatly, and they range from $10 – $15 for Glock-made polymer or steel sights, through ~$60 for Glock fiber optic sights, to $126 – $150 for Trijicon suppressor sights. As far as night sights go, the competition is fierce. There are many great companies out there, and Glock itself makes its own night sights, available for $75. Other popular choices are TruGlo ($65 – $129), Meprolight ($81 – $162), and Trijicon ($106 – $157). These sights can be tritium, fiber optic, or a combination of both. It really all depends on the needs of the shooter, so go with whatever you are most comfortable with.
6. Extended Mag
The Glock 17 comes standard with a 17 round magazine. For most people 17 rounds is more than enough. You may not be like "most" people. That is why magazine extensions are a popular upgrade for many Glock owners. There are a handful of companies making extended mags that range from +3 to a whopping 33 rounds.
The Pearce company is known for their high quality grips but they make mag extensions as well. One of which is the Pearce +3 Glock Mag Extension. This upgrade will cost you around 10 dollars and will give a total of 20 rounds. Arredondo makes a great mag extension that will give you an extra 5 rounds. This piece clips on to the standard Glock magazine. It's made out of a durable nylon and runs around 35$. These two extensions are modest compared to the next one on the list. The Glock factory 33 rounder gives your Glock 17 an insane 33 rounds. That is nearly double the amount of the standard Glock 17 magazine capacity. They are produced by Glock so you know they are made out of the highest quality material. They will cost you $35 or so. There is legislation in the works to possibly ban these 33 round extenders so get one before it's too late.
The advantage to an extended mag is obvious. More rounds more firepower. But the addition of more rounds comes at the cost of weight and size. More bullets means a heavier weapon and more stress on your body when carrying. The smaller extensions won't alter the guns size too much but the 33 rounder definitely will. It can make it extremely difficult to conceal to carry. It comes down to personal preference. The point is if more rounds is what you are looking for there are many products that can help you achieve that.
Or Choose A New Glock
Upgrades can only take you so far. The Glock 17 is an industry standard but it is not the most compact you can go. Glock has many other models that may suit you if size is the issue. You may want a Glock that shoots a different caliber bullet. Glock parts are only interchangeable to a point. A Glock 17 magazine won't hold a .45 round. If that is what your looking for you may want to check out the Glock 37 or the Glock 38 and 39. These compact guns all can carry .45 caliber bullets in a compact frame.
Conclusion
The Glock 17 remains one of the most popular firearms in the world. Glock have sold nearly 10 million guns, which is no small feat. The Glock 17 semi-automatic 9mm caliber handgun, even with no accessories whatsoever, is still a great weapon that serves its purpose well. It is no wonder that so many first-timers, veterans, and even professional competitive shooters choose to use a Glock. It is a reliable and dependable weapon, proven and time-tested. If you do choose to modify or accessorize your Glock, remember to do so at a gun shop. Some modifications are ones you may be able to perform yourself, but most of the time it will require a more professional touch. That is why it is best done at a licensed shop.
Good luck and happy shooting!
Another fan favorite is the Glock 19 Gen 4, which is essentially a smaller sized Glock 17 and therefore convenient for concealed carry. Glock 19 accessories also present many options for making your gun best suited to your own personal needs. Also, be sure to check out our Glock 17, 21, 26, and 30 reviews!