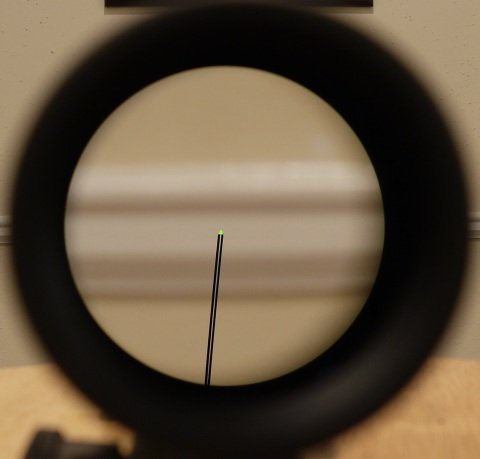 Trijicon (established in 1981, by Glyn Bindon) is mostly known for its Advanced Combat Optical Gunsights (ACOG) series. The ACOG is used by security forces and law-enforcement agencies all over the world, as well as by private citizens. But there is a lot more to Trijicon then the famous ACOG.
This Trijicon AccuPoint review will examine the series of magnifying optics, introduced in 1998. AccuPoint is a series of variable powered scopes, meant primarily for hunting and sport/competition shooting. It features battery-free reticle illumination, and manual brightness adjustability. The AccuPoint series has multi-layer coated lenses, which greatly add to the scope's abilities. It allows for quicker target acquisition, and engagement with targets of varying distances and positions.
AccuPoint Scopes – at a Glance
The AccuPoint's overall powers of magnification range from 1x to 20x, with objective lenses ranging from 24mm to 56mm, and tubes being of standard 30mm or 1 inch sizes.
There are 22 different AccuPoint scopes to choose from. These versions differ by magnification, objective lens, reticle shape and color, sources of illumination, housing materials, weight, length, and eye relief.
Let's compare some of the most popular AccuPoint models:
AccuPoint TR24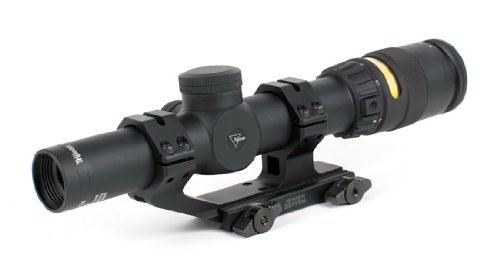 TR24 – this model is the smallest (and probably most popular) AccuPoint scope, and it starts at 1x magnification power.
Magnification – 1x – 4x
Objective lens – 24mm
Length – 10.3 inches
Illumination – tritium and fiber-optic
Housing – 6061-T6 anodized aluminum
Weight – 14.4 oz.
Reticle pattern – triangle
Reticle color – amber (day), amber (night)
Eye relief – 3.2 inches
The TR24 has two offshoots:
TR24-C-200070 – duplex crosshair
TR24-3 – German #4 crosshair
AccuPoint TR23
TR23 – this scope is located directly on the opposite side of the AccuPoint spectrum, featuring the largest objective lens, and greatest magnifying abilities.
Magnification – 5x-20x
Objective lens – 50mm
Length – 13.6 inches (without sunshade) 16.6 (with sunshade)
Illumination – tritium and fiber-optic
Housing – 6061-T6 anodized aluminum
Weight – 26.9 oz. (without sunshade) 29.4 (with sunshade)
Reticle pattern – triangle
Reticle color – amber (day), amber (night)
Eye relief – 3.8–4.1 inches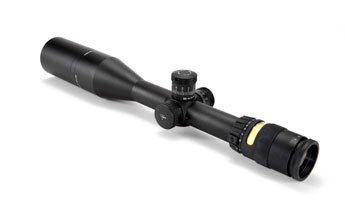 The TR23 has two offshoots:
TR23-1 – standard duplex crosshair
TR23-2 – MIL-dot crosshair
AccuPoint TR22
TR22 – this is one of the largest and most powerful scopes in the AccuPoint series, featuring an impressive 56mm objective lens. This model gathers light like no other, and provides the shooter with a large exit pupil and field of view.
Magnification – 2.5x-10x
Objective lens – 56mm
Length – 13.8 inches
Illumination – tritium and fiber-optic
Housing – 6061-T6 anodized aluminum
Weight – 20.7 oz.
Reticle pattern – triangle
Reticle color – amber (day), amber (night)
Eye relief – 2.8–4.1 inches
The TR22 has two offshoots:
TR22-1 – standard duplex crosshair
TR22-2 – MIL-dot crosshair
The AccuPoint series embodies everything that you can come to expect from a company with Trijicon's reputation. Their records speak for themselves, and their optics are trusted by countless individuals all over the world. Their scopes and sights have proven themselves on the battlefield, in many competitions, and at the shooting range. Trijicon's goal is to provide reliable, dependable aiming solutions wherever they may be required, and they will stop at nothing to achieve perfection.
Whether it is used on a hunting trip, or as an accessory at a 3-gun competition – this series gets the job done. This is not to say that the shooter should forgo training, and rely completely on optics. Not at all. However, when it comes to acquiring a target, and fast, nothing can beat Trijicon's AccuPoint series.
These scopes are aptly named, for sure. Pin point accuracy was at the top of the list of requirements for this series, and Trijicon's experts certainly delivered.  These are the types of scopes which you can use for long periods of time, and you will probably find that there is a lot less eye fatigue and stress, compared to other kinds of scopes or sights.
Some say that the mark of a good scope is looking through the eye piece, and not even noticing there is glass. This is what the AccuPoint is – crystal clear images at any time of day or night, with tritium and fiber optics providing the best picture, even at low-light/dawn/dusk conditions. The adjustable brightness also adds to this series' appeal, and it just goes to show how Trijicon is always looking for ways to bring better aiming solutions to those who need them.
Scope Out the Best Scopes
If you are a hunting/camping/outdoor enthusiast, there is a chance you spent some good money on a quality hunting rifle. That is all well and good, but what about the scope? Many individuals invest a hefty sum on a rifle, but don't invest in a good scope. This is usually a mistake. If anything, the scope should probably cost more than the rifle to which it is attached or mounted!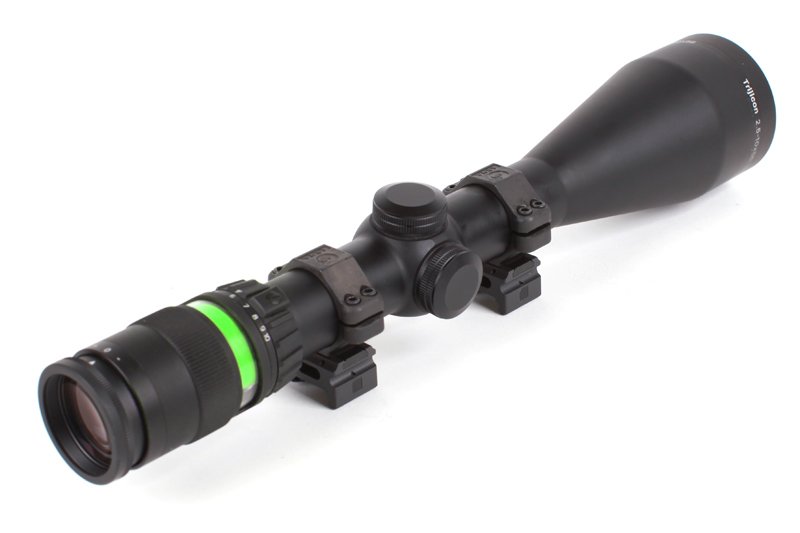 When it comes to scopes and sights, the differences are many and varied. So many companies, models, and makes to choose from. But, there is one rule which is pretty consistent. That rule is: the more expensive scopes are usually better. You get what you pay for, and if you want a good scope, you are going to have to put down some money. But don't fret – you will know exactly where that extra money went, the very second you look through that eye piece.
Trijicon has been around since 1981, and it has been manufacturing its own unique brand of optics since 1987. For nearly 30 years, Trijicon has been continuously dependable and innovative, utilizing cutting-edge technology and superb craftsmanship. It has earned the respect and admiration of millions, and to this day the name Trijicon is synonymous with quality, precision, accuracy, and reliability.
A limited lifetime warranty is given to all Trijicon products. This warranty covers defects in materials and craftsmanship. A separate limited warranty is placed on the sources of illumination.
Trijicon's scopes and sights don't come cheap, nor should they. They are worth every dollar, and anyone who has used one – whether in combat or in competition – will attest to its ease of use, its, clarity and its accuracy. To this day, Trijicon's scopes are standard issue for Army, Marines, and government agents.
If you get the chance to try these out in person, don't pass it up. It is quite an experience, especially at long-range shooting. That feeling you get when you hear that audible PING! of your freshly-released bullet striking a target located oh-so-many yards away – it is in those moments that you feel just how much power you are holding in your hands. It is utterly exhilarating.