Table of Contents
I recently reviewed Hi-Point's impressive upgraded 9mm carbine, the 995TS; however, as great as it was, sometimes 9mm rounds just doesn't cut it. Fortunately, Hi-Point also makes their 995 carbine available in .40 S&W and .45 ACP. These remarkable firearms are hands down the most incredible in Hi-Point's catalog. Although this might sound like a bold statement to make, I firmly believe it is true, especially considering that they have the most to offer. As respectable as the 995TS is, the .40 and .45 caliber variants share all the same features with the addition of even more stopping power, making them the most superior Hi-Points.
This American company has such an extensive history and lineup, which unfortunately, we can't get into here. However, I recommend getting a glimpse with our summary of the unique Hi-Point Firearms Company and their impressive collection of firearms. For now, it's time we begin the Gunivore comprehensive breakdown of the 4095TS and 4595TS.
Hi-Point 4095TS & 4595TS Specs
Model: 4095TS Carbine
Capacity: 10+1
Overall Length: 32"
Barrel Length: 17.5"
Finish: Matte Black
Stock: Matte Black Polymer
Weight: 7 lbs.
Sights: Fully-adjustable
MSRP: $325.00
Model: 4595TS Carbine
Capacity: 9+1
Overall Length: 32"
Barrel Length: 17.5"
Finish: Matte Black
Stock: Matte Black Polymer
Weight: 7 lbs.
Sights: Fully-adjustable
MSRP: $349.00
Hi-Point's .40 S&W and .45 ACP Carbines' Builds
Although Hi-Point was once infamous for producing downright ugly guns, they have made huge strides in cleaning up and modernizing their designs. Built nearly identically to the 995TS carbine, these high-powered carbines are huge improvements to their unattractive predecessors. But besides for getting the much-needed makeovers, the 4095TS and 4595TS were also given a boost in their overall quality. That being said, while benefiting tremendously from their revamping, these powerful carbines are still only in the middle of the pack for their category.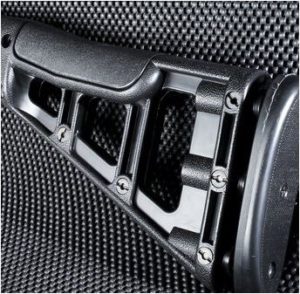 The most impressive quality of these guns is the countless possible combinations of add-ons, features, and accessories. In addition to its multiple Picatinny rails, these Hi-Points also feature swivel, sling, and scope mounts. Hold tight, because we'll discuss the full range of available options shortly.
Although Hi-Point may have cut corners to maintain their trademark affordability, one thing's for sure: that their commitment to firearm safety is still a top priority. Besides for their standard quick on/off thumb safeties, Hi-Point also offers a free trigger lock with every gun purchase.
One of the most outstanding components on these carbines is their all-weather, black polymer skeletonized stocks. In addition to significantly enhancing comfort and handling, this distinctive feature also helps keep their weight to a manageable 7 lbs.
Going forward, the 4595TS and 4095TS were outfitted with simple yet effective adjustable peep sights. Luckily, if you're looking for something more sophisticated, these Hi-Points are also offered with rear ghost-ring and front post sights.
Overall, the genius of Hi-Point is how they were able to redesign their flagship carbines while still keeping their affordable price tag and boosting their power and durability.
Hi-Point's Powerful Carbine Performance
After the initial success of the original Hi-Point 9mm carbines, the American company eventually released these two more intimidating versions, hoping to compete with popular carbines like the Kel-Tec Sub-2000.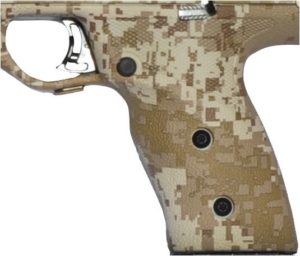 I was pleasantly surprised with how the 995TS performed, but I knew shooting the 4595TS and 4095TS would be a whole new ballgame. Nevertheless, while offering supreme power, these carbines also offer decent balance and control. While .40 S&W and .45 ACP chambered guns can often be tough to handle, the solid build and internal recoil buffer in their stocks help keep these weapons user-friendly. When picking up one of these guys, you have to consider that they may feel a bit heavier than your average carbine due to their direct blowback action and lack of a locked-breech.
Nevertheless, I really liked the way they fired and felt in my hands.
One of the many things I like about these guns is how multi-functional they are. These Hi-Points are effective for practically everything from plinking to home defense. The only caveat regarding my field test is that these carbines were not brand new; I tested guns which have already fired several hundred rounds. Nonetheless, there were a few things which really stood out to me. To enhance their user-friendliness, Hi-Point integrated an ergonomic mag release in their grips and designed its slide to lock open after firing the last round. I don't have to tell you how annoying it can be to experience the "click and no bang" effect …
4095TS & 4595TS Magazines
Hi-Point originally developed their line of carbines while the Federal Assault Weapons Ban was still in effect, therefore these carbines only come with a 10-round magazine or a 9-round in the case of the .45ACP version. I'm not sure why that's an excuse … but that's what the company told me. That seems like a pretty easy thing to change, doesn't it? Either way, the good news is that several third-party companies have recently come out with 14 and 15-round mags. Just bear in mind that the newer premium quality mags offer faster reloading and long-lasting durability.
While these magazines are pretty solid in their own right, it's more about what can go in them that makes them special. The 4595TS and 4095TS are said to be able to accept all factory ammo are even +P rated. While these magazines are crafted from all stainless steel and given a smooth finish, I recommend picking up extras just in case. Check out Cabela's website which usually has a good deal if you buy three at a time.
Aftermarket and Accessory Options
When it comes to guns, I'm not such a traditionalist. What I mean is, I love accessories – optics, lasers, lights, gadgets, you name it. The only problem with this obsession of mine is sometimes I'll come across guns like these Hi-Points; these powerhouse carbines and their multiple rails are just begging to be customized, but they are already heavier than your average carbine. So before we even address the Picatinny rails, I recommend checking out Hi-Point's catalog which offers the 4595TS and 4095TS with a variety of options, including muzzle brakes, forward folding grips, flashlights, and lasers.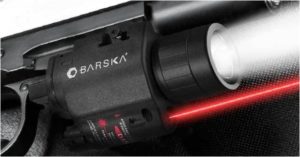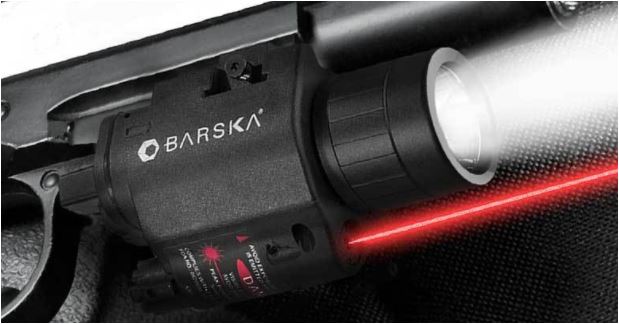 Now for the fun to begin: we've got a few rails and thousands of options to choose from. Considering that these versions are so similar to the 9mm Hi-Point, I'd recommend sticking with the same aftermarket options that I suggested for the 995TS. In terms of optics, check out the multi-purpose Barska 4×32 IR Contour Riflescope for a nice long range option.
For cooler shorter range sights, take a look at the incredible Sure Shot Reflex Sight and the Bushnell Optics TRS-25 HiRise Red Dot Riflescope with Riser Block (1x25mm). Although not great for hunters, the Leapers UTG Multipurpose LED Light (400 Lumens) and the Barska red laser & flashlight combo (200 Lumens) are great additions to your home defense firearm.
Conclusion
Hi-Point's 4595TS and 4095TS carbines are some of the best value weapons you'll ever find! As a true fan of American gun makers, I'm thrilled to see this company progress so much and continue to evolve. In addition to revamping their looks, Hi-Point also beautifully updated these carbines' shooting abilities.
All things considered, the user-friendliness and solid accuracy of the 4595TS and 4095TS lead me to recommend these carbines for all types of shooters, experienced or otherwise. However, give 'em a test and if you feel like they're too heavy or hard to control, check out the 9mm 995TS.
Visit Gunivore for more reviews and to learn more about some of the industry's favorite accessory brands like Trijicon, Aimpoint, and EOTech!