Table of Contents
This relative newcomer to the industry imports firearms, ammo, and related equipment. American Tactical (ATI) is already over a decade old, and it has been a pretty steady climb for this firearms importer. I say relative newcomer, only because this company can trace its roots back to the 1980's, when founder Anthonio Decharia left (or is it sold?) his gun shop in Rochester, NY, and started a new enterprise.

ATI acts as the direct distributor for the firearms and gear it imports. They work closely with dealers all over the U.S., and those ATI dealers supply the public with the models and makes that are being brought into the country.

The company is very big on AR15s, but also has an AK-47 model, pistols, 1911, receivers, and stocks. Let's get a little bit into the meat and potatoes of this company's line.
American Tactical Imports AR 15
So, first of all, you gotta mention the AR15 in connection to ATI. This is a platform which has been dominating the market continuously, for years. Sure, not everyone is into AR15s in general – and not everyone should be – but for those of us who can appreciate a solid rifle, ATI offers a line of affordable AR15s.
With firearms specifically, I have noticed that the phrase "you get what you pay for" is most apt and highly applicable. Every now and then, though, you get a rifle that is pocket-friendly AND a good build. I am not saying it is just as good as a more expensive system – it technically isn't. But for a newbie or someone who wants a rifle for his or her bugout bag, it is a good choice.
The line of AR15s by ATI was at first looked at with a crooked eye (by some people and blogs, anyway) due to the polymer receiver. Glock received the same type of bias treatment – or so I hear – when it first came out with the Glock 17 in the 1980s.

A few things:
First off, it is not just polymer. There is metal in the higher-pressure points of the receiver, and this keeps the gun together – maybe quite literally – when firing it. Long-term testing of the weapon is probably in order, though.
Second, polymer is used for so many firearms and equipment. Make a polymer handgun and you get applause. Make a polymer receiver for a rifle, and you get booed. I never fully understood that logic.
Third, the polymer on both upper AND lower makes for one of the lightest ARs out there. This may not mean a lot to some of you, but it does to me. I know what it feels like to carry a rifle all day, and then be expected to train with it and hit the mark. Some may be content with aluminum. Okay, also very light, but still not as light as polymer. Just something to think about.
I don't think ATI ever claimed that their AR15s were the most amazing thing to ever hit the market. Why would they? There is obviously something cheaper – though not necessarily inferior – about their rifles, and they are fully aware of this. They are budget-friendly, and are not masquerading as anything else.

The MSRP for their AR15s (chambered in 5.56mm) rifles is roughly $400-$700. Like I said, a decent price for a decent firearm.

ATI Omni Hybrid
This line by ATI includes receivers and complete rifles. Both are sold for exceedingly low prices, I might add. A lot has been said about this line, and most of it is bad. I saw one YouTuber who could not fire a single magazine in succession. It kept on jamming. I realize that this may not be everyone's experience – and I hope it won't be – but it seems that this line is… problematic, for lack of a better term.
Now sure, it will also depend on the conditions and on the ammo used, but generally it seems that this rifle is a cheaper brand which also functions like a cheaper brand. And that, ladies and gents, is where I draw the line.
The Omni Hybrid is available in 300 BLK, 22 LR, and 5.56mm.
300 BLK
22 LR
5.56mm/.223
16″ Barrel
16″ Barrel
16″ Barrel
Polymer Upper/Lower
with Metal Insert
Polymer Upper/Lower
with Metal Insert
Polymer Upper/Lower
with Metal Insert
Roger Super-Stoc
M4 Stock
Roger Super-Stoc
30 Round Mag

28 Round Mag
30 Round Mag
MSRP: $699.95
MSRP: $329.95
MSRP: $699.95
If you are going to buy a rifle – be it for reasons of self-defense or any other – you need to know that it will be there when you need it, and that it will function. Otherwise, all you are holding is a chunk of polymer and metal that may or may not fire when the time comes. Useful though it is in some situations, a chunk of polymer and metal which doesn't cycle? Well, it is not so much of an assault rifle.

I don't mean to dump on the entire company or its wide range of products. It could very well be that they have fixed up their game by now. Could be. I will know more when I get one myself and get it out on the range. But for now, I appears as though this system is a hit and miss, with most reviewers tending to not recommend it.

American Tactical Imports FXH 45 Pistol
The Firepower Xtreme Hybrid (FXH) in .45 ACP is – as its name suggests – a hybrid of polymer and metal, not unlike their AR-15 hybrids. There are purists out there who would shun a polymer 1911 without giving it a second thought.
Fair enough, but the FXH manages to deliver a quality item at a reasonable price. Is it as good as much higher-priced 1911s? Nope. Certainly not right out of the box. It has its issues. But then again, I wouldn't expect it to be on that level right when it comes out of the factory. ATI pride themselves in providing affordable weapons for the everyday carrier, and this is precisely what you get with this gun.
Caliber: .45 ACP
Capacity: 8+1
Barrel Length: 4.25″
Overall Length: 7.25″
Height: 5.4″
Weight: 1.7 lbs. (Unloaded)
MSRP: $599.99
With a stainless steel slide and a nitride finish, this gun is adequate and cycles well. The frame is polymer with metal inserts – this could very well cause a stir with those who are more into classic 1911s – but then again, ATI states it is a hybrid. This makes the gun lighter and quicker to work with. The accessory rail will definitely come in handy for aftermarket products, and the gun accepts Glock-like sights (back and front).

Furthermore, since it is based on the 1911, it will accept many similar parts and grips. For those who are interested in upgrading the FXH, there is a wide range of choices. Just remember that no amount of upgrading will make a difference if you don't train. The operator comes first.
American Tactical Imports Stocks
Two stocks are available through ATI, though at the moment it seems they aren't supplying them.
AR-15 Roger Super-Stoc
AR-15 Collapsible
Mil-Spec
Mil-Spec

Adjustable
Adjustable
(Optional Extended Buttplate)
Optional Cheek Rest
Optional Cheek Rest
MSRP: $64.95
MSRP: $89.95
ATI 1911
The name 1911 commands a certain respect. Some consider it to be the finest combat sidearm ever constructed. From everyday beat-walking cops to battle-hardened special ops fighters, you'll be hard pressed to find one that would be reluctant to have a 1911 by their side. It's not everyone's go-to handgun, true, but since its inception in the beginning of the 20th century, it has spawned many, many replicas and has been the basis for different innovations in the industry. People love it, which is why it is always in high demand, and why the prices are usually higher.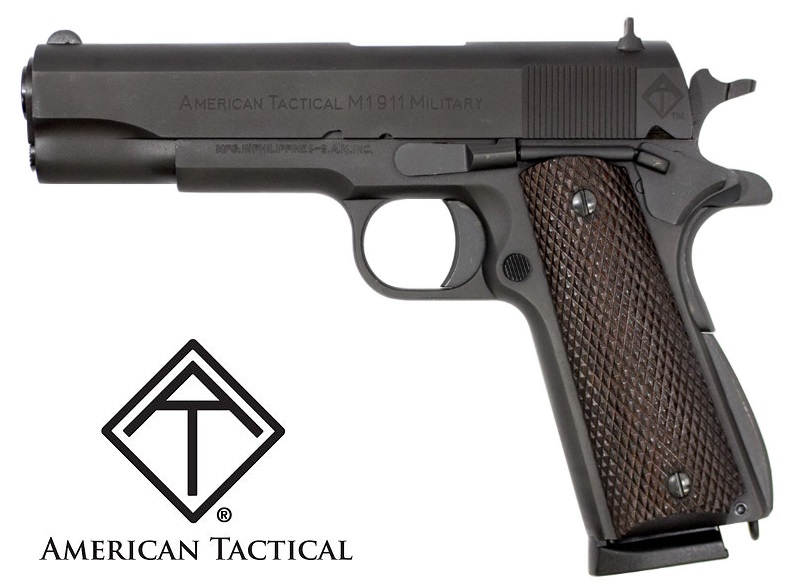 The aforementioned FXH pistol is not ATI's only 1911 option. Here are several other products which may appeal to those who are interested in acquiring a different kind of 1911. Again, what stands out most about ATI's selection – in my opinion – is the price. That, and the fact that the frame is made of a zinc alloy, rather than aluminum or steel.
GSG 1911 Target
GSG M1911 HGA
GSG 1911
(CA compliant)
HGA FX9
1911
Single Action
Single action
Single Action
Single Action
22 LR
22 LR
22 LR
9mm
5″ Barrel
5″ Barrel
5″ Barrel
(Non-threaded)
4.25″ Barrel
8.5″ Length
8.5″ Length
8.5″ Length
7.8″ Length
5.5″ Height
5.5″ Height
5.5″ Height
5.2″ Height
2.1 lbs.
2.1 lbs.
2.1 lbs.
2 lbs.
10+1
10+1
10+1
9+1
$399.95
$299.95
$309.95
$469.95
This last one is more expensive, due to the blued steel frame and blued steel slide. Also, the trigger is not a skeleton design like the other 1911s which ATI offers.
Conclusion
ATI imports its weapons (or most of the components, anyway) primarily from the Philippines, if I am not mistaken. Their weapons should be considered more entry-level, based on the price and their physical make-up. Some of their firearms and gear is assembled in the States, but as mentioned before, they act essentially as an importer/distributor for manufacturers abroad.

When I say entry-level, I don't mean bad. I mean just that – entry level. Some of their weapons can absolutely be used in EDC situations, but others simply do not make the cut. This doesn't implicate the entire company, nor its foreign manufacturers, but it does give the potential shooter and buyer something to think about. This is not the kind of company you can trust implicitly. Not yet, anyway. ATI will most likely have to gain your trust.

If you get a chance, fire some of their weapons. Depending on your wants and needs, it could very well be that ATI is great for you. Their prices are indeed rock-bottom (comparatively), and thankfully, their cheaper guns are not always cheaply made. They do have some rifles I'd want to avoid, but their FXH series, for instance, is a good place to start your involvement in the world of firearms.