JP Enterprises, Inc. is the brainchild of John Paul, a lifelong shooter and competitive marksman. On the surface, this company is bare-bones and focuses all of their energy on doing whatever it takes to make each and every customer satisfied. Their website is simple and they don't invest much time or effort into social media. They seemingly rely on reputation to carry them along and it seems to be working as the business is growing more by the day. Let's take a closer look at the humble JP Enterprises to see what they're really made of.
JP Enterprises Company Profile
John Paul has been shooting competitively for around four decades, winning competitions and learning first-hand what it takes to be a champion. As the head of the company, he doesn't rely on field reports or spreadsheets, he learns from experience which is admirable, to say the least.
A cursory glance at the company profile will show how serious they are about competitive shooting. In fact, they even have a page dedicated to professional marksmen who use their rifles and components in competitions around the world. Furthermore, they proudly claim that the United States Army Marksmanship Unit practical shooting team uses JP rifles and parts.

I think it's rather impressive that a seemingly small and relatively unknown gunmaker has over fifty champion shooters and a military unit outfitted with their products. Additionally, there are plenty of law enforcement agencies starting to arm themselves with these guns and parts which speaks volumes of their integrity. It reminds me of the humble beginnings of Daniel Defense which could mean a seriously bright future for the New Mexico-based gun manufacturer.
Overall, JP is bursting at the seam with potential and I believe they could easily be the next Daniel Defense. The only complaint you're likely to hear about this company is their price tags but you definitely get what you pay for. If you can afford to shoot JP then it's totally worth it. They are beautiful machines and function like a dream come true. They may not be everybody, but you can't deny that they're among the most impressive firearms on the planet.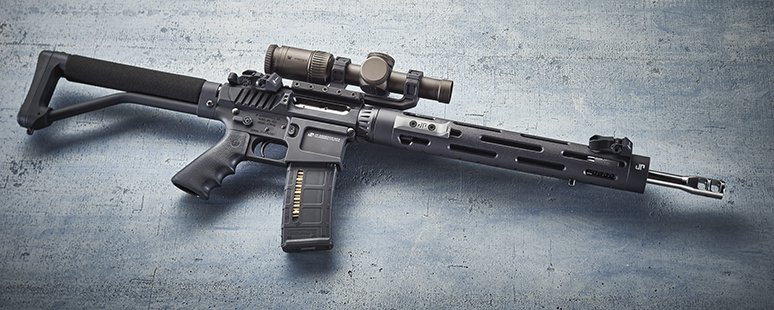 JP Rifles
JP Enterprises is well-known for their custom AR builds and ready-made rifles, many of which are designed for long-range and competition use. When I first looked at the catalog, I think my jaw legitimately dropped. I went from a simple unassuming website to a glorious catalog filled with grade-A gun porn. They filled their expansive catalog with action shots, schematics, hi-res product photos, and interesting reading material about rifles and the company.
They walk you through everything you could need whether you're looking to build your own rifle or buy one of their many top-tier selections. Based on my limited on-hands experience, I can safely say that these rifles function better than you can imagine, look better than you'd expect, and are such a joy to shoot.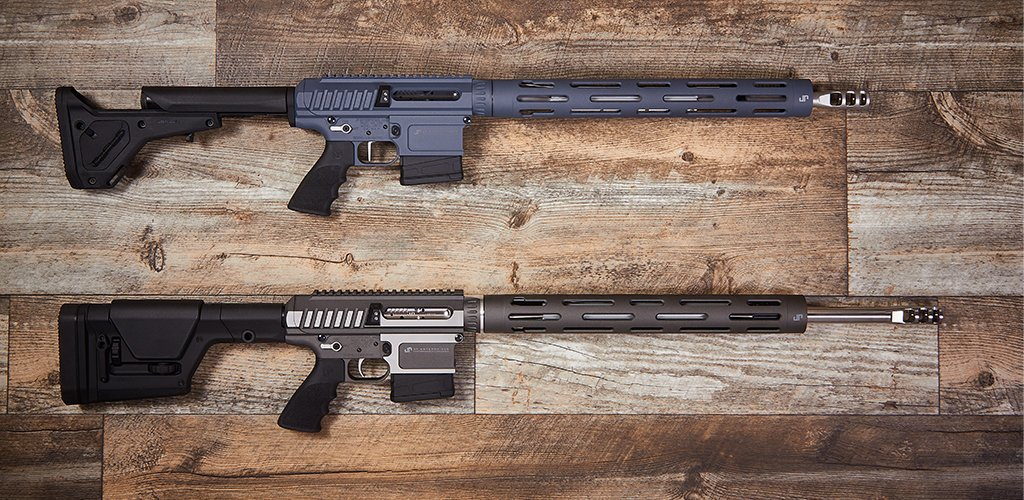 The LRP-07 is one of the best guns in JP's catalog and has quickly become their best-selling rifle platform. While complete LRPs are available, JP offers customers the ability to start with the rifle base and customize it in their popular online Rifle Builder.
The large-frame billet side-charge offers amazing flexibility in a .308 platform that operates like a .223. Even with a complex design, it's notably easy to use and shoot and is probably one of the most user-friendly long-range rifle in its class. Rest assured that it offers sustained sub-MOA accuracy, top-notch ergonomics, lightning-fast reloads, optional forward assist, and multiple caliber configurations.
It's also worth mentioning the JP-15, their longest-running rifle line that is also one of their most affordable. The small-frame forged receiver rifle is built on the AR platform and is built like a rock. Its remarkable durable build, sub-MOA accuracy, tactical configuration, and highly customizable design make the JP-15 one of the most versatile Ars on the market. Not to mention that it's available in .22LR, .224 Valkyrie, .223 Wylde, 5.56 NATO, 6.5 Grendel, and .300 AAC.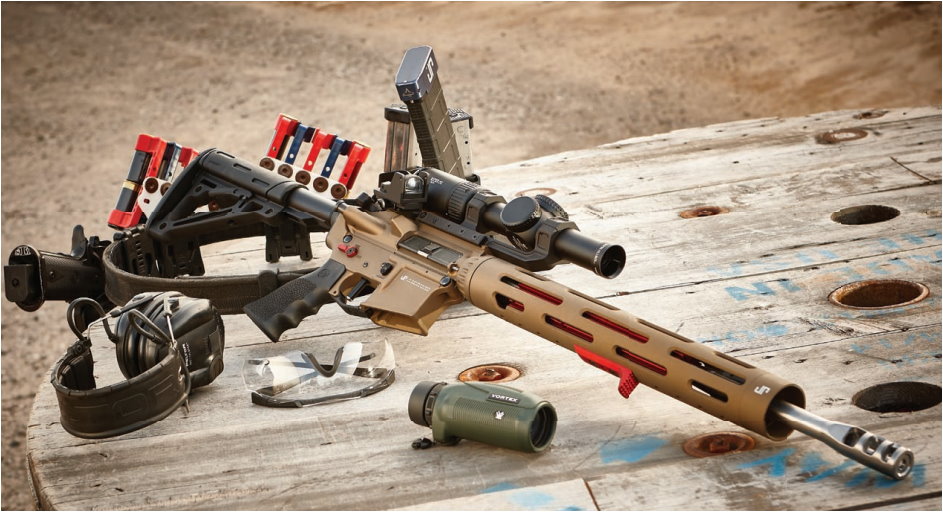 JP Enterprises SCR 11
Although the JP catalog is filled with masterpieces, the SCR-11 is garnering more attention lately, and for good reason. The small-frame billet side-charge rifle is the miniature version of the popular LRP-07 and is becoming a top pick for both hunters and competition shooters alike. They incorporated the side-charge design for easier and faster follow-up shots and reloads when time is precious. Likewise, the JP Enterprises SCR 11 features an exaggerated mag well and large handle for enhanced user-friendliness. As an added versatility bonus, they offer the SCR in .223 Wylde, 5.56 NATO, 6.5 Grendel, .300 AAC, .22LR, and .224 Valkyrie.
Model: JP SCR-11
Caliber: .224 Valkyrie
Capacity: 30 Rounds
Barrel Length: 20"
Overall Length: 38" (Collapsed) – 40.7" (Extended)
Weight: 9 lbs. 4.5 ounces
Barrel Finish: Polished Stainless
Receiver Finish: Matte Black Hard Coat Anodized
Sights: N/A (Picatinny Rail)
MSRP: $3,789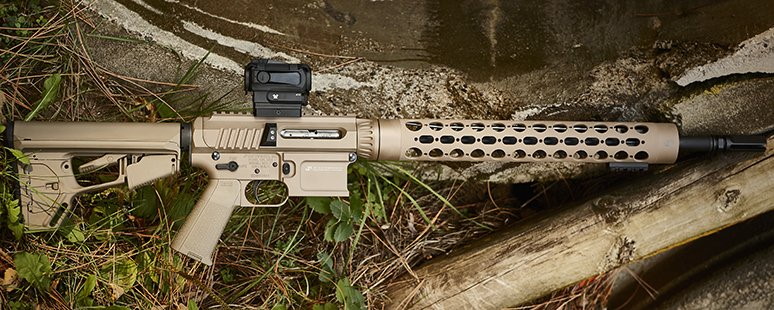 JP Enterprises Accessories
In addition to a premium selection of rifles, JP Enterprises also manufactures a wide variety of firearm parts and accessories. They pretty much have all your firearm needs covered, ranging from slings, cleaning tools, bipods, sights, optics, mounts, magazines, stocks, grips, thermal dissipators, and much more. However, they are particularly known for their muzzle devices which are among the best in the industry.
JP Enterprise Flash Hider
The JP muzzle treatments come in a variety of shapes and sizes, including compensators, flash suppressors, and muzzle attachments. Nonetheless, it's hard not to notice their "recoil eliminator" with its unusual design and renowned effectiveness. Remember that the current lineup is the result of over twenty years in muzzle tech development. Rest assured that these muzzle devices aren't just for show and can significantly improve follow-up shots and sight recovery, reduce recoil impulse and muzzle rise, and even minimize the physical strain of sustained fire.

Conclusion
At the end of the day, I find myself wanting more time with JP products. Spending time with these guns and parts is like a day at an amusement park where you fill your time as best as you can and when it's over, you still aren't ready to leave. JP Enterprises may still be a relatively unknown or overlooked gunmaker, but I believe that will all change soon. They have the capacity to make a strong impression on the premium rifle market, but only time will tell.