Table of Contents
When it comes to weapon manufacturers, Forjas Taurus might be the most unconventional brand out there. When I think of foreign arms, I think of Italy, Germany, and even France, but Taurus resourcefully put Brazil on the map. Even more interesting, the Brazilian manufacturing conglomerate isn't all about guns; they've diversified by also producing metals, construction equipment, body armor, and plastics since their inception in the late 1930's.
Taurus started as a humble company in 1941, but has since developed into an international sensation. Although their introduction into the weapons industry began with a simple revolver, they've expanded tremendously to the point where their catalog is filled with several dozen different pistols, revolvers, and rifles.
What started as a tiny Brazilian factory in Porto Alegre has blossomed into one of the largest small arms syndicates in the world. Let's take a closer look at this unique business – this is the Gunivore overview of the Taurus Firearms Company!
History Of The Taurus Firearms Company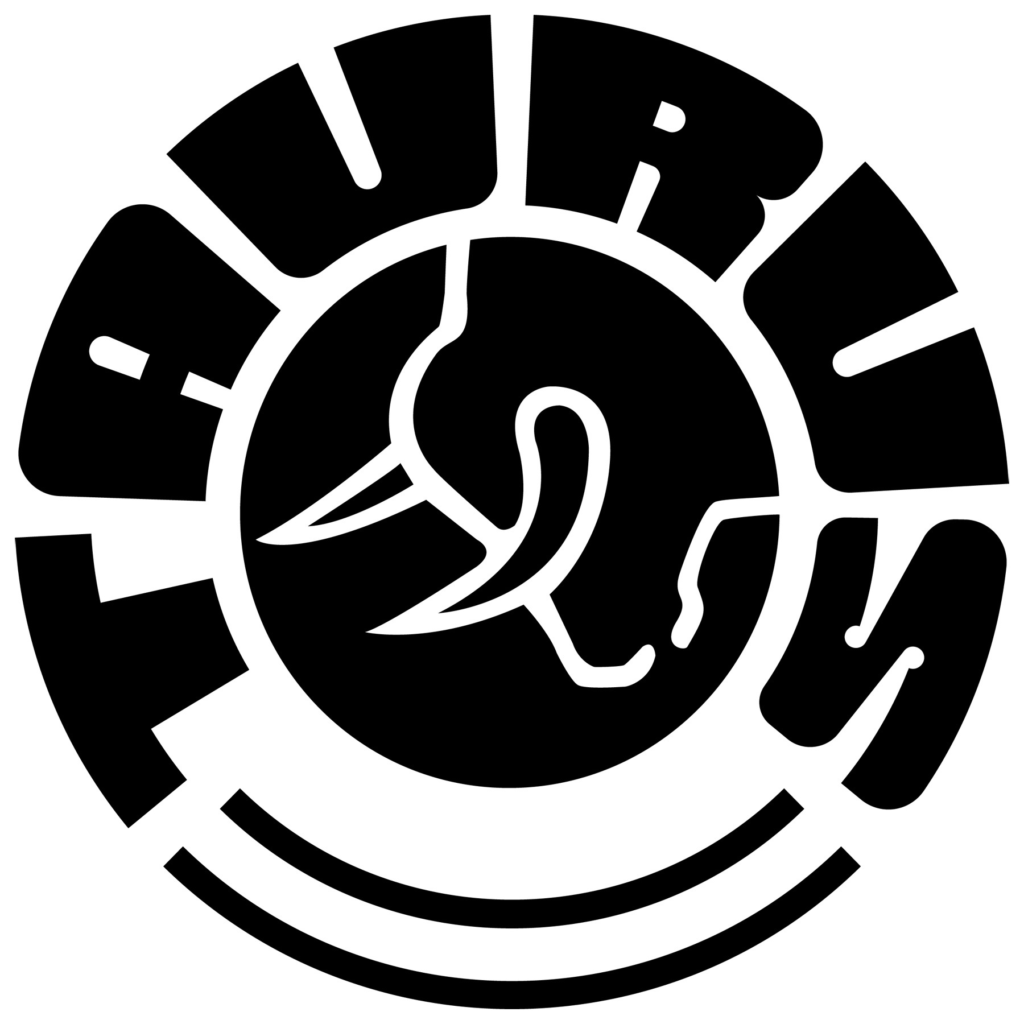 It didn't take long for the Brazilian company to get their hands in the weapons market; Taurus debuted in 1939, and had already released their first gun by 1941. While progress was slow at the beginning, that all changed 30 years later when they scored a huge deal with Smith and Wesson.
In the early 1970's, the American company acquired a majority shareholding of Taurus which enabled the established gun makers to team up with the South American newcomers. Although this partnership would only last 7 years, the information, technology, designs, and ideas shared between them left an everlasting impact on the gunmaker.
A few short years later, Forjas Taurus struck gold again – this time with the classic Italian firearms company, Beretta. Beretta had won a contract to supply weapons to the Brazilian Army, but agreed to build a new plant in Brazil and employ Brazilian workers. Once their contract expired, Beretta decided to sell their plant to Taurus. This was a huge blessing for them because along with the new factory came the experienced workers and tons of Beretta's machinery, drawings, and tricks.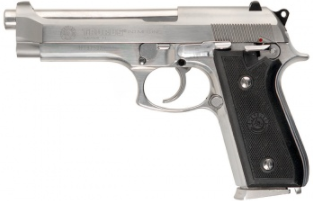 Shortly afterwards, they released the PT-92 and PT-99 pistols which were based on the Beretta 92 pistols but with several modifications and improvements. Realizing that they had potential to compete in the international business, they formed Taurus Holding, Inc., in Miami, Florida. This huge step not only increased their revenue but was also the driving force for their international recognition.
However, as good as their products were, it wasn't easy to convince buyers to choose them over more established manufacturers like Ruger, S&W and Beretta. In order to propel themselves into greatness they had to make bold moves, and in 1984, they did exactly that. Taurus became the first gun maker to offer a lifetime repair policy to their customers with no strings attached. This was huge for them – it gave them a lot more recognition and trust, especially in the U.S. market.
Their most recent shift took place right before the turn of the century when they purchased the rights to produce Rossi revolvers. Rossi was the major weapons manufacturer in Brazil before Taurus, and this contract propelled the newcomer to the top. Even to this day, Taurus still produces several popular Rossi handguns. After all of their hard work, it didn't take long for them to get the appreciation they were looking for. Over the past two decades, the Brazilian company has won dozens of prestigious awards. Some of their most notable accolades include being a Manufacturer of the Year Finalist three times (presented by SFMA) and receiving the Shooting Industry Award for dedicated service to the firearm's industry.
Taurus Firearms Company Products Explained
Although they began producing revolvers, they have since expanded their repertoire to include pistols, carbines, and even a submachine gun. Nevertheless, they are best known for their undeniably awesome handguns. One of the biggest attractions to their weapons is their affordable prices, such as their Model 1911 for less than $500. Some experienced shooters may question the reliability of their firearms, which may have been the case 30 years ago, but not so today. In general, you usually get what you pay for, but the surprising company has broken that typecast, since their high-quality products are made with very low labor costs. No weapon or manufacturer is perfect, but Taurus has grown tremendously and has addressed nearly every single one of their shortcomings.
I'm a huge fan of Taurus' variety; they currently produce guns ideal for target shooting, concealed carry, and home & personal defense. Besides for crafting their own models, they also have perfected the art of reproducing classics. Besides for their early replicas of popular Smith and Wessons, Taurus also constructed hugely successful replicas of the Beretta 92 and Colt 1911.
Did you know that every new Taurus firearm purchase comes with a FREE 1-year NRA membership?
#TaurusUSA #Firearm @NRA pic.twitter.com/TkVywY6HiO

— Taurus USA (@TaurusUSA) June 2, 2017
Taurus Semi-Automatic Pistols Review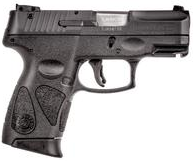 A lot has changed for Taurus since they released their first handgun in 1941. The up and coming company has expanded their line of pistols to include some pretty impressive weapons. Their first successful semi-auto was the 92, modeled after the famous Beretta. Taurus used the Italian gun as their template but updated its durability and accuracy and even gave it an ambidextrous safety. Another great remodeling effort of theirs is their take on the classic 1911 to which they gave some modern adjustments. The diverse pistols in their collection include metal and polymer framed guns, unique small-framed conceal carry weapons, and cutting-edge power horses. Besides for boasting incredible specs, many of these Taurus' have been given prestigious awards.
• PPT 1911: Handgun of the year (Shooting Illustrated).
• 740 Taurus Slim: Handgun of the year (American Rifleman).
• PT 24/7: Handgun of the year (American Rifleman), Award for Innovation (Guns & Ammo).
Taurus Revolvers Review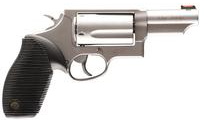 This is where it all began folks, and the Taurus revolvers are some of the finest you'll ever see. Seriously, these beasts are gorgeous, modern, highly-effective, and extremely powerful. The years of Taurus' defective products are way gone – now is it's their time to shine in all of their glory. As their history suggests, Taurus began crafting revolvers based off Smith and Wesson's but eventually graduated to a style more of their own. This new age of Taurus yielded much larger guns like the famous Raging Bull and the Judge. As extremely durable, highly accurate, full-power, and easy to handle, many of these revolvers are considered top-shelf hunting handguns.
Like their line of semi-auto pistols, the Taurus revolvers have also received several impressive accolades. Their first award came in 1997 when the 454 Raging Bull was awarded Revolver of the Year and the honors haven't stopped since. In fact, the Judge, 480 Raging Bull, and Tracker 992 have all received similar awards.

Taurus SMG's Review
• Model: MT9 G2.
• Caliber: 9 x 19 mm.
• Overall Length: 18.3".
• Barrel Length: 7.9".
• Weight: 7.3 lbs.
• Capacity: 30.
These second generation (G2) Taurus submachine guns are offered in automatic and semi-automatic. The latter, known as the CTG2, was produced primarily for the civilian market. In addition to these options, the Brazilian company also makes variant chambered in .40 S&W called the MT40 G2. They ingeniously combined aluminum and polymer components to create a weapon that is both durable and lightweight. By employing a simple blowback action and firing from closed bolt, the G2 is surprisingly accurate. Taurus also outfitted these SMG's with an AR-15 style pistol grip, adjustable side-folding buttstock, and an integrated Picatinny rail. They even incorporated an interesting iron sight system with two range settings, for 25 and 50 meters. By designing these guns with ambidextrous controls, controllable rates of fire, and great ergonomics, Taurus really knocked this one out of the park.
Taurus Rifles Review

Taurus' line of rifles and carbines is highlighted by the new and improved T4SA, based off the M4 platform. This carbine is something to behold; built in America with lightweight and durable components, the T4SA passed some seriously difficult military spec requirements. This direct gas impingement semi-auto rifle has 18 different combinations of barrel size, color, and top rail.
• Caliber: 5.56 NATO
• Capacity: 30
• Overall Length (Stock fully extended): 35.75"
• Barrel Length: 16"
• Weight (unloaded): 6.5 lbs.
• Twist Rate: 1:7
• MSRP: $1,199
What's New In 2017 For Taurus Firearms Company?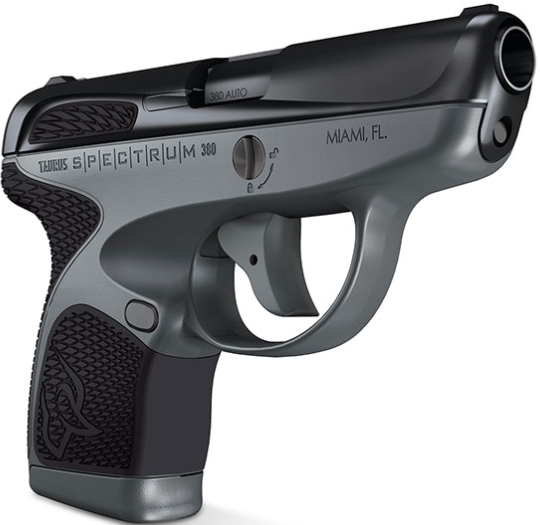 Taurus has been on the up and up ever since their debut nearly 80 years ago, and 2017 promises to be another great year for them. Besides for the aforementioned T4SA carbine, Taurus is also releasing their super compact Spectrum and Curve handguns. Now although the Spectrum is something special in its own right, the Curve has the entire spotlight. The new Curve is a uniquely designed concealed carry weapon (CCW) with a built-in holster clip and Viridian laser/light combo. With its square design and impressive specs, you gotta see it to believe it.
Conclusion
Looking back to the mid 1900's, you would never believe that Forjas Taurus would be where it is today. It's hard to believe that a small metal and plastic manufacturer from Brazil could develop into one of the most impressive weapons designers in the world. While they had a lot of help along the way, you gotta give them credit for taking every opportunity to succeed and not letting their chances slip past them. Clearly, Taurus knows that it takes perseverance, ingenuity, and a whole lot of luck to make it big in the gun business. The Brazilian company, now an international sensation with factories in the U.S., has come a long way and show no signs of slowing down. While appreciative of their past, Taurus is focused on the future. I'm really excited to watch them thrive and to keep pushing the limits within the arms industry. As for now though, I'm just gonna sit back and enjoy the show.