Table of Contents
When Glock released the subcompact Glock 26 (also known as the Baby Glock) in 1995, they knew that it was going to be a hit. There was a growing need for a concealed carry weapon, and the Glock 26 is something which many individuals were hoping for. We're not only talking about everyday carry (EDC) civilians. The Glock 26 was and is one of the most popular backup weapons among law enforcement/military/security personnel.
Glock 26 green #glock #glock26 pic.twitter.com/5aGYfPgi4F

— Glock Magazine (@GlockMagazine) October 18, 2016
Baby Glock
The Baby Glock was the first subcompact Glock released. Like its older brothers, the standard Glock 17 and compact Glock 19 gen 4, it was chambered in 9×19. Soon afterward, they released the Glock 27 subcompact (chambered in 0.40 S&W), which also became a favorite of security personnel worldwide. All Glock models share certain characteristics: they are made of high-strength polymer and steel, and they are striker-fired. When it comes to safety, Glock does not mess around – in place of a safety button, Glock utilizes a unique triple 'Safe Action' design to ensure that its products are reliable, accurate, and durable. A Glock is a Glock, no matter what size it is.
The Baby Glock has the standard magazine capacity of 10 rounds, and it can be extended to +2 with plates. Other magazine options available are 15, 17, and 33 rounds, which belong to the G17 and G19. Basically, any Glock 9mm magazine will fit nicely into the G26. Want even more firepower? Put those magazines down, and pick up a 50 or even 100-round drum. These drums will fit the Glock 26 just as well as any of the magazines previously mentioned. Of course, if you are going for stealth and concealed carry, you may want to rethink the drums. Versatility is a great advantage but know your limits.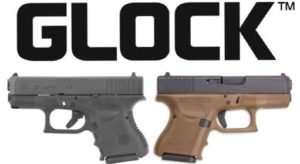 When Glock released its Gen4 series in 2010, the Glock 26 wasn't left out in the cold. The Gen4 series is distinguishable in several ways, and this is true to the G26 as well. First, there is the company's writing, right there on the firearm's slide. In 2010, Glock adopted the fan-made 'Gen4' nomenclature and officially labeled the newest generation of guns Gen4. Second, there are the common Gen4 improvements: replaceable back straps, a textured grip, and a larger magazine release button which is also reversible.
The extended / reversible magazine release is a Gen4 addition which merits a little more attention. Changing magazines easily and quickly is a life-saving skill which every shooter should acquire, regardless of the weapon. When you are in the middle of a gunfight, the absolute last thing you want to be is empty. Changing magazine with efficiency is a necessity, and this is true whether you are law-enforcement, military, security, or run-of-the-mill EDC. It's all about readiness. Another very important improvement (in my opinion) is the replaceable backstrap option. An adjustable back strap means not only a better grip but also the option of switching grips around. This means that the Glock 26 Gen4 may be small – but it can fit all kinds of hand sizes. Again, Glock's versatility knows no bounds.
Glock 26 – Baby Glock Performance
The Glock 26 is one of those firearms which cannot go wrong. Almost anyone who has ever laid their hands on the G26 is in agreement on this. It's a great little gun, plain and simple. It takes all of Glock's ingenuity and delivers it in a nice compact package. The Baby Glock is a good choice for almost anybody who wants to purchase a firearm and is not sure about where to go with it.
If your thing is concealed carry, then be prepared. The Glock 26 is about to become one of your best friends. It is a gun which you can simply slide into your pocket, and you're good to go. Alternatively, you can get yourself a holster. There are some very good ones made for subcompact handgun models.
As far as functionality is concerned, the Glock 26 shoots like a dream. It gets the job done with style, in flawless Glock tradition. It's a beautiful gun, and many choose this handgun to be their first purchase.
With a subcompact like the Glock 26, you should be practicing drawing and cocking as much as you do actually firing the weapon. Because of its size, there are those who have trouble gripping the Baby Glock. Even if you decide to pick up some sort of an accessory, like a grip or sleeve, and even if you think you have it down – the best a shooter can do is practice, practice, practice.
Owning a handgun, especially for concealed carry, is all about being prepared. This is true for civilians, we well as those on the force or in the service. If you want to become proficient with the Glock 26, you must condition yourself and your fingers. Draw, cock, aim, shoot. Practice makes perfect.
Glock 26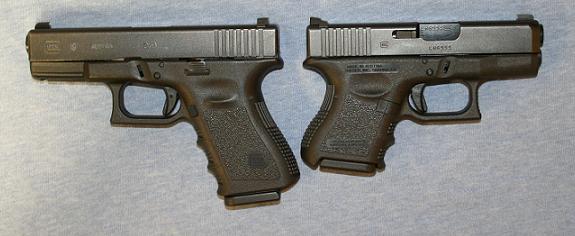 The Glock 26 primarily supports a two-finger grip, but there are factory (as well as aftermarket) extensions available to those who want to extend their grip. The G26 is more than just the 17 and 19's "little brother". When Glock was designing the subcompact, it didn't simply make a shortened version of the Glock 19. The Glock company shortened the slide and barrel, but then the frame, spring, and locking mechanism had to be changed as well.
Let's take a quick glance over to our other old standbys, the older siblings of the Baby Glock. People often like to compare the Glock 17 vs 19 to see which firearm is considered the "ultimate". The answer, of course, is that there is no one best gun and that different models are suited to different people and purposes. For instance, the G17 has a longer barrel, which can aid in accuracy, while the G19's smaller size lends to easier carrying (whether concealed or open).
The same sentiment rings true for the G26. It is neither better nor worse than the other aforementioned Glock models, but simply different. Only through research, and of course by actually trying out the various guns yourself, can you determine which is the best gun for you.
Glock 26 Technical Specs
Caliber
9X19mm
Length
6.49 inches
Height
4.17 inches
Width
1.18 inches
Unloaded weight
21.71 oz.
Loaded weight
26.12 oz.
Barrel Height
1.26 inches
Trigger pull
~5.5 lbs.
Barrel rifling
Right hand turn, hexagonal
Length of twist
9.84 inches
Magazine – Standard
10 rounds
Magazine – Extended
12 rounds
Magazine – Optional
15 / 17 / 33 magazine, 50 / 100 drum
As with the full and compact versions of the Glock 9mm model, accessories and styling options are widely and readily available in most gun shops, as well as online stores. Cleaning and maintenance are the same for pretty much all Glock models.
You no longer need to compromise. With the G26, you get the ease of carrying and functionality all in one small, simple, and effective gun – that, in a nutshell, is the Glock 26. Furthermore, the Glock 26 gen 4 price is comparable to the costs of both the 17 and 19. Whether you are looking for the perfect backup gun, or for a primary concealed carry weapon – the Baby Glock is one gun which you have to check out.
Thanks for joining us here at Gunivore!