Dear CZ P10c, do we really need you?
The shooting world is seemingly still overrun with 9mm, striker-fired, polymer-based, semi-automatic pistols. We have Gaston Glock to "blame" for that, I suppose? At any rate, there are many manufacturers who are interested in getting a slice of that polymer pie, and some are doing a pretty good job competing with Glock's weapons. One of those companies is Česká Zbrojovka (CZ), which has a US-based subsidiary in Kansas – aptly named CZ-USA – and who is giving Glocks a real run for their money.

CZ P10 Series

The P10c was first in the line of several weapons carrying the P10 name. After the success of the P10c, CZ came out with the P10s (for subcompact) and the P10f (for full-size) in 2018. In a blatant (not to mention comedic) attempt to let people know precisely what they were up to with these guns, CZ-USA chose the tagline "Improving on Perfection" to go along with the release of the P10c. Wink wink, nudge nudge.
The concept behind these was pretty straightforward: CZ makes good weapons, and it was looking for a way to break into the synthetic-materials market. There was a previous attempt at this back in the mid-90s, when CZ introduced the CZ 100 (in 9mm and 40 S&W), and the CZ 110. However, due to low sales numbers, they were both discontinued around 2008.

Most often, a full-sized model of a weapon is released first, and is then followed by a compact and/or subcompact version. To their credit, CZ decided to go about it a different way, releasing the compact version first. This way, they let shooters know they were about now, and what it is they had in store for the future. It was kind of refreshing, in a way.

An optics-ready (OR) version of the P10 series is now available, spanking new for 2019. Machined mounting plates, option for co-witness, and the fact that the OR versions are made right here in the US – these all contribute to the likeability of these newer models. Another difference is that the mag release button has been improved on. A downside is that the mag release is no longer ambi, and that the interchangeability of magazines is not guaranteed.

Also available are the suppressor ready versions, which include a threaded barrel and higher night sights.
Build & Performance
Since the P10c was designed to compete head-on with the Glock 19, the build is pretty similar. It is polymer-based, glass fiber-reinforced, striker-fired, and it has a stainless steel slide. Designed in 2014, the company worked on it for a while, releasing it in 2017. As one poignant forum-writer put it: this thing took everything that was good about the Glock 19 and made it better.

That said, I personally do not feel there is something which makes the P10c a significantly better weapon than the Glock 19. Both of them feel right in your hand, both of them shoot well, both are fairly concealable – and when you are dealing with a compact firearm with the potential of being an EDC, that's what you want. You want that natural feel, decent accuracy, high capacity, with the option of hiding it in plain sight.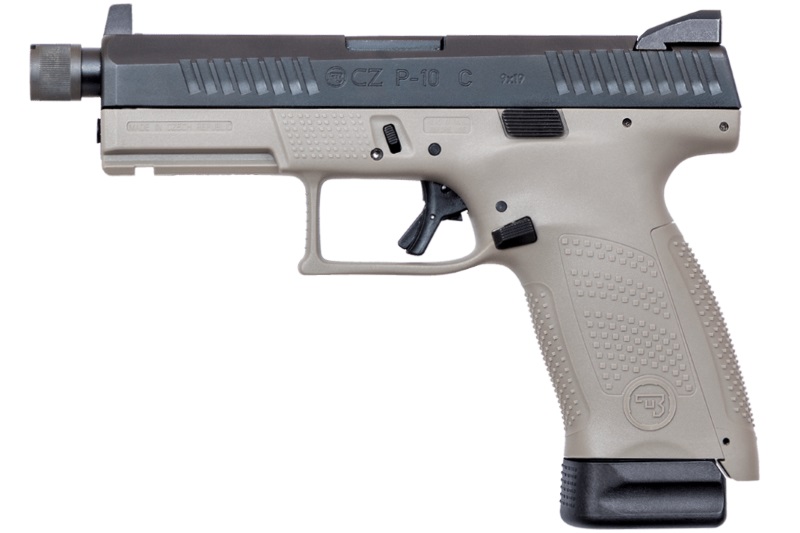 I mean, the gun has some things which make it a little different (the deeper beavertail, the nitride finish, and several backstraps for adjustability), but overall they are very similar, from the look and feel right down to the takedown process.
Another noteworthy point is that there is a pretty good factory trigger on this gun. Crispy. The only thing I would change right from the beginning is the sights. I would black out the rear sights, and turn it into a one-dot. It seems that is what CZ did with the OR models, and that is a good idea.
It's a great little shooter, very manageable recoil, solid grip, on point. I feel everything about this gun is as advertised, honestly, so good on CZ's marketing department for playing a straight game. Better than Glock? I feel they are too similar for me to make the call. But it certainly seems to be on par, as far as functionality and performance are concerned.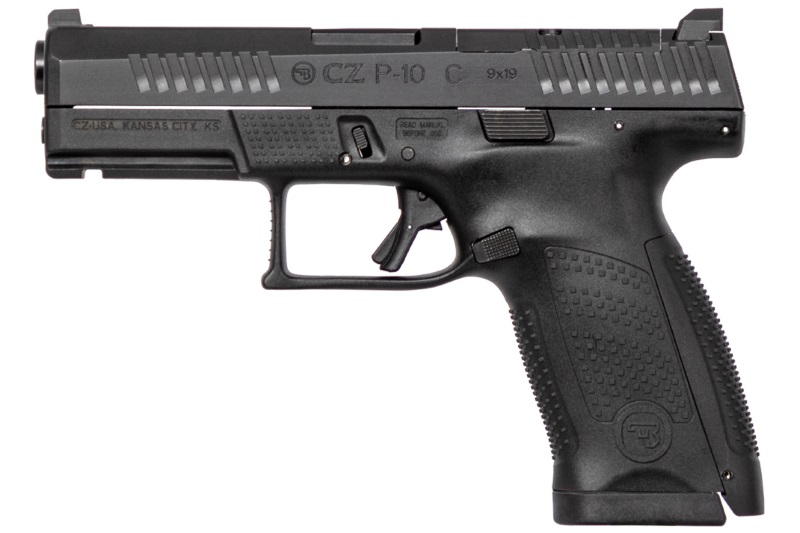 CZ P10c Specs

Action: Striker-fired, semi-auto
Caliber: 9mm
Capacity: 15+1
Barrel length: 4.02"
Overall length: 7.3"
Weight: 26 oz
Sights: 3-Dot
MSRP: $499
CZ P10c For Sale
The MSRP for the P10c is $499. For that kind of price, which is reasonable for such a weapon, you get a lot of value. CZ are known for their quality firearms, and this one is no exception. The accuracy, the ease of use, the materials used – these are all contributing factors to the gun's success both at the firing range and the checkout counter.

If it was not worth the price, people would not be buying it. That much is a given, I think. The consumer market is the one who eventually decides on whether or not there is any added value in a product, or whether or not the price of an item is justified. And it seems that the market's decision is that it is well worth it.
Just take a quick look at the forums, shops, conferences, and conventions that are going on all around us. There is very little wrong with this series, from what people are saying. It does require something of a break-in period, though. Perhaps more than the Glock does.

The street price of the P10c can be about $420-$450, but prices vary. There isn't much more you can ask from such a weapon, in my opinion. It does its job, it has some options of customizability, and there seem to be nearly no complaints about it (after the gun has been broken it, anyway).
The first-ever generation of almost any firearm tends to have some issues, and it is pleasantly surprising to find that many shooters have literally nothing bad to say about the P10c.

On the other hand, many of them state that there is nothing special about it, either. This is pretty much how I feel. If there was something inherently wrong with it, I think it would have come up by now.
The fact that it doesn't "wow" me doesn't really surprise me. I am honestly not expecting anything "wow"-worthy at that price. If you want WOW, you will have to shell out more money for something better, I think.
CZ P10c Availability
The P10c (along with its P10 brethren) is available at gun shops and online stores all over the place. When it first was introduced, people were waiting on pins and needles to get their hands on one. The hype was real, and shooters were excited to see what CZ could do.

Now that it has been a couple of years or so, the demand is still there, though it is probably not as high as it was at first. I don't have precise numbers or sales stats to back this up, mind you, this is pure speculation and conjecture. If anyone out there does have some numbers, feel free to send them our way!

CZ P10c Vs Glock 19

And now we come to the obligatory head-to-head with the G19. As I said, there are differences, but overall there appears to be a greater amount of similarities. *Spoiler alert* – there is no clear winner.
As is almost always the case with firearms, and particularly those who you could potentially use as your EDC – it comes down to personal preference and nothing else. If the shoe fits, wear it.

Some are choosing to de-throne the G19, shout "The King is Dead!", and crown the CZ P10c as its successor. Okay, fair enough. Ergonomics-wise, there is an advantage to the P10c, because of the increased customizability. On the other hand, there are many aftermarket products designed specifically for the Glock. Out of the box, CZ's ergonomics does seem to be more on point.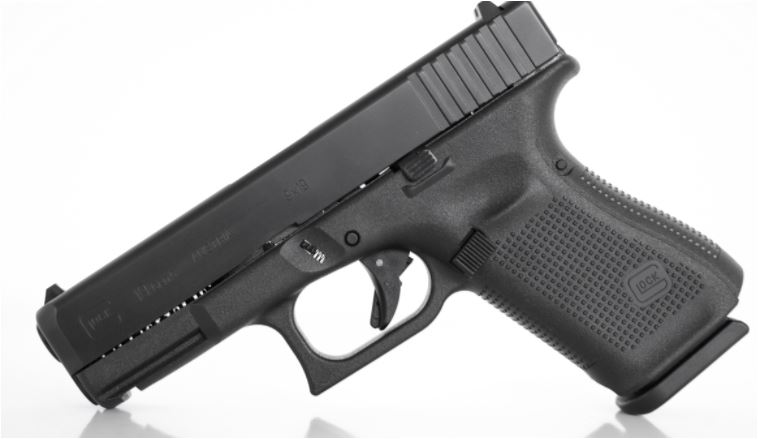 Price-wise, they are nearly the same, with the Glock 19 Gen5 being the more expensive one at the moment, with a MSRP of $539. But price isn't everything. Consider the fact that this is a Gen5 we're talking about, which means that 4 previous generations have come and gone, adding a lot of input along the way. That translates into plenty of trial and error, customers' opinions, tweets, and posts, PLUS feedback from many dealers and distributers – over 30 years' worth, in fact!

As for size, the P10c is a tad larger in its build. And by a tad, I mean just that. It is still a compact 9mm, after all, so when I say it is larger I only mean comparatively. The differences in size are almost negligible, although for those of us who plan on carrying these guns IWB, these seemingly-minor differences can become more pronounced.

Bottom line: the Glock 19 is tried and true, whereas the CZ P10c is the newcomer which is only getting its polymer feet wet. The only way you will truly know if it is worth your hard-earned dollars is by shooting one for yourself. Alternatively, you can ask around and talk to people whose opinion you trust. Don't let the internet brigades decide anything for you! Certainly not when discussing a potential EDC piece.
Conclusion

The P10c is a neat gun, available at a normal price, with some features which really allow it to compete with other similar handguns. It is manufactured in the Czech Republic, though some models are made in the US.

There is no question why so many people are comparing it to the Glock handguns. But the CZ P10c is not the only handgun in the running. There are several other companies out there who are manufacturing some serious competition for the Austrian brand. After many years pretty much dominating the market, some companies – like CZ – are taking another shot at breaking into the synthetic-material market. And it seems like they are going about it in the proper way.

As for long-term use, the CZ P10c has a one-year warranty on wooden parts and surface treatments, and a five-year warranty on other parts. However, it could very well be that the company takes good care of its clientele long after the warranty has officially expired. I've heard and read good things about their customer service.

If you are in the market for a compact 9mm pistol, there is no reason not to take a look at CZ's P10c. It is one of the best and most viable options out there for the ordinary everyday shooter and carrier. Fair price, nice quality, great value.