Table of Contents
Smith & Wesson is a company that's trusted by millions around the world for producing top-shelf firearms, and the M&P 40 Shield is no exception. The M&P story begins in 2005, when they debuted a new line of semi-automatic pistols which revolutionized the weapons market. The M&P Series (military and police), has become a staple in militaries and law enforcement agencies around the globe, and has since been adapted for civilian use as well.
The M&Ps were fundamentally different than the other semi-auto handguns manufactured by S&W, and have become one of their most popular handguns. Although they make several variants within the series, I want to focus on the M&P 40 Shield specifically. Granted that the Shield was not their first compact firearm, it was nevertheless the one that established them as a premier manufacturer of CCW's (concealed carry weapons). In fact, S&W introduced the Shield in 2012 to compete with the already established CCW powerhouses such as Glock and their model 43. Check out our review and see how well they match up.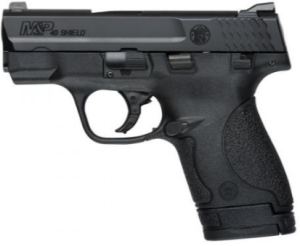 At first glance, it looks like they just shrunk the standard M&P, but in reality, the lightweight and compact Shield is much more. They phenomenally managed to do so without having to concede any power or reliability, and were able to make it a top-notch S&W-quality firearm. I guess that's the benefit of having over 150 years of experience in weapons engineering. Shooters love having a gun that's easy to handle, which makes the fact that there are over one million Shield owners, not a surprise at all. It also doesn't hurt that it's American-made and is backed by the Smith and Wesson lifetime service policy.
Smith & Wesson M&P®40 SHIELD™ Specs
Caliber:.40 S&W.
Capacity:6+1, 7+1.
Action:Striker Fire.
Safety:Thumb Safety.
Barrel Length:1" (7.9 cm).
Overall Length:1″.
Front Sight:White Dot.
Rear Sight:White 2-Dot.
Grip:Synthetic.
Weight:6 oz / 584.0g.
Barrel/Slide Material: Stainless Steel.
Frame Material:Polymer.
Slide Finish:Armornite®.
Frame Finish:Matte Black.
MSRP: $449.00.
Purpose:Concealed Carry, Personal Protection.
Smith & Wesson M&P 40 Shield Build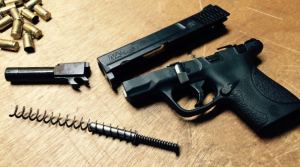 When it comes to protection, you need a gun that you can rely on, and the M&P pistols are as reliable and durable as they come. However, the 40 shield specifically, is something special. Smith and Wesson built this semi-auto with the most durable components to ensure that, if you ever have to use it, the last thing on your mind should be its competence. Engineered with a high-strength polymer frame (with embedded stainless steel rigid chassis system) and a corrosion-resistant steel slide and barrel (made of Melonite), the Shield is an extremely resilient and dependable firearm.
The M&P 40 Shield weighs in at about 20 oz, and measures just less than 1" in thickness. It's astounding how S&W could develop a pistol with such durability and quality with such small dimensions. Even within the M&P line, there are similar guns to the Shield, such as the M&P Compact; to find out how they compare check out my review of the full M&P line. All things considered, the M&P 40 Shield is easily concealed, exceptionally user-friendly, features professional-grade materials, and is an overall pleasure to own.
Smith & Wesson M&P 40 Shield Shooting and Performance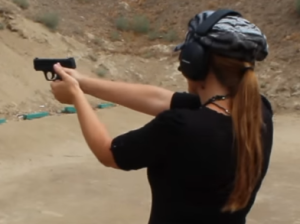 The M&P 40 Shield is a great compromise for shooters who want the power and speed of a high caliber but with the handling of a smaller chambered pistol. You can tell how much effort S&W put into it to guarantee that it could shoot both powerfully and accurately while maintaining top-notch handling. The locked-breech (recoil-operated) action pistol fires surprisingly smoothly with manageable recoil, considering its caliber size. Everything from the sights down to the trigger was masterfully engineered to make that happen. The hinged trigger design and striker-fire action offer a short consistent trigger pull every time.
In my experience, the quality of a trigger could be a deal breaker; but these factors, combined with its effortless 6.5 lbs. trigger pull, make the 40 Shields hard to pass up. Nearly every component of this gun contributes to its impressive firing abilities. The ergonomic controls and the 18-degree grip angle make shooting both comfortable and stress-free. And I can't emphasize enough how crucial these factors are in a CCW/home-defense weapon. The exclamation point of the M&P 40 Shield's valuable performance is its simple yet effective sight system, which allows for quick-to-point accuracy, which I'll discuss more in-depth below.
Smith & Wesson M&P 40 Shield Mags and Sights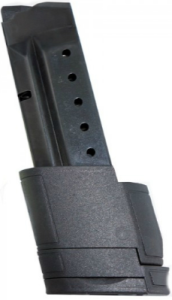 Because the M&P line was originally designed for police and military use, Smith & Wesson engineered them to be fired quickly and accurately. To do so, they had to create highly effective sight and mag systems, which they accomplished flawlessly. For starters, each 40 Shield ships with 2 mags: 1 flush and 1 extended capacity and includes a cable lock. To make their semi-auto even more user-friendly, they designed a reversible mag catch –assuring lefties everywhere. Its small size only allows for 7 or 8 bullets, depending on the mag – but that should be plenty.
The incredible sight system on the S&W M&P 40 Shield is the highlight of this all-round remarkable firearm. The steel, white dot, dovetailed sights are low-profile and drift adjustable. It also features a square rear notch for rapid alignment and a rear locking set screw for added stability. I'm a big fan of the front sight which has built-in height adjustment capabilities for varied ammunition types. These features are underlined by the Shield's 5.3" sight radius which enables faster tracking and smoother target acquisition. When you combine all of these first-rate elements, the result is a sight system which allows multiple rounds to be placed on target both accurately and consistently. I don't think I could praise S&W enough for developing the 40 Shield's sight system; it's the cherry on top of an already extraordinary compact firearm.
RELATED: Check out our Smith & Wesson 500 Magnum and SD9VE reviews!
Smith & Wesson M&P 40 Shield Safety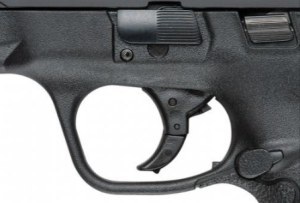 It's not a simple task to develop safety features for a gun that is designed for emergency situations. Smith & Wesson hoped to engineer the M&P with enough specific safety features to make the gun both safe and dependable while making it as quick and simple as possible to point and shoot. S&W made thumb and magazine disconnect safety options available in 2009, while some features come fixed to the gun. For example, the M&P40 Shield has a loaded chamber indicator and an articulated trigger safety which prevents the weapon from firing if dropped. Although the 40 Shield disassembles safely (without having to pull the trigger), be careful, because it can still fire without a magazine.
Smith & Wesson M&P 40 Shield Assembly
Field stripping the M&P 40 Shield is straightforward, quick, and safe. The first thing you should do is a safety check. To disassemble, first pull the slide fully to the rear; press upward on the slide stop while letting the slide move slightly forward, thereby locking the slide open. Next, you will need a screwdriver or prodding tool to push the sear deactivation lever down in the mag well.
This lever adds an added safety bonus by allowing the shooter to disassemble the gun without having to pull the trigger. Then, while holding the slide from the top, pull it back slightly to disengage the slide stop. After that, remove the slide forward (be careful to retain the recoil spring and guide rod assembly) and the recoil spring from below the barrel. Lastly, remove the barrel from the bottom of the slide. Your M&P 40 Shield is now fully disassembled and can now be cleaned and lubricated.
Smith & Wesson M&P 40 Shield Price
It's nearly impossible to put a price on feeling safe and secure. Nevertheless, Smith & Wesson has, and for a reasonable MSRP of $449, how could anyone pass that up? The quality of the Shield far exceeds its asking price, not to mention that it comes with 2 mags, a cable lock, and the S&W lifetime service policy. It's available on the S&W catalog and in stores around the country, but check your state laws to make sure there won't be any surprise issues.
Just got the Techna Clip for my Smith&Wesson m&p shield 40 #ccw #protection #hunting #California #technaclip #shield pic.twitter.com/tCHsgaIt26

— Steven Gee (@StevenGee12) August 19, 2015
Smith & Wesson M&P 40 Shield Accessories
Smith & Wesson offer a variety of accessories, but for a CCW like this, most shooters tend to leave it the way it is. Either way, the M&P 40 Shield features an integrated Picatinny rail underneath the slide on the front of the frame. I've seen several guys at the range who've attached tactical lights or lasers to theirs, but the choice is all yours. If you're looking to buy additional sights/scopes/lasers, I recommend checking out brands like Novak or Trijicon first. For more information on Trijicon's products, check out our Trijicon Reflex, SME, and Scopes and Sights features.
Conclusion
There are three main factors that make me love the M&P 40 Shield:
It's engineered by Smith & Wesson: an American company with over 150 years of experience in weapons.
The M&P line as a whole has arguably contributed more for law enforcement around the world than any other firearm.
Its ubiquity –Over 1 million proud M&P Shield owners leads me to believe that it's as good as they come.
Anyone looking for a high-quality concealed carry weapon, who doesn't consider the Shield, is mistaken. S&W masterfully crafted this semi-auto with the perfect balance of ergonomics, compactness, accuracy and power.
Thanks for reading our M&P 40 Shield review! Browse around here at Gunivore – from the New Glock 17 & 19 Gen 5 to the M16 to the KSG, we've got it all!