Table of Contents
Diamondback guns are relatively cheap and that's their whole appeal. Well, a lot of folks also end up stumbling upon the DB9 when searching for an ultra-concealable carry gun. These compact lightweight pistols are not just small, they are the epitome of a CCW. But there are obvious problems to consider when dealing with a budget gun. That being said, we wanted to know if the Diamondback DB9 is worth your time and money – So let's take a closer look, shall we?

Diamondback DB9 Specs

Model: Diamondback DB9EX
Caliber: 9mm
Capacity: 6+1
Barrel Length: 3"
Overall Length: 5.6"
Height: 4"
Width: 0.8"
Weight: 11 oz. (Unloaded)
Sights: Adjustable 3-Dot
MSRP: $349

Diamondback DB9 Build
The Diamondback DB9 micro-compact pocket-9 looks revolutionary but looks can often be deceiving. At first glance, this lightweight pistol is built like the Ruger LCP, Kahr P380, and especially like the Kel-Tec PF-9, with a clear Austrian influence from Glock. For starters, I'm a big fan of the compact size, especially because it still feels good in the hands. I have big hands so the slim profile isn't great and my pinky hangs loose. Nevertheless, Diamondback offers +1 extended mags which makes a big difference.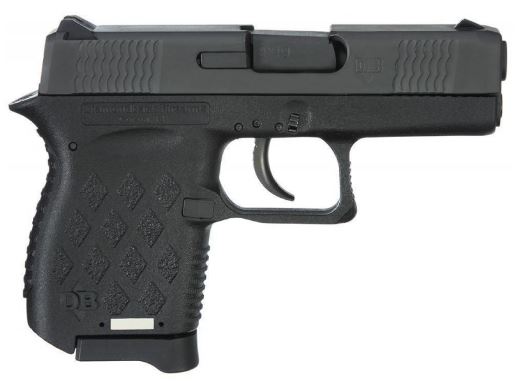 Another thing you'll notice is that the DB9 has several notable features which you'd only expect to see in premium firearms. Even though many of these are small, they come together in big ways and should not be overlooked. For instance, they threw on deep slide serrations on the front and rear, aggressively textured grips, and an innovative safety system.
The DB9 was outfitted with Diamondback's patented "Zero Energy" striker system, featuring only internal safeties. In addition to its internal mechanical firing pin block, this inventive safety system restrains the striker from the primer until the trigger is intentionally pressed. While most other striker systems allow minimal spring tension, the DB9 keeps the striker safely at bay.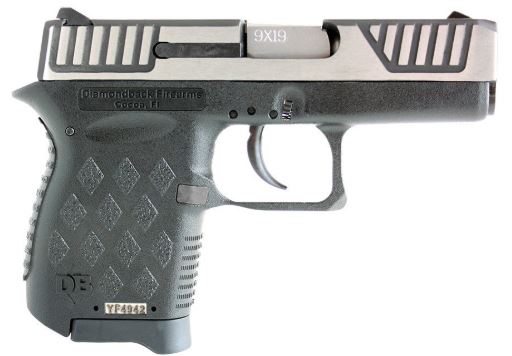 In terms of durability, the Diamondback 9mm is right about average. Because the firearm is so lightweight to begin with, they didn't mind adding several steel components to give it some added strength. Similarly, instead of fancy finishes or coatings, the DB9's slide and barrel were crafted with Finite Element Analysis Software. This computerized engineering process basically predicts how a given product will react to a wide variety of real-world influences, including heat, vibration, and air pressure. As a result, the DB9 is surprisingly resilient and corrosion-resistant.
Lastly, I was impressed by the simplicity of the 9mm's takedown and field-stripping. Although it may take some getting used to at first, eventually you'll be able to do it in seconds. Props to Diamondback for excluding removable pins or the need for tools.
Diamondback DB9 Performance & Shooting
As with any subcompact firearm, recoil is always your first concern. Nonetheless, the Diamondback premier pocket-nine is actually quite manageable. Although the DB9 is one of the smallest 9mm polymer pistols out there, the FEA construction help absorb recoil and keep it at a controllable level.
While the Diamondback's "Zero Energy" striker system may be good for safety, it has a massive impact on the DB9's shooting. The steel DAO trigger requires seriously intentional pull but is still probably better than the LC9. On the other hand, the DB9 is pretty ammo sensitive, so avoid using any reloaded, +P, or +P+ cartridges. Additionally, it's best to stick with SAAMI approved ammo that is under 124 gr.
The Diamondback 9mm is accurate, but only at short distances. But that's all you would ever really need it for. The pocket pistol is plenty capable within 10 yards, but anything further is questionable. I can't stress enough that the DB9 is not meant to be a primary EDC gun. This firearm was designed as a backup pistol and it functions quite well as such. This is the kind of gun you keep in a purse, glove compartment, or desk drawer.

Accessories for the Diamondback DB9
Diamondback doesn't really offer much of a variety when it comes to aftermarket options. Nevertheless, the most common accessories people buy are extended mags (definitely worth it), nifty pocket holsters, and speed loaders.
But there is one special attachment out there that stands out above the rest. LaserLyte – the company behind some of the most innovative firearm laser technology – has a laser sight trainer that is specifically designed to fit the DB9. Whether or not you believe this is a fundamentally useful accessory, it definitely works to improve faster target acquisition and overall accuracy.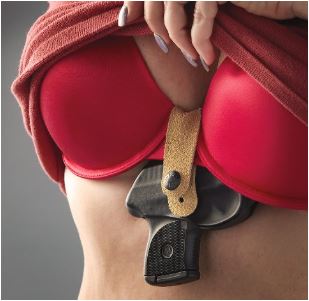 Conclusion
I will repeat what I said earlier: The Diamondback DB9 is not designed to be a primary firearm. With that being said, this pocket pistol is more than capable of being your next backup gun. It's a good gun to own that is better than average if used appropriately, which means using the right ammo, for example.
Thanks for joining us here at Gunivore – Stay tuned for more in-depth reviews of the new and exciting firearms and accessories