Table of Contents
The Aero Survival Rifle is one of the most elegant yet unheard of takedown rifles on the market. All the same, the pistol caliber carbine is more than capable of catering to all of your survival needs. This unique gun was developed by TNW Firearms Inc., an up-and-coming manufacturer of assorted firearms and accessories. The Oregon-based company may have only opened their doors in the early nineties, but TNW is quickly making a name for themselves among American sports shooters, especially on the west coast. Their dedication to the future of innovation while seamlessly looking to the achievements of the past not only humbles them but also drives them forward each day. With that being said, it's time we take a closer look at their famous Aero Survival Takedown Rifle.

Aero Survival Rifle Specs

Model: Aero Survival Rifle
Caliber: .22LR, .22MAG, & .17HMR, 9mm, 10mm, .45ACP, .40S&W, .357SIG,
Capacity: Varies depending on caliber
Barrel Length: 16.25"
Overall Length: 29.5" – 33"
Weight: 5.5 lbs.
Stock: AR-style collapsible
Sights: N/A
MSRP: $799

TNW Aero Survival Rifle

Aero Survival Rifle Build
Although most takedown rifles follow a similar style, the TNW model stands out among the crowd. Like many others, the Aero was designed based on the classic AR-7, the ArmaLite's backup rifle for American Air Force pilots. The AR-7 had pretty decent commercial success, but Eugene Stoner and his ArmaLite team of engineers drew international acclaim just a few years later for developing the AR-15.
The whole novelty of these rifles is not so much their accuracy or aesthetics, rather it's their uncanny compact portability and convenience. A true takedown rifle can be completely disassembled and reassembled in a matter of seconds without any tools. This makes them the ultimate survival weapon, perfect for a variety of survival needs. Likewise, this enables them to be taken down and divided into smaller components, easily stored, and transported inconspicuously.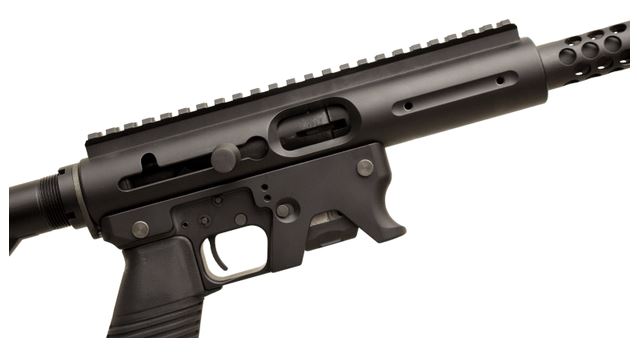 Nevertheless, the Aero rifle stands out thanks to its removable barrel and variety of caliber options. In the words of TNW, this rifle "is a winner in home defense, backpacking, boating, and backcountry flying." Because the Aero Survival Rifle was built for its takedown features, you shouldn't expect anything special from the rest of the gun. Nonetheless, TNW threw on a pretty sturdy aluminum receiver, AR-15-style grip, and a surprisingly solid collapsible stock to provide shooters with a custom fit.
Aero Survival Rifle Shooting & Performance
A gun is only as good as it can shoot, so even with all of the caliber options (and there are plenty), the Aero is only worthwhile if it's reliable. To improve the TNW semi-automatic even further, they incorporated front accessory rails and fully-ambidextrous operation with right- or left-side ejection.
In terms of its versatility and manageability, the Aero functions like most survival rifles. Once you get used to the tricks of its assembly you should be able to manipulate it in seconds. In addition to its intuitive control system, the build is slightly unusual but is easy to get accustomed to.
In general, I found the TNW tactical rifle extremely easy to handle, even as I moved up from .22 to .40 S&W and 10mm. However, while my experience was flawless, many people report loose barrels and even significant jamming. In fact, I would say malfunctioning is not so uncommon for the Aero rifle but when it works it's definitely worthwhile. That being said, I certainly think the rifle is way overpriced, especially considering the number of reported failures. I think a lot of the price is due to the fact that the company is still small and growing, but even some major manufacturers have overpriced survival guns – maybe it's just because it's a niche item, but who knows.
Aero Survival Rifle Mags
Aero enthusiasts love having the insane amount of caliber options, but they really love TNW for enabling it to accept standard Glock magazines. This is a massive advantage especially considering most survival rifle owners also have other guns.
Conclusion
Although not all takedown rifles are created equally, the TNW survival rifle is certainly one of the better models. Unfortunately, I think they spent too much time focusing its versatility instead of perfecting its reliability and performance. Nevertheless, I wouldn't say the Aero rifle is a bad buy, but it's the kind of firearm I'd say wait to get second-hand, especially considering the high price tag.
We hoped you enjoyed the Gunivore Review of the Aero Survival Rifle
Don't miss out on our take of the famous Henry Survival Rifle!