Table of Contents
If you thought the other Kahr firearms were small, wait until you see the CM Series!
Kahr hit the market less than 30 years ago and has already changed the way the world approaches concealable carry weapons (CCWs). As a manufacturer of these compact handguns, they've chosen the fastest growing market to target, so it should be no surprise to see how fast they've expanded. Because of the high demand for smaller, cheaper, and more efficient concealable pistols, weapon designers around the world have been striving to design the best CCW, and Kahr has some of the best in the industry.
Considering how similar Kahr's guns are, this Gunivore review is more crucial than ever. And while their pistols may look alike, it's their many nuances which make them worlds apart. In today's Gunivore breakdown, we're gonna be looking at the Kahr CM40, which is part of their Value Series. However, before we begin, I highly recommend checking out our rundown on the entire Kahr Firearms Company just to get a glimpse of the past, present and future of this feel-good American success story.
Kahr CM40 SPECS
Model: CM40

Kahr CM40

Caliber: .40 S&W

Capacity: 5+1

Overall Length: 5.47"

Barrel Length: 3.1"

Height: 4.0"

Slide Width: .94"

Weight: 15.8 oz. unloaded

Sights: Drift adjustable white bar-dot combat rear sight, pinned polymer front sight

Finish: Black polymer frame, matte stainless steel slide

MSRP: $460.00
Kahr CM40 BUILD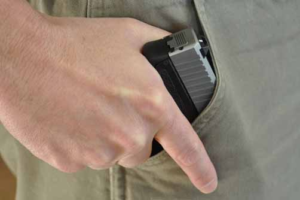 Although not as impressive as their Premium Series, Kahr's Value Series is full of powerful and resilient CCWs. The American company kept many of the favorite premium features with their Value guns, but reduced production cost by cutting corners. Most of the major differences between these two great classes lie on the stainless steel slide. The CM40 is outfitted with fewer machining functions on the slide's exterior and a top-notch conventionally rifled barrel.
This Kahr CCW stands out because of its remarkably compact build; constructed with lightweight components, the CM40 measures in at just about 5 ½" long, 4" tall, and less than 1" wide. In fact, the CM pistols are unique among Kahr's other firearms for being the smallest.  
Another interesting feature on the CM40 is its MIM (metal-injection-molded) slide stop lever, as opposed to the machined ones on the Premium Series guns. Nevertheless, this cost-cutting distinction won't significantly alter your CCW's performance or durability. This feature is clearly visible on the CM40s' sleek and sexy matte finished, 416 stainless steel slides. Additionally, to increase their durability and overall quality, Kahr incorporated 4140 steel inserts into the front and back of their black polymer frames.  
I generally don't prefer CCWs this small because I tend to have trouble holding them with my big hands. Nevertheless, the Pachmayr tactical rubber grips on the CM40s feel great. Also, its point and shoot ability is very impressive; the CM40 has a solid 7 lb. tungsten-finished trigger and wind-adjustable white bar-dot combat sights.
Kahr CM40 PERFORMANCE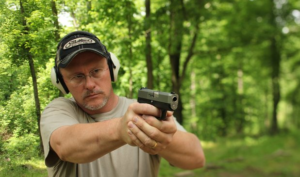 Although the CM40 may look astounding on paper, if it doesn't perform accordingly, then it would be all for naught. Fortunately, Kahr's firearms are exceptionally accurate and ergonomic. While slightly less impressive as the match grade polygonal rifling on their Premium pistols, the conventional rifling on the CM40 produces exceptional firing and precision.
All Kahr Firearms are designed with several distinctive patents which offer a unique shooting experience. The CM40 features Kahr's noteworthy cocking cam-trigger system which both unlocks the firing pin block (passive safety) and completes its cocking and releasing of the firing pin. This incomparable system provides a "safe-cam action" and an astoundingly smooth double-action only trigger stroke. This attribute makes Kahrs great for carrying since they are safer and faster than your average CCW. Furthermore, Kahr's barrels are built to fit lower in their frame which leaves the shooter's hands higher on the grip, ultimately yielding faster follow-up shots and less recoil. Not only that, but they also managed to lower the muzzle rise on their CCWs which noticeably improves their handling.
When judging a pistol's performance it's easy to focus on its accuracy and handling and overlook other important factors. Keeping that in mind, I tried to notice the small details when I took the CM40 for a spin, and what I saw impressed me. On most comparable firearms, shooters will often find themselves in that awkward "click and no bang" situation, but the slide locks back after firing the last round on the CM40.
Used in box Kahr CM40 with extra mag. $299 this gun is a great carry gun. pic.twitter.com/uV73bB3RWg

— Expedition Firearms (@Exp_Firearms) March 1, 2014
Kahr CM40 MAGS
Each Kahr CM40 is shipped with one 5-round, highly durable stainless steel magazine with a flush floorplate. These American-made mags are plasma welded and tumbled to remove burrs.  Additionally, in another fine attempt at boosting durability, Kahr constructed the magazine catch out of all metal materials before embedding it in the polymer frame. As single-stack CCWs, Kahr's guns generally don't hold many rounds, but the 5+1 CM40 is unusually low. If you're looking for more, Kahr offers a 7-round extended mag with a grip extension (highly recommended!).
Kahr CM40 HOLSTERS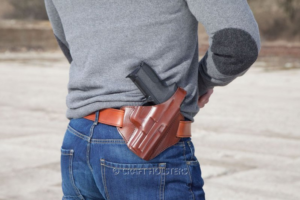 Since these semi-autos are designed to be super compact and concealable, there's bound to be endless options out there for the perfect holster. However, there are several options to consider, including where you want to carry, what material, and how concealable you want your CM40 to be.
It's harder to find a better holster manufacturer than DeSantis, and their Speed-Lite leather belt holster and their high-ride OWB/IWB thermoformed polymer Raptor Holster are things of beauty, but they ain't cheap. DeSantis also makes several great ankle holsters, like the Die Hard Ankle Rig and Apache Ankle Rig.
I've become a huge fan of AlienGear Holsters over the past few months and they have a fantastic selection of affordable and stylish options to choose from. I recommend going with their best-selling Kahr CM40 Cloak Tuck 3.0 IWB (inside the waistband) Holster; they also offer a matching extra mag carrier which is a smart buy. Their Hybrid Holster is a great choice, especially considering that it features a swappable plastic shell which can be interchanged with the Cloak Slide OWB Holster. AlienGear holsters not only feel great against your body, but also offer a quick and easy draw.
Kahr CM40 PROBLEMS
There used to be some complaints of Kahr's handguns having quality control issues, but those seem to be a thing of the past. As a subcompact DAO semi-auto, the CM40 should be broken in a bit and that should mitigate any problems. I recommend firing at least 200 rounds before relying on the CM40. I've found that Kahrs are sometimes ammo sensitive so be sure not to be frugal with your cartridges.
Additionally, the double action only trigger on the CM40 pulls at a heavy 7 lbs. which could be a make-or-break for some folks. I didn't find any problems with it; in fact, I was a big fan of its predictable break.
Kahr CM40 vs. CM9
Choosing a Kahr over a more well-established firearm is no easy task, so let's see how it matches up against comparable weapons. Many folks looking into Kahr might find themselves torn between choosing the CM40 and the CM9. These nearly identical firearms are compact, durable, and powerful, but I gotta give the advantage to the 9mm CM. If you're looking into the CM40, it most likely means you're in search for a high power firearm, and I think the 9mm Kahr offers plenty. The CM9 is a tad smaller and lighter, plus the money you'll save on ammo makes it the smarter choice.
Kahr CM40 vs. SHIELD 40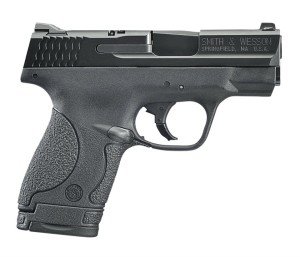 When it comes to CCWs, you need a gun that you can rely on, and the M&P pistols are as reliable and durable as they come. The Smith & Wesson Shield 40 is heavier, longer, but is also more durable. It's actually a really tough choice, especially since their price is so similar. However, as a die-hard S&W guy, I gotta go with the M&P 40 Shield. The CM40 might be more accurate, but you can't beat S&W's unrivaled reputation.
CONCLUSION
Debuting in 2011, the Kahr CM40 is one of the coolest CCWs on the market. This American-made compact semi-auto is the perfect balance of power, size, and control. Although part of their Value Series, the CM40 is pricier than many of its competitors, but offers more impressive accuracy and mechanics. I highly recommend checking out this gun and the rest of the CM line!