Ruger has been pumping out new and innovative firearms at a pretty impressive rate and the new Ruger 57 is no exception. The Ruger 57 Pistol is special in many ways but stands out by being one of the few firearms chambered in the FN 5.7 x28mm cartridge. To date, there are less than a handful of pistols that can handle 5.7 x28mm ammo which makes the new Ruger 57 worthy of our attention. That being said, there's plenty of controversy surrounding the 5.7 x28 so it was a bold move from Ruger that I think is admirable. Putting the wants and desires of the gun community first is important in the firearms world and unfortunately, isn't always a given anymore. In any case, let's take a look at the new Ruger pistol and see what it has to offer.
5.7 x28mm
I think it's prudent to discuss the 5.7 x28 caliber before we begin talking about the Ruger 5.7 model. For starters, the 5.7×28mm cartridge was created by FN Herstal in the late 1980s and only went on into production in the early '90s. While it's typically considered a small caliber, it packs a serious punch that would eventually lead to its controversy around the world. FN heeded the call by NATO to manufacture a replacement for the classic 9mm cartridge for service by worldwide military and police units. However, it's important to note that FN didn't use a parent case for their new cartridge and developed it from scratch. 
The high-velocity round with a rebated rim and bottlenecked centerfire cartridge was designed to be used with FN's popular P90 Personal Defense Weapon (PDW). The end result was supposed to be FN cashing in big-time with NATO and it worked out pretty nicely for the Belgian gunmaker. At first glance, the 5.7 x28mm looks like a rifle cartridge and could easily be compared to the likes of 22 Hornet and 22 Magnum especially.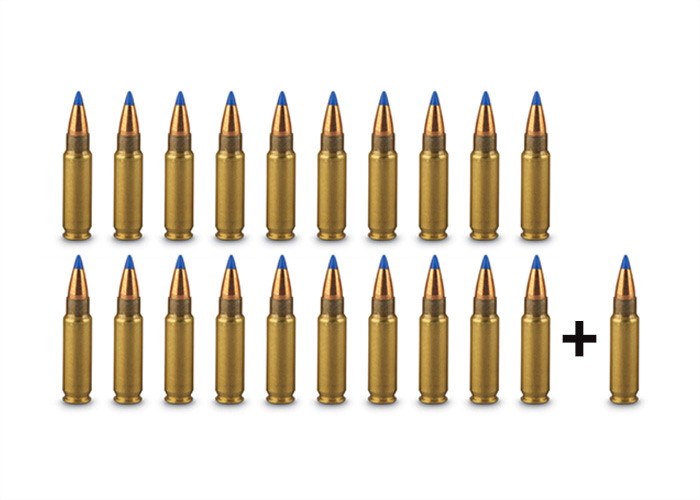 At the end of the day, FN beat out Heckler and Koch in NATO's testing and would go on to arm military and law enforcement in close to 50 countries. By this time, FN had developed a 57 pistol – naturally known as the FN Five-Seven – to go along with their P90. FN was owned the 5.7 x28 market even when Excel Arms and MasterPiece Arms attempted to create their own firearms for the unique cartridge.
Additionally CMMG and other manufacturers came out with AR pistols and other AR variants to explore the 5.7 world. In general, I think it's safe to say that the 5.7 x28mm is best utilized in SMGs, AR pistols, PDWs, and bullpups. They were created to be tactical, fast, low recoil, and heavy-hitting.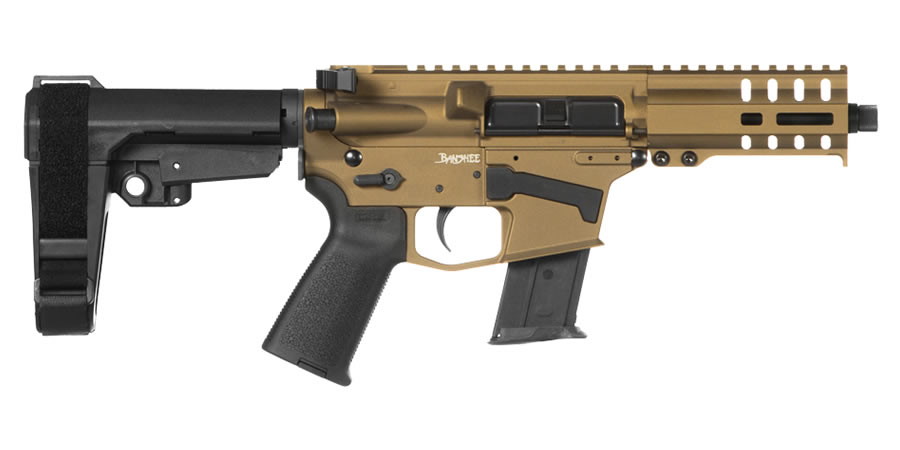 The biggest complaint most people have is actually about the price, which could be worse for the up-and-coming cartridge. Nonetheless, even those within the gun community debate the value of the cartridge considering its above-average muzzle flash, loud firing, and arguably weak terminal performance.         
As we mentioned earlier, the FN Five-Seven received a lot of flack for being "too deadly" and not meant for civilians. Many activists believed that 5.7 x28 ammo was armor-piercing and should not be available to the public. What they don't know is that the round is also considerably safer is some regards, such as that it minimizes collateral damage by avoiding ricochets and overpenetration.
As a result, FN released a few variants of the traditional 5.7 x28 ammo, including the SS195LF and SS197SR variants for civilian use. These civilian rounds still offer approximately 25% less recoil than your average 9mm and provide a remarkably flat trajectory compared to other self-defense calibers. It's important to remember that these really are designed to be defense rounds and aren't range mules by any means. 
New Ruger 57
The Ruger 5.7 pistol is slim, sleek, and offers the classic tactical design people love about Rugers. I'm not saying that this is the perfect gun. At the end of the day, the Ruger pistol is still a niche gun with an expensive chambering, that is decently long for concealed carrying considering it's a defense gun. 
The first thing I noticed about the Ruger 57 pistol was its flat design. It was interesting to see such a long gun be so slim. It's definitely reminiscent of the original FN Five-Seven but with a sleeker, more modern design. I also noticed the non-uniform grip system which was not as high-quality as I expected. Nevertheless, the minimized recoil helped keep the firearm's control particularly noteworthy.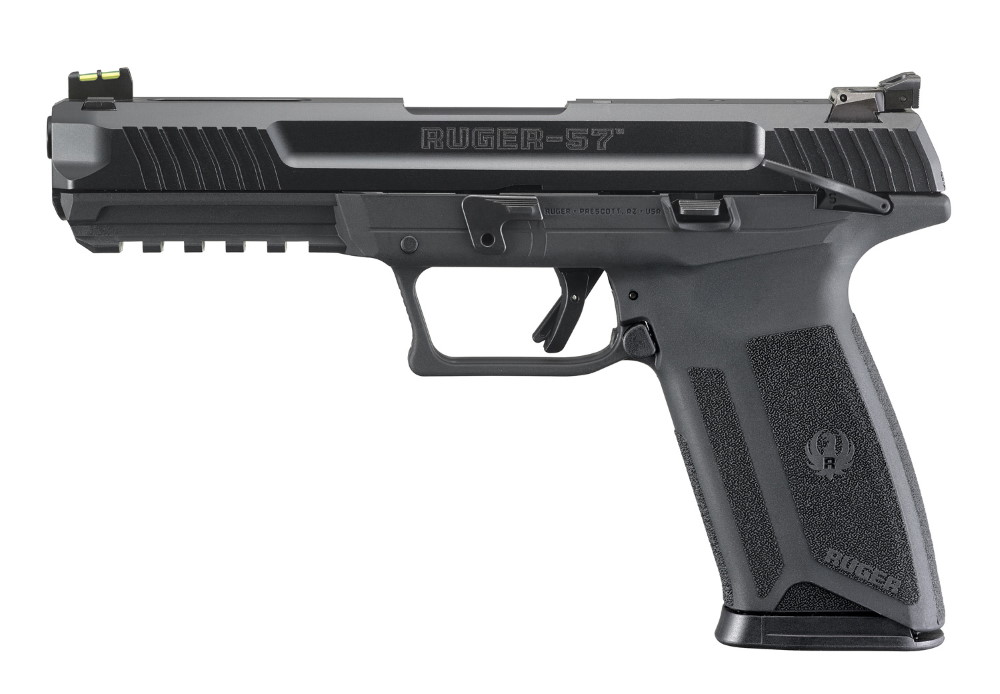 Even with the slim design, the Ruger 57 pistol has thick and user-friendly controls which make operation fast and easy. The slide serrations were great, the mag release was simple, the safety was intuitive, and the trigger was slightly above average. The addition of the extended lower Picatinny rail made me think that this is the kind of gun I would keep in my bedside drawer, not on my hip – but that's ok.
The 5.7 x28 round is home-defense-friendly and the Ruger 57 Pistol is easy for novice shooters, like family members. I wouldn't want to keep a .45 1911 as a house gun because it's impractical for my family members to use but this gun is far more user-friendly. 
I do think that the new Ruger 57 could use a bit more care on its ergonomics, but it's hard to complain considering it's not meant for prolonged use and its control is so good. The 1911-style ambi-safety was a nice touch to the already solid control system, but I really liked that they drilled and tapped the slide for added optic, though the factory-installed adjustable fiber-optic sights are pretty damn good too.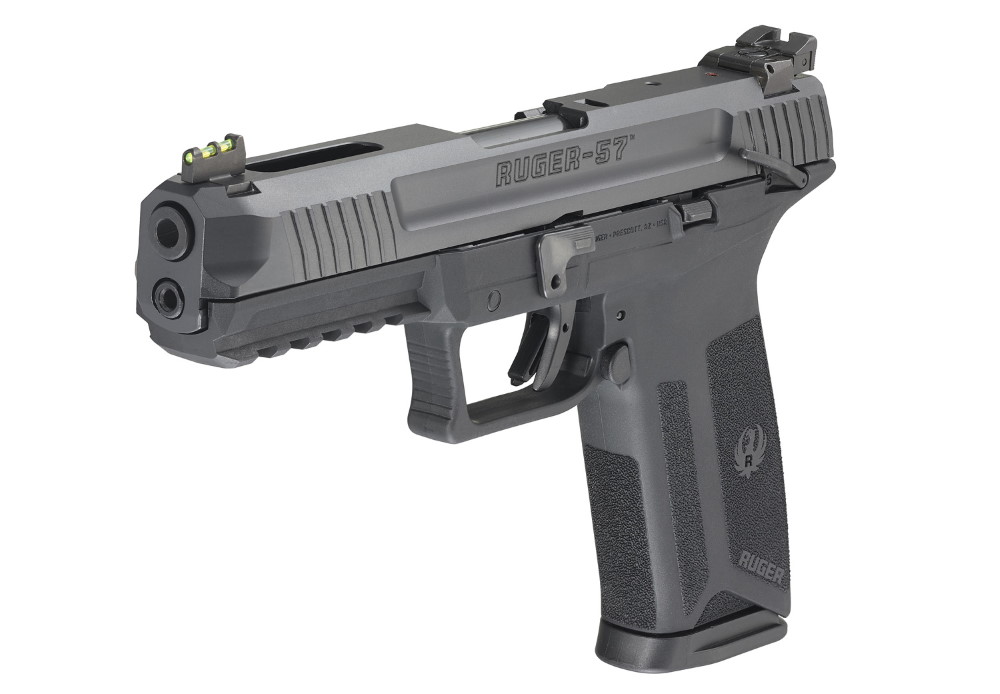 After a few mags downrange I think it's safe to say that it's a fun gun to shoot that would be a worthwhile purchase. Although I initially wasn't impressed by the grips, the shooting experience was nothing but pleasant. I thought it was interesting that they kept with steel mags, but the gun still was unusually light, even with one of their 20-round magazines. Like the grips, the flat-faced Secure Action trigger turned out to be better than I expected and damn were follow-up shots easy and on target.
Ruger 5.7 x28mm Pistol
Model: 16402
Caliber:  5.7 x28mm
Capacity: 10+1
Barrel Length: 4.9"
Overall Length: 8.6"
Height: 5.6"
Width: 1.2"
Weight: 24.5 oz
Finish: Black Oxide
Sights: Adjustable Fiber Optic
Ruger 57 Price: $799
5.7 x28 ammo
Although there aren't a whole lot of ammo options for the new Ruger 5.7 x28mm Pistol there are some great choices. Keep in mind that the Ruger 57 can hold a decent number of cartridges in a mag thanks to the relatively small diameter of the long cartridges. So while you can get 10+1 or 20+1 capacities with the Ruger 5.7 firearm, it won't be cheap.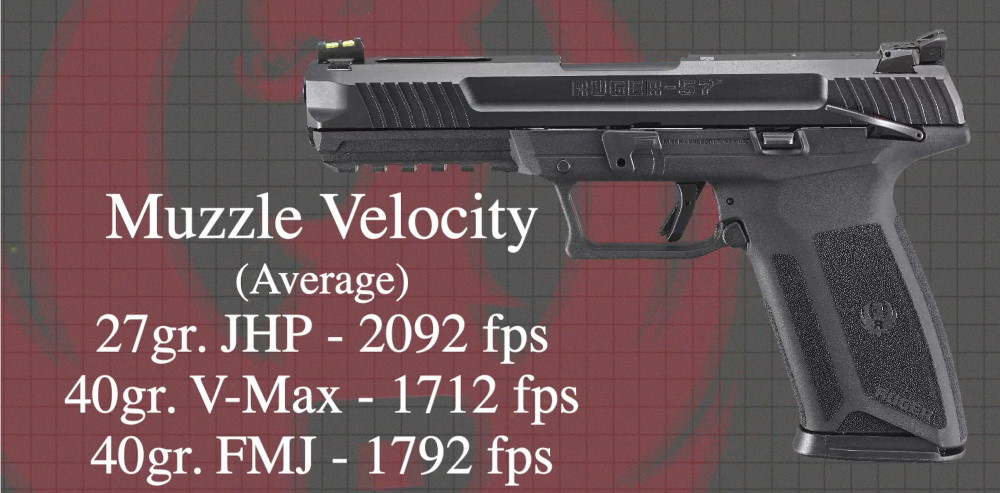 Most places don't stock a whole bunch of 5.7 x28 ammo but when they do, it's likely to be Federal or FN Herstal. In my experience, the most common ammo available for the new Ruger pistol is the American Eagle 40gr FMJ and the FN USA SS197SR 40gr with Hornady V-Max tips.
FN 57 vs Ruger 57
Besides the new Ruger 57 pistol the FN 57 is the only other serious 5.7 x28 handgun option. It should be noted that the FN Five-Seven was first developed in the 90s and has gone through several variants, meaning it should theoretically be more advanced than the first-gen Ruger pistol. Oddly enough, the FN model is nearly twice the price of the Ruger yet looks cheaper.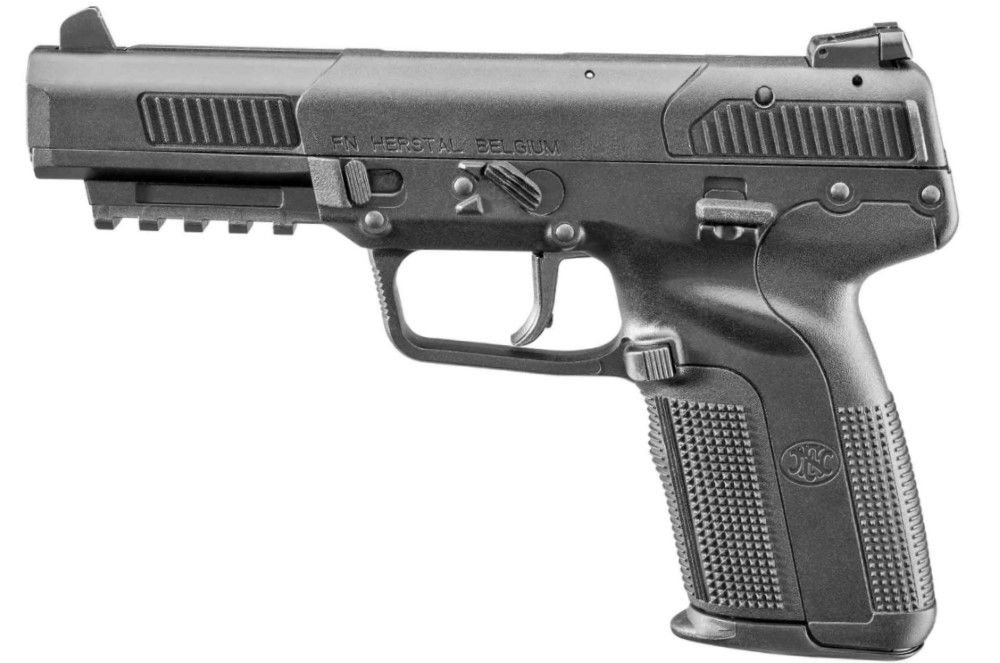 However, the FN is built with some higher-quality materials which certainly help durability, but I don't think these are the kind of guns people abuse. Otherwise, the two 5.7 guns look pretty similar but I'd give Ruger the advantage in overall appearance. Some other notable differences include the FN's polymer magazine, cold hammer-forged stainless steel barrel, and different safety setup. 
Conclusion
Overall, the Ruger 57 is a nice innovation that isn't limited to its niche gun status. There's plenty to love about this gun and not much to dislike, which is great to see in a gen-1 production. Time will tell if there will be serious issues with it like recalls, but I think the 5.7 Ruger is one of the more ambitious pistols I've seen in a while.