The AR-15 platform (and this includes the M16 and M4) is one of the most popular ones in the industry. There are many firearms manufacturers who have their own version of the 5.56 NATO rifle, and who continue improving and innovating on the design. I still can't help but think about how the plans for the AR-15 were nearly scrapped by the Army… anyway, yes we've covered SIG guns like the P238, P250 and P229, but few carry as much intrigue as SIG's M400.
When SIG Sauer set out to make their own M4-based rifle in the 2000's, they weren't about to make another run-of-the-mill semi-automatic. There are enough of those, and SIG knew that going in. The M400 does indeed make use of the traditional AR platform, but it has a few advanced features which make it unique right out of the box. Also, The M400 is available in 300 BLK caliber as well.
Here are some of the M400's specs. The version we were using for the sake of this review was the M400 Predator. It was awesome to be able to shoot this beast of a weapon, if only for a few hours. Okay, let's go.

SIG Sauer M400 Rifle Specs
Caliber – 5.56mm.
System – direct impingement, semi-automatic.
Length – 36.5 inches.
Width – 2.5 inches.
Height – 7 inches.
Barrel length – 18 inches.
Barrel material – stainless steel.
Weight – 7.6 lbs.
Capacity – 5 rounds (included), 30 rounds (standard).
Compatible with any AR-style magazine.
Introduced: 2010.
MSRP: $1446.
SIG Sauer M400 Rifle Build
The upper and lower receivers are made of 7075-T6 aluminum, and they have a hard coat anodized finish. The stock is telescopic, with six positions to choose from, and it is located on a standard size buffer tube. The top is a flattop, with classic M4 feed ramps, case deflector, and forward-assist. Everything is where it should be, but it has a nice SIG touch to it.
The M400 has quick detach points on both sides, on top of the more traditional sling swivels. There is an ambi magazine release (with an extended piece which helps prevent an unintentional release), a flared mag well for easier insertion, and a safe/semi selector is on the traditional left. The selection occurs on the left, but both sides will allow you to tell whether the selector is on safe or semi.

As for the insides, the bolt carrier has a phosphate finish. The barrel is chrome-lined and also with a phosphate-finished. There is an A2-style flash hider, and a stock trigger which is unsurprisingly nice. I say it doesn't surprise me, just because it is a SIG, and therefore I trust that for the extra money I am investing, I will get something which I won't necessarily want or need to replace immediately. The grip is rubber overmold, and this one is a judgement call. I can see how there are those who will want to upgrade it, but I had no problems or complaints. Standard grip. Good enough for me.
One thing I may have changed in include maybe one more picatinny rail option right from the start, rather than have all M-LOK Magpul rails on the handguard. Overall, he thing looks great right out of the box, but how does it shoot?
SIG Sauer M400 Rifle Shooting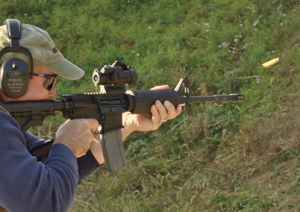 I have always loved the way AR-style rifle cycle. They rarely let me down, and this is true especially for the newer models. Direct impingement is great for certain uses, and the AR platform takes full advantage of the gases which the cartridge releases. The M400 is designed to be used as is, without any additions. Obviously, you could add whatever you want, but SIG advertised this weapon as one which is highly shootable and adaptable from the get-go. Thankfully, it really is. It would be disappointing if that were not the case, but SIG comes through as usual.
AR-style rifles are so easy to handle, and these newer ones are such a pleasure to shoot. SIG have always made quality firearms, and this one is no different. Regardless of the position or the ammo I was using, the rifle delivered. It is a fun weapon, and I have no doubt that those who use it for actual tactical purposes are also happy with it.
Like I said, I didn't add a thing. I used the stock sights – something I hadn't done in a while, to be honest – and stock handrail, and it took me nack to the first time I had fired an M16, for some reason. I found myself smiling as I took the kneeling position for a mag change. M4's are fun, and the M400 is a lot of fun. The trigger weight is about 5 lbs, and it handles nicely. Like I said – fun. I mean, everything is different in an emergency situation, but this review isn't meant to emulate a battle.
SIG Sauer M400 Rifle Magazine
The M400 Predator comes with a state-compliant 5-round aluminum magazine from SIG, though the standard capacity is 30 rounds, just like any AR/M16 rifle. Many aftermarket mags are available: 10-, 20-, 40-, 60-, and even 100-round magazines are there for purchasing, in aluminum and steel builds.
SIG Sauer M400 Rifle Accessories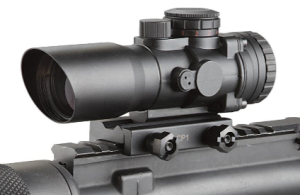 Optics, such as scopes and dots, are always a popular options with any AR-style rifle. That being said, it is recommended that you do NOT remove your flip up iron sights. Ideally, you should be proficient with both. You never know when an optic will suddenly malfunction, right? And part of owning and carrying a weapon is being aware and staying prepared.
The hand guard is something which I would make more picatinny-esque, as I mentioned earlier. Remember: ultimately, accessories are meant to facilitate the operator, and make the shooting experience more convenient and useful. If it doesn't belong, do not force it. For instance, don't get a bi-pod if you don't think you need it. Sure, it looks cool, but what is it that you plan on doing with your weapon? Is it for home-defense? Self-defense? Is it for fun? Sports? Hunting? Answer those questions, and you will be able to narrow down your list of recommended accessories.
The grip, furniture, and trigger are also popular modifications. Then again, the whole point of the M400 is that it comes with features which most people add in the aftermarket part of the process. So, make sure you know which M400 to choose, and that way you will have less to do upon receiving it.
A sling is as important to a rifle as a holster is to a handgun. The QD points and ambi controls are optimized for sling carry, and not taking advantage of them would be a shame. If anything, it helps you get into your firing stance faster, switch between positions, and – obviously – it keeps your hands free, giving you a clear advantage in any encounter. Running, taking cover, and shooting – all are easier with a sling. Also, lest we forget that slings have tactical purposes as well, what with their different pockets and nooks.
SIG Sauer M400 Rifle Safety and Sights
Honestly, not much to say about these that I didn't already mention. They are pretty standard, and they work just fine. The option to figure out whether or not you are safe, from either side of the rifle, is a nice touch. The mounted iron sights are adjustable for windage and elevation, and once you zero them they will remain as faithful as ever.
The Ultimate Predator: SIG Sauer M400 Predator Review: https://t.co/tlf1BrWbci pic.twitter.com/KiHSmI9rST

— GunDigest (@GunDigest) February 23, 2017
SIG Sauer M400 Rifle Enhanced Variant Review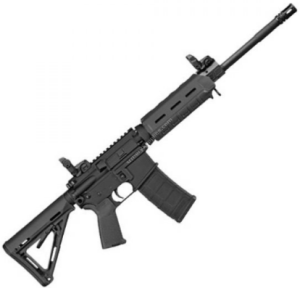 This variant is designed for law enforcement, military use, sports and competitions. Also available in 5.56mm and 300 BLK. includes a 16-inch nitride-treated chrome-lined barrel, anodized T6 receiver, and the M400's Magpul forend, grip, collapsible stock. A2-style sights. The stock on the Enhanced is equipped with a pistol stabilizing brace, and it is one of its best features.
SIG Sauer M400 Rifle SWAT Variant Review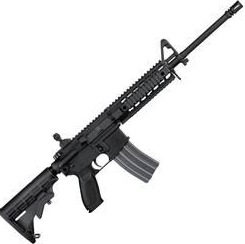 The only real difference between these three (M400, M400 SWAT, and M400 Enhanced) has to do with their furniture. Basically, these are all very similar, and the differences lie mainly in external features. On the inside, these are all SIGs, and they are all good. The differences in prices are sometimes negligible, so it really is all about what feels good for you.
SIG Sauer M400 Rifle Price and Where to Buy
If you are looking for a high-quality AR-style rifle in the neighborhood of $1000, the M400 is definitely one you should look into. The MSRP of the Predator is $1,446, but you can usually find them for cheaper prices.
You can always find an M400 variant on sale somewhere, so I feel your best bet would probably be online. Also, as usuall, your local gun store, gun shows, and other related events are ideal for picking up a SIG. Plus, there is always the option of buying second hand.
You could argue that the MSRP of close to $1,500 is too much, but as I see it, it all depends on whether or not you plan on seriously modifying your M400 after you purchase it. Again – it all comes down to intended use, and this changes from one person to another.
SIG Sauer M400 Rifle vs. M4 Rifle Comparison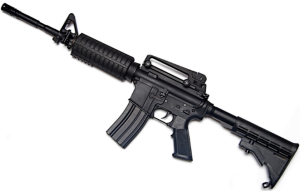 Colt's M4 has been around since the mid-90s, but it was being worked on for years before finally being released. Ever since its arrival, it has dominated the battlefield and the U.S. Armed Forces. It is a weapon every combat soldier knows, and usually knows well. Based on the traditional M16 platform, it is a shorter and light variant of the M16A2. If you're an infantry soldier, you've held the M4. The M4A1 has a fully-automatic mode, which the M4A2 and M4A4 do not. Those two do have a three-round-burst mode. Civilian versions of the M4 are many, and the 300 BLK (7.62X35mm) cartridge was designed for use with the M4. Before that, the M4 was only 5.56mm, like the classic M16.
Conclusion
Some may say that the M400 was a late arrival, what with it being introduced 15 years after the M4 was originally released, but I feel that it brings enough to the table to be considered a real step up from the classic M4. The M400 Predator is a badass, but other variants are just as impressive. It handles nicely, it accepts all AR-style magazines, and it is a pleasure to shoot. From close quarter combat to long range encounters, the M400 is a great piece of hardware, and the company's limited lifetime warranty guarantees that you won't be left out in the cold. SIG knows how to make firearms, and they are able to provide the best for their customers.