Table of Contents
Although the M1911 may be one of the most iconic pistols ever created, you'd hardly know that by looking at Springfield's new and improved models. In fact, of all their celebrated achievements, the most impressive may be how they've managed to stay true to the 1911's classic outline while still incorporating several key performance and design upgrades.
In my experience, I've handled some of the most famous 1911 variants, including Smith & Wesson's, Taurus', Remington's, and Sig Sauer's take on the legendary firearm. Nevertheless, Springfield's modern take on the 1911 has become the benchmark by which all other 1911s are compared.   
Springfield Armory has christened the M1911 as "the most revered and time-honored semi-auto handgun ever designed", and it's easy to see why.
1911 Overview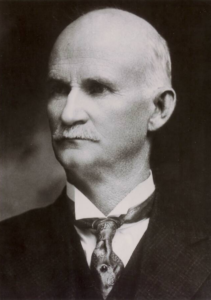 Originally designed by weapons pioneer John Browning, the 1911 is arguably America's most distinguished war veteran. Although it was initially a Colt product, it didn't take very long for the Springfield Armory to get involved. Ever since then, Springfield has been one of the major distributors of 1911s in the world. As the 20th century was winding down, the U.S. Government decided to phase out the 1911 and replace it with the Beretta M9. Nonetheless, the former still had such a strong following that many users refused to switch. As a result, groups such as the FBI Hostage Rescue Team have turned to Springfield to manufacture new 1911s.
Now that we've covered the basics, it's time that we take a closer look at Springfield's wide variety of 1911 models.
Springfield 1911 EMP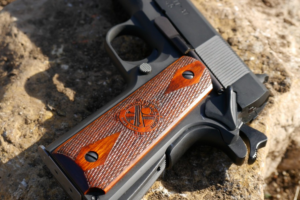 In 2007, Springfield Armory unleashed what is arguably the most unique 1911 on the market. The 1911 Enhanced Micro Pistol (EMP) is truly a reinvented firearm. However, with all of the positive changes and great reviews of this gun, there is a major concern that I must warn you about. When I first saw the EMP, I immediately turned towards the compact 3" model; but I soon realized that was a mistake. Unfortunately, Springfield left the grip of this gun naked and it can cause a lot of control issues. I'm not sure why they left out grip textures on this model but it is a complete deal breaker for me. That being said, the 1911 EMP 4" Lightweight Champion model is the one you gotta check out.
I'm still somewhat torn about this gun because as part of the EMP series, you'd think it would make an ideal CCW, but I didn't find that to be the case. In fact, SA even added an extra ½" of height to it, not to mention that a 4" barrel is by no means small. Nonetheless, they cut down on the grip circumference and packed in a sleek single stack mag. For even more concealability, check out Springfield's concealed carry contour model!
Model: 1911 EMP 4" Lightweight Champion

Caliber: 9mm

Capacity: 10+1

Barrel Length: 4"

Overall Length: 7.5"

Weight: 31 oz. (unloaded)

Height: 5.5"

Finish: Forged Stainless Steel

MSRP: $1,179.00
Springfield Armory TRP Operator 1911, Chris Kyle edition https://t.co/UvwFbuII1u pic.twitter.com/27B3Xge4Dz

— Wendy Ashton (@FinalCutGSD) August 6, 2017
Springfield 1911 Mil-Spec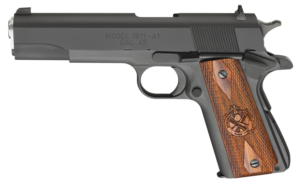 This full-size 1911 is the most classic in Springfield series. Crafted from highly durable stainless steel, I recommend this model for those looking for a traditionally-built 1911. Due to its 5" barrel, heavy build, spur hammer, and less than comfortable grip, I don't really recommend using this 1911 as a carry weapon. Nevertheless, this powerhouse .45 ACP handgun makes the perfect home defense pistol. While staying true to the original GI model, Springfield added a few crucial adaptations, including a lowered and flared ejection port and a beveled magazine well.
Model: 1911 Mil-Spec

Caliber: .45 ACP

Capacity: 7+1

Barrel Length: 5"

Overall Length: 8.6"

Weight: 39 oz.

Height: 5.5"

Finish: Matte Stainless Steel

MSRP: $828.00
Springfield 1911 Range Officer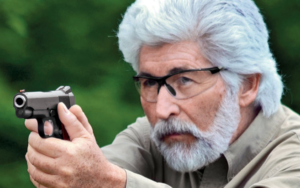 Springfield's Range Officer model is the compromise of the conventional Mil-Spec 1911 and the modernized EMP. Built with competition shooters in mind, SA outfitted these semi-autos with top-notch frames, slides, and barrels. Some of the notable upgrades to the Range Officer include a fully supported ramp, a shielded fiber optic tube front sight, a Parkerized finish, and an accessory rail.
Although the full-size is a solid choice, I'd opt for the compact 9mm variant. Springfield took off half an inch from the RO's height but managed to leave it with an 8+1 capacity. The compact Range Officer 1911 makes for a great daily carry weapon, especially considering its ultra-durable Parkerized finish and low profile combat sights.
Model: 1911 Ranger Officer Compact

Caliber: 9mm

Capacity: 8+1

Barrel Length: 4"

Overall Length: 7.6"

Weight: 29.5 oz.

Height: 5"

Finish: Forged Parkerized Carbon Steel

MSRP: $908.00
Springfield 1911 Loaded
The 1911 Loaded series is pretty interesting because it's a diverse lineup of custom-like handguns with nuanced alterations. Essentially, with a wide variety of sights, frames, finishes, and calibers, it's easier than ever to find the exact one for you.

Besides for its unique color scheme, the 1911 Loaded stands out due to its modern G10 grip. This new and improved grip might actually be the best grip out of all the Springfield 1911s. This model has risen in popularity partly because Springfield incorporated an extended ambidextrous thumb safety, accessory rail, and an extended trigger.
Model: 1911 Loaded Marine Corps Operator

Caliber: .45 Auto

Capacity: 7+1

Barrel Length: 5"

Overall Length: 8.6"

Weight: 43 oz.

Height: 5.7"

Finish: Black Armory Kote

Sights: Tritium Night Sights

MSRP: $1,249.99
Springfield 1911 TRP
This is one of the most interesting 1911s in Springfield's lineup. While not much different than your standard SA 1911, this version is built-to-last. Its highly-durable and reliable design can be seen on the G10 grips, national match stainless steel frame, slide, barrel and bushing, and its Armory Kote finish. Additionally, Springfield designed this gun to be used in high-stress situations – therefore, they outfitted the TRP with an extended beveled mag, checkered front strap, smooth 4.5-5 lb. trigger pull, and easy to use 3-dot Tritium sight system.  
I can see this 1911 working best as a hunting companion or as a personal safety weapon to keep in your car, truck, or boat.  
Model: 1911 TRP

Caliber: .45ACP

Capacity: 7+1

Barrel Length: 5"

Overall Length: 8.6"

Weight: 42 oz.

Height: 5.7"

Finish: Black Armory Kote

Sights: Low Profile Combat, 3-dot Tritium

MSRP: $1,646.00
New Springfield Armory 1911 TRP 10mm RMR
SA just announced a major update to their already impressive collection of 1911s, this time with an upgrade to the TRP model. The new 1911 TRP is designed to chamber the up-and-coming and powerful 10mm caliber paired beautifully with the Trijicon RMR reflex sight. Although it's not huge news, many Springfield fans are excited to get their hands on the classic pistol with the new innovative Trijicon optic. While the new TRP RMR will cost a pretty penny ($2,558.00 for 6″ TRP), there are plenty of diehard 1911 enthusiasts out there that are going to want to get their hands on these behemoths. Springfield has managed to revolutionize the 1911 grip system which is especially crucial for a crushing caliber like 10mm.
Springfield 1911 VS. Ruger 1911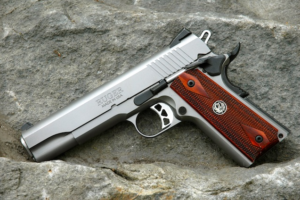 If you're in the market for a new M1911, then you have a lot of research ahead of you. Because some of the top gun manufacturers produce competitive 1911s, it's no easy task finding the right one; here at Gunivore, we're here to help.
Ruger has a really nice lineup of these classic firearms that are similarly priced to Springfield's. While most of Ruger's 1911s follow the standard design, it's their new SR1911 chambered in 10mm Auto that really stands out. This new semi-auto offers increased power and several useful upgrades. In addition to adding a larger mag release, Ruger also incorporated a fully adjustable Bomar style rear sight, a blacked out front target sight and a 5" stainless steel bushingless bull barrel with a full-length guide rod. Overall, this is one of the coolest 1911s I've ever seen! I love the new features and the performance boost they bring.
Conclusion
I never really enjoyed using 1911s … until now. I always avoided these traditional pistols because of their chunky size, bad grips, and hard to control operation, but Springfield has effectively minimized all of these! While I don't think I'll ever carry a 1911, I definitely recommend adding one to your collection. These guns aren't just eye candy, these reimagined classics also offer supreme protection and a custom feel – all for a reasonable price.
You may also like our features on the TekMat for the Ruger 10 22, Rangemaster Explorer Bag, and Trijicon TARS Scope!