Table of Contents
Few handguns have influenced warfare and defense as much as the 1911 semi-automatic pistol. Not only are 1911's trusted by militaries and law enforcements organizations across the globe (such as the FBI, Delta Force, and the South Korean Air Force), they've also become a standard among competition and recreational shooters. Lately, the 1911 has solidified itself as one of the top CCWs around the world due to its single-stack mag and thin build. Furthermore, because the demand for them has soared, dozens of companies have attempted to replicate the 1911, but Taurus' version stands out as one of the best on the market. However, it does have some stiff competition with perennial greats like Smith and Wesson 1911, SIG Sauer and Remington, both of whom also produce top-shelf variants of the 1911. This is our Taurus 1911 review.
Forjas Taurus is best known for their incredible variety of handguns, including pistols and revolvers designed for target shooting, concealed carrying, and home defense. Although some veteran shooters may question the reliability of these firearms – especially considering their past recalls – the days of faulty Taurus guns are long gone.
Debuting in the late 1930's, Forjas Taurus had humble beginnings as a diversified company in the southern coastal city of Porto Allegro, Brazil. Originally manufacturing metals, plastics, and civil construction equipment, it only took a few years for them to get into the arms industry. Since then, the Brazilian manufacturer has come a long way and currently produces several award-winning firearms.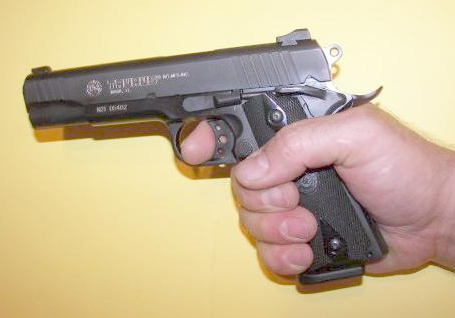 One of the biggest attractions to their weapons is their affordable prices, such as the Model 1911 for less than $500, which we'll be discussing today in depth. Besides for constructing their own unique weapons, Taurus has also perfected the art of reproducing classics, including their hugely successful replica of the aforementioned 1911.
This Brazilian company has such an extensive history and lineup, which unfortunately, we can't get into here. However, I recommend getting a taste with our summary of the unique Taurus Firearm Company and their impressive collection of firearms.
But for now, let's jump right in and begin the Gunivore comprehensive breakdown of the Handgun of the year (Shooting Illustrated) Taurus 1911.
Original 1911 Series
The original Model 1911 was designed by the American weapons pioneer John Browning in 1911, ultimately becoming a U.S. military staple. The 1911 quickly found its way into the battlefield, and has seen action in nearly a dozen wars and conflicts around the world. In fact, during World War I, demand was so high that the U.S. Army had to seek additional contracts which Colt (the original manufacturer) couldn't fulfill. One of the companies that won a contract was America's oldest gun maker, Remington Arms. Their reproduction of the 1911 is still popular to this day. Check out our review of the Remington 1911. At the end of the century, the Beretta M9 took over as the U.S. Military's handgun of choice after a long and storied military career for the 1911. But history had trouble saying goodbye to them; the Army's dissatisfaction with the stopping power of the 9mm, led to a re-adoption of .45 ACP chambered pistols comparable to the M1911.
Taurus 1911 Specs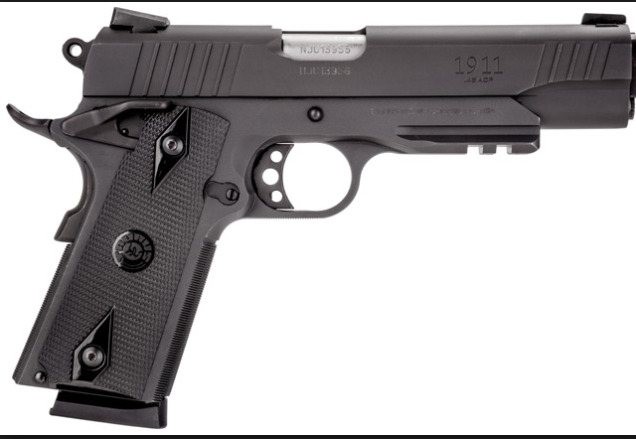 Model: 1911 (1-191101-B1)
Caliber: .45 ACP
Capacity: 8+1
Weight: 39.4 oz. unloaded
Overall Length: 8 ½"
Barrel Length: 5"
Action: Single Action
Rate of Twist: 1:16"
MSRP: $659.00
////////////////////////////////
Model: 1911 (1-191101-9)
Caliber: 9mm Luger
Capacity: 9+1
Weight: 38.8 oz. unloaded
Overall Length: 7.87"
Barrel Length: 5"
Action: Single Action
MSRP: $679.00
Taurus 1911 Build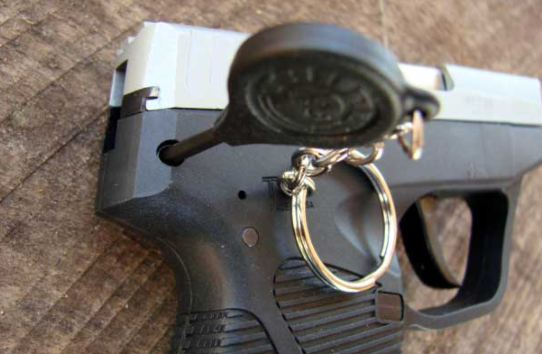 This semi-automatic pistol is a single-action, magazine-fed, recoil-operated handgun, designed to fire .45 ACP or 9mm rounds. Gunsmithing pioneer John Browning applied the short recoil principle to his M1911, probably without realizing that it would become the preeminent action for nearly all modern centerfire pistols. In 2005, Taurus decided to join the show and give the 1911 a try, albeit with plenty of modernizations.
Surprisingly lightweight, the Taurus 1911 (chambered in .45) stands at a proud 5.45" and has a slim and sexy 1 ½" width. That being said, Taurus didn't cut corners with their 1911's strength the way they did with its size. Besides for its hammer-forged ordinance-grade steel components, the Brazilian company inspects every one of these guns to ensure its durability and overall quality.
Before we get into the nitty gritty of the 1911, I want to tell you about its unmatched safety system. The Taurus Security System includes manual and trigger safeties which makes the CCW inoperable at the turn of a key. When the Security System is engaged, the Taurus' manual safety can't be disengaged and the gun can't be cocked or fired. As an added plus, this specialized safety mechanism is incorporated into the firearm and therefore can't be lost. Besides for their characteristic Security System, Taurus also added several other great safety features into their 1911. For example, each 1911 has an extended ambidextrous thumb safety and is shipped with a padded plastic storage box and gunlock.
Moving on, 1911 triggers have always been problematic, but Taurus did what they could and incorporated a ventilated and lighted trigger with minimum over-travel. This modern trigger has a pretty crisp pull and breaks at around 5 lbs. of pressure.
Regarding this 1911's sight system, Taurus outfitted it with above-average three-dot fixed combat sights. These genuine Novak sights provide quick and easy target alignment, even in dimly lit areas.
Just to touch upon the grips, Taurus gave their standard 1911 finely checkered black grips. Below, we'll talk more about the default 1911 grips and the available aftermarket options.
Taurus 1911 Performance
Taurus has made some major strides in order to preserve their weapons' quality and reliability. To keep performance up, the Brazilian manufacturer has eliminated any and all dependence on outsourced components and labor. Additionally, they've employed skilled gunsmiths to hand-fit and tune each firearm to ensure optimal performance and accuracy.
Taurus claims that their 1911 "is ready to go right out of the box" and they weren't kidding! Not only did it run flawlessly, it's arguably the best feeling 1911 I've ever fired. The trigger was great, the sights were spot-on, and its ergonomics were just right. In fact, the Taurus 1911 is still mightily accurate at up to 100 yards!
Taurus 1911 Mags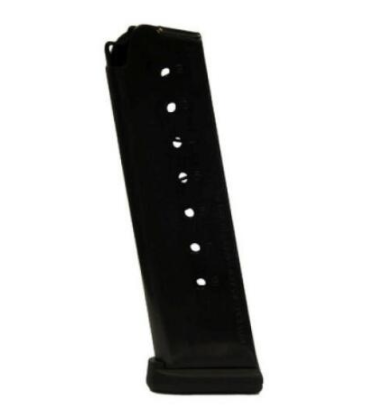 The .45 ACP Taurus 1911 is outfitted with a high-end 8-round detachable steel single-column magazine with a bumper pad (9-round magazine for the 9mm version).
Taurus ships most of their 1911s with 2 mags, but if that's not enough for you, buying extras isn't very difficult.
45 VS. 9MM
Once you've decided on a Taurus, you've still got choices to make. Although the Brazilian arms company offers several variants within their 1911 series, your choice boils down to picking a caliber. Although the 1911's were traditionally chambered in .45 ACP, they've been available in 9mm Luger for decades. The biggest difference between these two classic cartridges is their stopping power; while you gain a lot more stopping power with .45 you also lose out on some control and handling. To make the decision even harder, the 9mm Taurus only gives you one more round and barely any reduction in weight.
Taurus 1911 Accessories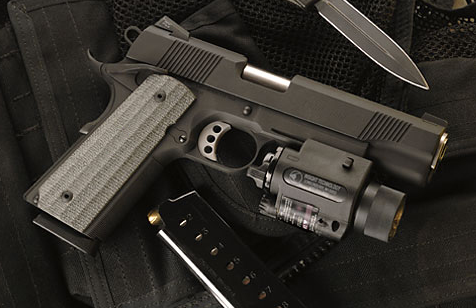 Call me old-fashioned, but I'm just not a big fan of accessorizing 1911's. However, on many of the new 1911s, Taurus incorporated an integrated Picatinny rail forward of the trigger guard. Although traditionally left as is, the rail definitely gives this pistol a tactical edge.
Most 1911 owners who utilize their rail will most often opt for mounting a tact light or laser sight. Starting with lasers, I'm a big fan of the Crimson Trace Laserguard. For a pretty penny, this attachment offers a laser sight that'll shine brighter than night sights and will make target acquisition much easier in the dark. To make the deal even sweeter, this accessory won't affect how you carry your firearm due to its small shape.
I also highly recommend the CMR-201 Rail Master Universal Laser Sight. These lasers are seriously powerful and have ambidextrous activation control tabs, so don't let their high price tag deter you. Another solid option is the small in size but big in power LaserMax UNI-MAX-B red laser unit.
If you're looking to add a tactical flashlight to your gun, then I'd go with the Insight M Series LED X2 Sub Compact Handgun Light. The Insight light is not only one of the best sub compact flashlights out there, it's also super easy to use and mount. One of the best additions to your 1911 is the Barska Laser/Flashlight combo; this inexpensive attachment gives you the luxury of not having to choose just one accessory.
Taurus 1911 Grips
If I had to pick one feature of the 1911s to be the Achilles' heel, it would be their grips. These "Double Diamond" finely checkered synthetic style Taurus grips are geared to handle all weather conditions and provide a secure hold, but still just don't feel right in my hand.
Fortunately, there are countless options for upgrading your 1911 grips, all of which are fast and easy to put on. I've loved Hogue's grips for as long as I can remember, and their soft rubber 1911 replacement grip is definitely something worth checking out. However, arguably the most impressive grip is the Pachmayr 1911 laminate grip made with heritage walnut. You really gotta see these to believe how amazing they are. Lastly, if you wanna go fancy, take a look at the Hogue red laser sight enhanced grip, with a nice earth tone color.
#Taurus Team Captain Jessie made #ShootingSports USA's list of top 50 women competitive shooters! https://t.co/QVhiMFzwmq pic.twitter.com/DJ6WXBVn3N

— Taurus USA (@TaurusUSA) July 3, 2017
While some people might argue that a 1911 is a 1911, no matter who makes it, I beg to differ. Besides for Taurus, there are several other notable producers such as Colt, Springfield, and even Kimber. On the surface, the Taurus should be the best considering that it's cheaper, newer, and weighs less. When it comes to their performance, the Colt and the Taurus are about equal and above the Springfield. Nonetheless, the Springfield might have the advantage of having the highest quality components, and thus better durability. At the end of the day, if you're willing to spend the money, I'd go for the Colt. If not, you can't go wrong with the Taurus 1911.
CONCLUSION
1911's have been among the most influential and successful guns in modern history. After several of the top companies in the arms industry got involved and made their own version, the Brazilian Taurus company decided to join in too. All things considered, it's arguably one of the best out there and for a fraction of the cost. I've heard many complaints about their quality and customer service, but every year these factors become less and less of a problem. Whether you're looking for a new CCW, target shooter, or home defense weapon, the Taurus 1911 is a fantastic choice!