Table of Contents
In today's Gunivore review, we're going to be doing a rundown on Henry Repeating Arms' lever action rifles chambered in the notorious .45-70 ammunition. Before Henry released these guns, they were already established as the foremost producer of repeater rifles in the world. Now that they've come out with beautiful powerhouses, they've solidified that reputation.
I've been told by a few of my buddies that lever actions are all the same, so I couldn't wait to bring this Henry to the range and prove them wrong. This is definitely not the wimpy .22 repeater you shot as a kid; this upgraded and stylish rifle is a formidable weapon perfect for big game hunters.
Pros & Cons of .45-70 Government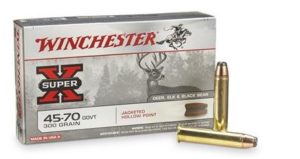 Because many folks may not be so familiar with the .45-70 cartridge, I want to highlight some of the advantages and shortcomings of the classic ammo.
PROS: Extremely powerful, great for big-game hunting, very accurate, handles a nice variety of loads.
CONS: Slow velocity, produces a steep trajectory at long ranges (past 250 yards).
Steel Vs. Brass Models
At this point in my career, I've developed a love/hate relationship with Henry. For example, I really wanted to pick up one of their .45-70 lever actions, but they had to make two distinct models. In typical Henry fashion, both of these rifles are really cool and their nuanced differences make them handle like totally different guns.
One on hand, you've got the steel model with a classy blued finish and a rounded 18.4" barrel. On the other hand, how can you pass up the gorgeous brass model with that shiny polished finish and longer octagonal barrel? Nevertheless, these lever actions are nearly identical on paper. However, the brass .45-70 Henry is not only 1" longer and 1 lb. heavier than the steel model, it's also $100 more expensive. I wish you the best of luck trying to pick just one!
Specifications

Model: H010 (Steel)
Caliber: .45-70
Capacity: 4
Barrel Length: 18.43"
Length of Pull: 14"
Overall Length: 39"
Rate of Twist: 1:20
Weight: 7.08 lbs.
Finish: Blued Steel
Sights: Rear Adjustable Semi-Buckhorn with Diamond Insert / Front Brass Bead
MSRP: $850.00

Model: H010B (Brass)
Caliber: .45-70
Capacity: 4
Barrel Length: 22"
Length of Pull: 14"
Overall Length: 40.4"
Rate of Twist: 1:20
Weight: 8.10 lbs.
Finish: Polished Brass
Sights: Rear Adjustable Semi-Buckhorn with Diamond Insert / Front Brass Bead
MSRP: $950.00
Henry .45-70 Lever Action Rifle Build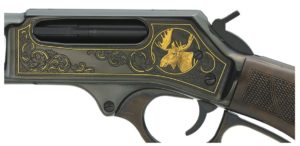 In standard Henry fashion, the .45-70 lever-action rifle is a perfectly balanced firearm. The American gunmaker outfitted this repeater with their classic design that'll be sure to catch some eyes at the range. But these Henrys aren't just about looks; many of the components on the .45-70s were specifically incorporated to increase their handling and accuracy. For starters, I really like their choice to use an octagonal barrel on the brass model, but that's just the tip of the iceberg. The heavier and elongated build of the brass .45-70 lets you know that you're handling a powerful piece of machinery and does a pretty good job at adding some extra stability. Also if you look closely, you'll notice that this model has a bigger lever, making it easier to shoot if you're wearing gloves.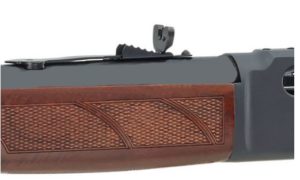 As impressive as the brass Henry is, the cheaper steel model is also quite special. In fact, I actually prefer this one because of its straight checkered grip and texturized forestock. Plus, it definitely doesn't hurt that it has a comfortable soft rubber buttpad to ease its powerful shooting. And while both feature a smooth and elegant American Walnut stock, it's their sights that make me wonder. Although the factory-installed adjustable semi-buckhorn rear sights are decent for close range, they won't be much help for long range shooting. Fortunately, Henry drilled and tapped these receivers for a Weaver 63B mount, so adding an optic isn't such a pain.
How Does the Henry .45-70 Lever Action Rifle Perform
The Henry .45-70 Gov't repeater is all about performance; in fact, you can tell just how powerful this rifle is just by listening to it. That being said, I had a really great time out with the steel model. I loved how you can feel the power of the rifle and still be able to maintain solid control. I also loved how fast this Henry can shoot and especially how easy it is to stay on target and hit those tricky follow up shots. As far as lever-actions go, it's got a very smooth action and nice sized lever. However, the thing I would change about it would for sure be its feeding system/capacity. I really hate tube fed rifle and it doesn't help that it only chambers 4-5 rounds. Although that's not a deal breaker for me, it definitely frustrates me.
Henry 45-70 Lever Action Aftermarket Options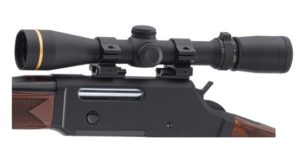 Although the fully-adjustable buckhorn sights on these rifles are great for close range shooting, it's a good thing that the receivers on these Henrys are drilled and tapped for easy optic mounting. If you plan on firing beyond 100-125 yards, then you're going to want to check out your aftermarket options.
For an expensive optic that'll never let you down, I recommend the Trijicon Accupoint 1-6×24 scope. This $1,400 versatile scope is out of this world reliable and even comes in your choice of six different reticles. For something a little more affordable, check out the Leupold Rifleman Series 3-9×40 optic. This is arguably one of the best scopes for the money and it even includes a full lifetime guarantee.
Comparable Firearms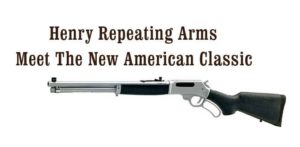 I generally try to compare and contrast similar firearms in my reviews, but because this gun is rather unique, it's not so simple. The only other rifles I've ever seen in .45-70 Gov't are the Marlin 1895 and the Winchester 1886. Trying to ignore their price tags, there are a few key differences between these lever-actions. For me, the most important distinction is the 8-round and 6-round capacities on the Winchester and Marlin, respectively.
Additionally, I found it a little upsetting that the Win doesn't have any texturized checkering on their .45-70 rifle. To not add this on such a powerful weapon with potentially slippery wood-finishes seems ridiculous (kudos to Marlin for having cut checkering on their models). Similarly, Winchester stuck with the traditional construct and left out a recoil pad whereas the Marlin incorporated one, albeit very thin. All things considered, the Winchester seems archaic and the Marlin just can't compare in terms of quality to the Henry. Besides for their steel and brass models, check out Henry's recent all-weather variant, which is pretty sweet. While not as classy, it would make for an excellent defense weapon to keep in the car or truck.
Conclusion
When it comes to lever-action rifles, Henry is the clear expert. I expect this style of firearm to make a comeback soon and nobody will be happier than Henry Repeating Arms. These All-American made repeaters are great for hunting but they're even more fun shooting stuff down range and watching the heavy round wreak havoc on targets.
Besides for Henry, there are other great companies modernizing traditionally-built firearms – Just check out Ruger, Springfield, & Stoeger!