Table of Contents
Looking back nearly two hundred and fifty years, you'd have a hard time finding a company as ingrained into American history as Springfield. This revolutionary weapons producer has been an active participant in the development of America since George Washington and our fight for independence. While that may be impressive enough already, the Illinois-based company has seamlessly kept with the times through their dedication to innovation and excellence. Although there are gun makers out there who've been at it for longer, like Beretta, none have been so crucial to their country's safety and progress as Springfield.
In today's Gunivore exclusive, we're going to be breaking down this historic company to gain a better perspective into how they've stayed relevant for so long. However, it must be noted that the current Springfield Armory is not directly linked to the historic weapons center, but we'll get to that soon.
Springfield Armory HISTORY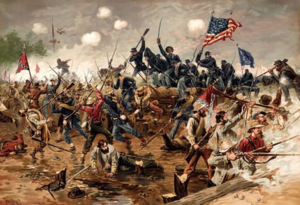 Before we even look at their inventory, it's important to check out the history books. During the climax of the Revolutionary War, General Washington was in search for a strategic outpost to serve as the Americans' main arsenal. After scouting throughout New England, he came across an advantageous location around 90 miles west of Boston and 150 miles north of New York. Besides for having four major roads connecting to important cities such as New York, Montreal, Albany, and Boston, Springfield also lies at the convergence of three major rivers, making it a tactical stronghold. In addition to storing weapons and carriages, the colonists used this facility to manufacture thousands of cartridges and arms. Clearly, the war could not have been won without this fundamental location.
After the war had been won, the United States was still in a limbo stage waiting for a concrete government to be created. During that stretch, the Springfield Armory was the focus of Shays' Rebellion which saw thousands of war vets hoping to capture the arsenal, acquire weapons, and overthrow the Massachusetts government. Although thwarted, the impact it caused is everlasting. Besides for drawing Washington out of retirement, the failed rebellion led future president James Madison to push for a strong federal government at the Constitutional Convention.
While still serving as the government's staple weapons factory, Springfield Armory experienced tremendous growth during the 19th century, especially during the Industrial Revolution. Through innovative machining and labor processes, Springfield began to develop countless interchangeable parts for their weapons. In fact, they were constantly at the forefront of modern business practices and management techniques.
However, it wasn't until the Spanish-American War and World War I that Springfield met their first true test. American troops were in desperate need of arms if they wanted any chance at winning their battles. In response, Springfield would go on to manufacture well over one million firearms, including their famous M1903 rifles and M1911 pistols.
During the next stage of history, Springfield developed what would be called "the greatest battle implement ever devised" by General Patton. This of course, is the legendary M1 Garand rifle. After passing the Army's rigorous field tests, the M1 was adopted in 1936 – just in time for World War II.
Now is when things get a little complicated. The Springfield Armory was closed down in 1968 and turned into a national historic site and museum – which I highly recommend checking out. Then, in 1974, the Springfield name was licensed to the Reese family who made it their mission to continue the Springfield legacy. So although the Springfield that we all know and love only began in 1974, its roots are inherently tied to the historic Massachusetts arsenal. In an effort to maintain their legacy, the current Springfield Armory manufactures modern versions of the M14 rifle, M1911 pistol, and many other weapons with the exact specs from the original Springfield factory. Overall, the new Springfield has brilliantly integrated themselves into American gun culture by continuing the legendary innovation and quality of the original Springfield name while simultaneously producing cutting edge firearms.
Springfield Armory PRODUCTS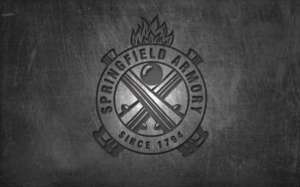 As a huge fan of CCWs, it's hard for me to not love Springfield's collection of handguns. With a multitude of styles, sizes, and calibers, you are sure to find the right one for you. However, in the odd chance that you don't, or if you're looking for something more personal, the Springfield Custom Shop can create the perfect weapon that'll exceed even your most wild expectations. In addition to their remarkable handguns, Springfield is also responsible for one of the finest long range rifles you'll ever come across. Their M1A tactical rifle is sleek, sexy, and can handle just about any mission out there. Let's take a closer look at these exceptional weapons to see how sensational they really are.
The M1911 may be the most traditional handgun around, but one look at Springfield's series, and won't believe the kind of updates they've given this illustrious firearm. I've reviewed several 1911s in the past including the Sig Sauer, S&W, Taurus, and Remington models, but Springfield's is by far the standard by which all others are compared. The American company calls the 1911 "the most revered and time-honored handgun ever designed", and after handling their models, it's hard to argue with them. Besides for giving it a few major feature upgrades, they also gave their 1911 an updated sexy new look while still keeping the basic outline.
Model: 1911 Mil-Spec

Caliber: .45 ACP

Capacity: 7+1

Barrel Length: 5"

Overall Length: 8.6"

Weight: 39 oz. (unloaded)

Sights: Combat, 3-Dot

MSRP: $828.00
Team Springfield's Steve Horsman definitely knows how to rock a SAINT in FDE. pic.twitter.com/y93dRAgPGZ

— Springfield Armory® (@Springfield_Inc) July 28, 2017
Springfield Armory XD SERIES
In one of their best efforts at innovation, Springfield Armory came up with one of the best polymer pistols I've ever seen. The XD Series, released in 2001, is the epitome of what an ergonomic CCW can be. Besides for taking designs from Browning's original 1911, the XD pistols are loaded with tons of outstanding features. One of the most noteworthy additions to their polymer CCW is its unmatched safety features. Lastly, to make the XD even more impressive, Springfield incorporated an accessory rail forward of the trigger guard to make it tactical-friendly.
Model: XD 3" Sub-Compact

Caliber: .40 S&W

Capacity: 9+1

Barrel Length: 3"

Overall Length: 6.25"

Weight: 26oz. (unloaded)

Sights: Dovetail Front and Rear (Steel) 3 – Dot

MSRP: $508.00
Springfield Armory XDM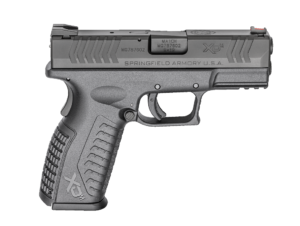 Shortly after releasing their ingenious XD handgun, Springfield unleashed the new and improved XDM Series. While sticking true to the new XD template, they made some critically acclaimed performance enhancing changes. One of the biggest differences between the XD and XDM is the multiple interchangeable back straps on the latter as well as improved slide serrations which significantly boost control and overall handling. However, with the larger build on the XDM, Springfield had to tweak its design and add size-reducing contours to keep it as concealable as possible.
Model: XDM 4.5" Full Size

Caliber: 9mm Luger

Capacity: 19

Barrel Length: 4.5"

Overall Length: 7.6"

Weight: 29oz. (unloaded)

Sights: Fiber Optic Front, Low Profile Combat Rear

MSRP: $624.00
Springfield Armory XDS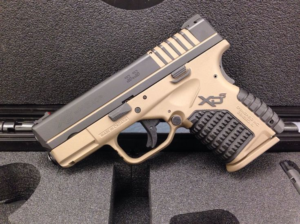 This series of Springfield handguns has some of their best CCWs! By taking their proven XD model, shrinking it down, and giving it a single stack mag, without compromising performance or ergonomics, they've effectively crafted one of the finest daily carry pistols on the market. While shooters generally have to compromise on comfort and other features with other CCWs this size – that's not the case with the Springfield XDS.
Model: XDS 3.3" Single Stack

Caliber: .40 S&W

Capacity: 6

Barrel Length: 3.3"

Overall Length: 6.3"

Weight: 22oz. (unloaded)

Sights: Fiber Optic Front, Steel Dovetail Rear

MSRP: $499.00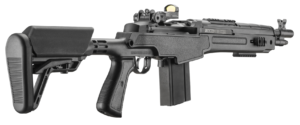 Springfield's main carbine, the M1A, is not just any other rifle; this class-defining machine is the culmination of over 75 years of advanced weapons engineering. Looking back into history, once the famous M1 Garand was ready to be phased out of use, the government developed the new and improved M14. This amazing rifle became an American favorite due to its unrivaled reliability and powerful 7.62×51 NATO cartridge. However, as with all things, the M14's time was up, and it was out with the old and in with the new. At that point, Springfield took the base model of the rifle and turned it into a civilian legal semi-auto, and called it the M1A.
Even to this day, these rifles can be found hunting big game, winning countless marksman competitions, and even in life-saving tactical missions.
Model: Loaded M1A

Caliber: 7.62X51mm NATO (.308WIN)

Capacity: 10

Barrel Length: 22"

Overall Length: 46.25"

Weight: 11.25 lbs. (unloaded)

Sights: National Match .062″ Blade Front & Match Grade (Non – Hooded .0520) Aperture Rear

MSRP: $2,004.00
Springfield Armory SAINT SERIES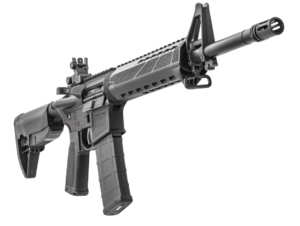 I've rarely come across a gun that legitimately had me in awe the way that the Springfield Saint did. This rifle, modeled after the AR-15 platform, is truly remarkable. Before even getting to its specs, the Saint is arguably one of the most stunning (non-custom) weapons I've ever seen- it's an aesthetic masterpiece. This tactical and defensive carbine is loaded with astonishing features and highly durable components. In addition to being crazy user-friendly, this beast is insanely accurate and fun to shoot. In fact, I almost hate describing it in words because I'm afraid I won't do it justice. That being said, let's just take a look at its great specs.
Model: Saint AR15

Caliber: 5.56x45mm NATO (.223REM)

Capacity: 30

Barrel Length: 16"

Overall Length: 35.5"

Weight: 6 lbs. 9 oz. (unloaded)

Sights: National Match .062″ Blade Front & Match Grade (Non – Hooded .0520) Aperture Rear
CONCLUSION
At the end of the day, flipping through Springfield's catalog makes me feel like a kid at a candy store. Not only are their products modern, but they are downright sexy and intimidating. Additionally, the Springfield engineering that goes into each and every one of their products guarantees their supreme quality. Whether you're in the market for a new CCW, AR-15, or long range rifle, you gotta check out Springfield Armory!
Read about other American Firearms Companies like Kahr Arms and Remington.