The Henry Repeating Arms Company is part of a dying breed of gun manufacturers who consciously not diversified. Meaning, even one-trick-ponies like Browning – originally known for their rifles – have expanded their repertoire and currently produce handguns and shotguns. Henry was founded with the hope of reestablishing the repeater rifle as a prominent weapon and they've almost exclusively kept to that mission.
Additionally, Henry is part of a great class of gun makers who've dedicated themselves to modernizing traditional and classic firearms. In the same way that Springfield has modernized the 1911 and Kahr the Tommy Gun, Henry has reinvented the American repeater.
In today's Gunivore breakdown, we're going to be examining the past, present, and future of the Henry Repeating Arms Company. Although I've recently reviewed several other lever actions, including the Browning BLR and Mossberg 464, most of my experience with this style of firearm comes from my childhood. In fact, I think the first rifle I ever used was a Marlin 336 lever action.

History of the Henry Repeating Arms Company
Although the Henry Repeating Arms Company may have only debuted in the early 1990's, its history can be traced back to the Civil War Era. Louis Imperato named his New Jersey-based company after the legendary weapons pioneer, Benjamin Tyler Henry.
Throughout American history, there have been those few rare individuals whose achievements completely changed the firearms industry, and Henry was inarguably one of them. As the inventor of the Henry Rifle, he enabled soldiers and civilians alike to shoot faster than ever possible. This invention of the first real lever action repeating rifle came just in time for the Civil War and would eventually inspire the Winchester 1873 – The rifle of choice in the American Western Frontier.
Henry Repeating Arms Co. had a humble beginning but has since flourished wonderfully to become a top-ten weapons manufacturer in the U.S. What started as a small family business in New Jersey has developed into a company which produces over 300,000 weapons a year. Once the demand for their quality guns got high enough, they were forced to open a second facility, this one in Wisconsin. Overall, this family business has since spread over two states and approximately 250,000 sq. feet, with nearly five hundred employees!
When Louis -the company's founder- passed away in 2007, he handed the reigns over to his son Anthony. This act of nepotism has proven to be quite successful. Henry has not only grown in size and popularity, but they have managed to stay true to their original mission. In fact, they were just awarded the Stevie Award from the American Business Awards committee for their dedication and excellence in customer service. This commitment to serving their patrons has been a major priority since the beginning. Besides for offering lifetime guarantees on all of their products, Henry is also exceptionally easy to communicate with, which is no small feat in today's day and age.
Happy Fathers Day to Mr. Lou, Chairman from '96 to '07, Army Korean Vet '53 to '55, and father of Anthony Imperato. pic.twitter.com/kDNiF3xxAW

— Henry Repeating Arms (@HenryRifles) June 21, 2015
When I see a company like Henry, revolutionizing traditional guns, I think of greats like Stoeger Industries and the American-favorite Smith & Wesson. Be sure to check out our reviews of these legendary companies.
What Exactly is a Lever Action?
The lever action rifle was revolutionary when it was invented because it allowed shooters to fire several rounds without reloading. To accomplish this, the shooter loads rounds which get pushed through the magazine tube up against the follower. After firing a round, the operator lowers the lever which ejects the empty cartridge and activates the follower, pushing the next round up into the firing chamber.
Pros: Ambidextrous ability, high rate of fire, shorter overall length than most bolt-action rifles.
Cons: Hard to fire from the prone position, limited types of ammo (until recently, they couldn't fire high-pressure cartridges).
Henry Repeating Arms' Collection of Rifles
If you ever thought that all repeaters are the same, wait until you see Henry's lineup, which includes Centerfire and Rimfire rifles in nearly a dozen different calibers. Because their collection is so diverse, I'd like to focus on their most popular firearms.
Henry's Golden Boy is as accurate and reliable as it is stunning. At first glance, you'll notice its elegant walnut stock, shiny Brasslite receiver, and octagonal barrel. I highly recommend this popular firearm for target shooters, Plinksters, and small game hunters alike. Besides for its timeless high-grade American craftsmanship, the Golden Boy offers supreme balance and unparalleled handling. As long as you don't mind shooting a lever-action, this rifle is super user-friendly and a pleasure to shoot. The Golden Boy is not only highly rated by users; it has even won "Gun of the Year" by Guns and Ammo Magazine. Nevertheless, if I had to change one thing about it, I'd probably switch out the buckhorn rear sight for something more modern.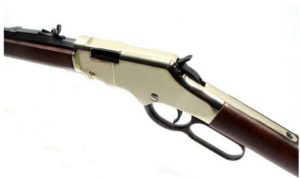 Model: H004 Golden Boy

Caliber: .22 S/L/LR

Capacity: 16 LR/21 S

Barrel Length: 20"

Overall Length: 38.5"

Weight: 6.75 lbs.

Rate of Twist: 1:16

Sights: Rear Buckhorn / Front Brass Bead

Length of Pull: 14"

MSRP: $550.00
Another one of Henry's most popular and award-winning rifles is their Big Boy Series. This collection includes several specialized variants and comes in five available cartridges. Although the Big Boy and Golden Boy make look similar, they are like Dr. Jekyll and Mr. Hyde. The Big Boy shares the classy aesthetics and impressive accuracy of the Golden Boy Series but packs a punch insanely more powerful. This Henry repeater is also a great target shooter, but it performs best when used for big game hunting.

Model: H006 Big Boy

Caliber: .44 Magnum / .44 Special

Capacity: 10

Barrel Length: 20"

Overall Length: 38.5"

Weight: 8.68 lbs.

Rate of Twist: 1:38

Sights: Rear Buckhorn / Front Brass Bead

Length of Pull: 14"

MSRP: $899.95
Henry Repeating Arms' Long Ranger lever-action rifle is the epitome of a classic reinvented. Henry basically took the standard model repeater but redesigned it to be an extraordinarily accurate long-range firearm. To make it happen, they made it easier than ever to add an optic in addition to adding a flush-fitting detachable mag. The 7 lb. centerfire is really something special. I'm also a big fan of the laser-cut texturized checkering on the gun; the improved grip makes a huge difference for those long range hunts in the woods.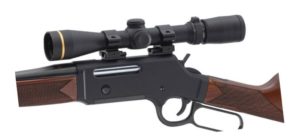 Model: H014S-308

Caliber: .308 Win / 7.62×51 NATO

Capacity: 4

Barrel Length: 20"

Overall Length: 40.5"

Weight: 7 lbs.

Rate of Twist: 1:10

Sights: Rear Adjustable Folding / Front Ramp with .062" Ivory Bead

Length of Pull: 14"

MSRP: $1,014.95
Shotguns Produced By Henry Repeating Arms?
So Henry recently pulled such an awesome move and released a lever-action shotgun. This gun is unique, performs great, and is so fun to shoot. They built it nearly identically to their 45-70 Government rifle that's it's actually pretty hard to tell them apart. On the plus side, they left in the Centerfire rifle trigger which makes follow-up shots smoother than ever. Because it chambers .410 Bore ammo, the control is pretty solid. These low-powered rounds already get rid of most of the recoil which shotguns are known for, but the nice heavy build of this Henry eradicates nearly all of what recoil is left.

Model: H018-410

Caliber: .410 Bore

Capacity: 5

Barrel Length: 24"

Overall Length: 44.5"

Weight: 7.54 lbs.

Rate of Twist: Smooth / Full Invector Style Choke

Sights: No Rear / Front Vertical Blade

Length of Pull: 14"

MSRP: $902.00
Accessories From Henry Repeating Arms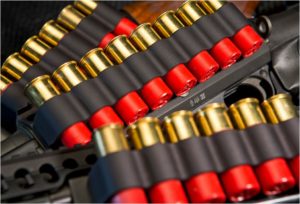 In addition to manufacturing rifles and now shotguns, the Henry Repeating Arms Company also sells all kinds of clothing and accessories. Although the accessories catalog is pretty small, there are a few solid choices. I really like their Henry Kirkpatrick Brown Leather Shell Holder; having an extra six rounds on hand can make your life much easier. They also make a leather lever wrap which is an affordable way to make shooting more comfortable, especially if you're not used to lever-actions. One of their most tempting items is the Henry Grace Firearms Tool Set. This 11-piece set includes 3 steel pin punches, an 8 oz. Delrin tipped brass hammer with a hickory handle, 1 brass 5/16" punch, and 6 hardwood handled Hollow-Ground screwdrivers.
What Does Henry's Future Look Like?
Besides for their lever-action, Henry introduced a single-shot shotgun in August 2017. I'm not sure why anybody would opt for a single-shot, but it's a pretty nice gun all things considered. These shotguns come with three removable chokes for more effective and specialized shooting. Although these were designed to be hunting weapons, I can't really view them as anything but novelty items. Nevertheless, Henry offers these in your choice of steel or brass in 12 & 20 gauge or .410 Bore.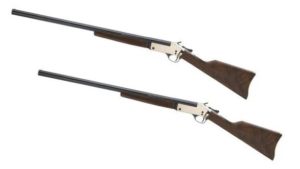 Model: H015B-20

Caliber: 20 Ga

Capacity: 1

Barrel Length: 26"

Overall Length: 41.5"

Weight: 6.80 lbs.

Rate of Twist: Smooth / Mod Choke

Sights: No Rear / Front Brass Bead

Length of Pull: 14"

MSRP: $549.00
Besides for their single-shot shotgun, Henry will also be making more cartridges available for some of their firearms, including the Big Boy Classic, Big Boy Carbine, and the Big Boy Steel.
Conclusion
I really enjoyed my time spent with Henry's collection of lever-action rifles. It was refreshing and heartwarming to use these weapons – it brought back some fond childhood memories of plinking and hunting with my old man. Knowing how fast, reliable, and sexy they are, I imagine that these guns are going explode in popularity this year.