Table of Contents
I love shooting 22 and I've been a fan of lever-actions since I was a kid, so I naturally fell in love with Henry Repeating Arms' series of 22 rifles. These firearms are as American as apple pie, pickup trucks, and Walmart. However, these aren't just reproduction old-west classics, these Henry repeaters are reinvented modern marvels. 22LR is a great caliber! Besides for its extreme versatility, it's also highly affordable and lightweight. Fortunately, Henry's diverse line of rifles chambered in this legendary round has expanded the caliber's abilities even further. In today's Gunivore breakdown, we're gonna be looking at some of the best lever-actions in this series just to give you a taste of how impressive Henry engineering really is. But before we begin, I highly recommend checking out our rundown on the entire Henry Repeating Arms Company just to get a glimpse of the past, present, and future of this American success story. Now, let's take a closer look at these .22 Henry rifles.
Popular 22 Henry Rifle Specs
Model: H001 Classic Lever Action
Caliber: .22 S/L/LR
Capacity: 15 LR/17 L/21 S
Barrel Length: 18.25"
Length of Pull: 14"
Overall Length: 36.5"
Rate of Twist: 1:16
Weight: 5.25 lbs.
Finish: Black
Sights: Fully Adjustable Rear / Hooded Blade Front
MSRP: $360.00
General Build of a 22 Henry Rifle
Although there are a few dozen different models of Henry .22LR rifles, many of them are special and tribute editions, so I'd like to focus on the principal weapons in the series. What's really nice about this lineup is that they've managed to create considerable diversity in such a fundamental and basic construction. Nevertheless, the variance between these models is nuanced and yet still offers enough variety to please all kinds of shooters and their respective preferences.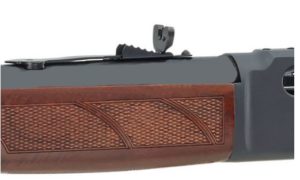 Starting with their classic lever action rifle, the name really says it all. There's no gimmicks or special features on this guy, but it performs like a reliable Henry. This 22 is outfitted with a beautiful American Walnut stock but unfortunately doesn't have any texturing at all.
Although the regular model is okay, the carbine variant is a nice upgrade. This model features a larger loop lever and a more stylish finish. One of my favorite components of this rifle is its sights, believe it or not. I didn't really like the Rear Buckhorn / Front Brass Bead sights on some of the other Henrys, but the Adjustable Rear / Hooded Blade Front get the job done right. Additionally, while the classic Henry may look old-fashioned on the outside, there are a few key upgrades they made internally. For instance, the modern style multiple grooved rifling is a huge accuracy booster. Finally, at less than 40" long and weighing in at barely 5 lbs., this .22 is perfect for all types of shooters for both target practice and small game hunting.
Henry 22 Golden Boy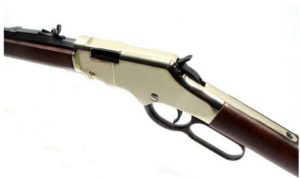 Next on the list is the famous Golden Boy. This model is definitely a step up from the classic version, especially aesthetically. The Golden Boy also features some nice modifications in addition to its eye-catching Brasslite receiver, classy American Walnut stock, and octagonal barrel. Besides for its added pound of weight, Henry gave the Golden Boy a few extra inches of length which provide a bit more control. However, I wasn't thrilled to see that Henry decided to change its sights and go for the old-fashioned buckhorn sights. Either way, this rifle is extremely popular by American users and critics alike; the Golden Boy has even won "Gun of the Year" by Guns and Ammo Magazine.
Model: H004 Golden Boy
Caliber: .22 S/L/LR
Capacity: 16 LR/21 S
Barrel Length: 20"
Length of Pull: 14"
Overall Length: 38.5"
Rate of Twist: 1:16
Weight: 6.75 lbs.
Finish: Brasslite
Sights: Fully Adjustable Semi-Buckhorn with Diamond insert Rear / Brass Bead Front
MSRP: $550.00
Henry 22 Pump Action
The last .22 Henry rifle I want to focus on is one of their most unique firearms. The pump action octagon .22 rifle may perform like you're average Henry, but without a lever, it definitely doesn't fit the mold. Like these other firearms, the pump action is crafted from high-grade gorgeous American Walnut. And although they didn't add any texturing, I like the straight stock and added grooves on the forend. Henry wanted to keep this rifle as traditional as possible so they went with an octagonal barrel but unfortunately also integrated those damn buckhorn sights. Then again, they did add 3/8" dovetail slots so changing the sight system is a breeze.
Model: H003T Pump Action Octagon Rifle
Caliber: .22 S/L/LR
Capacity: 16 LR/21 S
Barrel Length: 20"
Length of Pull: 14"
Overall Length: 38.5"
Rate of Twist: 1:16
Weight: 6.0 lbs.
Finish: Black
Sights: Fully Adjustable Semi-Buckhorn with Diamond insert Rear / Brass Bead Front
MSRP: $550.00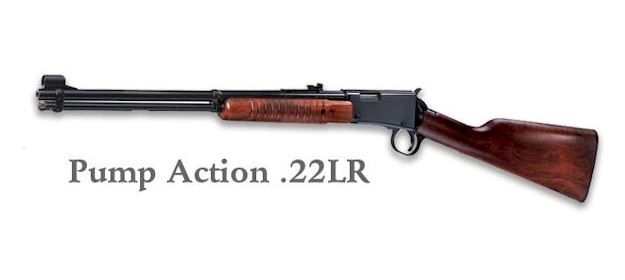 Henry 22 Mare's Leg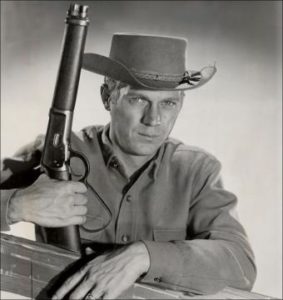 The next gun I want to talk about is actually the subject of a lot of debate. The Henry Mare's Leg is a unique firearm that fans of old westerns may recognize. However, while technically recognized as a pistol in the United States, it's categorized as a rifle in many parts of Europe. This means that folks living in places like NY or CA are not even allowed to own this classic firearm. As a modern take on an American classic, this gun seems more like a novelty item than a practical firearm to me.
I find it very odd that it's deemed a pistol considering its 25" length, long barrel, 71 oz. weight, rifle sights, and lever action. Nevertheless, I'm not such a huge fan of this guy. My main problem with the Mare's Leg is that it's hard and awkward to handle because you don't really use it quite like a rifle or a pistol. Nonetheless, if you forgo the .22 caliber and opt for either the .45 Colt or .44 Magnum brass model, you've got yourself a solid defense weapon to keep in the home, office, or car. One of the main reasons why I like this rifle *I mean pistol* is because it actually functions well to fire from the hip, which can be a useful resource in a self-defense weapon.
Caliber: .22 S/L/LR
Capacity: 10 LR/16 S
Barrel Length: 12.875"
Overall Length: 25"
Rate of Twist: 1:16
Weight: 4.45 lbs.
Finish: Black
Sights: Fully Adjustable Rear / Hooded Blade Front
MSRP: $440.00
Henry 22 Rifle Performance
All of the Henry rifles chambered in .22LR are Rimfire, so I'd stick to plinking, target practice, and small game hunting (squirrels especially). You'll notice that all of these firearms have exceptionally smooth actions, even the pump action rifle. Additionally, these guns are all incredibly accurate due to their low caliber, minimal recoil, ergonomic designs, and state-of-the-art barrels. The Mare's Leg was really the only one of these firearms I had trouble shooting was , but that's probably due to its unusual construction. You should have no problem staying on target shot after shot as long as you're accustomed to lever actions.
That being said, I was really impressed by how easy follow-up shots were on the pump action. The fast and smooth action on the pump rifle enables the shooter to empty the mag tube in seconds without even flinching, unlike a lever action which makes you readjust after each shot. Overall, these firearms are great for all kinds of shooters – young, old, experienced, novice, man or woman, you name it! Nonetheless, I gotta give credit to Henry for manufacturing versions of these rifles for younger shooters, such as the Golden Boy Youth and the Mini Bolt Youth.
22 Henry Rifle Magazines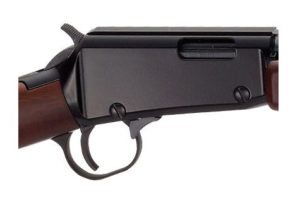 The first thing to know about the feeding system on these Henry rifles is that they're tube fed. Now I really really don't like tube fed rifles, but it helps that they're chambered in .22LR. These rifles can hold an average of 15 rounds, which is a big step up from the .45-70 Henry for example. Nevertheless, these are way more manageable than average, as far as tubular magazines go. Additionally, many of these guns have large loop levers which make cycling easier and faster. Of all these rifles, I was most impressed by the pump action's feeding. Like a shotgun, there is a grooved release button forward of the trigger guard which allows the user to extract unfired cartridges quickly.
Aftermarket Options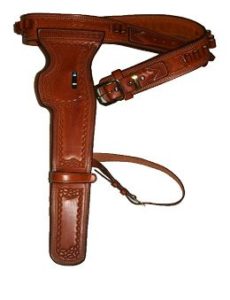 Even though these rifles are already pretty accurate, Henry incorporated grooved receivers for easy optic attachment. If you decide to add a scope to your Henry repeater, I recommend going for a 3-9×40 optic. For a top of the line option, you can't go wrong with the Leupold 111236 VXR, but it'll put you back a few hundred dollars. For something a little more affordable but still incredibly accurate and reliable, check out the Bushnell Banner Illuminated 500 Reticle riflescope. Additionally, if you're searching for aftermarket options for your Mare's Leg, I recommend sticking with a pistol scope which will provide better eye relief.
Lastly, if the Mare's Leg wasn't odd enough already, Henry actually makes a holster for this "pistol". Made out of rust-colored American leather, this holster features two cartridge pouches for the .22LR model. On the other hand, the .22 Magnum version has twenty bullet loops to keep you well stocked.
Henry 22 Magnum Firearms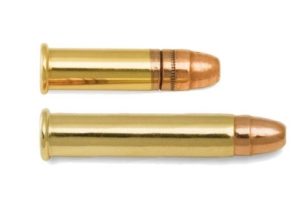 As a result of Henry's dedication to diversity and commitment to providing special firearms for specific occasions, they've made nearly all of their .22LR rifles available in .22 Magnum. Besides for their longer cartridges, the .22 magnums have more powder which equals more power. In practice, this means that your shots will go farther and faster and pack a stronger punch. The two best .22 magnum Henrys are the award-winning Golden Boy and the classic lever action rifle.
Henry 22 Rifles Vs. Browning BL22
The only other company who can compare to Henry when it comes to lever actions is Browning with their BL-22 and other BLR models. I can't see any real reason to choose the Browning over a Henry, but both are solid guns, so I'll leave the tough decision for you to make.
Conclusion
I really had a good time with these guns, and for the most part, I was really impressed. As far as lever actions in .22LR go, these are the best. My experience with the Mare's Leg was fun, but it's not a firearm that I'll ever own, especially not in this cartridge. The biggest surprise for me was the pump action rifle. I'm not sure if it's because it's not a lever action, but this was my favorite of the group. It's fast, sexy, accurate, and a pleasure to shoot.
Like these crafty, reimagined Henry Rifles? Check out the Mossberg 22LR Rifle Series, Remington 597, & the Ruger 10/22!