Table of Contents
Wilson Combat may be well known for their 1911s, but their sweet collection of AR-platform rifles is often overlooked. For a company with a reputation for crafting some of the finest firearms in the industry, it should come to no surprise that their rifles follow suit. While following the conventional designs, these weapons are anything but. Over the course of the past twenty years, the Arkansas-based gun makers have been perfecting the AR-platform one feature at a time. By combining their own CNC-machined components with outsourced Mil-Spec contractors, the Wilson AR rifles feature some of the best technology and parts money can buy. Furthermore, with one of the widest varieties of calibers to choose from, there is a Wilson rifle for everyone.
Wilson Combat was founded out of a necessity when Bill Wilson, the founder/president of Wilson Combat, decided to nearly singlehandedly address all of the M1911's issues. After first working on their magazines and feeding problems, he moved on to tackle recoil, accuracy, and reliability. Once he built up his company, Wilson took on the AR-platform and was met with immediate success. For an in-depth analysis of the renowned Wilson Combat company, check out our breakdown of the American firearms enterprise here. In the meantime, let's get down to business and have a look at Wilson's exciting assortment of tactical rifles.
Wilson AR Spec Sheets
Caliber: 9mm

Capacity: 15+1

Barrel Length: 14.7"

Overall Length: 31.25"

Sights: Adjustable Low-Profile Folding Quick Deploy

Finish: Upper & Lower Mil-Spec Anodizing and Armor-Tuff Coated Finish

Weight (Unloaded): 6 lbs. 1 oz.

MSRP: $2,095.00
Caliber: 7.62 x 40 WT

Capacity: 20

Barrel Length: 16"

Overall Length: 33"

Sights: None – Rail for Mounting Optics

Finish: Upper & Lower Mil-Spec Anodizing and Armor-Tuff Coated Finish

Weight (Unloaded): 7 lbs.

MSRP: $2,250.00
Caliber: 6.5 Creedmoor

Capacity: 10

Barrel Length: 22"

Overall Length: 44"

Sights: Leupold 4-12x40mm VX-R Scope

Finish: Upper & Lower Mil-Spec Anodizing and Armor-Tuff Coated Finish

Weight (Unloaded): 10.2 lbs.

MSRP: $3,145.00
Wilson AR Builds
While Wilson Combat's lineup of AR-platform rifles may be diverse, they all share Wilson's proven reliability and accuracy. Ever since the end of the 20th century, the Arkansas firearms manufacturer has shifted their priorities and has allocated many of their resources to developing top-notch long guns.
A rifle is only as good as its receiver, and these Wilsons start with CNC-machined receivers built in-house by skilled professionals. Likewise, many of their other small parts, such as muzzle devices and gas blocks, are also crafted by Wilson's experts in their Arkansas factory. On the other hand, whatever parts not made in-house are outsourced to some of the best Mil-Spec contractors such as Bravo Company USA. Besides for finishes and grips, Wilson relies on outside help for components as major as bolt carrier groups.
To boost their durability, WC gave their rifles match grade, carbon steel barrels, aluminum receivers, and Armor-Tuff finishes. Similarly, to ensure the longevity of the rifles, they incorporated a pillar in front of the bolt lock to protect the inner components from the potential damage resulting from the blowback action. Additionally, when developing their AR action, they made it so that the bolt holds open and locks back when the chamber is empty.
Moving forward, one of the best features on these rifles is the Wilson Combat Tactical Trigger Unit (TTU). Considering that the AR-9 is a pistol caliber carbine, this trigger set-up gives more than you could ask for. With its two-stage trigger, fantastic reset, and crisp lightweight pull, Wilson's 9mm AR offers effortless and rapid fire.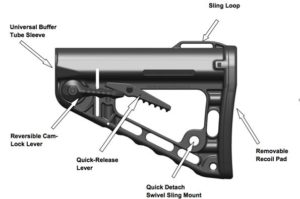 Even though most shooters will opt for some type of optic, the AR-9 still comes with a great set of adjustable spring-loaded Quick Deploy Sights (QDS). But after running a quick field-strip, I was even more impressive with the 6-position Super-Stoc and Tactical Rail Interface, Modular (T.R.I.M.) free-floating handguard. Lastly, once I became familiar with the Wilson pistol caliber carbine, I realized how important the threaded muzzle and Q-COMP flash suppressor really are.
Moving on to Wilson's AR-10s – these are not your run-of-the-mill long range rifles. Available in .308, .338 Federal, and 6.5 Creedmoor, these long guns are popular among competition shooters, hunters, military/law enforcement, and defense shooters alike. These tactical firearms feature many of the same popular elements as the AR-9, including T.R.I.M. rails, Armor-Tuff finishes, Roger/Wilson Super-Stocs, and Q-COMP flash suppressors.
However, many of the AR-10s are equipped with superior bolt carriers, barrels, and improved ergonomics. Of all these rifles I can't help but love the 6.5 Creedmoor Super Sniper; In fact, I'm willing to call this one of the most user-friendly snipers on the market. Furthermore, with a 1:8" twist, these rifles can take targets down at about 1000 yards with ease.
Although I already knew Wilson rifles were anything but standard, I was surprised to find out exactly how special they really are. With a variety of cartridges, including a modified version of the legendary 5.56 NATO, Wilson's AR-15s are something to behold. By combining some of the sturdiest yet lightweight components with state-of-the-art gas systems, Wilson Combat has just about perfected the tactical rifle.
For other great guns check out our top new CCW's, AR-15's, Revolvers, and Most controversial guns.
Performance of the Wilson AR Rifles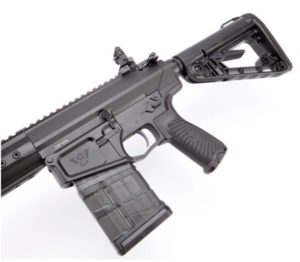 Although I could sit here all day praising Wilson's line of AR rifles, I would be remiss if I didn't mention their lack of versatility. Not that it's such a bad thing, but because they produce their rifles for specialized purposes, these are not one size fits all kind of guns. As a result, if you're looking for a firearm that's multi-functional, you have slim pickings in Wilson's catalog. On the flip side, by developing these ARs in a variety of specialized calibers, users are provided with the best tool for their designated task – For example, the .204 Ruger AR-15 is perfect for hunting small game and varmint thanks to its extremely high velocity and medium range accuracy while the 6.5 Creedmoor offers superior extended-range and low recoil performance in competition thanks to its unique ballistics.
One of the most comforting things about buying a Wilson Combat rifle is that you can know with certainty that no firearm leaves the factory without achieving sub-MOA performance. Plus, as a result of their specific chamberings, these guns are as reliable as they come. Although many gun writers tend to ignore it, I wholeheartedly believe that one of the most important features of a firearm is how well it instills confidence. That being said, I don't know if I've ever been as confident with a weapon as I was with a Wilson AR. Not only are they sexy and intimidating as all hell, but they are also loaded with some of the most reliable and cutting-edge components, and have an incredible reputation for their performance excellence.
Wilson AR Magazines & Versatility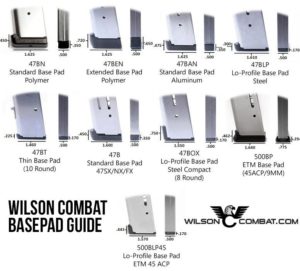 Though I just claimed that Wilson's ARs are not so versatile, that certainly doesn't apply to their magazines. Keep in mind that Wilson Combat was launched in an effort to improve faulty mags, so it should come to no surprise that they are some of the best in the industry. Take the AR-9 for instance: these sweet rifles are capable of chambering mags from the Glock 17, Beretta 92, and S&W M&P9. To accomplish this, Wilson had to really put their engineers to work; instead of simply incorporating a conversion block onto the magazine well, Bill Wilson had his team develop three different lower receivers. Additionally, these flared mag wells are contoured beautifully for a sleeker build and faster reloads. The biggest advantage of having the ability to switch mags is being able to outfit your weapon appropriately. Let's say you're going to the range, you might want to load a 30+ round mag, but if you're just storing your AR-9 for home-defense, a smaller 16-round mag should do the trick.
However, because loading the AR-9 with pistol mags can damage the rifle's components over time, Wilson offers extra heavy-duty magazine springs.
Accessories for the Wilson AR's
The Wilson Combat AR-platform rifles are top-shelf firearms, and as such, they require top-shelf accessories. Fortunately, Wilson has close relationships with some of the best accessory brands in the industry. It gets me super pumped up knowing that these long guns are suppressor-friendly and are compatible with standard AR attachments, triggers, charging handles, stocks, and optics.
Interestingly, many of these affiliations are with premium grip manufacturers. Between Challis, Thunder Ranch, VZ Grips, and Hogue, Wilson-owners can choose from a wide variety of first-rate grips to boost both comfort and aesthetics.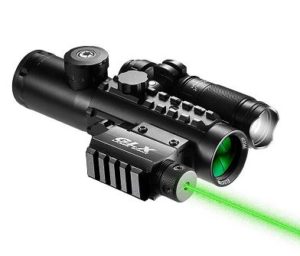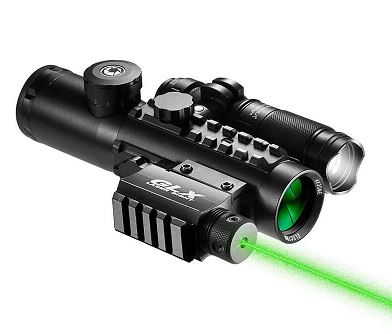 In addition to grip options, Wilson also partners with Streamlight, which produces arguably the best weapon mounted tactical flashlights in the business. Your best options for these ARs is to go for their PROTAC Rail Mount HL-X long gun light and the TLR-4 G gun light. The former might even be the best long distance bright light on the market, while the latter is a great compact dual light/laser with impressive long-range capabilities.
One of Wilson's closest partnerships is with the up and coming Bravo Company USA (BCM), who manufacture all kinds of grade-A weapons and accessories. Besides for their collection of grips, stocks, and handguards, BCM also makes top-of-the-line upper & lower receiver groups, compensators, mags, and tactical gear.
Regardless of your shooting preference, there are endless options for attaching optics to your Wilson AR. First and foremost, you gotta check out the Leupold VXR 4-12x40mm; this long range rifle scope is one of the best money can buy. On top of the Leupold, most Wilson-owners opt for an Aimpoint or Trijicon. I'm a huge fan of Trijicon's Accupoint 1-6x24mm MOA-Dot Crosshair because it's not only insanely accurate and reliable, but it's also one of the most versatile optics out there. For something a little more tactical, the lightweight and rugged Aimpoint Micro T-1 red dot sight is an excellent choice to hook up to a Wilson AR.
Bear in mind, that these are just some of the best accessories around, but there are plenty more affordable options to choose from.
Conclusion
At the end of the day, my experience with Wilson Combat's line of AR-rifles was a blast. These impressive weapons feature just about anything and everything you could want in a firearm with a reputation to back it up.
Looking for more innovative gunmakers? Check out Daniel Defense, Armscor, Springfield, & Taurus.