Table of Contents
The 1911 (Army designation M1911) is an American icon. It is one of the most enduring handguns ever to be manufactured. The Remington 1911 R1 – Remington's twist on the old classic – is a relatively recent addition to this manufacturer's long line of firearms, and it comes in several versions which we will cover here in our Remington 1911 R1 Semi-Automatic Pistol Review. Here are some of the R1's technical specifications:
Remington 1911 R1 Specs
Caliber – .45 ACP.
Action – Semi-Automatic, Short Recoil.
Length – 8½ Inches.
Barrel length – 5 Inches.
Weight (empty) – 38½ oz.
Sights – 3-Dot, Dovetailed, Rear and Front.
Capacity – 7 Rounds.
Introduced – 2010.
MSRP – $774.
Remington 1911 R1 Build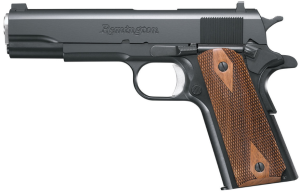 The frame and machined slide are made of carbon steel, with a satin black oxide metal finish. The magazine well is beveled (watch out for those edges!), the trigger is solid aluminum, and the barrel and bushing are stainless steel. Overall, the build of this thing says that it means business. As a result of its construction, it has this solid, stiff, "workhorse" kind of feel to it.
When you are holding this pistol (or maybe any other 1911), you get the feeling that this – not polymer frames – is where it's at. I don't know. It isn't as if Glock has a 1911 to compete with all the others. The point I am trying to make about the R1's build is that it is a steel-based military-inspired no-nonsense handgun, and it handles like one.
Remington 1911 R1 Shooting and Performance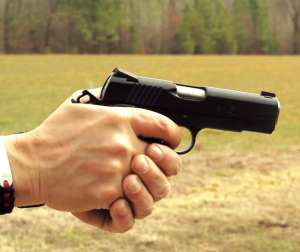 The best thing about this gun? It really shoots like a 1911. Remington originally manufactured a version of the 1911 during World War I for the military, and it was modeled after Colt's M1911 pistol. Production of that 1911 handgun was discontinued one year later when the Great War ended. It wasn't until 90 years later, in the spring of 2010, that Remington announced its return to the 1911 (this time calling it the R1).
So, as I was saying, it feels really good in my hand. Like a genuine 1911, though inside and out it is all Remington's doing. The trigger is nice and smooth. It isn't the best trigger out there, I've had better, but it holds its own. The trigger changes from one version to the other, so take this with the proverbial salt grain. The walnut grip is solid and diamond-checkered, and while I am on that, I will just say that the gun itself is a real pleaser, both aesthetically and functionally. It looks good, it feels good, and it gets the job done in the best possible way. Well done, Remington! It's a hell of a pistol.
Remington 1911 R1 Magazines and Sights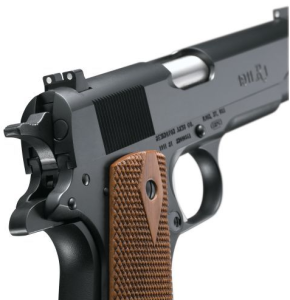 The standard magazine for the R1 holds seven rounds. Aftermarket magazines offer higher capacities, and some prefer those to the factory magazines, citing less failures than with the stock mags. I don't really have an opinion since I never had those issues. I avoid magazine trouble by not loading magazines to their fullest capacity.
I learned that early on. It is better to load one or two rounds less, rather than have to deal with jams and failures. If you load things to capacity all of the time, you may find that it takes you more time than it would have to simply switch empty magazines.
I do this with guns and rifles, and I know for a fact that it has saved me a lot of accumulated downtime over the years. So, the R1's magazine: Two standard magazines are included with the gun itself, and we are looking at 7 + 1 in the chamber.
Let's move on to the sights. They are of a standard 3-dot formation, and they are day sights. Night sights are always a popular option for modification, and they are an accessory many choose to purchase. Fiber-optic and tritium will probably give you the best results.
Remington 1911 R1 Safety and Assembly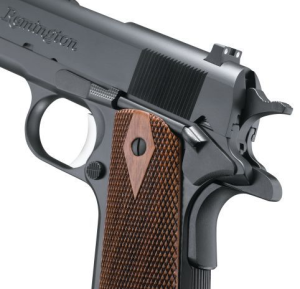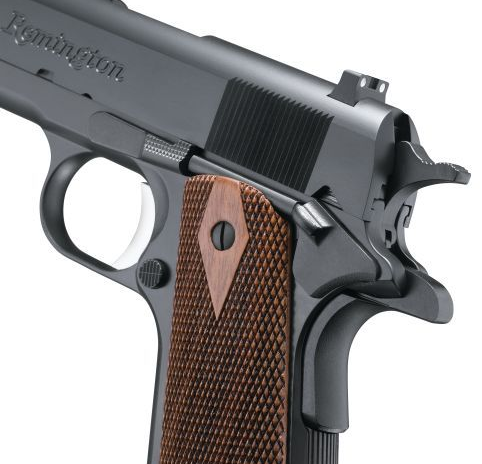 The safety is a standard 1911-style safety, and you can really feel when it is engaged. It is designed to prevent accidental discharges by locking the hammer, trigger, and slide in place. The safety can only be engaged when the hammer is fully cocked. There is also a grip safety, which protects against unintentional firing. Furthermore, there are what Remington call "passive mechanisms", like the disconnector, the firing pin system, the pin block, the trigger guard, and the ability to quarter cock.
Assembling and disassembling the R1 can be a bit tricky at first because the bushing is usually on tight, but once you get the hang of it, it is not a problem. The R1 comes with a bushing wrench. Loosen up the bushing, pop out the spring, and you're in business. Move the slide down, remove the safety, and then simply take off the slide. The barrel and recoil spring can then be taken out for inspection and cleaning.
Related: Check out our Remington R51, 1187, 770, 870, and 1100 Reviews.
Remington 1911 R1 Problems and Complaints
You gotta take the good with the bad. Many times, 1911-style guns require a break-in period. Others disagree, but keep that in mind when you first take your R1 out to shooting sessions. After a couple of hundred rounds through the chamber, initial problems go away.
Pistola Remington 1911 R1 calibre .45 ACP ( Automatc Colt Pistol pic.twitter.com/4NGp2RW9e1

— Loucos Por Armas (@Armaspics) December 13, 2016
Other than issues which can be traced back to the breaking-in process, there have been problems with the standard magazines. Again, loading the magazine to one round less of its maximum capacity can be helpful. Instead of 7 + 1, it will be a 6 + 1. If you need the firepower, and if your mags seem to be causing jams, get other magazines.
1911 guns are notoriously picky when it comes to ammo. If you run into trouble, go for a shooting session with full metal jacket factory ammo only, while using the factory-supplied magazines. Keep track of any failures or jams. Getting in touch with Remington's rep can't hurt, and they have been known to be highly accommodating.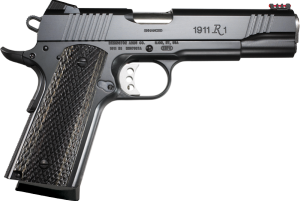 Remington 1911 R1 Enhanced Review
This is a version of the R1 introduced in 2011. It has an extended capacity of eight rounds per magazine. Furthermore, it features a larger hammer and wider safety. The grips are different as well, and there are thumb grooves in them. The sights are front fiber-optic, rear adjustable. [MSRP $903].
Remington 1911 R1 Stainless Review
This is a version of the R1 Introduced in 2012. Pretty much identical to the original R1, only this version uses matte stainless steel for the frame, slide, and several smaller parts of the gun. [MSRP $837].
Other Remington 1911 R1 Variants
Many other versions of the 1911 R1 are currently available, including:
The 200th Anniversary Limited Edition (MSRP $1,649).
The 200th Anniversary Commemorative Edition (MSRP $835).
The Carry (MSRP $1,067).
The Commander (MSRP $744).
The Carry Commander (MSRP $1,067).
The Carry Commander CT (MSRP $1,350).
The 10mm Hunter (MSRP $1,310).
The Enhanced Commander (MSRP $903).
The Stainless Enhanced Commander (MSRP $990).
The Enhanced Stainless (MSRP $990).
The Enhanced Threaded Barrel (MSRP $959).
The Enhanced CT (MSRP $1,129).
Each of these has a slightly different take on what is undoubtedly a classic piece of American weaponry. The 200th Anniversary guns have some special visual features and are in limited numbers; the CT versions come with a built-in laser; the Commander versions are ideal for concealment; the Hunter has a long slide and a 10mm Auto chambering, designed for hunting. All of these versions are accurate and deadly. Depending on the task at hand, there is a 1911 R1 that will fit the bill.
Conclusion
This review was of the standard version. I'd love to get my hands on other ones and see how they measure up. There are cheaper 1911 models out there, yes, but there is something about the Remington models which stands out. For the price that you pay (which is low to mid-level in terms of 1911 prices), you get a lot of value for your money. Some are more expensive than others, of course.
The Remington 1911 R1 lives up to the 1911's legacy, and it is certainly a gun which has captured the feel of the original Colt, and has been a wonderful addition to the growing line of 1911-style pistols. This gun is here to stay.
While you're here at Gunivore, check out our New Glock 17 & 19 Gen 5, and 26 features, and maybe read up on the M16, too!