Table of Contents
Springfield recently debuted their first AR-15 and it's been a huge hit from the get-go. Although they're known for modernizing and perfecting classic weapons, Springfield Armory's decision to jump into the AR-15 platform game was an ingenious, albeit bold, move.
The American company promotes the SAINT 5.56 carbine with their new mantra, "Defend Your Legacy," and this perfectly sums up what the SAINT is all about. In fact, if you watch their original documentary series, Night of the SAINT, you can see Springfield's commitment and dedication first-hand.
I really like that mantra; on one hand, Springfield is nothing without their legacy, and on the other hand, this new defensive tactical rifle is a whole new territory for them. Part of what made this debut so special was its focus on female shooters. Instead of making pink guns or showing bikini-clad models exhibiting these carbines, Springfield is trying to appeal to men and women equally by demonstrating that personal and home safety is everyone's job, regardless of sex. All things considered, I think they've done an incredible job endorsing their brand-new AR-15.
I recently got my hands on one of these guys and I had a blast at the range. The SAINT is not just a pretty machine with a good spec sheet; it also performs great in the field. Enough beating around the bush – get ready because this is the Gunivore breakdown of Springfield Armory's SAINT AR-15.
Springfield Saint Specs

Model: SAINT AR-15

Caliber: 5.56x45mm NATO (.223REM)

Capacity: 30+1

Finish: Matte Black Hard Coat

Barrel Length: 16"

Barrel Twist: 1:8 RH Twist

Overall Length: 35.5" Fully extended / 32.25" Collapsed

Weight: 6.7 lbs. (unloaded)

Sights: National Match .062″ Blade Front & Match Grade (Non – Hooded .0520) Aperture Rear

Stock: Bravo Company 6-Position Adjustable

Gas System: Direct Impingement

MSRP: $899.00

Springfield Saint Build
Before I took the SAINT out to the range, I did a full takedown and inspected its components. The thing which stood out the most to me was their use of several Bravo Company Manufacturing (BCM) parts, including the stock, grip, and handguard. If you haven't heard of BCM, then you're missing out.
This relatively new company was founded by a former Marine with an unparalleled dedication to quality control. He and his team of military vets hand-craft all of their products according to Mil-Spec and inspect each component before it leaves their Wisconsin-based factory.
The SAINT's BCM exclusive PKMT two-piece handguard offers ultimate heat-protection while still keeping an ideal slim profile. BCM's expertise can also be found on their Gunfighter Pistol Grip which creates a truly ergonomic shooting experience. Additionally, to boost the SAINT's tactical ability, Springfield utilized BCM's collapsible buttstock which is equally comfortable and durable, plus it includes convenient fixed sling and QD attachment points.
After inspecting all of its parts, I was shocked at the SAINT's price tag! It's hard to imagine how these Springfields can go for less than $1000 when their components indicate that they could sell for closer $1500. Part of this shock stems from the insane durability of the SAINT; Springfield joined the aircraft-grade aluminum receivers using the Accu-Tite system which effectively prevents any shaking or rattling during its operation. Additionally, they gave it a chrome moly vanadium barrel with a Melonite finish.
In my experience, I've come across way too many great guns with terrible triggers, like the Smith & Wesson SD9VE for example. That being said, I was more than impressed with the SAINT's trigger. Being a GI-style trigger, it offers a comfortable pull at around 7 lbs. However, to give it a little upgrade, Springfield coated all of the trigger components with a slick nickel-boron glaze to keep it running smoothly.
Overall, it's rare to find this kind of specs on a rifle in this price range. Springfield didn't just simply put a few pieces together and call it an AR-15; clearly, they painstakingly searched for the most affordable and durable components, put them together with their renowned engineering, and produced a SAINT.
Springfield Saint Performance

It felt good in my hands, both in terms of its overall weight and grip
After putting the SAINT back together –which was surprisingly simple by the way – it was time to head to the range. Going in, I had some pretty high expectations after seeing the SAINT from the inside.
It felt good in my hands, both in terms of its overall weight and its ergonomic pistol grip. Firing Springfield's AR was such an interesting experience! I used the standard factory-installed sights on the SAINT and I was shooting in groups around 1¾" at 100 yards. Although we were using standard 5.56 NATO ammo, the SAINT can handle nearly all types of rounds in both 5.56 NATO and .223 Rem.
While it handled about average, I was really impressed by its ejections; the high-quality barrel and mid-length gas system enable smooth and consistent ejection from beginning to end. That being said, I was a little surprised by Springfield's choice of a compensator. They attached a GI-type birdcage compensator on the muzzle that functions as a decent flash suppressor but barely affects muzzle rise.
Lastly, the SAINT stood out by how well it fires all thirty rounds quickly. I ran through a course which had me empty 2 mags with targets ranging from 15-150 yards, and the Springfield worked wonders. I was able to maintain solid control even with quick follow up shots and reloading on the fly was super easy. Lastly, I had no problems switching from long range to close range rapidly. Overall, it was a great shooting experience that could easily compete with most other AR-15s on the market.
Springfield Saint Sights

Springfield's premier AR-15 factory-installed sight system
Although I recommend looking into aftermarket options for optics, Springfield's premier AR-15 has a decent factory-installed sight system. They outfitted the SAINT with a low profile flip-up dual aperture rear to match the low profile of the rest of the rifle. On the forend, you'll find a simple yet effective post front sight. For an added advantage, the front and rear sights are elevation and windage adjustable, respectively.
Springfield Saints Mags
I usually don't spend much time analyzing mags, but the new Magpul 30-round PMAG Gen M3 that comes with Springfield's SAINT is really something else. This is by far the best magazine on the market, and I applaud Springfield for choosing it. While all Magpuls are good, the long-life USGI-spec spring, four-way anti-tilt follower, and easy tool-less takedown make this magazine in a league of its own. Do yourself a favor and stock up on them!

Springfield Saint Accessories

Holosun Paralow red dot sight
Okay, so accessorizing the SAINT can be tricky – on one hand, you want to keep it as light as possible, but a few small attachments can transform this gun into a whole new category. That being said, get yourself the Holosun Paralow red dot sight – this unbelievable optic has the craziest battery life I've ever seen and it works like a charm. However, at around $300, it's smart long-term investment. For more simple aftermarket options, I'd go for the Blackheart International Quick-Adjust Weapon Sling or consider swapping grips for one better tailored to your needs.
Springfield Saint Vs. Ruger 556 & Colt
I wanted to compare Springfield's AR-15 with the Ruger and Colt equivalents, and it's actually kinda funny, but on paper, they're nearly identical. Without factoring in their prices, we have to get into the nitty-gritty to differentiate these carbines. One of the biggest standouts is the BCM handguard on the Springfield; although still plastic like the other two models, this advanced component provides better heat protection and comfort.
The next determining factor has to be the pistol grips. I really like the A2 style grip on the S&W AR-15 with the finger notch. However, the hard plastic grip on the Ruger 556 is a disappointment. On the other hand, while the SAINT doesn't have a finger notch, its BCM grip is by far the most comfortable of the three, plus it has a little trap door on the bottom for convenient storage. Similarly, the nickel-boron coated trigger on Springfield's rifle is the clear winner; its polished surface offers smoother operation and prevents carbon build-up much better than the Ruger and Colt standard Mil-Spec triggers.

Moving on to the rear of these guns, all three possess nice adjustable stocks, the only difference being the wider and sturdier BCM stock on the SAINT.
When all is said and done, the SAINT is the most advanced carbine of the three with the Smith and Wesson not far behind. And while I like the Ruger 556, I'd take the Springfield or S&W over it any day.
Saint AR-15 Pistol
After the original Springfield AR had done so well, the American company decided to unleash a pistol variant and the gun community is buzzing. Oddly enough, the most noticeable feature of these guys is their innovative muzzle device which promises enhanced performance. Overall, I think the AR pistol would make a great addition to any firearm enthusiast's collection.
Springfield Saint Edge
Springfield made big news this year with the release of the Saint Edge, the compact version of the SAINT built on a pistol platform. It's just as loaded with premium features but compressed for ultimate portability and increased tactical abilities. The Edge is simply badass and worth every penny.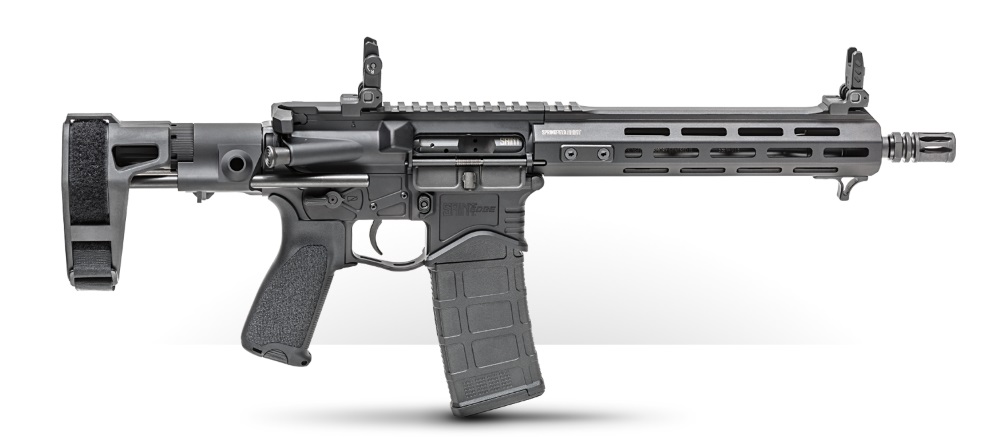 Conclusion
Now you have it, folks – the Springfield SAINT is a great choice to defend yourself, your legacy, and your home. The biggest takeaway from my time with this AR-15 was how Springfield put together some of the highest quality components and marketed it under $1000. I know I'll enjoy shooting the SAINT for years to come and I highly recommend you join the thousands of others who will too!
Read more of our reviews on products such as the EOTech Laser Battery Cap, Aimpoint Hunter Series and FREETOO Men's Hard Knuckle Tactical Gloves