I've been shooting trap for years and I've used nearly everything from Marlins to Perazzis, but after seeing the new Franchi Instinct, I had to give it a try. And while I've already reviewed and experienced other Franchis, such as the Affinity & SPAS-12, the Instinct seemed different. These weapons are not only more expensive than most other Franchis, but also offer superior aesthetics and performance. One of the most impressive things about this line is how many options are available. Besides for offering four distinct models, you can find Instinct shotguns chambered in 12, 20, 28, and .410 gauges.
I know I've painted these shotguns as highly capable and diverse, but there is one major caveat. All of Franchi's Instincts are over/under style shotguns which is sure to turn off many shooters. Nevertheless, I've gotten used to this style as a trap shooter and could see them performing well for skeet and trap shooting and even some waterfowl and upland hunting.
So let's get down to business. In this Gunivore review, we're gonna be taking a look at each of the four Instinct shotguns offered by Franchi. By the end of this piece, you should be able to determine whether or not the Instinct is right for you.
Don't miss our rundown of the Franchi Firearms Company
Picking the right Instinct is no easy task; each of these models features nuanced differences and special abilities. The L Over and Under's greatest component is probably its hardened steel receiver. Shotguns naturally take abuse and owners of the L Over/Under can shoot confidently knowing that they have one of the most resilient receivers on the market. Another reason why folks choose this model is that it's the only one offered in all four major gauges (12, 20, 28, & .410).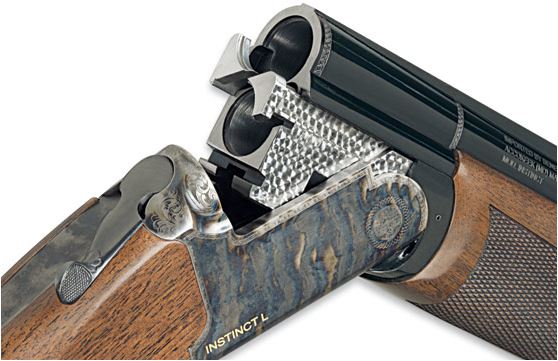 The best way for me to describe the L Over/Under is that it's intuitive. It's incredibly smooth-swinging, ergonomic, and simplistic. Starting with its design, Franchi outfitted this model with some of the classiest and stylish components, including a gold-plated trigger and an A-grade satin walnut stock. Additionally, Franchi incorporated an easy to use and convenient tang-mounted safety with a built-in barrel selector to allow for quick changes on the fly. Plus, to give it a more natural feel, they added a perfectly texturized slim pistol grip and forend. These features, combined with their instinctive fiber optic sight system, provide a more reliable and accurate experience dropping birds and clays. Franchi really hit the nail on the head when they named this shotgun the Instinct – its ideal weight delivers great balance and its handcrafted-build shoulders smoothly, making it easier than ever to pinpoint fast moving targets.
Model: Instinct L Over & Under

Caliber: 12 Ga

Capacity: 2

Finish: Satin Blued (Color Case Hardened Receiver)

Barrel Length: 28"

Overall Length: 44.25"

Weight: 6.9 lbs.

Sights: Red Fiber Optic Front Bead

MSRP: $1,399
The next Instinct model in Franchi's collection is the SL Over & Under. However, I must warn you that its higher price tag DOES NOT necessarily mean that it's a superior product. While this version contains a higher grade walnut stock, its aluminum alloy receiver is not nearly as durable as the steel L model.
That being said, if you shoot regularly, it may not be a good idea to rely on the aluminum receiver. Once again, this model forces you to make another trade-off. That is, while the SL swings faster due to its lower weight, you will definitely feel the increased recoil with this shotgun. As a result, I'd stick with the 20 gauge SL with either the 28" or 26" barrel. Like the L variant, the Franchi SL also comes with their popular auto ejectors, chrome-lined barrel, auto safety, barrel selector and a wide variety of chokes.
Model: Instinct SL Over & Under

Caliber: 20 Ga

Capacity: 2

Finish: Satin Blued (Aluminum Alloy Receiver)

Barrel Length: 28"

Overall Length: 42.25"

Weight: 5.4 lbs.

Sights: Red Fiber Optic Front Bead

MSRP: $1,699
Franchi Instinct Sporting Shotgun
The newest Instinct offered by Franchi is their Sporting model, developed with competitive trap and skeet shooters in mind. As one of their most expensive firearms, this Instinct also one of Franchi's longest and heaviest shotguns. Unfortunately, the hefty price tag doesn't bring in many more benefits. Besides for only being offered in 12 gauge (chambered for 2 ¾" and 3" rounds), the Instinct Sporting was manufactured with their lower level A-Grade satin walnut stock. I got to say that I'm disappointed with this model; it's definitely not worth the money.
Model: Instinct Sporting

Caliber: 12 Ga

Capacity: 2

Finish: Polished Stainless Steel

Barrel Length: 30"

Overall Length: 48.125"

Weight: 7.5 lbs.

Sights: Red Fiber Optic Front Bead

MSRP: $1,899
Last but not least is the Instinct Catalyst, designed specifically for female shooters. Although limited in options, Franchi engineered this shotgun to better contour to a woman's body. To accomplish this, the Italian company had to make several small adjustments to the Instinct's drop, grip, pitch, cast, and length of pull. Franchi understood that to make a weapon female-friendly doesn't mean you just paint it pink; you have to completely redesign it so that it aligns comfortably and intuitively to the female figure. Overall, this proved to be a profitable and popular decision for Franchi.
Model: Instinct Catalyst

Caliber: 12 Ga

Capacity: 2

Barrel Length: 28"

Overall Length: 45"

Weight: 6.9 lbs.

Sights: Red Fiber Optic Front Bead

MSRP: $1,599
Vs. Beretta 686 & Weatherby Orion
Once I got my hands on the Franchi Instinct, someone at the range proceeded to lecture me on how his Weatherby Orion is a much better firearm. While informative, I wasn't just gonna take his word for it. After giving it a try, I was very impressed, to say the least. The Orion is not only more affordable, it also contains most of the popular features of the Instinct and more! Besides for their automatic ejectors, A-grade walnut stock, and ventilated top rib, the Weatherby also features an ambidextrous top tang safety and Prince of Wales texturized grip. And although the Orion is only available in 12 gauge, in both 26" or 28" barrels, it is both very popular and highly rated. That being said, their simple brass bead front sight doesn't quite compare to the intuitive fiber optic sight on the Franchi. Since that small issue is easily fixable, I don't see why anybody would opt for the Instinct over the Orion.
Model: Orion

Caliber: 12 Ga

Capacity: 2

Barrel Length: 28"

Overall Length: 45 ¾"

Weight: 7 lbs.

Sights: Brass Bead Front Bead

MSRP: $1,099.00

If you liked the Franchi Instinct and are in the market for a new stylish over/under shotgun, then you seriously have to check out the Beretta 686 Silver Pigeon I. Beretta is renowned for their excellence in gunsmithing and especially scatterguns, so it should come to no surprise how impressive this model is. My only problem with reviewing this premium firearm is whether to start with its stunning makeup or unmatched performance.
After the flip of a coin, we'll begin with the aesthetic design of the 686. At first glance, you'll probably notice the elegant floral pattern engraved on the nickel receiver and the gorgeous checkered walnut stock with an oiled finish. If you take a closer look at the Beretta you'll also notice how durable it is. Between its cone-shaped locking lugs and cold hammer forged barrel, the 686 was built to last!
Moving on to the good stuff, the 686 Silver Pigeon I is arguably one of the finest shooting over/unders I've ever seen. The low profile, outstanding balance, easy swing, and integrated Mobile bore barrel of the Beretta produce one hell of a shooting experience. Plus, with several different gauges and barrel lengths available, there's surely a 686 for everyone, just try not to fall in love before you see the price tag.
If the 686 is out of your price range, check out Beretta's A300 & A400 shotguns!
Conclusion
Overall, I liked the Franchi Instinct, but it's hard to recommend it when there are much better alternatives on the market. They are by no means shoddy firearms, and when you consider the 7-year warranty, it doesn't seem like such a bad purchase. Truth be told, I feel this way about almost all Franchis – it's as if they're middle of the road shotguns trying so hard to be premium but falling just short. Sorry Franchi, better luck next time.