Table of Contents
When people think of high-quality shotguns, names like Winchester, Beretta, Browning, and Mossberg come to mind, but if you dig a little deeper you'll find a few hidden gems. I recently came across Stoeger Industries' collection of affordable shotguns and I was immediately impressed. As part of the Beretta Holding Group, Stoeger has an intimate relationship with legendary firearms companies such as Beretta, Benelli, and Franchi. Once Stoeger was acquired by Beretta, they began manufacturing a whole repertoire of shotguns, including many price point models. Although they make plenty of excellent semi-automatic and pump-action firearms, they are famous for their modernized adaptations of traditionally-built shotguns. Accordingly, if you're in the market for a versatile side by side or over/under, definitely check out Stoeger's outstanding catalog. Probably the best example of this knack for taking classic shotguns and updating them with modern and innovative performances and aesthetics is their side by side Coach Gun.
Just because these double-barrel shotguns have been almost completely phased out by pump-actions and semi-autos, doesn't mean they can't hold their own against them. In fact, Stoeger's over/unders and side by sides have been known to outperform pump-actions nearly twice their price. Many people are of the opinion that these kinds of guns lack versatility, but that can't be said about Stoeger's scatterguns. In today's Gunivore rundown, we're examining their lineup of Condor over/under shotguns. From the get-go, I could already tell that the Condor offered a great bang for your buck; and with so many available options, it's no wonder why these are some of their most popular products. Furthermore, with so many variants, including youth and competition models, this line of over/unders is one you can't afford to miss.
Before we move on to the Condor, I highly recommend checking out our evaluation of the entire Stoeger Industries Company to get a better picture of how impressive this Maryland-based firearms manufacturer really is.
Condor SPECS
Model: Condor Competition

Caliber: 12 Gauge

Capacity: 2

Barrel Length: 30"

Overall Length: 47"

Length of Pull: 14- ½"

Finish: AA-Grade Gloss Walnut

Weight: 7.8 lbs.

Sights: Brass Bead

MSRP: $679
---
Model: Condor Field

AA-Grade Gloss Walnut Finish

Caliber: 28 Gauge

Capacity: 2

Barrel Length: 26"

Overall Length: 42"

Length of Pull: 14- ½"

Finish: A-Grade Satin Walnut

Weight: 6.0 lbs.

Sights: Brass Bead

MSRP: $499
---
Model: Condor Supreme

Caliber: 20 Gauge

Capacity: 2

Barrel Length: 28"

Overall Length: 44"

Length of Pull: 14- ½"

Finish: AA-Grade Gloss Walnut

Weight: 6.9 lbs.

Sights: Brass Bead

MSRP: $649
---
Model: Condor Outback

Stoeger Condor Outback

Caliber: 12 Gauge

Capacity: 2

Barrel Length: 20"

Overall Length: 36"

Length of Pull: 14- ½"

Finish: Polished Nickel / Black-Finished Walnut Stock

Weight: 7.0 lbs.

Sights: Notched Rear / Fixed Blade Front

MSRP: $499
---
Model: Condor Longfowler

Caliber: 20 Gauge

Capacity: 2

Barrel Length: 30"

Overall Length: 46"

Length of Pull: 14- ½"

Finish: A-Grade Satin Walnut

Weight: 7.5 lbs.

Sights: Brass Bead

MSRP: $499
Condor BUILD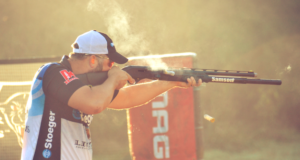 The Condor may look like your grandfather's over/under, but they are anything but. From their high-grade satin walnut finish to their excellently balanced build, these are state-of-the-art firearms.
These Stoeger double-barreled shotguns feature some of the industry's sturdiest and reliable components. The single-triggered powerful scatterguns are chambered in your choice of .410 bore, 12, 20, 28 gauges and even a 12/20 gauge combo. To make the Condor as versatile as possible, they provide IC and M chokes with all of their 12, 20, and 28 gauge Fields, with flush and extended C, IC, M, IM, and F chokes as aftermarket options (28 gauge has only IC, M, and F). Essentially, the Condor Field is a great choice for taking down everything from fox, squirrel, rabbit, and all kinds of upland and waterfowl. Plus, with their blued receivers and highly durable components, these over/unders can take a decent amount of abuse. Besides for hunting, many Condor-owners rely on their over/under for all kinds of competition shooting, plinking, and sporting (skeet & trap).
Unfortunately, this is one of the few Stoeger lines which doesn't feature Benelli's signature Inertia Driven Bolt System found in the 3000 and 3500 models. This game-changing performance booster not only keeps the shotgun simple, it also gets rid of unnecessary bulk and boosts the firearm's reliability. Nonetheless, the wide variety of Condors boasts some pretty impressive features. That being said, I could really do without the factory-installed brass bead sights; I much prefer the fiber-optic front sights found on their M3020 and Double Defense Coach Gun.
I was thrilled to see that Stoeger didn't include a double-trigger; even though they're proud of their traditional construction, there's no reason to stick with something as silly and outdated as a double-trigger. Additionally, they did a great job with incorporating a nicely sized trigger guard with smoother curves for improved ease of use. Considering how powerful these scatterguns are, it's nice to see soft, thick rubber buttpads.
Besides for Stoeger's Condor Field, they produce a few premium models such as the Supreme, Competition, Outback, and Longfowler. The genius of Stoeger is that they understand that as versatile as their shotguns are, it's crucial to manufacture specialized weapons. It was with this in mind that they crafted the 12 gauge Longfowler. These 30" barrel shotguns feature extended choke tubes and offer enhanced balance and swing.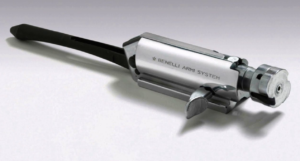 The Condor Supreme is a step above the rest; in addition to its AA-grade American walnut stocks, it features the performance-boosting single, selective trigger and automatic ejectors. It's hard to ask for more in a shotgun that goes for less than $700.
Equally as impressive is the Condor Competition Shotgun. Like the Supreme, this over/under includes automatic ejectors and an AA-grade American walnut stock, but adds a few more extraordinary elements. Besides for gold selective triggers and ported barrels, these Condors were given top tang safeties, pistol grips (with right- or left-handed palm swells), and a totally adjustable combs.
My biggest complaint about the Condor –Not only does it get incredibly filthy quickly, but the way it's built makes cleaning more difficult than necessary.
Condor PERFORMANCE
Stoeger's Condors may not perform like a Benelli or Beretta, but it definitely doesn't shoot like you'd expect from a budget shotgun. This superior shooting – largely in part due to their affiliation with the two aforementioned Italian icons – is consistent through the entire line of Condors, especially with the Supreme and Competition. While most of the Condors have 3" chambers, they are known to cycle all types of rounds impeccably. Unfortunately, Stoeger advises Condor-owners to avoid firing steel shot down the barrel, so bad news for duck hunters.
Something to note, keep in mind that with a single-trigger, the bottom barrel fires first on this over/under. Also interestingly enough, it has one of the simplest field-strips I've ever seen on a shotgun.
As I mentioned earlier, the soft recoil pads make a huge difference in the field – they're much better than what I'd expect from a $500 shotgun.
One of the biggest complaints about traditional shotguns, is that they're too slow. Well, that's just user error. In my experience, over/unders like the Condor can put tons of rounds down range as fast as any other shotgun out there, especially with the auto ejectors. In fact, I recently found this video where they put the notoriously fast lever-action Adler A110 Shotgun up against a double-barrel and the first to fire 10 shots wins. In the end, it was just about dead even. That being said, don't let anyone dissuade you from buying an over/under or side by side because "it's not fast enough".
Since 1924, Stoeger has served the American sportsman with its rugged and dependable line of semi-auto shotguns. pic.twitter.com/IFL7fmyKpv

— Stoeger (@Stoeger_USA) June 7, 2017
CONCLUSION
I'm so happy to see double-barrel shotguns making a comeback. I wish there were companies like Stoeger making reenvisioned over/unders and side by sides. Their Condor series has a fantastic variety of these shotguns for all shooters and purposes. No longer do you have to choose between classic vs. modern and speed vs. strength.