Table of Contents
There are two archery sights being manufactured by Trijicon.
In 2011, Trijicon decided to tap into the archery market. It introduced the AccuPin Bow Sight System, which incorporates tritium, fiber-optics, and Trijicon's proprietary BowSynch technology.
1 year later, an optic designed specifically for the crossbow – the 3×24 ACOG XB Scope – was introduced. A compact, lightweight, battery-free crossbow optic, which utilizes the very same technology as Trijicon's famous Advanced Combat Optical Gunsight (ACOG) series.
Of the two Trijicon archery sights currently on the market, the AccuPin Bow Sight System and the 3×24 ACOG XB Scope, each will appeal to a different niche of this community. Read on to discover which of these two sights is perfect for suiting your archery needs.
AccuPin Bow Sight System
Called by Trijicon "the world's most advanced bow sight", the AccuPin Bow sight system is an optic pin with a bright triangular aiming tip, which comes with a mount called the AccuDial. These are available as separate accessories, or as a combination.
They are engineered for precise shots, and they synchronize any bow/arrow speed combinations using Trijicon's own BowSynch dial. This is how a perfect shot is taken.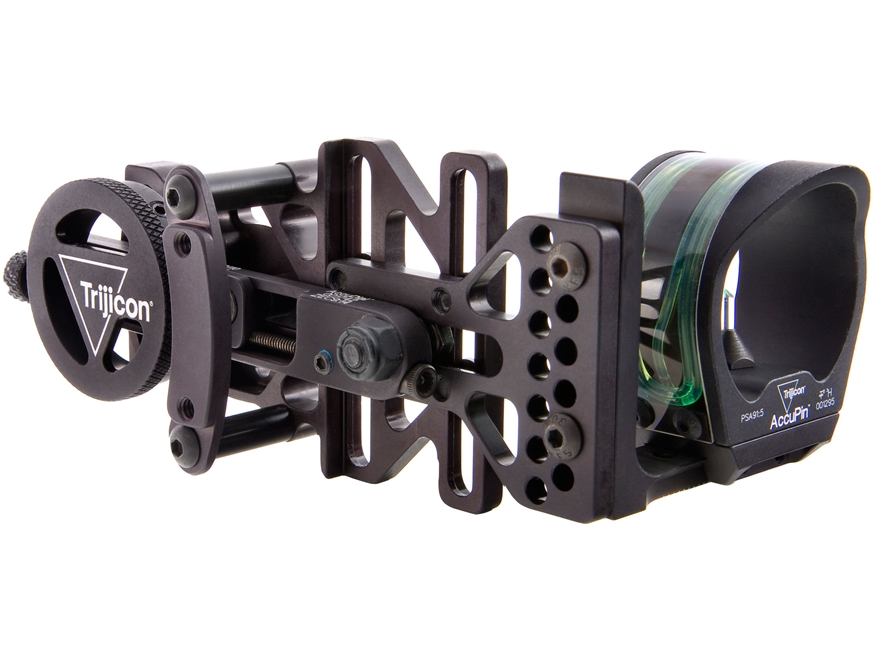 AccuPin specifications
Magnification – 1x
Aperture – single Pin
Operation – ambidextrous
Illumination Source – fiber optics & tritium
Pin Style – triangle
Sight Window – 1.77 inches
Dimensions – 1.5 in Length x 2.1 Width x 2.5 Height
Weight Dovetail Base – 2.29 oz.
Rail Grabber Base – 2.47 oz.
Mount Options

Dovetail base that mounts to an L-bracket which will attach to the Trijicon AccuDial™ or other adjustable mounts.
Rail grabber style mount base attaches to adjustable mounts equipped with a Weaver™ or Picatinny rail, including the Trijicon AccuDial™ adjustable mount and rail adapter.
AccuDial specifications
Operation – available left / right handed
Bow Speed – 245 – 335 feet/second
Dimensions (LxWxH) – 6.0 x 3.7 x 2.8 inches
Weight – 8.0 oz.
Sights it accepts:

Trijicon AccuPin sight
Side-mounted apertures/scope which utilize #10-32 studs
Sights with Weaver™ or MIL-STD-1913 Picatinny bases (requires rail adapter)
The AccuPin is made of aircraft-grade 6061-T6 aluminum. It is made in the U.S. and guaranteed for life, which should give you an idea of just how tough it is. The tritium lamp is warrantied for 12 years from date of original manufacture.
These are essentially geared towards the hunting crowd. Many times, hunting is conducted at dusk or dawn, when lighting conditions are low to nonexistent. It is at these times that the AccuPin truly shines. Fiber-optics and tritium sights will give you all the light you need. The AccuDial adjustable mount completes this picture of archery perfection, and will give you the best twaaang experience of your life.
ACOG 3×24 XB Scope
The crossbow market is one which is growing at a rapid rate. It seems that now more than ever, people are rediscovering their hunter-gatherer roots, and turning to seemingly more primitive weapons, such as bows and arrows.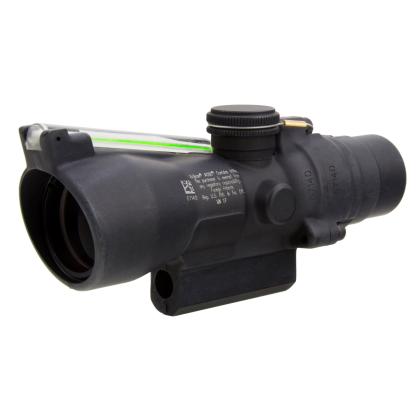 Seriously though, if there is one thing you cannot call a crossbow, it is primitive. Not with an ACOG on it, you can't. And that is precisely what the XB scope is. The sight which was (and still is) issued to Army, Marines, and Special Forces became part of a crossbow weapon system in 2012.
The crossbow is a weapon unlike any other, and it has its own rhythm and movement. Its shock is very different than that of firearm recoil. Trijicon went to work, in order to create an optic which would be suitable for that special weapon.
The result was the XB, a 3×24 scope. The magnification is just right for close- to mid-range encounters of 20-100 yards. It offers a large field of view, and the reticle is designed specifically for the crossbow. The original ACOGs feature a bullet drop compensator on their reticles, and this ACOG reticle features a bolt drop compensator.
This scope's reticle is worth delving into, because it is so unique. It features a patented ranging system, meant primarily for elk and whitetail deer. In 3 simple steps, you compensate for any distance and are able to make your shot count.
The XB's glass is very high in quality, much like we have come to expect from Trijicon. It is coated and anti-reflective, to provide the shooter with the utmost clarity, durability, and optimal gathering and transmitting of light. Like other ACOG, it is waterproof to over 300 feet, and can take a lot of abuse without fail.
Technical specifications:
Magnification – 3x
Objective Lens – 24mm
Illumination – fiber-optics & tritium
Housing – forged 7075-T6 aircraft-grade aluminum
Weight – 6.1 oz.
Eye Relief – 1.4 inches
Dimensions (L x W x H) – 5.0 x 1.6 x 2.1 inches
Bolt Speed

TA50-C-400143 (XB1): 300 – 340 fps
TA50-C-400144 (XB2): 340 – 400 fps
TA50-C-400145 (XB3): 400 – 440+ fps
Note: If your bolt speed borders between two models, choose the model with the lower speed.
The ACOG XB scope comes with a limited lifetime warranty for defects in materials and craftsmanship, and the tritium is guaranteed to illuminate for 15 years from original manufacture.
The XB is tough, accurate, and reliable, but it doesn't come cheap. It is right up there with the ACOG price range, because you get what you pay for. But, what you get in exchange for your money is value. Trijicon is a well-known company, and it has earned the respect of millions due to its record of producing high-grade aiming solutions.
So, to sum up, Trijicon's foray into archery is still underway. I am sure we can expect more archery-related products to be introduced in the future. Their sights are used by archers around the world, and they a fine continuation to Trijicon's tradition of optical excellence.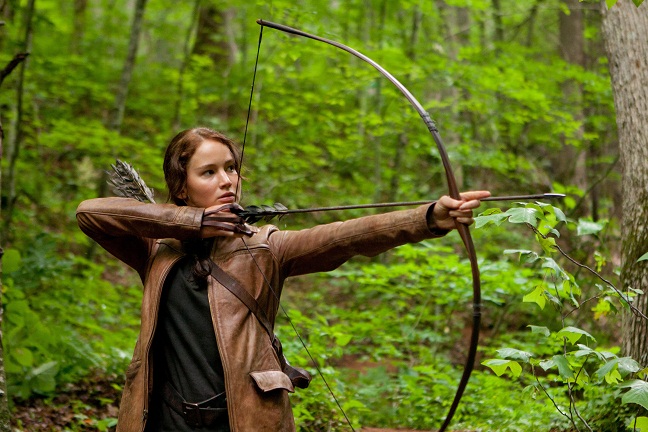 The XB and the AccuPoint may take some getting used to, but they can transform your hunting trip into a much more satisfying one. Archery is once again becoming very popular, with various State regulations being altered for the sake of those who wish to participate in bow hunting.
There is something about that primitiveness of the bow and arrow which is great, in my opinion. The XB and AccuPoint systems are the types of sights which have the potential of exciting and inviting you to stray out of your firearm "comfort zone", and step into a more close and personal encounter.