Getting a good grip on your gun is integral to a shooter hitting their target. The issue with many grips is that everyone's hands are different. A stock grip that fit one persons hand may be to small for another. This is the reason why customizable grips are a huge market in the weapons industry. Magpul has been one of the leaders in grip technology. Magpul makes grips for several platforms: the AR-15, SR25, M110, and AK/AKM. These include pistol grips and fore grips, as well as specialized grip cores with storage space for lube or batteries.
Magpul: Accessories That Mean Business
Magpul Industries has been making high-tech firearm accessories since 1999. Their name was derived from the very first product they produced. The STANAG magazines were developed to allow the shooter to pull magazines out its pouch quickly. It was used by the US and NATO. Although they have engaged in outside consultation the company mainly deals with their own in-house designs. They have expanded their product catalog to slings,cases and even clothing. You can be walking around with your Magpul grip while wearing a Magpul T-shirt. The innovation has not stopped there. In 2008 they added another branch to their company called Magpul Core. This division deals with instructional videos and general firearm training. Magpul Core continues the companies support of the gun community in the United States as well as around the globe. As of 2014 the company has moved their factories from Colorado to Wyoming. In this article we will be focusing on their grips.
Throughout it's 18 year history Magpul has been making fine products for shooters everywhere. Ever since the release of its first product, the original Magpul, this company has been in the accessory business, and has been doing great work. This is why they are on the cutting edge of gun accessory design and manufacturing.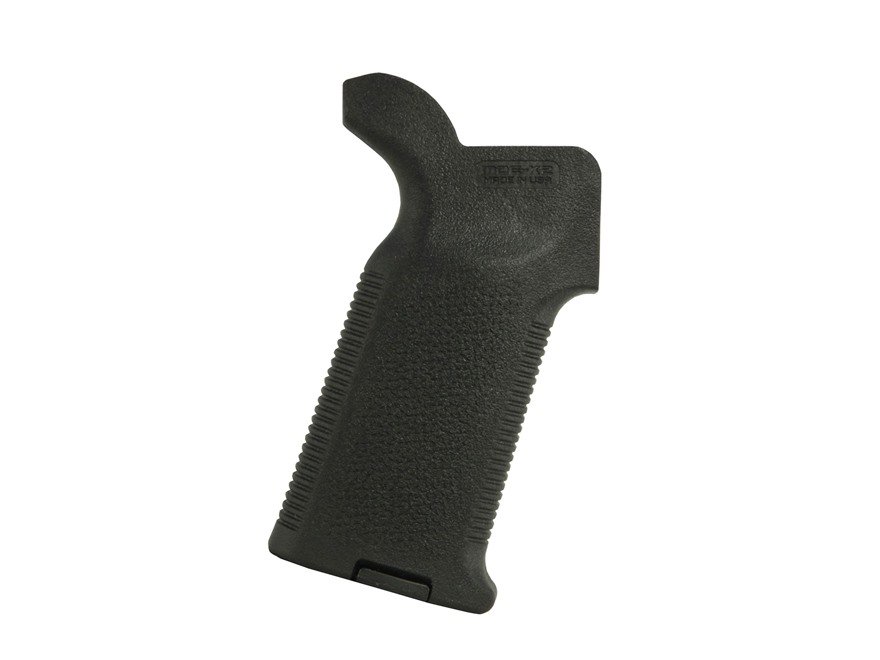 A rifle has four main contact points with the human body: the shoulder, the cheek, the right hand, and the left hand. A rifle's pistol grip is one of the hand contact points, and it is one of the most important ones, because it is the point from which the trigger is pulled. A fraction of an inch can make a huge difference with regards to trigger control.
The pistol grips which Magpul makes are one-piece, ergonomic, textured, and made of high-quality polymer. Their construction is what makes them so affordable, without compromising their durability and functionality in any environment or condition.
Non-Slip Grips
When training, and certainly during actual combat situations, our hands may be shaking, dirty, wet, or simply freezing and nearly immobile. It is precisely at these times that Magpul grips really stand out. The Magpul grips are non-slip, and their shape and design help the shooter's hand stay firmly on the weapon. This gives the shooter ultimate control over his weapon.
Some grips, like the classic MOE grip, retain the original shape of their factory counterpart. Others, like the MOE-K2 and its variants, are differently angled. The difference in angle can help you get a better handle on the grip. They are designed specifically for self-defense and improved comfort, for those who want a more minimal pistol grip. Some grips have a beavertail. The advantage to a beavertail is that the extra length can lessen the effect of recoil. It spreads the force over a larger area giving your hands a break. It also can help control the muzzle flip. Some of the grips are thicker, others are thinner. Magpul invests a lot in its items, and it produces different versions, in order to reach a wider circle of shooters.
https://www.youtube.com/watch?v=a-3ysQiBF1c
The MOE+ grips are unique. They are made with reinforced polymer, but are also covered with a rubberized coating. The base is still all polymer, but the rubber adds a little bit of a soft feel to the grip. Softness notwithstanding, the MOE+ manages to retain the toughness and durability which are the common base of all Magpul grips. The rubberized surface helps the hand stay on the weapon, in any kind of condition, and that means that the shooter will be able to grab the weapon with even greater confidence. This is why the MOE+ is my favorite grip. My hands tend to get sweaty and having that layer of rubber ensures my hands don't slip. The other thing i love is that dirt doesn't stick to it like other "grippier" materials.
Won't Let You Down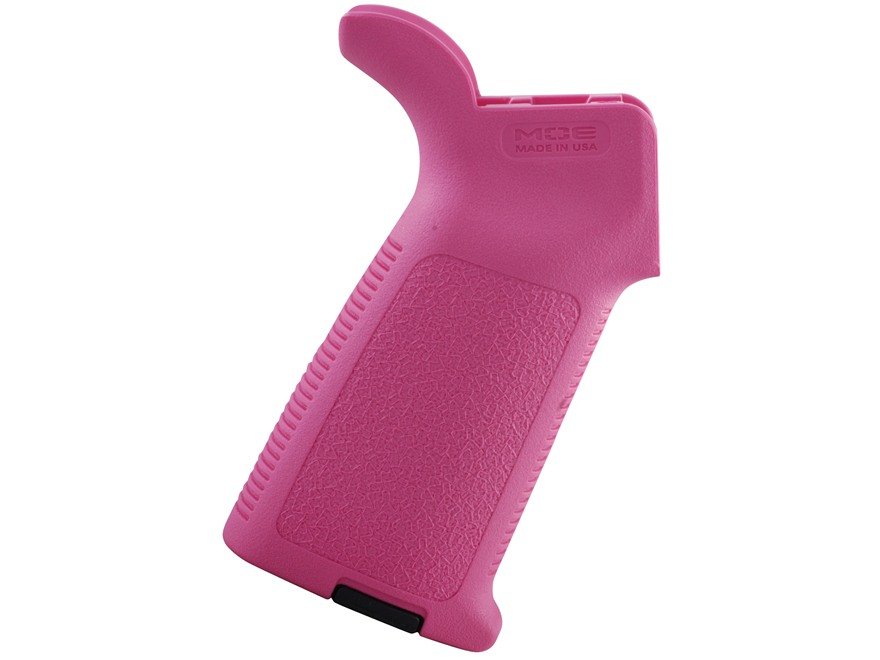 When you are out there in the field with your rifle, you want to keep a tight grip on it. This is true whether it is a training exercise or a combat situation. You need to be able to respond as quickly and responsibly as possible. That is, after all, the reason for our training. It doesn't matter if you are a civilian, on the force, or in the service – the way you train is all important. It is your training that will save your bacon, when the time comes. Part of training is perfecting the relationship with your weapon. You need it to feel like an extension of your body and that may take some customization.
You must be able to count on your weapon. The additon of a Magpul grip can really help. You can be safe in the knowledge that your hands will not let you or weapon down. It won't matter if your hands are hot, cold, wet, or covered in mud – once you slide your hand around your Magpul grip, you immediately feel more in control. This allows for a more confident shot no matter the scenario. This is why Magpul is such a household name. Quality speaks for itself.
I hope you found this Magpul grip article helpful. If you are looking for information on pistol grips you may want to check out our article on Talon grips for the Glock 17!