The Aimpoint Micro T-1 red dot sight is, in many people's opinions, one of the greatest combat optics ever to be engineered. Whether it is mounted on a shotgun, an AR-15 , or your favorite handgun like the Glock 19, the T-1 gets great results.
This sight was launched in 2007, as part of Aimpoint's Micro series. This company has been producing military-grade red dot sights for decades now (since 1975, to be exact), and its research and development department is not showing any signs of slowing down. Aimpoint is consistently releasing newer, better, and more advanced optics for shooters of all kinds, all over the world.
Micro T-1 Tech Specs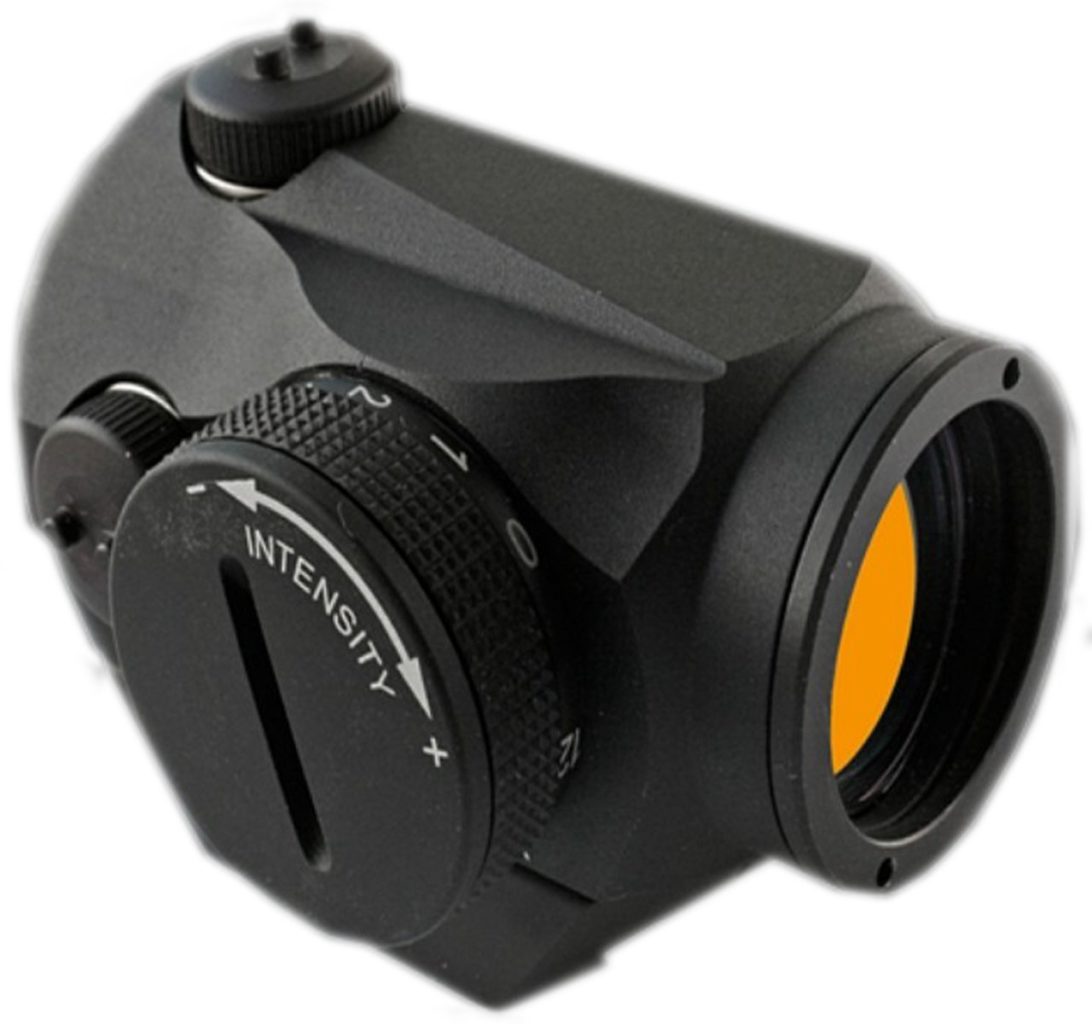 Here are some of the Micro T-1's technical specifications.
Magnification – 1x

Dimensions – L 2.4 x W 1.6 x H 1.6 inches

Weight – 3.7 oz. (including the battery and mount)

Housing – high-strength aluminum

Eye relief – unlimited

Power source – 1 (one) 3V lithium Cr2032 battery

Battery life – over 5 years of continuous use at normal temperature and daytime setting 8.

Submersible to an 83-foot depth

Mounts to any MIL-STD-1913 (picatinny) rail

Lens coating – anti-reflex, all surfaces and multi-layer. Night vision device-compatible 1, 2, 3

8 daylight settings, 4 night vision settings
As you can tell from the specs, this thing is small and it means business. Because of its small size, its compatibility with night vision devices, and its battery life, the Micro T-1 has become a favorite of military personnel, police officers, government agents, and also ordinary civilians.
Theo-reticle Applications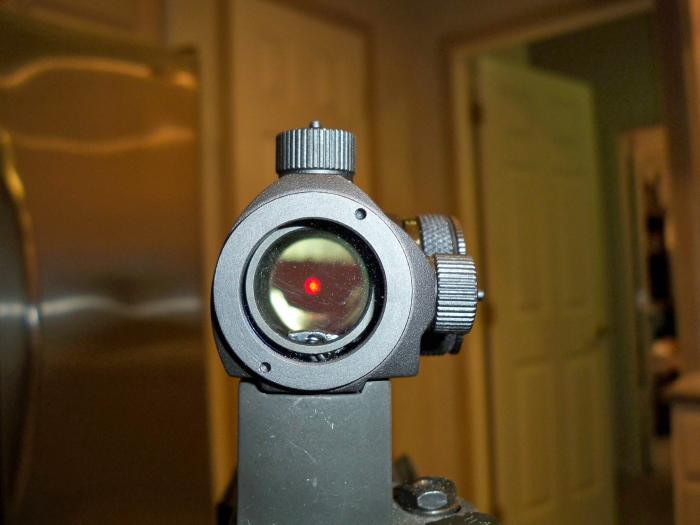 The red dot reticle comes in a 2 minute of angle (MOA) or a 4 MOA. This gives shooters the option of choosing a reticle which will fit their needs. 2 and 4 MOA dots have a lot to do with distance. If you feel that most of your encounters will be close range, than go with the larger dot. The 2 MOA is better suited for longer-distances. Of course, the T-1 is not magnified, so take that into account. BTW – you may also want to attach a magnifier to your Micro T-1. Again, it all depends on your specific needs.
The T-1 can absorb a lot of shock, and still stay accurate. It gives you the best of both worlds. It is a small package, containing every advantage that you would find on a longer, heavier red dot sight.
Weight is a real issue. If you are simply slinging some lead down the range on some idle Wednesday, that's one thing. But if you are carrying a lot of gear – whether on a mission, or out camping – every bit of weight matters. This is where the T-1 really shines. It weighs close to nothing, and it won't be a burden on you or your weapon.
While the T-1 may be used with any and all night vision devices, it works exceptionally well with third generation (Gen3) night vision apparatuses. It responds to specific frequencies of red light, and provides the clearest, brightest, and most efficient picture for the shooter.
As for battery life, this is also a serious issue. This is another reason why Aimpoint's products stand out, and are ahead of the pack. The advanced circuit efficiency technology (ACET) which the Micro T-1 employs, is one of the greatest things to ever be invented.
ACET essentially means that you never have to turn your sight off. This is a huge advantage. All you have to do is pick up your weapon. The sight is already on and ready to go. No buttons, no adjustments, no pads – nothing. The sight is at your disposal at any given moment.
For this reason, amongst others, the T-1 is such a hit with military and law enforcement. Furthermore, the Micro T-1 has no automatic shutdown feature. It is literally meant to be on, all the time. Obviously, you can choose to shut it off. However, the constant ON mode is part of what makes this such a favorite. It is highly dependable, at any time.
The Price of Quality

Regarding price, this sight is a little more expensive than other Aimpoint sights such as the Comp M4 or Comp M3. You get what you pay for, and with the Micro T-1 you are getting the best. This sight is able to perform under any conditions and weather. It is battle-proven and suited for a wide range of weapons. The night vision device compatibility feature is also a huge plus, but if you feel the night vision settings will not be necessary, there are other Micro sights in this series, which may suit your needs.
Like other Aimpoint sights, the Micro T-1 is parallax-free (Check out some of our other Aimpoint reviews here – Aimpoint Comp M2 ). No need to compensate for anything. No matter where your head moves, the dot remains in place. Just put it on the target, and squeeze the trigger.
Aimpoint's optics are guaranteed for a time period of 2 years (professional or competition use) or 10 years (for personal use). Aimpoint stands behind all of its products, and if anything is found to be faulty, the company will repair or replace the sight. Then, it will send it back to the original owner, free of charge.
This optic comes with bikini lens covers, and this may be the one thing which is not amazingly high-quality. The lens covers are not that great, and if covering your lenses is crucial, do yourself a favor and get better lens covers.
The elevation and windage knobs are both covered, and should your optic require adjustments, you will need to unscrew a cap and then adjust your sight. So, this means that alterations and corrections cannot be done too easily on the fly, but it is manageable. The knob caps act as the sight's adjustment tool (I thought this was rather brilliant of them!), so no other tools or gadgets are required to alter your sight's settings. There is an audible click with every turn of the knob, which assists the shooter with accurate adjustment.
My Two Cents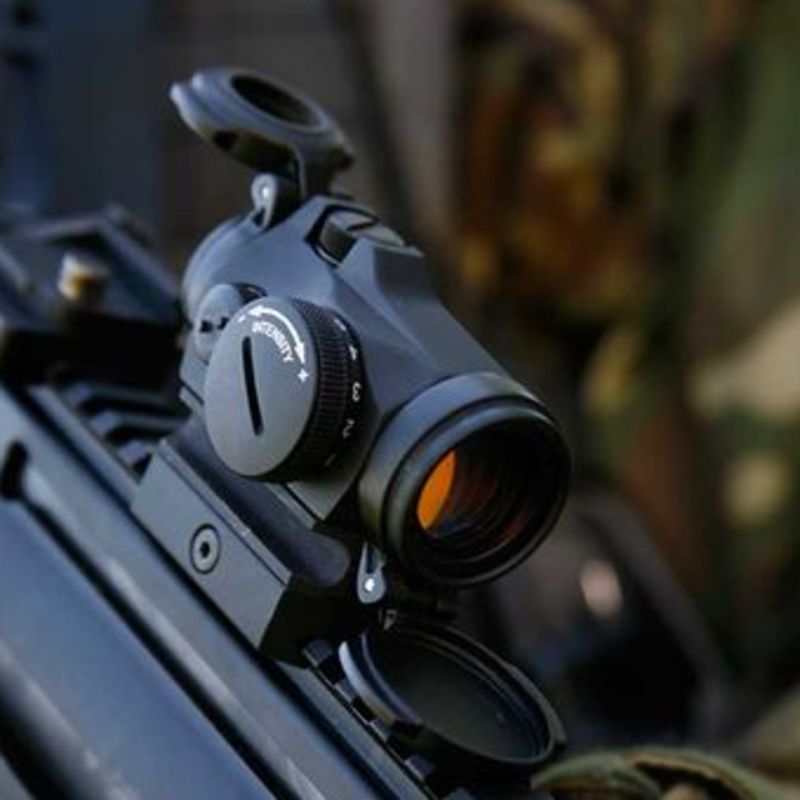 If you are looking for a close-range engagement optic, you should seriously consider the Micro T-1, by Aimpoint. Yes, it is pricier. But you know damn well where that extra money has gone, when you peek though that lens and see an unparalleled clear, crisp image.
Aimpoint's sights have generated many knock-offs and cheap imitations. These are nowhere near the quality and durability which the original optics possess. Make sure to purchase an Aimpoint from a reputable company or shop, and that way you will know you are getting your money's worth.