Finding the perfect product is always a tough task, and when it comes to weapons maintenance, it's every harder. With so many quality companies and cleaners out there, how do you pick the right one? We at Gunivore are here to help; in fact, we've dedicated an entire month to reviewing the best oils and lubricants on the market. However, I recommend checking out our rundown on general firearm upkeep first.
When searching for the best, you'd be hard bent to find anyone who won't at least admit Ballistol's dominance. I'm not necessarily saying that they are the best … but their top-selling products and undeniably perfect reputation speak volumes of their product's quality. Ballistol (meaning ballistic oil in German) began as a small company in Germany but it didn't take long for its necessity to be recognized and demanded. The German Imperial Army was in dire need of a universal oil, one that would be effective on the metal and wood components of firearms, as well as on leather and wounds. After the wars, Ballistol became a common household remedy in Germany, Austria, and Switzerland, the same way as WD-40 is in the U.S. Let's take a look at what makes Ballistol so popular.
Ballistol Multi-Purpose Lubricant Cleaner Review

Ballistol's role as the German Army's go-to gun oil for over 40 years solidified its place as the most-trusted lubricant on the market. The German company was commissioned with manufacturing a gun oil that could do it all: lubricate, clean, protect, and preserve. Ballistol accomplished their goal and more! Their new product wasn't just a superior gun cleaner, it also made the cleaning process infinitely easier by minimizing the need for brushing and scraping. There are several features that make their product stand out, including its unmatched penetrative and protective abilities. Ballistol's specially designed viscosity allows the oil to creep into all those hard to reach nooks and crannies, loosen the components, and leave an exceptional protective film. Ballistol's historic success is primarily due to their high-tech engineering; this oil easily stands out among the competition because it emulsifies with water.
Unlike most other gun cleaners, when Ballistol oil comes in contact with water, it remains on the surface, even after the water evaporates. Top to bottom, Ballistol is an impeccable product. I know that when I clean my gun with Ballistol, it won't get sticky, my trigger will pull easier than ever, and I won't have to worry about rust or corrosion. There's not much more you can ask for in a lubricant. I've come to realize that when the can says "multi-purpose," they really mean it; Ballistol is the epitome of what a CLP (clean, lubricate, protect) product should be. Many people who've never even shot a firearm before know of Ballistol for its wide-range of products and uses. They manufacture several industrial grade cleaners, but their gun lubricants are still their best-seller.
The 6 oz. aerosol can and pack of wipes is the perfect addition to any dedicated gun enthusiast's range/hunting bag. Ballistol's cleaning lubricant comes either in an aerosol can (in 1.5 to 6-ounce options), (1-16 oz.) non-aerosol can, with/without a trigger sprayer, or in field-wipes. All in all, Ballistol's reputation certainly precedes them. It is the perfect cleaner for protecting and lubricating all types of firearms, and just about anything else really. It works great on metals, wood, leathers, and even plastics. I've even see folks use it to polish silver and brass. Although Ballistol claims to be environmentally-friendly, I went ahead to research it for myself. What I found was highly encouraging.
Ballistol Gun Cleaner Ingredients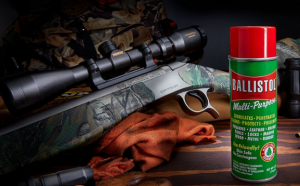 When Ballistol prints "Eco-Friendly!" on every one of their products, they aren't just blowing smoke. After doing some digging, I discovered exactly how they make their oils both exceptionally safe and effective. They concocted a biodegradable alkaline solution which neutralizes the effect of the slightly acidic oils and sweat. I don't think people understand the serious impact sweat can have on a weapon. Besides for the well-known effect of carbon-build on a firearm, sweat can quickly turn to rust and even cause corrosion in the most commonly handled parts of a gun.
Some of the largest manufactures in the world (like Coca-Cola) rely on Ballistol oil because they trust that it won't get sticky or increase friction, and for its effective non-toxic components. In fact, Ballistol oil doesn't produce any environmentally harmful byproducts in its use, disposal, or decomposition. I love the fact that it doesn't stink up my whole house when I'm cleaning my guns. Additionally, I don't feel the need to wear any gloves when using Ballistol; it's way less harmful on human skin compared to what else is out there. Nevertheless, try to avoid ingesting it or getting any in your eyes.
Where To Buy Ballistol Lubricant and Gun Cleaner
If you know and trust Ballistol already, the easiest place to get it is probably on Amazon. Amazon is a trustworthy supplier with a nearly unlimited stock. I've had some trouble recently with the Ballistol website, so I can't vouch for that. The website was hacked and was trying to download a harmful virus onto my computer, so be careful. However, Ballistol is so popular, you can get it at your local gun shop, Walmart, Dick's, Gander Mt., Bass Pro Shop, etc. It's well priced, and I assure you, you won't regret buying it.
Ballistol multi-purpose oil and a blue shop towel is an excellent way to clean your #edc knife. Added bonus it's eco-friendly. pic.twitter.com/9qJEr5veKc

— |-|ēäth 3ērtini (@HeathMB11) December 9, 2016
Ballistol vs. Frog Lube vs. Hoppe's 9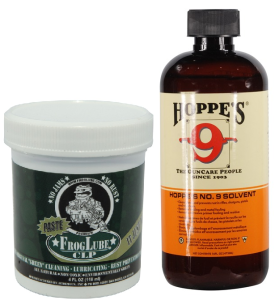 It's not easy to compare Ballistol to anything else on the market. There are so many factors that go into determining what makes a product better than the next (like price, overall value, reviews, availability, and reputation). The one CLP that comes close to Ballistol has to be FrogLube CLP. They are comparable in the quality and safety of their ingredients as well as in their first-rate efficiency. I still think Ballistol takes the cake, because it's a little stronger and will protect for longer –not to mention it's cheaper.
Another great product that gives Ballistol a run for their money is Hoppe's No. 9. Ballistol and Hoppe's are both extremely protective; but I think Hoppe's may work better for harsher weather conditions. I'm a big fan of Hoppe's precision bottle, which allows the user to accurately oil those tiny hard-to-reach areas; then again, Ballistol aerosol function also works great for reaching every inch of your gun. To see for yourself how Ballistol matches up against its rivals, check out our reviews of M-Pro 7 Gun Oil and Hoppe's No. 9 here at Gunivore.
Conclusion
After researching Ballistol's history and ingredients, and treating my personal gun collection, I think I may have found my new favorite CLP. Ballistol is a special product; not just because it's probably the best gun lubricant on the market, but also since it revolutionized the industry. Calling Ballistol multi-purpose doesn't even come close to accurately describing how versatile Ballistol actually is. Ballistol takes care of even the worst firearms predicaments. More than that, this German lubricant won't just clean; it'll also leave your weapon with an impenetrable shield against rust.
The engineers behind Ballistol cleverly formulated their oil with the safest, top-quality ingredients that are capable of penetrating and cleansing with ease. One of the many things that make Ballistol different than your average gun oil is that it works wonders for all of your daily household chores too. People all over the world have put their trust in Ballistol to treat leathers, metals, wood, and much more –and so should you.
Thanks for checking out our Ballistol feature! Be sure to read up on the Bushmaster M4 and Remington 1187 while you're here at Gunivore.