Table of Contents
SIG Sauer is one of the best-known companies in the firearms industry, and with good cause. They have always produced high-quality hardware, and their reputation – while not without exceptions – is that of a class-act firearms manufacturer, all the way. Their line of combat-designated pistols and rifles, which the P220 Combat variant is a part of, is the product of great engineering and smart execution.
Some people say "meh, you seen one SIG, you've seen them all". Others who aren't into them cite their comparatively higher prices. That's their opinion, and it is okay with me. The thing is, if you are looking for a gun you can trust – and if you feel safer and more confident with an all-metal frame – SIG is your go-to gun. With no offense to Glock and other polymer gun manufacturers. I got a lot of love for them, too, and they are fine handguns. Something about metal seems more traditional, perhaps because it has been around longer. Either way, here are the specs on the SIG Sauer P220 semi-automatic combat pistol: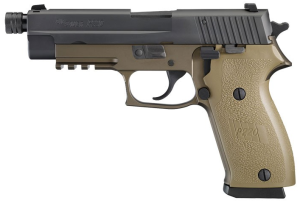 Specs
Caliber – .45 ACP.
Operating system – recoil, semi-automatic.
Length – 8.2 inches.
Height – 5.5 inches.
Width – 1.5 inches.
Weight – 30.4 oz.
Barrel length – 4.9 inches.
Trigger pull – DA/SA, 10/4.4 lbs.
Capacity– 8 +1 rounds (standard), 10 + 1 rounds (extended).
MSRP – $1218.
SIG Sauer P220 Pistol Build
Built with an anodized Flat Dark Earth alloy frame, this is a gun designed to comply with military specifications. It is a contestant in the ongoing Joint Combat Pistol competition which has been on hold for many years. Along with models from Beretta, FN, Ruger, and other top-notch manufacturers, SIG Sauer is hoping to be the company who creates the next standard combat pistol for the U.S. Armed Forces. Time will tell on that one.
The slide on the P220 Combat is stainless steel with a nitron finish. It has a picatinny rail, SIGlite night sights, and the option for a threaded barrel. The only thing which is polymer on this gun is its grips, and that is pretty standard.
SIG Sauer P220 Pistol Shooting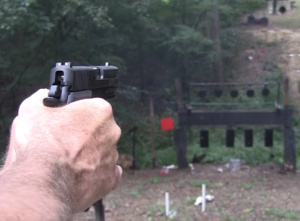 The DA/SA trigger provides accuracy and great follow-up shots, and it works with all different kinds of ammunition. I am a fan of DA/SA triggers, and when they are military-grade they are even better. This gun feels great in my hands, and I have a sneaking suspicion that it feels this good in many people's hands. SIG's team is one that does not compromise, and they made this gun to fit all sorts. The grip is nice and tight, thanks to the shape of the tail, and it feels natural when you hold it. That is already a big plus in my book.
When you fire, if you are not used to double-action trigger pulls, it could take some getting used to. You certainly tell there is some extra weight there, and that is precisely the idea behind it. It is one of several mechanisms which act as safeties, in lieu of an actual safety button.
Accuracy is in the hands of the operator, I always say, much more than the gun. What this gun definitely does is facilitate accuracy in a big way. This platform lends itself to quality groups, and as usual, with training comes proficiency. The gun – being a piece of hardware – will only take you so far. It is on you, the operator, to make the most of its potential.
SIG Sauer P220 Pistol Magazine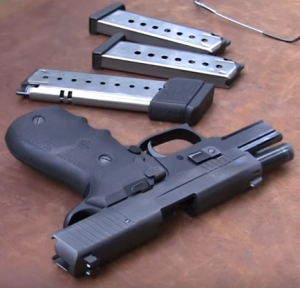 The 8-round standard magazine is one which may not have tons of firepower, but for a defensive combat handgun, it is usually enough. There is also the option of a 10-round magazine, though that compromises some of your ability to conceal the weapon. As always, it is a judgement call, according to your specific needs and wants.
Different aftermarket magazines are available, and it seems that for now those will have to do, since there are no 10-round SIG Sauer magazines in stock, and they haven't been for a while. The 8-rounders are still available through SIG's website, but for a lower or higher count, aftermarket mags are your best bet for more (or less) firepower.
SIG Sauer P220 Pistol Safety and Sights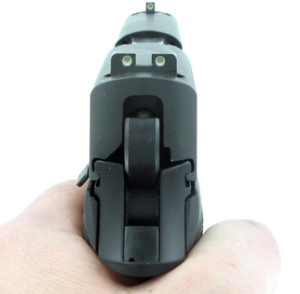 The P220 has no safety, but the gun is nevertheless very safe. The P220, as a combat gun, is meant to be carried in a state of readiness. In other words, a round in the chamber. There is a lot of debate over chambered vs. unchambered carry, but regardless, the P220 is one of the safest handguns out there, thanks to its internal safety mechanisms, which SIG have named the 4-point safety system:
Firstly, there is the de-cocker. When engaged, the hammer can be lowered while there is a round in the chamber. Next up is the intercept notch. which keeps the hammer away from the firing pin until it is time to fire. Even with a round loaded in the chamber, the gun will not fire accidentally when de-cocking, thanks to those two safeties. Then we have the firing pin safety. This third mechanism also acts as a drop safety. When dropped from a reasonable height, the gun will not fire or cycle. The only time when the gun will fire is if the trigger is pulled. And with a double-action trigger, that takes some force.
The trigger bar disconnector is a slide-related safety. The mechanism is literally inside the slide itself, and it is disengaged only when the slide is in the precise position. Basically, it keeps the firing pin away from the primer. The disconnector safety was invented for those times when the gun is in the midst of cycling. It makes sure that there are no accidental discharges during the cycling process. Another bullet will be allowed to leave the chamber only after the gun has reset itself.
These safeties are what make SIG's Four-Point System one of the safest in the world. As safe as Glock's Safe Action system, I feel. If you are going to carry a combat/service weapon, you need to be ready. Again, the whole chambered vs. unchambered debate continues, but as far as the P220 is concerned, it is as safe as it can be.
Nothing beats time at the range.. well it helps to put down 250+ rounds of 45 ACP in my favorite P220 Carry Pistol. Practice makes prepared pic.twitter.com/CUq8Fcu1Tc

— Team CBJ @ Bayou Advanced Weapon Systems, LLC (@CBJPrecision) January 8, 2017
SIG Sauer P220 Pistol Grips, Holster and Accessories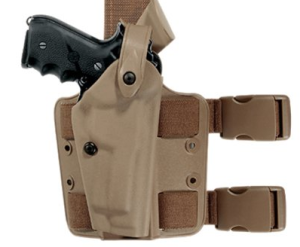 At one time, SIG were selling a P220 "accessory essentials" kit for about $100. This included a holster, a double mag pouch, and 2 magazines (8 rounds). The most popular accessories for the P220 are probably those – holsters and magazines. Other accessories like optics (lasers, dots, sights) are probably next on that list. Grip sleeves after that. Pretty standard.
What is definitely not standard is the .22 conversion kit. For $349 (MSRP), you can get yourself a SIG .22LR rimfire conversion kit, which includes a solid aluminum anodized slide, adjustable sights, and a complete assembly, along with a 10-round .22LR magazine. Conversion kits by SIG are also available for other models, and when asking oneself "should I get this?" the answer is always the same: it depends on you and on what you want.
For $349, you could also get a brand new .22 pistol, so the question is mainly regarding your intended use. Some have been disappointed with the conversion kit's performance, but this really does vary.  Also, because it depends on the kind of ammo which is used, the best thing to do would be trying it out or researching it well, before deciding to purchase.
SIG Sauer P220 Pistol Elite Variant Review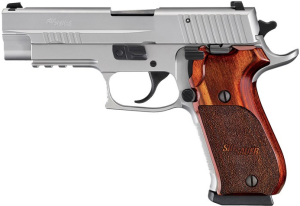 One of the P220 variants available is the full-sized Stainless Elite. It is one of those models which looks great, and feels great. Its stainless steel construction is allegedly successful with recoil control, due to the added weight. The Elite model features a short reset trigger, which according to SIG is meant to provide a much smoother DA/SA action. This model also has a beavertail grip, serrations on the front for easier cocking, and checkering on the front strap. SIGlite night sights and wooden grips complete this model's unique look and feel. Includes a pair of 8-round magazines. With an MSRP of $1495, it is a steel. Get it?
SIG Sauer P220 vs. SIG Sauer P238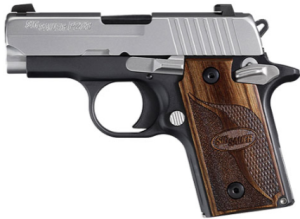 The P238 subcompact is a lot like a 1911, except it comes in a much smaller package. We reviewed the P238 a while back, and while it is a great concealed carry gun, the differences between that one and the P220 Combat are many: caliber, round count, price (big difference there), dimensions, weight, safety.
The .45 ACP of the P220 and the .380 ACP of the P238 are both good options for a self-defense situation. No one will dispute the 1911's efficiency and long-lasting popularity. There is a reason why it was adopted by the U.S. Armed Forces, right? On the other hand, some specifically go for the larger .45 ACP, citing its higher grain capacity. Both of these cartridges were designed by John Browning, and he knew his stuff. The man is a legend. Intended use counts for a lot, so like I said – research before you buy. What fits the needs of one shooter may not fit another.
Conclusion
The SIG P220 in its Combat variation is designed for service and protection. SIG is known for its quality handguns, and this one is no different. All pistols have drawbacks and shortcomings. Price is certainly a factor, as is the caliber, both of which may not appeal to some. Overall, though, it is a great-looking gun, which handles nicely and fits many purposes and scenarios. Whether equipped with a standard 8-rounder or the extended 10-round magazine, you can definitely feel secure in this gun and its capabilities. Remember – practice makes perfect. So get out there, train, stay armed, and stay safe.
Thanks for checking out our new SIG feature. Be sure to read up on the P938 and P250 while you're here at Gunivore!