Freedom is an amazing thing, not to be taken for granted. However, the right – and some would say duty – to bear arms comes at the price of doing so responsibly and safely.
We're human, and we make mistakes. Fair enough, but when it comes to the issue of firearm safety, there is little room for error. You need to make sure not only that you're safe and secure, but that others don't gain wrongful or unauthorized access to your firearm. Gun-owner negligence is a felony in some cases and a misdemeanor in others. It depends on the outcome, really, but suffice it to say it is never a good thing.
Why Use a Gun Safe
Safes have been around for hundreds of years, and gun safes have been a part of our lives for over a century. Safes constructed for securing firearms were designed to control access to said firearms, and with good reason. Even though not everyone who owns a firearm feels they need a safe – and that may be true – there is something to be said for using one.
Ideally, we'd all be manufacturing a personalized safe, tailored to our needs, which only we can open. In reality, the cost of building an effective custom safe is usually higher than many gun owners would care to spend on such an item. So, mass-produced safes are the go-to. There are benefits and drawbacks, but that's not to say they are not effective!
Whether it is due to personal safety and security, homeowner insurance costs, or any foreseeable legal issues – gun safes are a popular item, despite the fact that no state other than Massachusetts mandates their use. There are several caveats, but even so, it is an investment worth making if you care about your guns and your home.
This is an overview of some of the more popular brands circulating in the U.S., but I wouldn't presume to have gathered them all in this list. It is highly recommended to always do proper research, and put some effort into it if you can, since a safe is usually a heavy, long-term investment.
Liberty Gun Safe
This company has been in business since 1988. It has over 30 models of safes, all with fire-resistant properties (ranging from 30 minutes to 150 minutes) and advanced tech. They have standard home safes and gun safes, limited-edition safes, and different accessories and add-ons. These safes are made in the U.S. – the company is headquartered in Utah – and they come with a limited lifetime guarantee in case of fire and/or attempted burglary.
Biometric Gun Safe
The idea behind the biometric safe is simple: those who have the proper fingerprint will be able to gain access. There are secondary ways, such as a physical key or a PIN code, but those may take longer to activate. In an emergency situation, you want to be able to reach your weapon as quickly as possible, and react in a timely manner. Having to fiddle with a key or code may not be everyone's go-to, and this is where biometric safes really shine. Obviously, there are those who would say that that is precisely the reason to forgo safes altogether. I am not a proponent of such statements. Better safe than sorry – literally.
There are many different models available in the bio-access "genre", and they all revolve around the same principle of security and speed. Among the more popular brands are:
Viking Security, Sentry Safe, BARSKA, Bulldog Vaults, and Paragon Lock and Safe.
Cannon Gun Safe
Cannon was established in 1965, and since then it has been producing rifle and gun safes. They have 3 collections of safes: Deluxe, Deluxe Plus, and Premium, all built to withstand fires (30, 60, or 90 minutes) and attempted break-ins. It also has proprietary internal hinges and a triple-hardened plate which make the safe impervious to prying and drilling attempts. They've also joined up with Stack On Safes, which is a partnership to impress.
Natural floods and fires, as well as attempted break-ins, are all covered by the company's limited lifetime warranty on its safes.
Check out our popular 5 Rules of Rifle Safety!
Sentry Gun Safe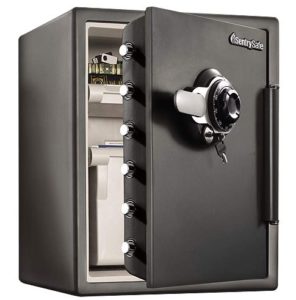 Sentry offers a relatively small collection of gun safes. Unlike Liberty Safes, for instance, or other heavy-duty safes, these are all significantly smaller and more reasonably priced for their size. The one safe that really stands out, in my opinion, is the portable one. Not every company offers a portable gun safe. These are safes meant for the nightstand, under a table, or in a drawer of some kind. Sentry offers one biometric model which also incorporates LED lights inside, allowing you to act quickly even in low-light conditions. Sentry (SentrySafe) was founded in 1930, and since then it has been making files, chests, and safes for a wide range of purposes.
The company offers a limited lifetime replacement warranty on its fireproof devices that were damaged by natural fire. As for mechanical and structural damage, there is a 1-year warranty on all their products.
Car Gun Safe
Car safes are a neat invention. For those of you who have an EDC, you know that there are certain conditions or instances where carrying your gun is not an option. Gun-free zones prohibit the carrying of firearms, and a car safe is a reasonable way to secure your firearm when you are out and about. It is a way to keep your mind at ease. I mean, let's face it: simply sticking the gun under your seat or keeping it in the glove box is convenient, but not too secure. Car safes provide an easy way to keep your gun within reach, while you are on the move. Also, if you are traveling between states, Federal regulations require you to keep it locked up.
When researching gun safes, it is important to pay attention to the size, the mechanism itself, unlocking option, bolting options, and of course the price. Some of the more popular brands which offer gun safes are: GunVault, Fort Knox, Cobra, and Vaultek. Just like guns themselves, this is a highly subjective purchase.
Don't miss our Pelican Case Overview!
In Wall Gun Safe
Also known as built-in wall safes, these are devices which are meant to be hidden from sight. One of the best ways to keep your safe from being burglarized is simply not displaying it. With this in mind, in-wall safes were invented.
Note that these options are ones which are more permanent and long-term. That's true to some degree to any safe (because they tend to be bulky and difficult to maneuver), but once you install an in-wall safe – it is there for good. On the other hand, it doesn't take up extra room, and it is a hidden kind of storage unit. Any way you look at it, the less amount of people see your safe, the more protected your firearms and valuables will be. Paragon, Viking Security, BARSKA, and Hidden Vision are all prime examples of companies which produce in-wall safes.
Hidden Gun Safe
There is more than one way to hide a gun, and an in-wall safe is not the be-all and end-all of firearm secrecy. The built-in option is a good one, sure, but there are several other options available, such as mirror safes, clock safes, and drop-down (under the table or desk) safes. Depending on your budget, your room, and your aesthetic tendencies, either one of these is a good option.
Hidden gun safes, like other safes, have their share of disadvantages. Many of them are not as fireproof as other, more sturdier safes. In some cases, such as the clock safe, if someone finds out about it there is a good chance that your gun is a goner.
The Golden Rule when it comes to gun safes, and particularly those which are meant to stay concealed, is this: don't tell anyone. Keep it to yourself. The more people know about its existence, the more chances there are of someone hearing about it and taking it. Criminals love safes because they are guaranteed to contain things deemed too valuable to leave elsewhere. Also, given the right time-frame and proper set of tools, there is no safe which is, well, safe.
Gun Safe Dehumidifier
Not all who own a gun safe require a dehumidifier. It is a safe accessory which is a necessity in some cases because if there is limited air coming through to the safe and its contents, there is the chance of the firearm(s) absorbing moisture which has built up. Over time, humidity which is left unchecked may cause a gun to rust, may eat away at treatments and coatings, and even wreck perfectly good ammunition. If your safe is seldom opened, getting a dehumidifier is not a bad idea.
While there are some DIY ways to prevent humidity, it is recommended to purchase a professional dehumidifier, or at the very least consult with someone who is experienced in such matters, and who could provide hands-on advice. Not all safes and environments are alike, so keep that in mind when considering those DIY methods.
It would be a real shame to invest the time, money, effort, etc., in getting a good safe installed, only to have its contents damaged from improper storage and unfavorable conditions inside the safe.
Thanks for visiting Gunivore & don't miss our Universal Gun Safety Rules!