Table of Contents
Pachmayr has become one of the most notable names in the firearms industry, though many folks are unfamiliar with their history. The grip manufacturer owes much its success to William Lyman and Lyman Products. Lyman was one of the great pioneers of the gun world and is responsible for revolutionizing the rifle sight system.
As a passionate shooter, inventor, and outdoorsman, Lyman knew something had to give with rifle sights in his day. They were notoriously useless if the lighting wasn't perfect, making accuracy about as rare as bathing. That was until the late 1800's when Lyman crafted an innovative aperture sight system which significantly improve accuracy and speed even in dim lighting.
Eventually, the Lyman Products company expanded and would become the leading name in reloading. In fact, the Lyman reloading handbooks are widely regarded as the most trusted in the industry. Moreover, they went on to acquire other outdoor brands once they were purchased by the Leisure Group back in 1970.
Pachmayr was one of the first acquisitions by Lyman, bringing them some of the finest grips on the market. The famous company traces its roots back to 1929 when Frank Pachmayr, a 3rd generation gunsmith, brought legendary German gunsmithing to America. Although he began selling gunsmithing tools and outdoor products, he initiated his recoil pad project in 1949.
Since then, Pachmayr recoil pads can be found around the shooting world, especially on Browning and MacMillan rifles. However, it wasn't until the 60's that they started manufacturing handgun grips. It's important to note that these grips were remarkably popular among police officers and competition shooters in the decades following their inception. Now let's check out these accessories and see if their reputation is well deserved.
Pachmayr Grips
I feel compelled to start with the Tactical Grip Gloves mostly because they're a best-seller. They market these highly-rated grips as "The Slip-on That Fits Like A Glove" and they really hit the nail on the head with that slogan. While they may look featureless on the surface, Pachmayr's grip gloves are custom molded for specific handgun models.
In fact, they cover dozens of models from some of the biggest names in the industry, including Ruger, Sig Sauer, Smith and Wesson, and Glock. The contoured and flexible soft rubber slip-on grips do wonders for recoil and offer enhanced ergonomics. It's completely non-intrusive, fits perfectly, and even works for concealed carrying.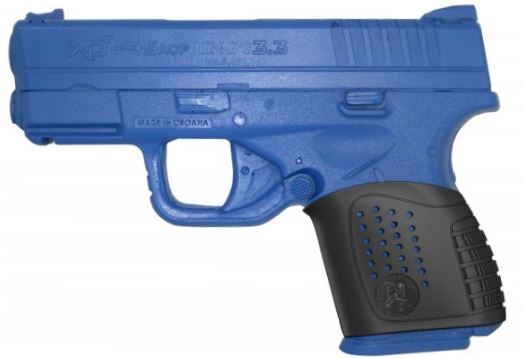 I also feel obliged to praise the G10 tactical revolver grips because revolvers are back in style and these are a real gamechanger. Pachmayr will throw big terms out there (the material is a fiberglass-based epoxy resin laminate) but the simple truth is that these are ergonomic, durable, and easy on the eyes. A good grip can't be overlooked, especially on big caliber wheel guns.
Although I'm not the biggest fan of the Compac Professional Series, they are perfect for ultra-concealability. They're not particularly comfortable but they're downsized and contoured to accommodate small hands and a variety of carrying options.
Pachmayr recently brought back their American Legend Grips for Smith and Wesson J, K&L, and N frame round butt models. I assume they received enough calls to prompt the relaunch, but I'd never attach one of these to my gun. It essentially turns your gorgeous and classic revolver to a Frankenstein concoction. Word on the street is they the work quite well for recoil and comfort, but the appearance is just too much for me to handle.
Pachmayr 1911 Grips
Pachmayr currently boasts a wide selection of handgun grips but many shooters know them for their 1911 models. In addition to an American Legend collection, they also produce their famous G10 grips for some of the best-selling 1911s on the market. The custom-fitted grips also come in a variety of colors and textures, including Grappler, Smooth, and Checkered.
If you want to keep your 1911 traditional, you can't go wrong with their Renegade Wood Laminate Handgun Grips. The polished laminate wood grips feature stylish and functional checkering that is the perfect blend of modern and classical. Like their other 1911 grips, the Renegade Series is offered with a small variety of options, such as a beautiful Rosewood and a conventional Charcoal Silverstone.
Pachmayr Recoil Pad
If you thought their grips were impressive, wait 'till you see Pachmayr's recoil pads. From field pads, skeet pads, trap pads, and spacers & adjusters, Pachmayr has you covered for all your long gun recoil needs.
The traditional slip-on pads are immensely popular, due to their $15 price tag, but are nothing to write home about. You don't really get to see their true capabilities until you check out the 752B Old English Pad, XLT "Ultra Soft" Magnum Trap Pad, and Decelerator Series, for instance.
Pachmayr Decelerator
The Pachmayr Decelerator Magnum Slip-On Recoil Pads are arguably the best slip-on recoil pads money can buy. They may seem plain, but the Decelerators are equipped with some pretty impressive tech. Pachmayr loaded these recoil pads with several distinct features to provide shooter, and hunters in particular, with enhanced comfort and ergonomics. They are not only super user-friendly, they are also pretty versatile and market for a very reasonable $22.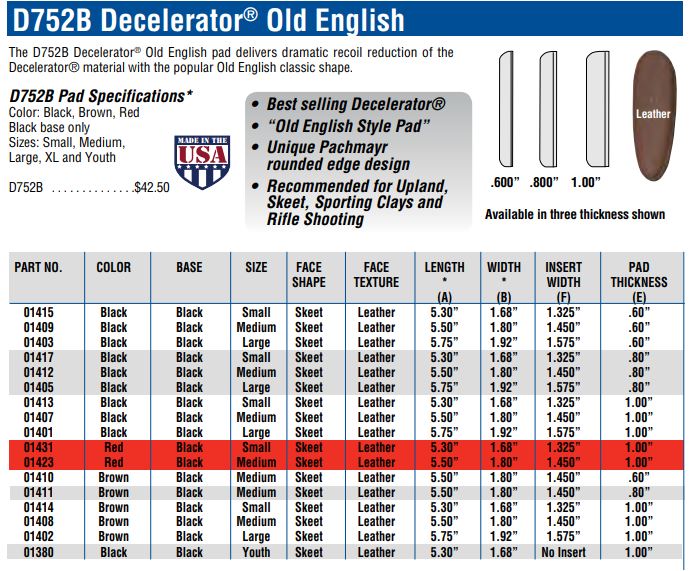 Conclusion
Few firearm accessory companies have as rich a history as Pachmayr. Although they are now under the Lyman Products brand, Pachmayr still provides shooters with the same commitment to firearm excellence they offered nearly 100 years ago. Since their inception, Pachmayr has been associated with innovation and that certainly holds true until today. As one of the most trusted names in firearm tools and recoil reduction, you ought to consider Pachmayr.
Thank you for reading here at Gunivore & Let us know your thoughts in the comments!