With the 2018 SHOT SHOW just a few short months away, it's time that we look back at this year's best new concealed carry weapons (CCWs). Americans are buying guns faster than ever, and many of us are choosing to carry our weapons proudly. In fact, a recent Crime Prevention Research Center survey found that there are well over sixteen million concealed handgun permits in the U.S. Plus keep in mind that these numbers don't take into account the dozen states which don't require a permit – which most certainly boosts the total.
In any case, with the rising demand for concealable firearms, more and more companies are producing their own styles of CCWs. As a result, there's a CCW for everybody! Whether you prefer old-fashioned revolvers, new-age super compact semi-autos, reimagined 1911s, or what have you, there are countless options available. Furthermore, with so much competition, many of these great firearms have become increasingly affordable. While there are still top-shelf CCWs like the Springfield Armory EMP ($1,100) and the Kimber Classic Carry Elite ($1,550) you've also got reasonable choices like the Hi-Point C9 ($155) the Kel-Tec P32 ($230).
In this week's edition of Gunivore's Fast Five, I'd like to go through this year's best concealable carry weapons. However, because there are so many, I'd like to focus on those which are readily available and offer an excellent bang for your buck.
CZ-USA P-10
The new striker-fired CZ CCW is interesting because while not possessing any new noteworthy features, it's still one of the most intuitive carry pistols of the year. Fans of the P-10 love its improved durability and ergonomics. By incorporating three interchangeable (and comfortable) backstraps, the new CZ is sure to feel great in any hand.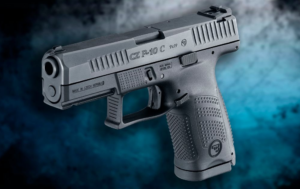 Model: CZ-USA P-10

Caliber: 9mm Luger

Capacity: 15+1

Barrel Length: 4.02"

Overall Length: 7.3"

Weight: 26 oz. (unloaded)

Finish: Blued/Nitride

MSRP: $499.99
RUGER AMERICAN COMPACT
The Ruger American has been a popular carry weapon for years, but 2017's new model improved on the already remarkable semi-auto. So many of the Ruger's new features contribute to making the Compact an ideal CCW. Measuring in at only 1" wide, the unique design of the Ruger sits comfortably no matter how you carry. Additionally, in order to make it as versatile as possible, the new American features interchangeable grip modules, extended mag options, fully ambidextrous controls, and an excellent set of Novak LoMount Carry Sights. While not the cheapest option in my list, the new Ruger is an extraordinary firearm that really offers the most bang for your buck.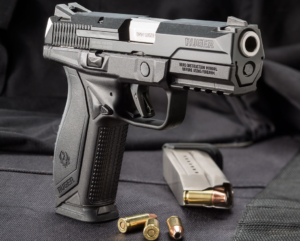 Model: Ruger American Pistol Compact

Caliber: .45 ACP

Capacity: 10+1

Barrel Length: 3.75"

Overall Length: 7.25"

Weight: 29 oz. (unloaded)

Finish: Black Nitride

MSRP: $549.99
SPRINGFIELD ARMORY EMP4
Springfield Armory has established itself as one of America's finest manufacturers of all things firearms. With their incredible lineup of rifles and handguns, it's their collection of 1911s that really stands out to me. However, this year's 1911 EMP4 Concealed Carry Contour model may have just proven itself to be one of the best CCWs in the industry. While keeping true to the historic 1911 design, Springfield made a few key adjustments to ensure its superior carrying ability and control. By slimming the EMP down, cutting out excess weight, and giving it smooth contours, SA's new and improved EMP4 is something to behold. Although not considered an affordable choice for many folks, I firmly believe that, in terms of bang for your buck, the EMP4 is worth every penny.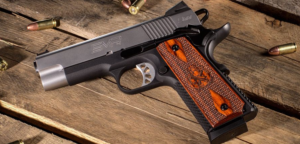 Model: SA 1911 EMP4 Concealed Carry Contour

Caliber: 9mm

Capacity: 9+1

Barrel Length: 4"

Overall Length: 7.5"

Weight: 30 oz. (Unloaded)

Height: 5.5"

Finish: Forged Aluminum Alloy Frame / Stainless Steel Satin Finished Slide

MSRP: $ 1,220.00
WALTHER CREED
Walther handguns combine top-grade German engineering and reliable performance, but at a price. Thankfully, they released the new Creed as their premier price point firearm. Based on the old PPX design, this 9mm handgun isn't the most expensive but is also not their best quality either. The legendary German manufacturer wanted to offer a product for those people looking for a reliable and affordable personal protection pistol, and they delivered. They are easy to carry, plenty durable, and wickedly accurate. I highly recommend the Creed for young or inexperienced shooters; its full size frame, low recoil, and lightweight build make it a breeze to handle and control. Lastly, the Creed offers such amazing user-friendliness; malfunctions and jams are rare plus it offers a stress-free takedown.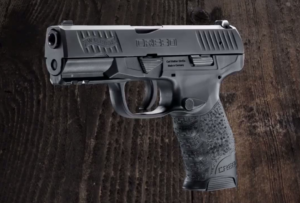 Model: Walther Creed

Caliber: 9mm Luger

Capacity: 10+1 (16+1 Also Available)

Barrel Length: 4.0"

Overall Length: 7.3"

Weight: 27 oz. (unloaded)

Finish: Black Tenifer

MSRP: $399
SMITH & WESSON M&P 2.0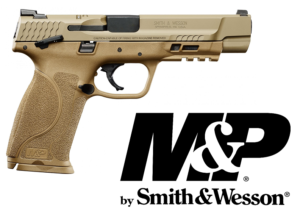 Even before the release of the 2.0, the Smith and Wesson M&P was already one of the most popular and critically-acclaimed CCWs on the market. Now featuring several performance enhancing upgrades, the M&P 2.0 is gonna skyrocket. While the renowned American gun makers boosted its accuracy, most of the updates offer increased handling and control. With one of the most interesting changes I've seen in a while, S&W raised their pistol's grip to reduce muzzle rise. This feature, coupled with their new 180 grip angles, provides a more comfortable and intuitive point and shoot ability with even faster follow-up shots.
Model: S&W M&P40 2.0

Caliber: .40 S&W

Capacity: 15+1

Barrel Length: 4.25"

Overall Length: 7.4"

Weight: 25.9 oz. (unloaded)

Sights: 3-Dot Steel

Finish: Polymer Frame / Stainless Steel Armornite Finished Barrel & Slide

MSRP: $579
BEST BANG FOR YOUR BUCK: KAHR ARMS TU-3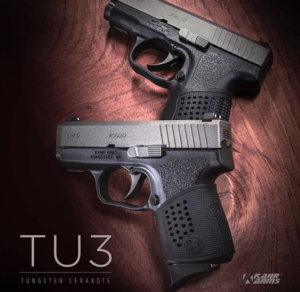 I've been a big fan of Kahrs for a while due to their affordable price tags and ultra-reliable performance records. The Kahr Value Series was already an exceptional choice to carry, and with 2017's major updates, they're even better for CCWs. In addition to the added durability – thanks to the Cerakote tungsten finish – they also received a major ergonomics boost due to the new Pachmayr Tactical Grip Glove and Pearce Grip's finger-rest magazine extensions. Plus with three caliber options (.380 ACP, 9mm, .45 ACP), it's easy to find the right Kahr for you.
Model: Kahr CM9

Caliber: 9mm Luger

Capacity: 6+1

Barrel Length: 3"

Overall Length: 5.42"

Weight: 15.9 oz. (loaded)

Width: .90"

Height: 4.0"

Finish: Black Polymer Frame / Tungsten Stainless Steel Slide

MSRP: $499.00
BIGGEST SURPRISE: COLT COBRA
What a pleasant surprise it was to find out that Colt was rereleasing their classic snub-nose revolver. Yet, since nearly every component in the new 2017 edition has been improved, it bears little resemblance to the original 1950 model. Hands down, my favorite mod on the new Cobra is the unbelievable Hogue rubber grips with finger grooves. This new and improved grip system totally revolutionized the Colt snub nose delivering ergonomic and intuitive handling. Even as a revolver, it's toward the top of the list of the best new CCWs. 
In another attempt at modernizing the American classic, Colt engineered what they call the "Linear Leaf Mainspring". Basically, what this new feature does is ensure consistently smooth and reliable trigger pulls. It's slim, it's sexy, it's durable, it's got it all!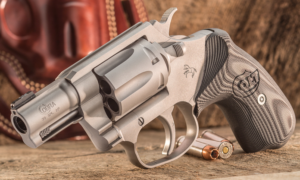 Model: Colt Cobra

Caliber: .38 Special +P

Capacity: 6 Rounds

Barrel Length: 2"

Overall Length: 7.2"

Weight: 25 oz. (unloaded)

Height: 4.9"

Trigger: Double Action

Sights: Red Fiber Optic Front / Frame Trench Rear

Frame: Stainless Steel Matte Finish

MSRP: $699