When I think of Lucas Oil I think of racing and general car maintenance; however, the American company has significantly expanded their line of products since their debut in the late 80's. In fact, few companies in the automotive industry have grown as much as Lucas Oil over the past four decades. Their high end greases, oils, and lubes can be found in 40 countries and in tens of thousands of auto parts stores. Although the market for firearm cleaners was already permeated with perennial favorites like Hoppe's 9 and Rem Oil, Lucas Oil was nevertheless determined to challenge their competitors with their own brand of high grade oils/lubes with affordable price tags.

To learn more about the importance and intricacies of weapon maintenance, check out our primer on gun grease, oil, and lube. I had really high expectations for these oils, especially considering that Lucas has already been established as a major manufacturer of premier oils and lubes. I can safely say that my expectations were met. Their standard gun oil and Extreme Duty line are superb products which can easily compete with some of the best on the market.
Lucas Oil Gun Oil Review

I'm not sure if it's the simple design, or the Lucas emblem on the bottle, either way, there's something very endearing about Lucas' Gun Oil. As the deer on the label suggests, this oil is ideal for hunting rifles and shotguns; however, I found that it worked wonders on my Smith and Wesson Magnum 500 and PSE compound bow. Their effective formula penetrates deep into the weapon's metal components, blasting through rust, carbon build-up, and other types of fouling.
Although this isn't a CLP, it still offers suitable protection. After cleaning and wiping down your gun, a thin protective film remains, acting as a shield against further fouling. By preventing malfunctioning and overheating, as well as protecting against further wear and tear, this gun oil should not be overlooked by anyone in search of an effective and affordable gun cleaner.

For when the regular stuff just won't cut it, Lucas Oil concocted their line of Extreme Duty Oil and Grease to get the job done. This cleaner was designed for all types of firearms that experience high volume fire as well as high heat and friction. Furthermore, it works excellently at protecting guns in extreme conditions, be it blistering hot or freezing cold. Whereas the standard Lucas gun oil is first and foremost a cleaner, the Extreme Duty oil is much more of a lubricant and protector. Besides for the upgraded oil, Lucas Oil's Extreme Duty line also features gun grease.
Because of its high viscosity, it clings well to the firearm and is easily applied. One of the superior qualities of this grease is its high melting point; while your average grease will melt at about 300 or so degrees, Lucas Oil's won't evaporate until close to 600. This helps the grease lubricate better for longer. Overall, I was really impressed with the Extreme Duty line –it works as advertised and for a great price too.
Lucas Oil Gun Oil Ingredients
The makeup of Lucas Oil's gun cleaning products is safe and simple. The eco-friendly ingredients combine to create a thick, odorless, red oil, which is designed to stay active even during long term storage. The Extreme Duty line of oil and grease gets its added effectiveness through the ingenious blend of oil and petroleum-extracted additives. People used to think that the "safer" the ingredients are, the less effective they will be; however, things have changed and this isn't the case anymore. Although advertised as containing environmentally safe components, Lucas Oil's oil and grease are still highly effective at cleaning even the toughest build-up, providing superior lubrication, and protecting against the harshest encounters.
Oiling my wife's @Henry22L with my son and our favorite @Lucas_Oil gun oil. Going to do some family target shooting on a beautiful Saturday pic.twitter.com/JX9FGD6cTJ

— Bobby Halton (@BobbyHalton) November 26, 2016
Where to Buy Lucas Oil Gun Oil
As we discussed earlier, Lucas Oil products are some of the most accessible lubricants in the world. In general, their oils are available in tens of thousands of auto parts and sporting goods stores. I'm a big fan of Gander Mountain, simply because of their great customer service and wide selection. However, you can pick up Lucas Oil at several other sporting goods franchises. To buy online, Amazon tends to have the best selection with the best prices. However, you can also buy directly from the Lucas Oil website.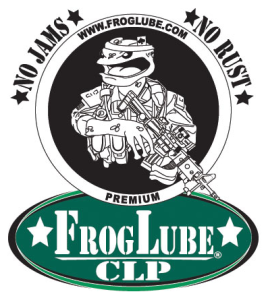 Comparing Lucas Oil's firearm cleaners and lubes to the competition is a tough task; although I don't think they excel in any particular category, they are nonetheless top tier products. They don't lube as well as FrogLube, but they might have a slight edge in their protective abilities. The Extreme Duty line, however, is one of the best out there. This line's oil and grease could be considered cheaper alternatives to RemOil or Hoppe's.
Conclusion
Overall, Lucas Oil has been on the forefront of oil and grease engineering for several decades. This experience and expertise has culminated with top-shelf firearm maintenance products. I can safely say that when buying a bottle of Lucas Oil you will have a product you can trust. The biggest downside to their oil is that it's not as versatile as some of their competition, so to get full coverage, you might need another one or two products. That being said, there really are no complaints about their actual effectiveness or materials; they work as advertised, and for a great price too.
After all of my time working with Lucas Oil, I found myself questioning which type of company should have the upper hand: A company who has already mastered oils/lubes trying to adapt to the weapons industry, or a master firearm manufacturer attempting to design gun maintenance materials. To put it simply, in an attempt to create the best gun oil/lube/grease, is it more advantageous to be an expert in oil or guns? Lucas Oil's products are just as dependable, accessible, and easy to use as your standard gun oil/lube.
Thanks for reading our Lucas Oil feature! For more on great gun oils, check out our M-Pro 7 and Ballistol features, only at Gunivore!