Every experienced gun owner knows that in order to keep your weapon performing at its best, you have to keep it clean and lubricated. However, finding the right product can be a tough task; at Gunivore we're here to help. In fact, we've dedicated an entire month just to focus on weapon maintenance. The current market is flooded with cleaners, lubricants, oils, greases, sprays, and all types of materials; this fact has led me to stick with what's worked for the longest time. That is FrogLube.
Although FrogLube was developed less than 10 years ago, the company has already expanded their line of impressive cleaners and lubricants. FrogLube's products come in a variety of pastes, liquids, and sprays. It didn't take long for FrogLube to become a favorite among folks in the military and competitive shooters alike, and rightfully so. All of their hard work has paid off to create some of the most effective gun maintenance equipment out there.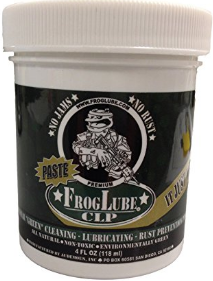 Just one look at FrogLube's flagship cleaner and you can already tell that it's not your standard gun cleaning agent. Advertised as a CLP (clean, lubricate, protect), this paste comes in a 4 oz. tub –which is pretty unique. This eco-friendly solvent blasts through grime and gunk extremely well, permeates through metal, and leaves your gun shiny and protected. The only warning I should give you is that FrogLube works best when heat is applied. Therefore, the best way to melt the paste is to use a hair dryer or leave the gun out in the sun. Afterwards, just give it a good scrub and let it sit for about 10 minutes, and simply wipe off the residue. It works wonders on my heavily-used Glock 19.

If you don't think FrogLube's paste is for you, I recommend trying their CLP in liquid form. This solvent eats through all kinds of rust and carbon, while effectively protecting against further contamination. Although it is a comprehensive CLP that works well on all types of metals, polymers, and wood, it's definitely first and foremost a lubricant.
Frog Lube Extreme Review
This specialty product by FrogLube is a CLP for your most extreme needs. The high performance oil comes in a small squeeze tube – which makes it ideal for field use. FrogLube's engineering crew designed this low viscosity oil to handle extreme conditions as cold as -440 F all the way to a blistering 7000 F.
Frog Lube General Ingredients
Although FrogLube is technically not mil-spec, their products have nonetheless complied with several U.S. Military and NRA guidelines for gun maintenance. Their company claims that their ingredients are non-hazardous in every way, and I don't think they're bluffing. Besides for containing no petroleum (or water), all of FrogLube's materials are non-toxic, non-flammable, and USDA approved as Bio-Preferred products.
FrogLube ingeniously concocted a CLP which prevents oxidation, which is a leading cause of firing variance. It somehow doesn't react with oxygen, but does react with fouling. Whether you've got rust, grime, gunk, carbon, grit, or whatever else might be contaminating your gun, FrogLube will tackle it and create a barrier against further damage. The cherry on top of it all is that, unlike too many other cleaners out there, FrogLube gives off a pleasant minty smell superior to odors of rival products from Ballistol, Slip 2000, Rem Oil, and Breakfree CLP.
Time for some FrogLube TLC. @FroglubeBeNeLux @GLOCKInc @DRTammunition pic.twitter.com/0GUMefGbvc

— Shrek (@Shreksoutdoors) August 25, 2016
Where to Buy Frog Lube Products
If you don't mind buying online, I'd check out Amazon –they tend to have good availability, reviews, and prices. However, because there is such a slight variance to their products, I recommend actually going to a store and speaking with a professional; they may have an inside scoop as to what exactly you might need. You can also buy directly from FrogLube on their online catalog. In general, most sporting goods stores like Dick's, Gander Mt, and Walmart carry a variety of gun lubricants, but that doesn't seem to be the case for FrogLube. I've had trouble finding a local supplier; I think your best bet is to order online.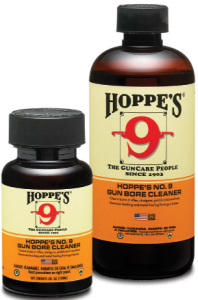 As I mentioned earlier, I was brought up using Hoppe's No.9 on my guns, but I think the time has come to move on. All things considered, FrogLube cleans, lubricates, and protects better than Hoppe's. Don't get me wrong, Hoppe's is still an excellent cleaning agent, and you might even prefer it over FrogLube, nevertheless I still think the latter is an overall better product. To do a side by side comparison, check out our feature on Hoppe's 9 and see for yourself if FrogLube is truly superior.
Conclusion
FrogLube may be a relative newcomer, but it certainly didn't take long for them to be established as a premier weapons maintenance product. FrogLube was based off of oils and lubricants used in factories; I believe this was the key to their success. By perfecting materials used to operate heavy machinery, FrogLube's engineers managed to create the perfect mixture that is a cleaner, lubricant, and protector all in one. I never thought I'd see the day where I would ditch my Hoppe's, but sure enough FrogLube entered my life. I highly recommend this CLP to all types of shooters with all types of firearms. For more information about general gun cleaning tips, check out our feature The Importance of Gun Oil and Gun Lube, and stay tuned for more in-depth reviews here at Gunivore.
Check out our SIG Sauer P938, P250, and P238 features while you're here at Gunivore!