Table of Contents
Smith & Wesson, soon to be known as American Outdoor Brands, has been the archetype of revolver manufacturers around the world since the mid-1800's, and their products have been among the most trusted and popular since. The American-based company had humble beginnings, eventually growing into one of the biggest weapons and ammo manufactures in the world. Although their repertoire has expanded tremendously (check out our M&P review), S&W's revolvers have been the gold standard from the get-go.
In an attempt to remain a pioneer of the industry, Smith & Wesson sat down in 2002 to design what could be considered the most powerful production revolver on the market. To boil it down to one sentence: the Model 500 is a 5-shot, larger-caliber powerful revolver offered in single/double action. The problem with being so concise is that you miss out on the fine details, which in this case make ALL the difference. Below in our Smith & Wesson 500 Magnum Review I will discuss the different components, variants, and specs of this model so you can get a better grasp of how impressive it really is.
Smith & Wesson 500 Magnum Specs
Model: Model S&W 500™.
Caliber: .500 S&W Magnum.
Capacity: 5.
Overall Length: 15.0″.
Front Sight: Interchangeable.
Rear Sight: Adjustable.
Action: Single/Double Action.
Grip: Synthetic.
Weight:1 oz / 1,959.0g.
Barrel Material:Stainless Steel.
Frame Material:Stainless Steel.
Frame Finish:Satin Stainless.
Purpose: Hunting/Self-Defense.
Price: $1,199.99 – $1,479.99.
Smith and Wesson knows that not all shooters are the same, so even within the 500 series, there are several variations available. The main difference between the variants is the barrel length. They vary between 3.5" up to 10.5", all with either a ported or compensated barrel (some of which have an interchangeable compensator). Although the 500 model was originally designed for hunting, S&W understood that some people want that level of stopping power in a carrying weapon, so they created compact editions.

Smith & Wesson 500 Magnum Build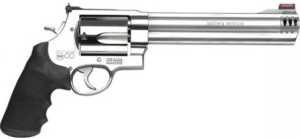 The standard Model 500 revolver is a built with a sturdy stainless-steel frame, comfortable handling, and the Smith & Wesson reputation to back it up. But designing the Model 500 was no easy task. The immense pressure and energy produced by each shot was too much for their previous frames, but they didn't want to compromise any power. To tackle this problem, S&W knew they had to compensate by developing an entirely new frame: the X-frame. I generally don't prefer revolvers because I find them less ergonomic than other semi-auto pistols, but S&W furnished the 500 outstandingly.
They managed to lower recoil and enhance control; overall, I found its handling and shooting way easier than I had originally expected. They added what they call Hogue recoil-absorbing grips with finger grooves which drastically improved its handling. One of the more low-key upgrades is the new barrel design. Smith & Wesson unconventionally crafted a rifled tube inside the barrel ultimately making production cheaper, and shooting better. They definitely didn't cut corners when engineering this gun. It's strong, clean, sexy, powerful, and shockingly lightweight.
Smith & Wesson 500 Magnum Shooting & Performance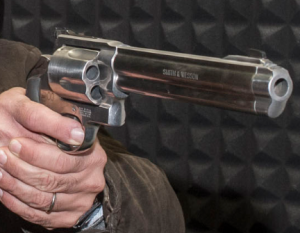 Before I even discuss the Model 500's accuracy, I can't stress enough how powerful this gun is. As I mentioned earlier, Smith and Wesson had to develop an entirely new frame design just to handle its brute force. One factor that might polarize prospective owners is the 500's double-action/single-action (DA/SA). Some shooters despise this type of action because the trigger pull of the first shot is noticeably different than following single-action shots.
An unfortunate outcome of this can be reduced accuracy, which no hunter or home defense shooter wants. Nonetheless, I was surprised to find how well the revolver shot (once I got the hang of it), considering the fact that it packs a serious punch. Smith and Wesson was able to reduce recoil by lowering the overall weight, adding better grips, enhancing forward balance, and top-notch compensators. The revolver's recoil is still substantial, but they were able to make it manageable. Reviewers around the country tend to agree that this gun is incredibly accurate and game hunters should definitely have this in their collection.
Related: Check out our Glock 17, 19, 26, 30, and 36 features!
Smith & Wesson 500 Magnum Cartridge
Ever since their debut, Smith and Wesson has always been on the forefront of cartridge engineering and innovation. Over the past 150 years or so, S&W has invented a couple dozen cartridges, some of which are among the most commonly used in the world. The .500 Magnum ammunition is just one of their many advancements.
Smith and Wesson 500 Magnum #morethanahandfullisawaste pic.twitter.com/Hj4gFcfxkV

— Rupert in Texas (@RupertinTexas) January 29, 2017
One of the facts that set this cartridge apart from the rest is that it was specially designed for a specific gun. When S&W crafted the 500 Magnum, they had hopes of making it the most powerful revolver on the market; but they also had to create ammunition that could support it. Let's take a look at how they were able to make a handgun cartridge that is capable of taking down any game around. To accomplish such a feat, S&W brought in Cor-Bon (now a Dakota Ammo brand) to help. Their partnership was such a success that they teamed up together for a second time to develop the .500 S&W Special cartridges. It's important to know that this is by no means a standard cartridge. Its 2.3" overall length is too big to fire in most other handguns; but in an effort to mitigate its exclusivity, S&W designed it semi-rimmed, allowing it to be cycled easier and more reliably in tubular or mag rifles. Even within the S&W .50 caliber series, there are several bullet mass/grain options. To find out which options are best-suited for your needs, talk to your local ammo supplier or hunting expert.
Smith & Wesson 500 Magnum Sights, Safety & Assembly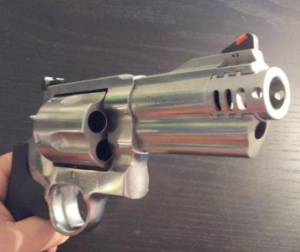 If you are going to be hunting with your 500 Magnum, sights and safety are definitely two of your top concerns. This is NOT the gun you want to mess with. To make it more accurate, Smith and Wesson equipped their 500's with a variety of sights. The standard size model comes with the HIVIZ® Red Dot (interchangeable) front sight and an adjustable rear iron sight. This is by far one of the best sight combos you will get on a revolver. But, I know that sometimes the distance between you and the game can be substantial. S&W has you covered for those times too. Some of the 500 models come with a Weaver rail mount on which you can easily mount telescopic sights and other accessories.
The safety features of revolvers are significantly different than that of your basic semi-auto pistols. Revolvers almost never feature safeties, since they are generally carried uncocked, and the user has to physically lower the hammer to cock it, unlike a DA/SA gun, which cocks itself every time the slide is cycled. Although there is little need for a safety switch on a DA/SA, most feature some type of conventional safety that prevents the hammer from dropping. Nevertheless, the S&W 500 Magnum has an internal self-engaging hammerblock. And like any firearm, be sure to maintain proper safety procedures when firing and storing your weapon.
To begin to dismantle your 500 Magnum, you will need an Alan wrench and a screwdriver. I generally prefer to take the grip off first, so grab your Alan wrench and remove the grip. Next, to remove the cylinder, you will need to unscrew one screw by the trigger guard then pop out the cylinder. If you want to remove the side plate, you will have two screws to unscrew, but actually removing the plate could be tricky. I suggest being very careful with this step so you don't damage your gun. I prefer to use the butt end of my screwdriver to tap at the handle until the side plate begins to loosen. Once you have that off, you can see your internal components and oil/clean them.
Smith & Wesson 500 Magnum Rifle (S&W Model 89) Review
If you're looking for a rifle that offers both serious power and class, check out the S&W Model 89. Every serious hunter should consider adding this to their collection. Manufactured in both carbine and rifle formats, the 500 Magnum lever-actions are built with dependable stainless steel components assuring long-range accuracy and durability. S&W equipped these with aperture rear and post front sights, a curved lever, and a 1" recoil-taming pad. This rifle has a ton to offer, but don't just take my word for it – here are the specs:
Barrel length: 18".
Caliber: .500 S&W.
Twist: 1 in 24".
Crown: Recessed.
Buttstock & Forend: American Black Walnut Laminate.
Barreled Action: 17-4 Stainless steel.
Stock Finish: Synthetic Satin.
Recoil Pad: 1".
Sling Swivel Mounts: Integral Front, Stud Rear.
Sights: Aperture Rear, Blade front.
Mag Capacity: 7.
Length of Pull: 13 5/8".
Overall Length: 37".
Weight: 7 Lbs. 10 Oz.
Smith & Wesson 500 Magnum Accessories
The Smith and Wesson Magnum 500 revolvers are already pretty powerful and accurate, so you don't see too many hunters accessorizing them. But, there are still options out there for those who want a little extra. Besides for just holsters, cases, and kits, you can hook it up with different compensators and front sights. However, I recommend sticking with the HIVIZ® Red Dot sight – it's a great piece of machinery. The Model 89 gives you a lot more possibilities for accessories including scout scope mounts, fiber optic front sights, octagon barrel upgrades, different thread muzzles (¾) and slings. Overall, Smith & Wesson expertly engineered these guns to function at peak performance right from the factory, but at the same time didn't leave accessory-lovers empty-handed.
Conclusion
There are few handguns out there that can compete with the 500 Magnums. Their durability, power, and accuracy set them far apart from nearly all their competitors. In fact, there are only a few other firearms on the market designed to shoot the special .50 cal ammo (Thompson-Center Encore, NEF Handi Rifle, and Towner pump rifle). Because of its serious power, it functions best as a hunting weapon, even though they produced compact varieties. I trust this weapon a lot, which is vital when hunting dangerous game. Smith and Wesson have been innovating and perfecting revolvers and cartridges for almost two centuries, and the 500 Magnum is yet another masterpiece to emerge from their hard work. This legendary revolver is truly in a league of its own, and when Smith & Wesson claimed to have created the "most powerful handgun", they weren't exaggerating.
Thank you for reading our Magnum 500 review! Check out our Bushmaster M4 and XM-15 reviews while you're here at Gunivore!