In my experience shooting and reviewing guns, it's become increasingly difficult to be impartial to certain manufacturers and models. For me, one company clearly stands out as my favorite – and that is the American-based Smith & Wesson Co. Throughout my research, I've found only a few companies which have impacted the arms industry as much as this one. Similarly, few firearms have influenced warfare and defense as much as the 1911 semi-automatic pistol. S&W has always been at the forefront of handgun engineering since their formation in the mid-1800's.
In 2003, they decided to revamp a long-standing American Classic, the 1911 pistol. Its popularity alone attests to its incredible capabilities. Not only are 1911's trusted by militaries and law enforcement organizations across the globe (such as the FBI, Delta Force, and the South Korean Air Force), they've also become a standard among competition and recreational shooters. Lately, the 1911 has solidified itself as one of the top CCW's around the world due to its single-stack mag and thin build.
Furthermore, because the demand for them has soared, dozens of companies have attempted to replicate the 1911, but the S&W version stands out as a top contender. Below, I'll go through the history, makeup, and specs of the SW1911 pistols so you can get a glimpse of how impressive they truly are.
Smith & Wesson 1911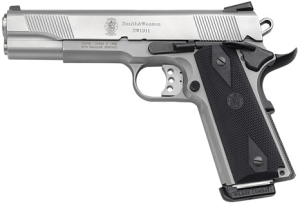 The original Model 1911 was designed by the American weapons pioneer John Browning in 1911, ultimately becoming a U.S. military staple. The 1911 quickly found its way into the battlefield, and has seen action in nearly a dozen wars and conflicts around the world. In fact, during World War I, demand was so high that the U.S Army had to seek additional contracts that Colt (the original manufacturer) couldn't fulfill. One of the companies that won a contract was America's oldest gun maker, Remington Arms. Their reproduction of the 1911 is still popular to this day.
At the end of the century, the Beretta M9 took over as the U.S military's handgun of choice after a long and storied military career for the 1911. But history had trouble saying goodbye to them; the Army's dissatisfaction with the stopping power of the 9mm, led to a re-adoption of .45 ACP chambered pistols comparable to the M1911.
Smith & Wesson 1911 E-Series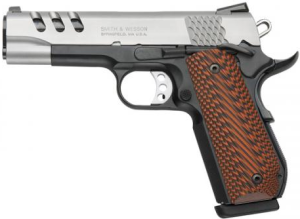 Although Smith and Wesson began manufacturing 1911's in the early 2000's, it took less than ten years for them to scrap their models and start fresh. In 2011, S&W discontinued all of their previous versions but thankfully has restored their line with an impressive collection of around a dozen variations of the 1911. The SW1911's are available in either the E-Series or the Performance Center, but even within these two lines, there are several variants.
To summarize the E-Series in one sentence: They are the perfect blend of government model/factory custom pistols, paired with serious stopping power and impeccable aesthetics. The E-Series was updated inside and out; its distinct appearance and all-new mechanical components fuse together to create a state-of-the-art firearm. Let's take a closer look at some of the SW1911 E-Series notable specs.
• Model: SW1911 E-Series™ .45 ACP.
• Caliber: .45 Auto.
• Capacity: 8+1.
• Safety: Grip & Thumb.
• Barrel Length: 5″ / 12.7 cm.
• Overall Length: 8.7″.
• Front Sight: White Dot.
• Rear Sight: White 2-Dot.
• Action: Single Action.
• Grip: Wooden Laminate E-Series™.
• Weight: 39.6 oz / 1,122.6g.
• Barrel/Slide/Frame Material: Stainless Steel.
• Slide Finish: Stainless Steel.
• Frame Finish: Satin Stainless.
• MSRP: $979.00.
• Purpose: Competition Shooting, Home Protection, State Compliance.
Smith & Wesson Performance Center 1911
S&W's Performance Center (PC) Line is the epitome of precision gunsmithing. They guarantee that every product from their line is the "ultimate expression of old-world craftsmanship blended with modern technology," and the PC1911 verifies exactly that. Let's take a look at the standard PC1911's technical specs.
• Model: PERFORMANCE CENTER® Model SW1911.
• Caliber: .45 AUTO.
• Capacity: 8+1.
• Safety: Grip & Thumb.
• Barrel Length: 4.25″ / 10.8 cm.
• Overall Length: 8.0″.
• Front Sight: Black Post.
• Rear Sight: Fixed.
• Action: Single-Action.
• Grip: G10 Custom Wood.
• Weight: 29.6 oz / 839.1g.
• Barrel/Slide Material: Stainless Steel.
• Frame Material: Scandium Alloy.
• Slide Finish: Matte Stainless.
• Frame Finish: Two-Tone.
• MSRP: $1,589.00.
• Purpose: Competition Shooting, Concealed Carry, Home/Personal Protection.
Smith & Wesson 1911 Pistol Build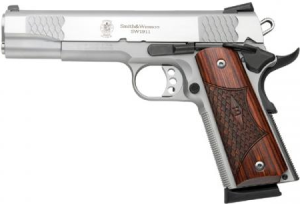 Before we get to the nitty-gritty of Smith and Wesson's 1911, let's take a look at the basic build of the M1911. This semi-automatic pistol is a single-action, magazine-fed, recoil-operated handgun, designed to fire .45 ACP rounds. John Browning applied the short recoil principle to his M1911, probably without realizing that it would become the preeminent action for nearly modern centerfire pistols. Although imitations of the M1911 have become increasingly popular, S&W's sales show no sign of slowing down. These newer and more lightweight variants, such as the Glock 21, have challenged the M1911 but S&W is holding steady.
Smith and Wesson's 1911's are reminiscent of their classic predecessor but include major modernization's. The E-Series guns feature beautiful wood laminate grips and boast tough stainless steel frames. S&W's engineers crafted the E-Series with ingenious upgrades to the 1911s' handling and efficiency. All models in this line have fish-scale scallops on the fore and rear gripping surfaces to make manual cycling easier, as well as checkered grip frames to give the shooter a more dependable grasp. I would be remiss if I didn't stress the durability of these guns. S&W uses only the finest materials and components for their E-Series, and the stainless-steel barrel, slide, and frame illustrate just how tough they really are.
As impressive as the E-Series is, the Performance Center firearms are the cream of the crop. They're built with the highest quality materials and are crafted with precision and care to ensure their exceptional accuracy and handling. I'm in love with these guns. I've actually entertained the thought of framing my PC1911 and putting it on display –that's how gorgeous they are. S&W's brilliant team of craftsmen skillfully combined looks (G10 custom wood grip panels) and ergonomics (rounded butt frame) for the PC1911's grip. Besides for looking good, the PC1911's handle flawlessly. The high-grade materials create a perfectly weighted and balanced handgun, while the throated barrel and specialized muzzle make shooting significantly easier. The only complaint I've heard about the PC1911 is that it runs a little heavier than your average 1911 (41 oz. vs. 38.5 oz.), but most shooters will agree that it's not a deal breaker.
Smith & Wesson 1911 Pistol Shooting and Performance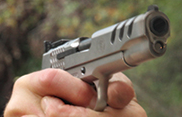 Smith & Wesson has been innovating handguns for over 150 years, and that experience culminated with the SW1911's. Their premium accuracy and American craftsmanship are exemplified by both the E-Series and the Performance Center Line. By using only the best components and established techniques, they've mastered Browning's original model. Their experience and quality engineering deliver the precision and user-friendliness that shooters expect in a Smith and Wesson. The most important factor to keep in mind about the SW1911's shooting is that it chambers .45 ACP rounds. These cartridges aren't meant for rookies. Their stopping power is ideal for practice and self-defense, but there is sure to be sizable recoil.
Smith & Wesson knew that to stay ahead of the game, they had to figure out a way to minimize the 1911's recoil. Consequently, they produced the PC1911 with a throated barrel and a precision crowned muzzle to direct gas and mitigate recoil and muzzle rise. SW1911 users agree that these guns are as accurate and reliable as they come; and as a bonus, they handle well too.
1911 triggers have always been problematic, but Smith and Wesson may have finally found the solution. Oddly enough, the E-Series and Performance Center 1911's have slightly different triggers. The E-Series has a new S&W engineered Joubert trigger. The innovative trigger is able to be individually hand-fitted to the frame during assembly to eliminate any misalignment. Overall, the Joubert system provides a custom-trigger feel without the expensive price tag. I can't think of any better, more precisely fit trigger on a 1911.
The PC1911 trigger is also quite remarkable; and as nice as the E-Series' trigger is, I think I might actually prefer this one. A good trigger should improve accuracy and handling, and that's exactly what S&W accomplished with this trigger. The hand-polished competition match trigger has a built-in over-travel stop and is a pleasure to use and look at. The clean trigger pull lets you get the most accuracy out of your gun, something that most 1911's lack.
Smith & Wesson 1911 Pistol Magazines and Sights

The magazine systems on the SW1911's are definitely nothing remarkable but are nevertheless above average. The polished feeding ramp enables rounds to be effortlessly loaded. Additionally, their single-stack 8+1 capacity mags are treasured for being easy to conceal. At the end of the day, with every purchase Smith and Wesson throw in two reliable mags that provide flawless cycling – you can't really ask for much more than that.
Like the 1911's mag systems, the sights on these semi-autos are nothing to rave about. Yes, they are good quality and increase accuracy, but with so many other remarkable features, the sights just don't stand out. The PC1911 has a wickedly accurate fixed rear sight/black post front sight combo, while the E-Series has suitable white dot sights.
Smith & Wesson 1911 Pistol Safety and Assembly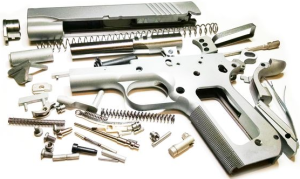 Ever since companies have been replicating the M1911, the safety features have been evolving. The S&W models have the military mandated grip and manual safeties. One of the distinct S&W safety components is the Swartz firing-pin, operated by the grip safety. Part of a weapon's safety is its consistency and reliability. Therefore, the E-Series was pragmatically engineered with an extra-heavy-duty external extractor and a redesigned ejection port to guarantee reliable and consistent case ejection with all varieties of ammunition.
The SW1911's safeties were ingeniously designed with all types of shooters in mind. The high beavertail grip/ambidextrous thumb safeties are a nice touch to an already impressive design. Furthermore, Smith and Wesson updated their internal safeties to prevent any accidental firing if the weapon is dropped. Overall, S&W didn't cut corners when designing their replicas of the M1911 – I'm a big fan of these not only because they add an extra level of security, but also because they're comfortable and easy to use.
One of the many improvements implemented by the 1911 was a newer, streamlined assembly process. One example of this is the new serration design at the front of the slide. The 1911's can be field stripped by first partially retracting the slide, then removing the slide stop, and finally removing the barrel bushing. Although the average person will probably like to have a tool-kit handy during disassembly, I've actually seen people use several manually removed parts as tools to finish the job.
Smith & Wesson 1911 Pistol Price
I've been trying to determine which one of these models is a better buy, and I still can't decide. The E-Series is a great gun and is much cheaper than the PC, over $600 in fact. But that doesn't mean that the Performance Center 1911's are just some overpriced collector's item. These are top of the line firearms that are used every day by everyone from competition shooters to U.S. Special Forces. I really don't think that S&W is unwarranted for asking over $1,500 for the PC1911; it's a great gun that looks and operates like a custom-built machine. Even if you are looking for a personal protection weapon, these should still be on your list.
I love this gun.
Performance Center Smith & Wesson .45 1911 pic.twitter.com/71UNawSumF

— Brogan. (@TheLogann) December 27, 2014
Smith & Wesson 1911 Pistol Accessories
Call me old-fashioned, but I'm just not a big fan of accessorizing 1911's. The Performance Center model is already heavier than your average 1911, so adding attachments would only exacerbate that issue. On the other hand, I've seen someone add on the Mako Meprolight Tru-Dot night sights on their E-Series, and I actually liked it a lot. Nevertheless, with a price tag of about $100, I think I'll stick with the preset sights.
Conclusion
I'm not sure what the E in E-Series stands for, but it may as well be evolved. It's been over 100 years since the 1911 was first designed, and while so much has changed, Smith and Wesson has maintained the same great feel of the original model while giving it a modern makeover. The PC 1911 and E-Series aren't just copies of Browning's model, nor are they brand new guns.
S&W ingeniously crafted two different variations that I think Browning would not only recognize, but also be proud of. I'm sure it was no easy task for S&W to engineer a weapon that would be favored by law enforcement, competition shooters, and concealed carry enthusiasts alike. I love these guns and if you haven't got your hands on one yet, what are you waiting for?
Thanks for reading our 1911 feature! For more on great handguns like the New Glock 17 & 19 Gen 5 and 26, keep reading here at Gunivore!