Steyr Arms (formerly known as Steyr Mannlicher AG) is an Austrian firearms manufacturer. It has had an ongoing presence in the US firearms market ever since the 1980s. The company produces hunting rifles, sporting rifles, and pistols, as well as apparel, accessories, and parts. The US offices opened for business in 2010, and they are located in Bessemer, Alabama.
Steyr itself – not the company, but the actual city in Austria – has been a weapons hub for close to 1,000 years. As early as the 12th century, iron was taken from the nearby mines, and weapons were forged by skilled craftsmen who took up residence in the town.
Steyr Arms History
There is a pretty long and glorious history associated with Steyr Arms, reaching back 150 years. The company was founded in 1864. Originally, it was Steyr-Daimler-Puch, a conglomerate which mainly manufactured vehicles. During the 1980s the company began to break up. This process was continued until the turn of the millennium, and in 2019, Steyr Mannlicher AG officially became Steyr Arms.
The company went through World War I and World War II, producing weapons for the forces engaged in combat. After WWII ended, Austria regained its independence and Steyr continued manufacturing weapons for the Austrian military.
In the 1970s it released the AUG (Armee Universal Gewehr – "universal army rifle"), which became the standard issue rifle for the Austrian military and is one of the most recognizable bullpup firearms in the world.
Steyr AUG Review
More often than not, I'll still think of bulldogs when I hear the word bullpup. Even though the term has long since been retired from the dog-loving lexicon, the world of firearms is not ready to give it up. And America was not going to give up on the Steyr AUG, even after it was banned in the 1980s.
This rifle has a collapsible built-in foregrip. Now, some people may yell "tacticool", but dammit – that's a cool and useful thing to have straight out of the factory. That said, the existence of a non-removable foregrip may be a deal-breaker for some potential customers.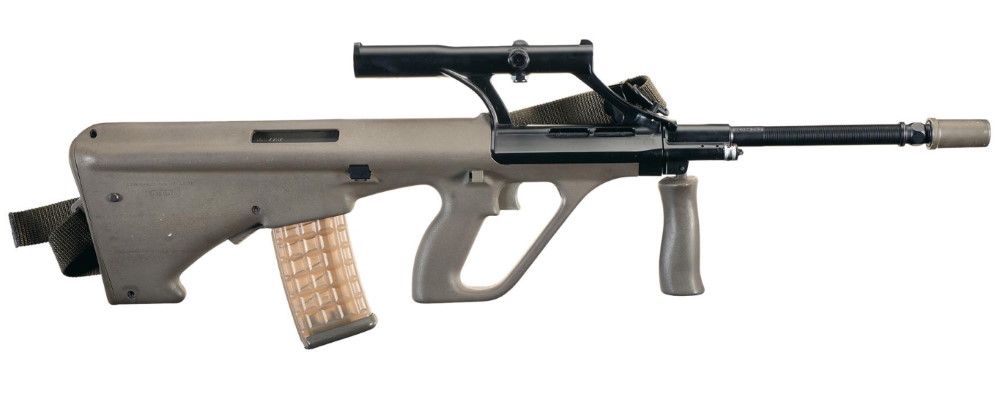 Chambered in 5.56mm (though .223 Rem is stamped on some models), the AUG is a battle-tested semi-auto bullpup that has earned its favor in the eyes of many. The AUG's full-auto military version is still used by armed forces and agencies around the world. It was designed in the '70s and adopted by the Austrian Army in 1978. The original Steyr AUG featured a 1.5x telescopic sight made by Swarovski which is kind of badass.
The AUG A1 was introduced in 1982, as an improved version of the original. There were some significant upgrades to the A1, And it has since become a part of Armed Forces and Special Forces around the world. With a 16" or 20" barrel to choose from, it's a small package which packs a serious 5.56mm punch.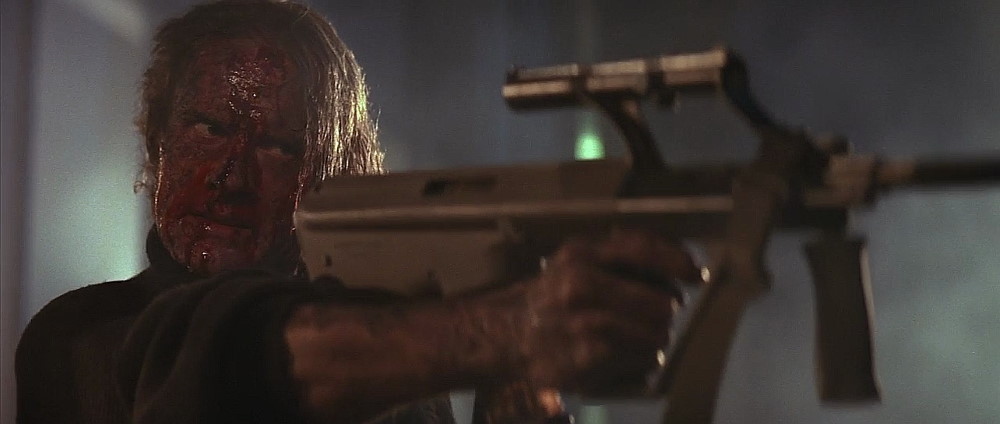 Specs
Model – AUG A1
Caliber – 5.56mm
Barrel Length – 16"
Overall Length – 29"
Weight – 7.3 lbs
Magazine – 9, 30, or 42 rounds
Safety – External, 3-position
Stock – Synthetic
MSRP – $1,685
Steyr AUG A3
The AUG A3 is a multi-purpose modular assault rifle. It can be reconfigured quickly and easily to accommodate variants and associated parts. The A3 has Picatinny rails for mounting scopes or devices, and like those which came before it, this weapon is used by forces all around the world. It's considered to be extremely reliable and ideal for close-quarters combat.
There is the option of buying the A3 with an original AUG carrying handle instead of Picatinny railing. Alternatively, there is the option of buying the standard A3, but with an attached UMS (universal military suppressor).

Specs
Model – AUG A3
Caliber – 5.56mm
Barrel length – 16.4", Interchangeable
Overall Length – 29"
Weight – 7.3 lbs
Magazine – 9, 30, or 42 rounds
Safety – 3-position safety
MSRP – $1,999
Steyr Scout Review
The Scout rifle is the name given to an all-purpose, often-scoped, bolt-action rifle. Former USMC Lt Col Jeff Cooper is the one who designed the original and coined the term, back in the 1980s. Steyr's Scout variant has been in production 'since the 1990s. It comes with an integrated folding bipod and includes a spare magazine in the butt of the rifle.
Chambered primarily in 7.62mm, it has been in service since 1999. It's one of the most versatile firearms Steyr offers. Sure, the AUG A3 has modular capabilities, but the Scout is built for a variety of purposes and scenarios – everything from hunting to defense to plinking can be achieved. As Scout rifles go, there are better ones than this variant by Steyr. Nevertheless, if you're in the market for an all-purpose rifle, consider giving it a shot.

Specs
Model – Scout
Caliber – 7.62mm
Barrel length – 19″ (Standard)
Overall Length – 38.6″
Weight – 6.6 lbs
Magazine – 5- or 10-round capacity
Safety – Manual safety
MSRP – $1699.00
Steyr M95 Review
The M95 – the full name is Mannlicher M1895, or Infanterie Repetier-Gewehr M.95 – was designed in 1895. It is a straight-pull bolt-action rifle. The superiority of the straight-pull mechanism – as opposed to the turn-bolt – has actually not been established. The fact is, if you train long enough with either one of these actions, using it will become a quicker and more efficient process.
This rifle was in production from 1896 to 1920. Approximately 3.5 million units were built and sold. The M95 played a part in several major wars, including both World Wars. The Austro-Hungarian militaries continued using these rifles after World War I, and by the time WWII rolled around it was being used less and less. The last recorded use of the M95 in a major war was in the Arab-Israeli war of 1948, but the use of the rifle continued well into the second half of the 20th century.

Originally, the M95 was chambered in 8.50mm. After 1930, many of the M95 rifles were converted to other calibers, notably 8.56mm and 7.92mm. Variants of the rifle include the short rifle, carbine, and sniper rifle. Some of these had bayonet lugs built into them, and some had to be fitted with lugs post-production.
Specs
Model – M95 (Long)
Caliber – 8.50mm
Barrel length – 30″
Overall Length – 50.1″
Weight – 8.3 lbs
Magazine – 5-round clip (internal magazine)
Safety – Manual safety
MSRP – N/A, prices vary according to seller/auctioneer
Steyr Zephyr II
A hunting rifle that can go head-to-head with the best of them. It's an upgrade from the original Zephyr, which was produced from 1955 to 1971. Currently available in .17 HMR, .22 WMR, and .22 LR, it is a bolt-action rifle with a lot of history. Nowadays, the Zephyr II continues to uphold the traditions of old and is an all-around favorite award-winning hunting rifle.

Specs
Model – Zephyr II
Caliber – .17 HMR, .22 HMR, .22 LR
Barrel length – 19.7″
Overall Length – 39.2″
Weight – 5.8 lbs
Magazine – 5-round magazine
Safety – Manual safety
MSRP – $1099
Steyr SSG 69
This is a bolt-action sniper rifle, produced by Steyr from 1969 to 2015. Officially titled Scharfschützengewehr 69 (Sharpshooter Rifle 69), it is still being used as the standard-issue sniper rifle for the Austrian Armed Forces and some of its law enforcement agencies. It is chambered primarily in 7.62 NATO, but there are also .243 Win and .22-250 Rem variants.
Specs
Model – SSG 69
Caliber – 7.62X51mm
Barrel length – 25.6″
Overall Length – 44.9″
Weight – 8.82 lbs
Magazine – 5-round magazine
Safety – Manual safety
MSRP – $1900
Steyr Pistols Overview
Steyr offered the A1 and A2 pistol series until recently, when production of the A1 series was officially stopped. Currently, the Steyr website is (understandably) pushing the A2 MF pistol series, but its online shop – and other retailers and shops – have a wider range of Steyr pistols to choose from.
Comparing Steyr's M series to the Glock is a given, seeing as how they are both Austrian-made, predominantly 9mm-chambered, polymer-based, striker-fired pistols. While the basis for comparison is certainly there, there is no comparing the popularity which Glock enjoys. Steyr is way older than Glock, but the former is the lesser-known of the two – as far as pistols are concerned – and that's putting it mildly. Then again, Glock never manufactured anything close to the AUG and its variants.
The A2 MF series includes Large, Medium, and Compact sizes in 9mm (as previously mentioned), with magazine capacity varying in accordance with the model. The A1 series has Large, Medium, Compact, and Subcompact sizes available on Steyr's website, all chambered in .40 S&W.
One thing which new Steyr shooters will probably have to get used to is the trapezoid/triangle sights which the pistols are equipped with. Once you get the hang of that configuration and are comfortable with the sight picture, you may find that it provides you with quicker target acquisition compared to two-dot, three-dot, or ringed sights. But once again, practice makes perfect.
Steyr M9 Review
The M-series of hammerless semi-automatic pistols started its run with the release of the short recoil 9mm gun, called the Steyr M9. The M9, like the rest of the M-series, was designed as a concealed carry weapon. The company's engineering team worked on it throughout the 1990s before it finally joined the ranks of the Steyr arsenal in 1999.
The M-series makes use of both internal and external safety mechanisms and is known for being reliable and action-ready. There is also a patented access-withholding system of locking the weapon. The M9 is thus named, because of its 9mm caliber.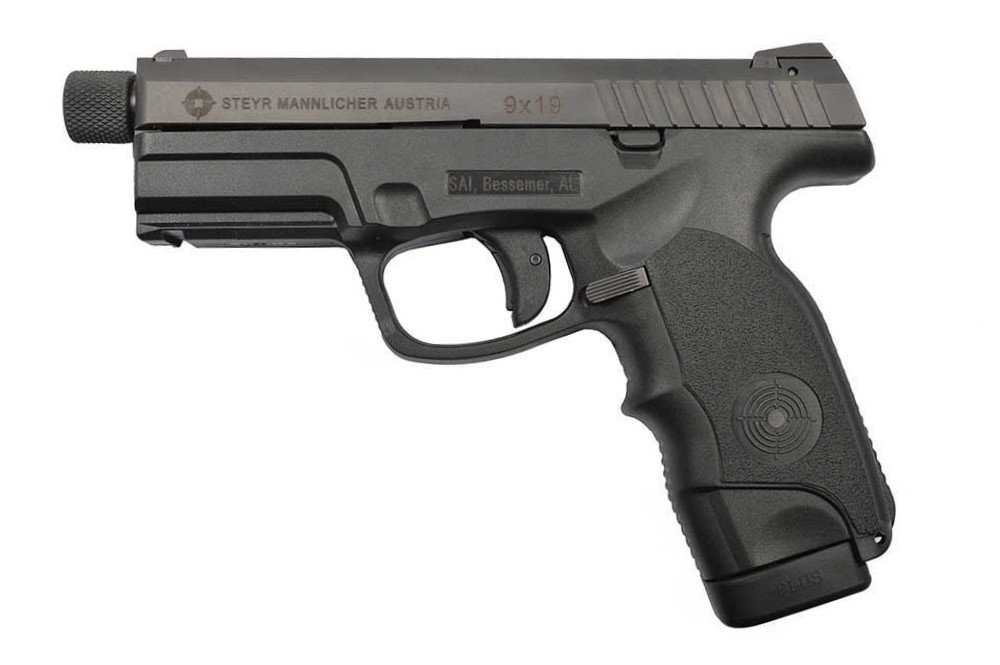 Around the mid-2000s, there was an upgrade with the M-A1 and M-S1 being released as "second generation M". Later on, in 2010, "third-generation" models were imported into the US after the weapons ban (which was in place for years) was lifted. These guns didn't sell particularly well but it helped solidify the Steyr name in the American firearms market.
Steyr has been making handguns since the late 19th century, and they are certainly giving Glock and the rest of the Austrian contemporaries a run for their money. These guns are available as large size, medium, small, and compact.
Specs
Model – M9-A1
Caliber – 9X19mm
Barrel length – 4.0″
Overall Length – 7.36″
Weight – 27.5 oz
Magazine – 17 Rounds
Safety – Trigger safety, drop safety, optional loaded-chamber indicator
MSRP – $675
Steyr M9-A2 MF
Available in 3 sizes (Large, Medium, Compact), this pistol is equipped with a 17-round magazine and a Picatinny rail for mounting optics or lights. The backstrap and side grips are adjustable, with a quick-change funnel in the grip. Changing a magazine is something easy which can become difficult under certain circumstances. Training a mag-change with wet or dirty hands is not essential, but highly recommended.
Specs
Model – M9-A2 MF
Caliber – 9X19mm
Barrel length – 4.0″
Overall Length – 7.4″
Weight – 27.5 oz
Magazine – 17 or 10 rounds
Safety – Trigger safety, drop safety, optional manual safety
MSRP – $675
Steyr GB
A 9mm pistol which was designed and produced in the 1980s, and has become quite the collector's item over the years. It was submitted to the U.S. after Steyr was requested to put in a bid for a new Army pistol. Despite the company's finest efforts, their double-action, blowback-operated, 18-round Steyr GB pistol did not manage to pass the trials and win the coveted U.S. Army contract.
Steyr then decided to double down and focus their efforts on the law enforcement and civilian side of things, in the hopes that the Steyr GB will be well-received. This, however, was not the case, and Steyr stopped production of the weapon in 1988.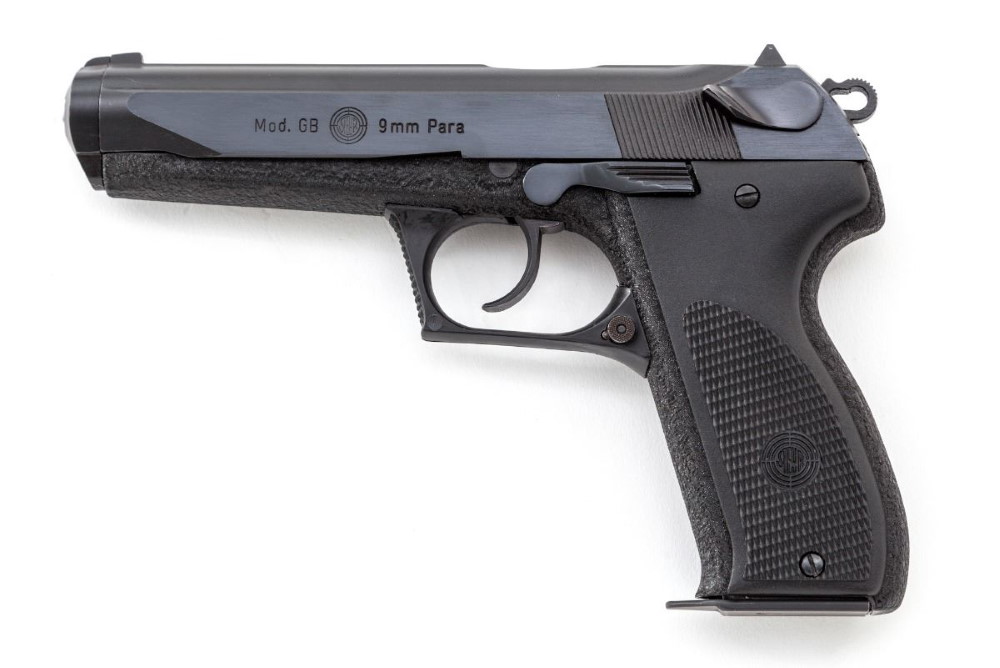 Specs
Model – GB
Caliber – 9X19mm
Barrel length – 5.3″
Overall Length – 8.5″
Weight – 1.8 lbs
Magazine – 18-round magazine
Safety – None
MSRP – N/A, prices vary according to seller/auctioneer
Conclusion
For hundreds of years, the Austrian city of Steyr has been at the forefront of weapons manufacturing in Europe. Ever since Steyr Arms was established, it's been a symbol for quality and battle-proven ruggedness. Its rifles and pistols have been used by civilians, law enforcement agencies, and armed forces all around the world, including Special Forces.
Steyr Arms is still going strong, inside and outside of Europe. It might not be as well-known as its Austrian rival, Glock, but it has its AUG glory days and its long history of weapons manufacturing besides. And speaking of glory, the AUG certainly received a fair amount of that after being featured in Die Hard.
"Do you really think you have a chance against us, Mr. Cowboy?"