Heckler and Koch (HK) is one of the world's most popular weapons manufacturers and have been ever since their inception nearly 70 years ago. In addition to arming civilian and competition shooters across the globe, the German firearms producer is one of the leading suppliers of small arms and light weapons for the world's militaries and law enforcement.
In fact, H&K guns reportedly kill one person every 15 minutes! These weapons are so widespread that you'd have to search high and low from Albania to Uruguay and nearly everywhere in between to find a country without government-issued HKs.
One of the many things that make this German company so special is how they have strategically diversified over the years. Besides for staying current with cutting-edge technology, HK has kept a close eye on the market to determine both what's in style and what's in demand.
Consequently, Heckler & Koch currently manufactures all kinds of weapons including pistols, assault rifles, training systems, grenade launchers, and precision rifles. Furthermore, in order to keep quality-control up and operating-errors down, they've made huge strides in keeping all their production in-house.
Thanks to the world-renowned German engineering, it's no wonder why Heckler & Koch's products are so admired. But don't kid yourself, H&K is no fluke; the German firearms community hosts industry greats like Sig Sauer, Walther, and German Sport Guns GmbH. I've been a fan of H&K for years now so when I got the opportunity to attend the Great American Outdoor Show in Harrisburg and speak to some representatives directly, I jumped on it.
I was thrilled to get up close and personal with HK, especially knowing their tendency for yearly innovation. You may know the name, but do you know the story? This is the Gunivore Company Overview of Germany's very own Heckler and Koch.

Heckler and Koch History
Although H&K currently holds a position among the world's most successful firearms manufacturers, it wasn't always a bed of roses (sauerkraut?) for the Oberndorf-based gun maker. As a matter of fact, HK only got their start as a result of the fall of the German Reich at the end of World War II. Looking back to pre-war Germany, the European powerhouse was home to several major arms developers, particularly Mauser.
However, as the war was ebbing away and Germany was being ransacked, the French made sure to pencil Oberndorf into their busy schedules. The French actually grew a pair and essentially leveled this small southeastern town and its major arms factories.
What was once a major hub of German weapons development was left with very little to be reclaimed. Nevertheless, three Mauser engineers managed to escape and salvage a few blueprints and machines and ultimately lay the groundwork for HK. As three of the top engineers for a company known for their innovative bolt-action rifles and semi-automatic pistols, these men were more than capable of revitalizing the German weapons industry.
So in 1949, Edmund Heckler, Theodor Koch, and Alex Seidel began producing small parts for things like household appliances and bikes.
However, it didn't take long for the firearm business to take off, especially after the shock and anger from the 'premature' demise of the Thousand-Year Reich. If these three were committed to producing the best for the Nazis Empire, imagine how much more dedicated and zealous they were to rebuild the German regime after the war.

Nevertheless, H&K took on a contract in 1955 to supply the West German Bundeswehr with their G3 Infantry Rifle. This lucrative deal enabled the still-small arms company to really expand their products during the 1960's and 70's. In fact, it was during this period that they designed the revolutionary HK21 machine gun which has been used in action all over the world (including by the Navy Seals in Vietnam).
Similarly, this era of innovation was also when the German company began building machine pistols. By the end of the 60's, H&K released their defining firearm, the MP5 machine pistol, which is still in use around the globe.
This crucial, foundational stage for HK didn't go unnoticed; in truth, the late-70's saw a major boost in investments and overall growth for the firearms developer. Besides for their successful military weapons, HK expanded their business like crazy over the next two decades.
Nonetheless, not even two decades of success could keep them from succumbing to the troubles of Cold War Germany. In the end, they lost contract after contract until 1991, when they were forced to sell to Royal Ordnance, a subsidiary of British Aerospace (now BAE Systems).
While this period saw some of HK's greatest inventions, including the G36 and P8, it only lasted about 10 years until it was sold to a group of private investors in Germany. After first separating the company into Defense/Law Enforcement and Sporting Firearms divisions, the new Heckler and Koch skyrocketed into the global market. Besides for finally reaching the American civilian market, HK also earned several world-class contracts including one with the U.S. Army and one with the Dept. of Homeland Security.
Currently, H&K is one of largest suppliers of firearms across the globe, so much so that it's hard to find a single world conflict without HKs all over the place. While this remains true, the company founded by ex-Nazi Engineers seems to have grown a conscience, or are at least trying to pretend.
Towards the end of the summer, the German company announced that they would no longer be marketing weapons to non-NATO and EU countries. But if you look a little deeper, HK actually said that they will still sell firearms to what they call "Green countries". To be a "Green" country, one must either be a NATO member or "NATO-equivalent country" (whatever that means) as well as score well on both the Transparency Int'l corruption index & the Economist Intelligence Unit's democracy index.
So while they have been accused of several times of trafficking arms to 3rd world countries, they will officially no longer sell weapons to Egypt, Turkey, Israel, Saudi Arabia, or any African nation. While it's still too early to determine whether or not their motives are altruistic, it'll definitely take a toll on their global revenue.
Well there you have it; Heckler & Koch went from a devastated post-war Germany to one of the industry's leading arms dealers, constantly pushing the envelope every step of the way. Now that we know HK better, it's time that we take a closer look at their impressive catalog.

Heckler and Koch Pistols
Having owned an HK45 and P30SK I can personally attest to the superb quality of H&K's line of handguns. While Heckler and Koch have become known for their military weapons, many of their pistols have become mainstays in the commercial market including the HK45, P30, SP5K, P2000, and USP.
My father always believed that it was better to favor accuracy and control over power and he drilled that belief into me. As a result, I never really developed a love for the formidable .45 caliber but that all changed when I found the HK45 and Walther PPQ 45. These two guns prove that with the help of modern technology, powerful weapons are easier than ever to handle.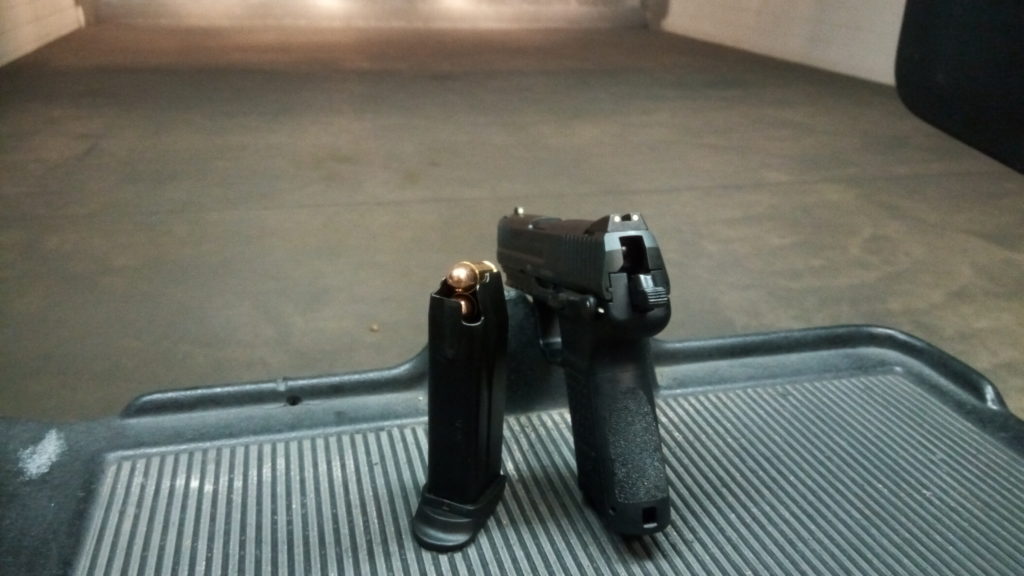 Once I got a hold of an HK45 and spent some time with it at the range, I fell in love instantly. While HK used their popular USP as the base for their new forceful handgun, they added several tremendous features to boost their ergonomics and overall handling. When I first shot the HK45 I was legitimately shocked how easily it was to control.
At this point, I realized how unique it was to have the incredible power of a .45 with the handling of a 9mm. Additionally, they added interchangeable ergonomic backstraps, a Picatinny rail, and ambidextrous controls to sweeten the deal even more. I highly recommend checking out the HK45 – you won't be disappointed.
Model: HK45
Caliber: .45 Auto
Capacity: 10+1
Barrel Length: 4.46"
Overall Length: 8"
Height: 5.9"
Width: 1.5"
Weight: 25 oz. (Unloaded)
MSRP: $1,099.99
Heckler and Koch's most iconic firearm has got to be their MP5 and civilians who're looking to get their hands on one should check out the SP5K. Like the MP5, the SP5K is a full-length 9mm pistol that is both highly-concealable and wickedly accurate. Because of its shortened receiver, barrel, bolt mechanism, and cocking handle, the SP5K is a great personal defense weapon (PDW) comparable to the Israeli Uzi.
Considering its unique shape and size, many users may lack the necessary control that's required for peak performance; as a result, H&K hooked up a comfortable and tactical shoulder sling. Besides for offering a less fatiguing shooting experience, the removable sling noticeably improves accuracy and concealability. Overall, the SP5K promises exceptional controls, beautiful aesthetics, and an undeniably reliable performance – get yours today at your local HK dealer.
Model: HK SP5K
Caliber: 9mm
Capacity: 30
Barrel Length: 4.5"
Overall Length: 14"
Height: 8.7"
Width: 2.4"
Weight: 4.2 lbs. (Unloaded)
MSRP: $2,699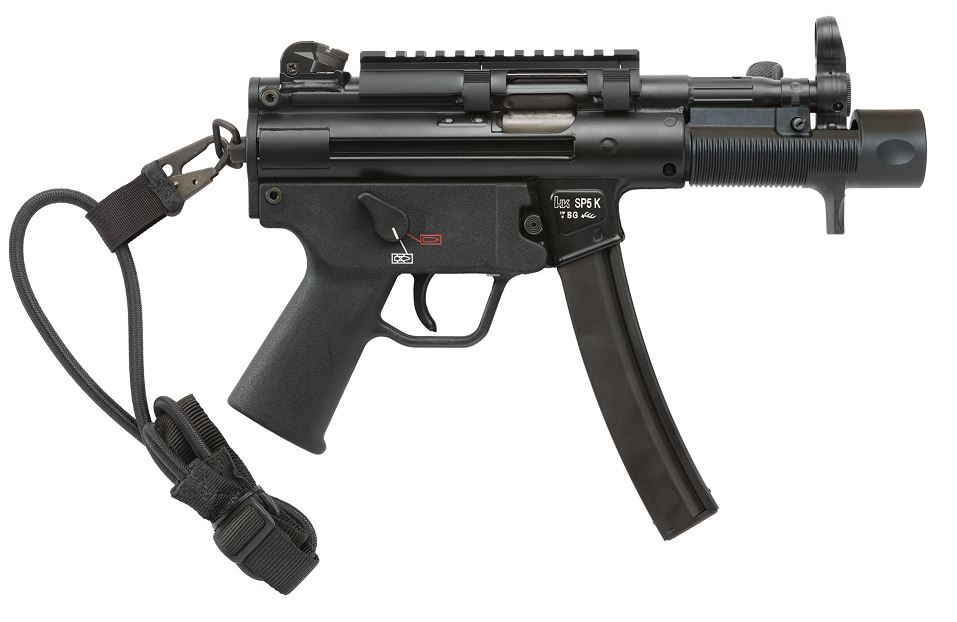 Heckler and Koch Rifles
Although the majority of H&K's long arms are shipped to federal law enforcement agencies and global militaries, they do market a few civilian options. HK has earned a reputation for excellence and innovation in large part due to their revolutionary HK416 carbine. With the hopes of replacing the M4/M16 as the next rifle for global militaries, the German firearms manufacturer utilized their reliable, proprietary gas piston system for this rifle. Plus, with their free-floating 4-quadrant rail system surrounding their cold hammer forged barrel, these are some seriously remarkable and sexy weapons.
Model: HK416 A5
Caliber: 5.56 x 45mm NATO
Capacity: 10/20/30
Barrel Length: 11"
Overall Length: 27.9" – 31.7"
Height: 9.4"
Width: 2.9"
Weight: 6.9 lbs. (Unloaded)
MSRP: ?
The next firearm we have is arguably the most iconic military assault rifle in the world, the HK G36 Weapon System. Besides for its universal presence, the G36 is known for being one of the most modular rifles in the world. Furthermore, the German assault weapon also has a reputation for being exceptionally user-friendly, lightweight, and low maintenance.
Nevertheless, after serving the German military for nearly 20 years, the G36 looked like it had seen its time to shine come to an end. In fact, after studies were released indicating that the rifle was extremely inaccurate during prolonged firefights, the German Defense Ministry halted new orders of the firearm. Since the G36 has such a huge fan base, these results sent shockwaves across the globe.
Nonetheless, while Berlin confirmed that the G36's pencil barrel produced inaccurate shots in hot environments or after rapid-fire, HK was steadfast in their denial of these claims. Whereas the relationship between the German government and their top arms producer was once unbreakable, the two parties have since battled it out in several bitter lawsuits. At the end of the day, the German courts ruled that HK did not owe the government any compensation for their fault G36s.

Model: HK G36
Caliber: 5.56 x 45mm NATO
Capacity: 30
Barrel Length: 19"
Overall Length: 29.7" – 39.4"
Height: 12.7"
Width: 2.6"
Weight: 8 lbs. (Unloaded)
MSRP: ?
If the G36 still appeals to you, H&K does offer the HK243 S SAR as a civilian variant to the Bundeswehr service rifle. Assuming that this model doesn't suffer the same issues as its military equivalent, the SAR looks to be an excellent sporting rifle boasting top of the line features and components.
Model: HK243 S SAR
Caliber: .223 Remington
Capacity: 10
Barrel Length: 16.6"
Overall Length: 26.3" – 35.9"
Height: 9.2"
Width: 2.5"
Weight: 7.1 lbs. (Unloaded)
MSRP: Approximately $1,800
One of the most underrated HK rifles is the MR556A1 with its highly-accurate, completely modular, and reliable performance. In order to improve on the faults of the past, H&K got rid of the chrome-lined barrel, adopted the gas piston operating system, and incorporated a precise two-stage trigger. Though the MR556 is a solid firearm on paper, it has remained unpopular due to its outrageous price tag.
Model: HK MRR556 A1
Caliber: 5.56 x 45mm NATO
Capacity: 10+1
Barrel Length: 16.5"
Overall Length: 33.9" – 37.7"
Height: 7.5"
Width: 2.9"
Weight: 8.6 lbs. (Unloaded)
MSRP: Approximately $2,786
HK Other Products
Besides for providing civilians, law enforcement, and militaries around the world with their impressive firearms, HK also manufactures a wide variety of accessories and assorted aftermarket options. In addition to sights, stocks, and rails, the German arms producer also has a pretty nice collection of suppressors, knives, slings, swivels, magazines, grips, and barrels.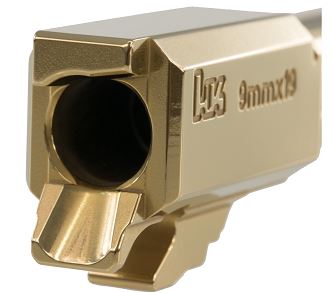 While this is an important facet of their business, people keep their eyes on Heckler and Koch because of their propensity for innovation. In fact, they have been at the forefront of weapons technology since their inception nearly 70 years ago. In point of fact, HK was responsible for inventing and incorporating some of the most revolutionary firearm technology including the modern polygonal rifling and usage of polymers. But make no mistake, these innovations are no accident – Heckler and Koch dedicate around 4% of their yearly revenue into their R&D department.

Heckler and Koch Future
Although the past few years have been tough for H&K, most experts agree that the future still looks bright for the German arms developer. While they are constantly looking to improve on their already-impressive line of weapons and military technology, HK has funneled millions of dollars into expanding their factories.
For example, the now-international company opened up a new facility as recent as 2010 and also revamped several of their older facilities with state-of-the-art machinery. Overall, very few weapons companies can claim to have influenced modern warfare as much as HK.
Thanks for reading the Gunivore HK Company Overview –
We hope you enjoyed!