Table of Contents
I've recently been on a journey with Walther Arms, going through their impressive collection of firearms to see if they actually live up to their remarkable reputation. After a less than extraordinary experience with the PPK, I had a blast shooting the PPQ and PPS, so I was excited to finally get my hands on their most recent development, the 9mm Creed. The German firearms producer is known for manufacturing some of the best products in the handgun industry, so my expectations were high, but the Creed's surprising price-tag kept me on my toes.
Walther utilized their decades of expertise and modern, cost-cutting engineering techniques to keep their newest CCW affordable, at a modest $399. Furthermore, they chambered the new carry pistol in the most affordable centerfire defensive caliber around, 9mm. So let's get down to business – This is the Gunivore rundown of the popular Walther Creed!

Walther Creed Specs

Model: Walther Creed

Caliber: 9mm

Capacity: 10+1 or 16+1

Barrel Length: 4"

Overall Length: 7.3"

Height: 5.6"

Width: 1.3"

Weight: 26.6 oz. (Unloaded)

Sights: 3-Dot Polymer

MSRP: $399.00

Walther Creed

Walther Creed Build
From top to bottom, Walther's newest double-action-only pistol screams modern innovation. Nevertheless, the iconic German weapons manufacturer opted for a hammer-fired design as opposed to the more common striker-fired. Though, to keep it as concealable as possible, they stuck the hammer almost entirely under the rear of the slide, practically eliminating any potential snags. While it's definitely not the smallest Walther carry pistol, it is still worthy of your consideration.
After spending some quality time with several of the handguns in Walther's catalog, I got the impression that the Creed was a Frankenstein pistol of sorts, combining some of the most popular features from their entire array of firearms. Like most of Walther's new CCWs, the Creed was given non-slip, cross-directional grips that are right above average; but where the grip surface lacks, the grip size and angle pick up the slack.
Also, while nothing extraordinary, their 3-dot low-profile sight systems are more than satisfactory, plus they are adjustable for windage. On an aside, I'm not sure why Walther chose to go with metal sights compared to the polymer sight systems on some of their other guns, like the PPQ 45 – I guess that's just another way they were able to keep it a price point pistol.
I've learned to pay close attention to Walther's slides, and I found the Creed's to be way above average. While the new DAO pistol has front and rear cocking serrations on its non-slip surface, they do more for user-friendliness than any other Walther on the market. Additionally, besides for sticking with their popular extended slide stop lever, they also went with an American-style ambidextrous magazine release (thank God!).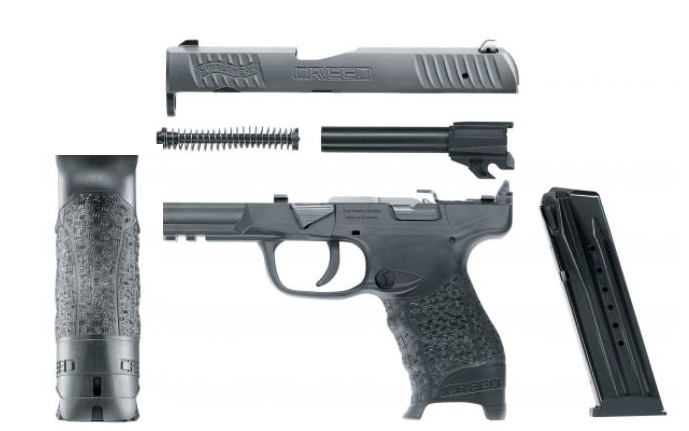 Lastly, we have two features which Walther fans love to brag about. In addition to keeping with their reliable and easy to manage 3-safeties (two drop, one firing pin block), the German firearms company succeeded in making an even more impressive trigger (see their P22). To take their renowned trigger technology a step further, Walther relied on a pre-cocked double-action-only trigger to run the Creed's hammer, ultimately providing a smooth as silk pull. In fact, it's almost unheard of to find such a crisp trigger on an economic firearm, but the Creed's pull is equally smooth and consistent from shot to shot.
If the Creed's price-tag causes you to doubt its overall quality or durability, the countless pleased customers say otherwise. In addition to its reinforced polymer frame, the Creed was given a resilient, corrosion-resistant, Tenifer-coated matte finish, so rest assured.
Walther Creed Performance
Before I get into the details of the Walther Creed's performance, I should let you know that I was using a used model, so I can't address its need to be broken in. My buddy supplied the Creed and I supplied the Remington HTP 115 grain JHP rounds. Designed as an economic defensive carry pistol, Walther's newest innovation is hard to believe. Not only did they give it an incredible trigger, user-friendly controls (including its slide), and an intuitive design, the Creed is also no slouch when it comes to accuracy. Although it is a bit recoil-sensitive to heavy high-pressure ammo, it's got decent control even with rapid-firing.
You may also be interested in our Suppressor Overview, Asian Firearms Rundown, Biggest Myths about Guns.
Walther Creed Magazines
Believe it or not, but the magazine/capacity of the Walther Creed is actually one of its most outstanding features. With the help of remarkable German engineering, the Creed manages to chamber a 16-round mag in 1.3" wide & 5.6" high frame. Just think about that – It comes out that the new Creed is one of the best CCW options in its class, at least on paper. With a concealable, lightweight build, sixteen 9mm rounds, an excellent trigger, and the Walther reliable reputation, I can't see what's not to like. As an added bonus, Walther enabled the Creed to hold PPX magazines, so spare mags should be easy to come by. Lastly, if you take a closer look, you'll see that Walther trimmed the grip's baseplate which gives the semi-auto surprisingly comfortable handling. Overall, it was really nice to see them manufacture an economic firearm without cutting any corners.

Walther Creed Accessories
I was trying to figure out how exactly they managed to get the Creed down to under $400 when it didn't really seem like anything was missing. At the end of the day, the only clear feature Walther excluded was interchangeable backstraps, which isn't such a big deal, all things considered. Plus, with the addition of a Picatinny rail, they still offer plenty of aftermarket accessory options. If you're the kinda shooter who likes a laser sight, then you can't really go wrong with a LaserLyte, and in this case, I'd recommend hooking up the straightforward Gun Sight Trainer Universal Rail Mount ($110).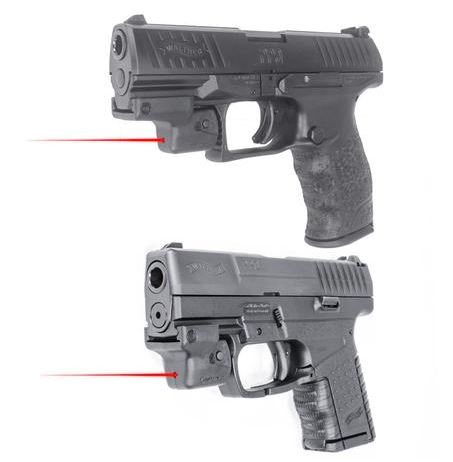 Conclusion
All things considered, while the Creed won't be winning any competitions, it is still an exceptional choice for an affordable concealed carry weapon. I remember how much hype there was at SHOT Show about Walther's new concoction, and the legendary company did not disappoint. In giving the Creed top-shelf features without charging a top-shelf price, don't be surprised to see more and more of these around in the coming years – Pick yours up today at your local Walther dealer.
If you liked the Creed then consider the S&W SD9VE, Beretta PX4 Storm, and the Taurus Millenium G2.