Table of Contents
Concealable carry weapons (CCWs) are the fastest growing market of firearms, and with their soaring increase in popularity, gun manufacturers have been trying to capitalize on this by delivering better products each and every year. Kahr Firearms, one of the more recent American weapons developers, is targeting this demographic with growing success. What started as a small company, Kahr has developed into one of the premier producers of CCWs.
In today's Gunivore review, we're gonna be taking a look at the Kahr CW40 (Value Series) and see what makes it so special. Although we've already covered CW40's brother – the CM40 – in a previous article, the smaller .40 S&W Kahr will definitely come up in this piece too.  
Although not as impressive as their Premium Series, Kahr's Value Series is full of powerful and resilient CCWs. The American company kept many of the favorite features of the premium features with their Value guns, but reduced production costs by shedding some of the "extra" designs and abilities. I love the fact that I don't feel like I'm sacrificing any power just by choosing a subcompact pistol.  For an in-depth analysis of the legendary .40 S&W cartridge check out our guide to this American classic here.
Before we begin, I highly recommend checking out our rundown on the entire Kahr Firearms Company just to get a glimpse of the past, present and future of this feel-good American success story.
Kahr CW40 SPECS
Model: CW40

Kahr CW40

Caliber: .40 S&W

Capacity: 6+1

Overall Length: 6.36"

Barrel Length: 3.6"

Height: 4.62"

Slide Width: .94"

Weight: 16.8 oz. (unloaded)

Sights: Drift adjustable white bar-dot combat rear sight, pinned polymer front sight

Finish: Black polymer frame, matte stainless steel slide

MSRP: $449.00
Kahr CW40 BUILD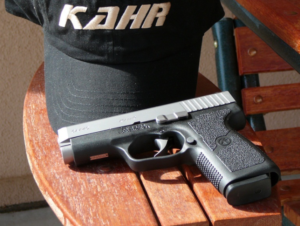 Like all Kahrs, the CW40 has a remarkably slim build; however, it is still bigger than the average Value Series pistol. Measuring in at about 6 ½" long, 4½" tall, and less than 1" wide, these single-stack handguns are a great choice for concealed carrying. Nevertheless, if you're looking for the same power and control of the CW40 but in a smaller form, check out the Kahr CM40.
However, don't let the diminutive size of the CW40 fool you into thinking that it's junk. Kahr manufactured their pistols, even in their Value Series, with tons of durable components. Starting from the bottom, they gave these .40 S&W semi-autos stainless steel mags and slides and even added an all-metal magazine catch. Moving upwards, Kahr's CCWs were given solid, crisp pulling 7 lb. tungsten-finished triggers. Lastly, the CW40 also features steel inserts integrated in its polymer frame for added strength and resilience.
A great way to gauge the CW40's quality is by comparing it to its premium version. The Value Series guns were built with a MIM (metal-injection-molded) slide stop lever, as opposed to the machined ones on the Premium Series. Although not as impressive, this cost-cutting feature won't significantly alter your CCW's performance or durability. This component can be seen clearly on the sleek and sexy matte finished, 416 stainless steel slides of the CW40s. Another major difference between the Value and Premium Series is the conventional rifling incorporated into the former. Although slightly less accurate than the match-grade polygonal rifling in the Premium Kahrs, the Value Series pistols are shockingly precise.
Kahr CW40 PERFORMANCE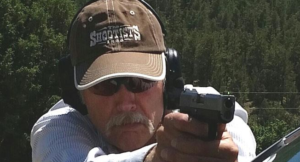 I generally don't prefer CCWs this small because I tend to have trouble handling them with my big hands. Nevertheless, the texturized and stippled Pachmayr tactical rubber grips on the CW40s felt pretty good. I found the CW40 to be manageable especially considering its high power caliber. The added size of the CW firearm compared to the smaller CM version makes a huge difference in control, ergonomics, and overall performance.  
The point and shoot ability on the CW40 is very impressive; the solid 7 lb trigger, wind-adjustable white bar-dot combat sights, and lightweight polymer design offer a truly safe and pleasurable experience. Additionally, to further guarantee an easier shooting experience, Kahr engineered an offset barrel which raises the shooter's hand closer to the centerline of the bore. In addition, the Value Series pistols also have noticeably reduced recoil and muzzle flip, which is no small feat for such a powerful cartridge.
One of the most notable features on Kahr's pistols is their many game-changing patents incorporated into all of their products. The CW40 includes their notable cocking cam-trigger system which both unlocks the firing pin block (passive safety) and completes its cocking and release of the firing pin. This Kahr-defining patented operation provides a "safe-cam action" and an astoundingly smooth double-action only trigger stroke. This attribute makes Kahrs great for carrying since they are faster and safer than your average CCW.
Cylinder & Slide Upgrades For The Kahr CW40 Pistol https://t.co/cxGiFWOaFW pic.twitter.com/efkJSFWWdW

— PersonalDefenseWorld (@PersonalHomeDef) March 1, 2016
Kahr CW40 MAGS
The single-stack Kahr CW40 ships with one, 1.9 oz. six-round mag made from highly durable and corrosive resistant 400 Series stainless steel. These American-made magazines are plasma welded and tumbled to remove burrs and excess material. To keep them durable and efficient, Kahr integrated Wolff Gunsprings and even gave them a flush baseplate
Kahr CW40 HOLSTERS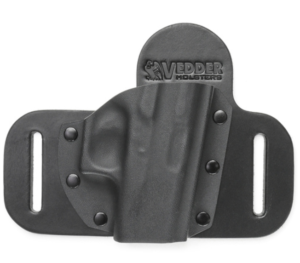 As compact CCWs, it's crucial to invest in a good holster for your Kahr CW40. These semi-autos are no-nonsense guns, so it's important that you invest in a no-nonsense holster to match; luckily, there are nearly endless options available.
Although there may be more well-established holster designers out there, it's one up and coming company that really impresses me. AlienGear Holsters has an incredible selection of affordable and stylish options for nearly all CCWs. Considering the CW40's larger build, I recommend their Cloak Mod OWB Holster. Better yet, check out their deal where you can save money when you add a convenient magazine carrier.
Another great manufacturer is Vedder Holsters. These holsters may be more expensive, but their quality is definitely worth the extra cash. Check out their Rapidtuck and Quick Draw OWB holsters on their website, for great options for the CW40.
Kahr CW40 PROBLEMS
I should warn you that the double action only trigger which pulls at a heavy 7 lbs. could be a deal breaker for some shooters. However, it didn't bother me at all; in fact, I was a big fan of its predictable break and crisp pull.
The most notable "issue" with Kahrs is that they MUST be broken in before you can rely on them for protection. I recommend firing at least 200 rounds or so and that should mitigate any further problems.
Fortunately, even if you do experience quality problems with your Kahr, their customer service is top-notch and fast!
Kahr CW40 vs. GLOCK 26 & SHIELD 40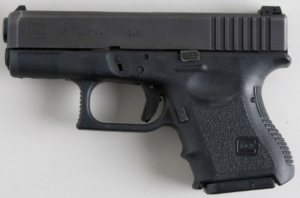 Choosing Kahr over more established manufacturers is no easy task, so let's see how they compare against some of the greats. The Kahr CW40 is comparable to the Glock 26 and the Smith & Wesson Shield 40, but can the CW hold a candle to these classics?
Although these guns are all compact CCWs, there are a few clear distinctions in their size to consider. For instance, while the Kahr and S&W are the same height, the Glock is significantly shorter. And while this may appeal to some shooters, I'll take the extra height and the better grip any day over a shorter build. Additionally, the CW40 is a tad longer than the Glock and S&W, but is still lighter!
In terms of overall quality and reliability, the Shield 40 and Glock 26 are probably better than the Kahr, but that's not all that matters. For example, the CW40's accuracy is unmatched by these other guns, and that's not something to overlook.
All things considered, since these three pistols are pretty comparable in size, price, and quality, I would opt for the Smith and Wesson. M&P pistols are as reliable and durable as they come and you just can't beat S&W's unrivaled reputation.
Kahr CW40 vs. CW45
Kahr CW45

Model: CW45

Caliber: .45 ACP

Capacity: 6+1

Overall Length: 6.32"

Barrel Length: 3.64"

Height: 4.8"

Slide Width: 1.01"

Weight: 19.7 oz. (unloaded)

Sights: Drift adjustable white bar-dot combat rear sight, pinned polymer front sight

Finish: Black polymer frame, matte stainless steel slide

MSRP: $449.00
If the size and power offered by the Kahr CW40 isn't doing it for you, consider upgrading to the CW45. For the same price, this CCW is slightly bigger in all major dimensions and packs a wicked punch with the .45 ACP ammo.
CONCLUSION
The Kahr CW40 and CW45 are all-around great guns to own. These American firearms are not only fun to shoot, but also fantastic choices to carry. As super-compact CCWs, the CW40 and CW45 are highly accurate, comfortable to handle, and affordable weapons.