Table of Contents
If you haven't had the opportunity to try a KRISS Vector, you don't know what you're missing! Although these firearms are arguably some of the most unorthodox in design, this has enabled them to be among the most recognizable on the market. Furthermore, by utilizing this unique construction, the Vector is capable of some very special things, but more on that later.
Because the Vector is not just one gun, but rather a small series of firearms based on the same platform, we'll be discussing all of them in this Gunivore breakdown. KRISS USA (formerly known as Transformational Defense Industries) developed their Vector series back in 2008 and it has been soaring in popularity ever since. So let's just right down to business – Welcome to the Gunivore review of the unusual, unparalleled, and unstoppable KRISS Vector Series. 
KRISS Vector Spec Sheets
Caliber: 9mm, 9x21mm, .45 ACP, 10mm, .40 S&W, .357 SIG

Capacity: 10+1, 13+1, 15+1, 17+1

Barrel Length: 16" (A few 18.6" models available)

Overall Length: 35.25" – 40.1"

Weight: 7 lbs.  

Finish: Matte Black, Cerakote

MSRP: $1,499 – $1,619
Caliber: 9mm, 9x21mm, .45 ACP, 10mm, .40 S&W, .357 SIG

Capacity: 10+1, 13+1, 15+1, 17+1

Barrel Length: 5.5"

Overall Length: 16.75"

Weight: 6 lbs.

Finish: Matte Black, Cerakote

MSRP: $1,349, $1,369
Caliber: 9mm, 9x21mm, .45 ACP, 10mm, .40 S&W, .357 SIG

Capacity: 10+1, 13+1, 15+1, 17+1

Barrel Length: 5.5"

Overall Length: 24" – 27.25"

Weight: 6 lbs.

Finish: Matte Black, Cerakote

MSRP: $1,549, $1,569
Kriss Vector Build & Construction
KRISS USA proudly states that "Power is pointless without control", and it was with that truth in mind that they produced the Vector Series. In fact, these highly-versatile tactical firearms are basically in a league of their own where very few other weapons can compare. Much of their success and overall praise is a result of their exceptional and distinctive design. In point of fact, the KRISS Super V was voted as the best "close quarters combat weapon" by The Military Channel's Ultimate Weapons program.
Although the three Vector weapons were all built on the same platform, there are a few key distinctions between them, which we'll highlight here. First, let's get to know the Vector Series as a whole. When I say that the Vector is unorthodox, I really mean it! These KRISS modern marvels are all constructed around the innovative Super V Recoil Mitigation System, which gives these guns insane handling. Simply, this unique style of gunsmithing technology redirects the recoil energy downwards instead of back into the shooter. Similarly, by utilizing an incredibly low bore axis, the residual perceived recoil is essentially dispersed instead of directly hitting the shooter in a concentrated area. Statistically speaking, the Super V Recoil Mitigation System is reported to lower felt recoil upwards of 60% and muzzle climb up to 95%!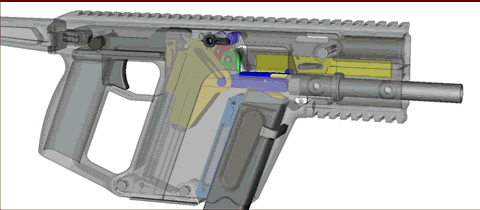 One of the most popular features on these tactical weapons is their ease of use, especially in terms of its simple takedown and caliber interchangeability. By connecting the receivers with straightforward pins, the KRISS Vector can be fieldstripped in seconds. Additionally, by simply switching the lower, users can quickly change between a wide-variety of calibers including 9mm, .357 SIG, .40 S&W, and .45 ACP.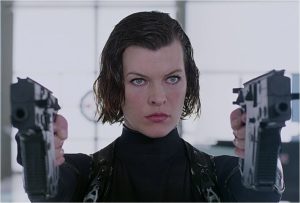 When designing the Vector Series, KRISS USA looked to the iconic AK-47 to keep it easy to fieldstrip and clean, highly reliable, and supremely durable. For example, to keep their premier firearm as user-friendly as possible, they opted for a non-reciprocated charging handle that is surprisingly intuitive. Nonetheless, it may take a few mags to get the hang of it. Likewise, the American arms company incorporated a bilateral thumb safety with a short throw, conveniently positioned just above and to the rear of the trigger.
Another feature that the entire series share is their game-changing Picatinny rails. In addition to their full-length top MIL-STD 1913 accessory rails, these tactical beauties also boast a super-convenient lower rail. As a side note, to give their firearms a boost in durability and a touch of modern aesthetics, KRISS utilized high-grade polymers and Cerakote finishes. Even better, the American gunmaker offers them in a variety of colors including flat dark earth and Alpine White.
Now, focusing on their minute differences, the Special Duty Pistol Vector is the clear standout. Besides for its overall size difference, these KRISS guns were built with QD Sling Swivel end pieces as opposed to the tactical stocks on the other models. While the Short Barrel Rifle Vectors were outfitted with sweet telescopic folding stocks, the Carbine KRISS comes in your choice of fixed or M4-style stocks. Likewise, the CRB was also built to be multi-state compliant, so be sure to check your local laws before buying this Vector. On the other side, both the SBR and SDP were designed with threaded muzzles for easy suppressor attachment.   
All things considered, these tactical masterpieces look like weapons straight out of a sci-fi flick. But at the end of the day, performance is really what matters, so let's find out how well the Vectors do in practice.
KRISS Vector Magazines
One of the unique aspects of the KRISS Vectors is that they feed from Glock detachable box magazines. Considering the Vectors were designed to chamber mags from one of the most reliable and popular brands on the market, they work seamlessly in concert with Glocks by their sides. Consequently, it makes sense why more and more global militaries and law enforcement have decided to equip themselves with KRISS firearms. In fact, they offer selective-fire variants of the SBR and CRB for these markets, with semi-auto, full-auto, and two-shot firing abilities.   
On the subject of Glock, Check out our review of the new 17 & 19 Gen 5 models.
KRISS Vector Performance & Shooting
If you couldn't tell already, the KRISS Vector Series offers one of the most pleasurable and user-friendly shooting experiences in the industry. While much of this is due to their revolutionary Super V Recoil Mitigation System, KRISS added several other performance-enhancing features throughout these guns. For example, if you take a look at the fore-end of the Vectors, you'll see highly-texturized grip surfaces that tremendously boost control.
Whether shooting semi-auto, two-shot, or full-auto, the KRISS Vectors are insanely easy to control. This means that when firing one of these tactical weapons you can expect peak performance and ridiculous accuracy. For the best results, the KRISS is most effective between 80 and 150ft. Let me make that clear, that even in full-auto, you can expect incredible control and accuracy. While some original full-auto models have been said to fire up to 1,500 rounds a minute, most current versions of the submachine gun can't hit above 1,100.
KRISS Vector Accessories
Although the KRISS Vectors come pre-equipped with flip-up Magpul MBUS sights, most users tend to make better use out of the Picatinny rails. That being the case, it'd be wise to invest in some solid optics. On the other hand, the Vector would be incomplete without a foregrip, at least the CRB model. Nevertheless, as tactical superstars, many folks want a laser or flashlight too, so how can someone possibly configure the Vector the most effectively?
Because adding an optic is so vital, I think most people would agree with me that it's best to utilize the top rail with a solid optic. That being the case, I really like the Trijicon RMRs and the Bushnell Trophy TRS-25 Red-Dot Sight. I know there are so many other great choices out there, but you just gotta go with what feels right.
When hooking up accessories to the bottom rail of a Vector, we run into the age-old problem of picking between a foregrip, laser, or flashlight. While there are plenty of combo sights out there now, it can be tough finding the right one. One of the ultimate accessories on the market is the Crimson Trace MVF-515 Modular Vertical Foregrip™ with a green laser and tactical flashlight holder. On the other hand, if you want to keep your toys separate, you can't go wrong with a Surefire flashlight, and I've always loved my X300U-A model. If you're more of a laser person, then I'd opt for the Crimson Trace Rail Master Universal Fit Laser Sight.
Nevertheless, even with all of these great options, I just love the Vector with a vertical grip and there are so many unreal options to choose from. Between a Daniel Defense, Bravo Company, and Magpul, you can give your weapon a huge control boost at an affordable price.     
Comparable Firearms
The KRISS Vector Series is practically impossible to compare to any other firearm on the market, especially considering that they have become the prototype for futuristic guns. In fact, I've seen several films and video games – like the remakes of Robocop and Total Recall – employ the Vector as the gun used in the future.
Nevertheless, the only guns which come to mind when thinking about the Vector are the Israeli Uzi and the revolutionary Kel-Tec PLR-16 and Sub 2000. I think of the Uzi because, like the Vector, the Uzi is a highly-concealable, ultra-reliable, and super-accurate submachine gun that is as unique as it is versatile. On the other hand, the Kel-Tecs, like the Vector, are revolutionary firearms that transformed the market due to their innovative designs and operation.  
Thanks for visiting Gunivore!