Table of Contents
At a glance, the words "budget rifle" may have some negative associations or connotations. A rifle like the Thompson .22 LR – which costs under $200 – is one which many would automatically dispel or balk at, simply based on the price. But it is comforting to know that you can get a good deal that is actually good, and buy a respectable rifle for that kind of money. Well, welcome to our Thompson Center review.
It seems to me that with Thompson Center, it's another case of a company getting a bad rap through no real fault of their own. Someone has a bad experience with handloading, and they're quick to blame the firearm's mechanism. Someone loses his grip on the stock and shoots wild, and they are also quick to blame the firearm. Someone buys a losing lottery ticket, and, well… those are just the odds, man, roll with it.
So, who are the Thompson Center Arms company, and what are they about? Sidebar – anyone remember that gag in The Simpsons where Homer was supposed to be Mr. Thompson? Good times…
Thompson Center
In the mid-1960s, the K.W. Thompson Tool Company of Rochester, NH, was looking for a product to manufacture year-round. About that time, Warren Center – a pistol designer – was looking for a manufacturer to build his own design: a break-action single-shot pistol, called the Contender, which boasts multi-caliber capabilities. Thompson and Center came to the conclusion that it would be in their best interests to team up, and in 1967 the Contender was introduced to the market.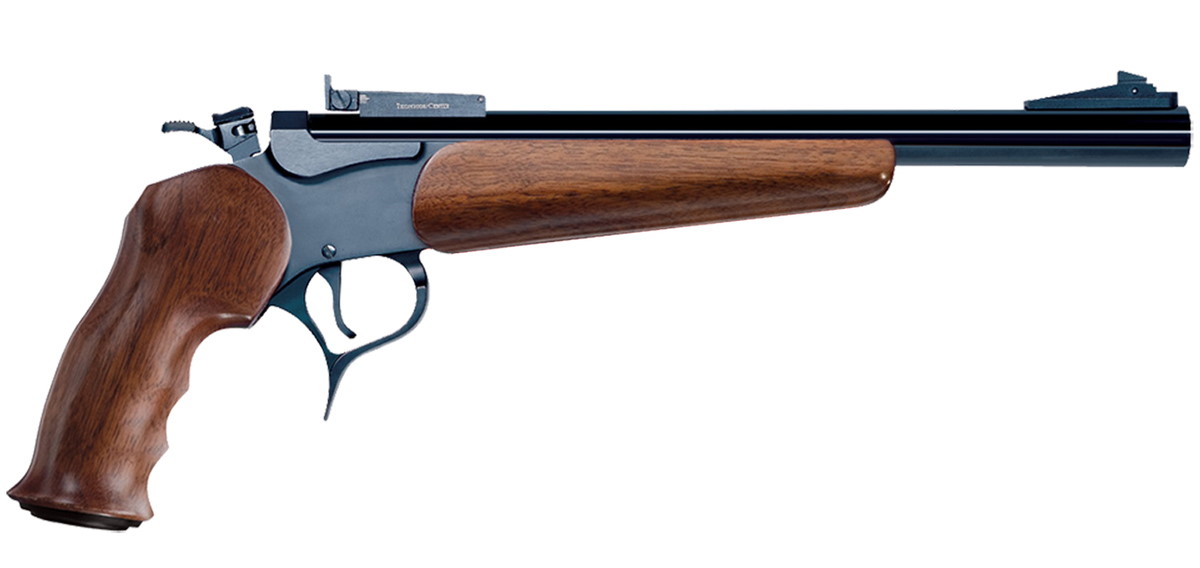 Soon after that, the K.W. Thompson Tool company changed its name to Thompson/Center Arms (often abbreviated as Thompson Center or T/C), and went about marketing the Contender in earnest. The partnership lasted a good while, and in 2007 Thompson Center was bought by Smith & Wesson. Several years after that purchase, S&W announced they were moving the original Thompson Center facilities from Rochester to Springfield, MA.
Quite coincidentally, right after that manufacturing plant was relocated to MA, Thompson Investment Casting opened up in Rochester, and it continues to manufacture and distribute metal products to different companies, including Smith & Wesson. That's the world of business for you. The hustle never ends. Am I right?
Many shooters and firearm aficionados give credit to Thompson Center for bringing back muzzleloading firearms in the 1970s (if in fact there was even a need for a comeback). Also, the Contender was quite unique, and the ability to change calibers in a matter of seconds appealed to a large number of shooters – hunters and outdoorsmen alike.
So here is a look at Thompson Center firearms, though I wouldn't presume to include every detail in this review. They've done a lot over the years and they still have a lot more to give to the shooting community. I think that is why S&W bought them out. From what it looks like, they certainly didn't buy them out to shut them down.
Thompson Center Rifles
Thompson Center's line of rifles break down into several main series:
Muzzleloaders

Strike
Impact
Pro Hunter
Triumph
Bolt action

Compass
Venture
Dimension
Performance Center
T/CR22
These are broken down further by barrel length, type of caliber, and accompanying furniture. Overall, Thompson's rifles are considered to be budget-quality, but not trash.
There will always be those pushing for better gear and more expensive weapons, and overall I agree that there is a "you get what you pay for" factor involved. But as I said earlier, I think there are those who are too quick to dismiss this company, and who seem to object to it on general principle, just for being a budget manufacturer or having a less-than-desirable component.
It is possible to acquire a budget rifle, replace a component or two, and still end up paying less than you would have otherwise.
Thompson Center Compass
The Compass is accurate and functional, not unlike an actual good compass!
With the price point at which it's being offered, you can't ask for much more from this rifle. If you decide to go for it, you may want to switch out a piece or two – or maybe not – but by and large, it is a solid rifle. Should you find yourself in the market for a budget hunting rifle, take a look at the Compass options available.

Here are the specs for the 308 Winchester model:
Model: Thompson Center Compass
Caliber: 308 Win
Barrel length: 22"
Overall length: 41"
Weight: 7.2 lbs
Capacity: 5+1 magazine
MSRP: $399
It's certainly giving Savage Axis and Ruger American a run for their money. The Compass comes drilled and tapped for mounting a scope or other visual aid. The bolt needs some getting used to, but it's designed to clear the scope and not get in the way of smooth handling, and that counts for a lot. Also, this weapon has a butt pad with an option for lengthening it.
Hunting is something else, man. I know it's not for everyone, but for better or worse I can say that I've had some real moments out in the field. It's this idea of the patient chase – that's what I've come to call it in recent years. At the risk of coming off snobby… I'll say that those who have experienced it will know what I am talking about.
I don't mean to romanticize hunting and being outdoors too much, but I stand firm in the belief that being outside can be an amazing experience. There are times when things don't go very well, like when you have to drag yourself back to the camp after a fruitless effort, cold and wet and hungry and tired.
But then there are times when things line up just right. The time, the weapon, the breath intake, the dynamic tension, the grip, the trigger – the shot. And what I feel at those moments is that the rifle really does act as an extension of myself. It's powerful, to say the least, and it has merit even if you don't manage to bag that trophy you were after.
Thompson Center Encore
The Encore Pro Hunter is one of the most versatile platforms around. It started off as a muzzleloading rifle, but it also comes in a break-action configuration. Whether as a shotgun, a complete handgun, or a complete rifle – you can find an Encore that fits your needs.
What makes it shine is the ease with which you can change calibers and mechanisms. Take your Encore Pro Hunter along with a few extra barrels and fore-ends, and within two or three minutes you can have a gun, or a shotgun, or a muzzleloader. The scope stays sighted in on the barrel, so you don't need to constantly re-zero.
As a complete centerfire rifle, it is available in .243, .30-06, or .308.
Chambered in .223 or .308 as a complete pistol
Comes with a 12 gauge or 20 gauge bore as a shotgun
There are different slug barrels, muzzleloader barrels, and centerfire barrels available. What basically stays the same is the frame and the stock. The frame is stainless, and the stock is composite.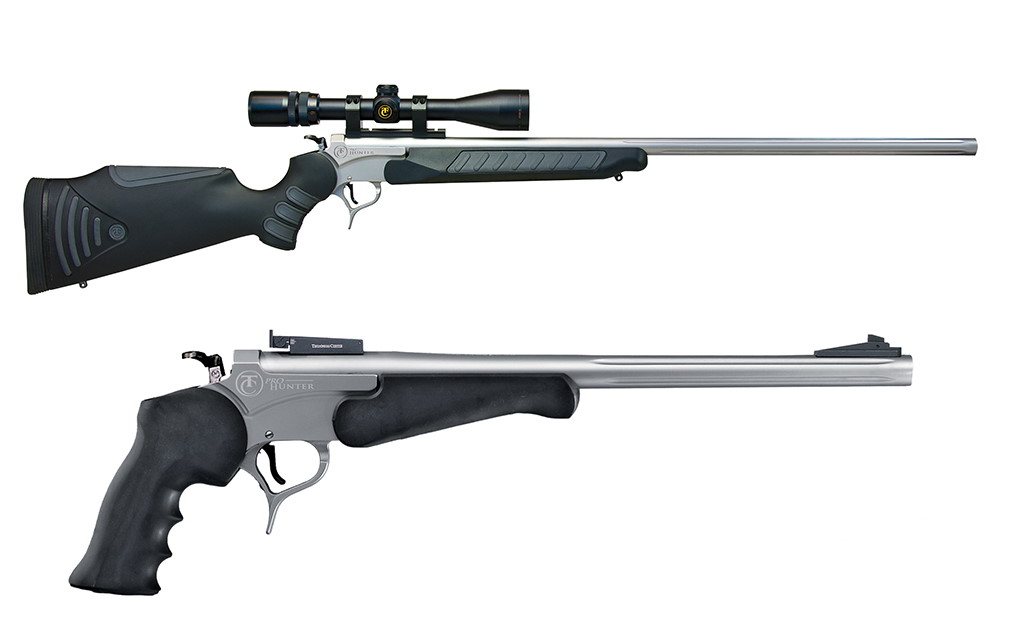 Here are the specs for the .30-06 rifle:
Model: Thompson Center Encore Pro Hunter Centerfire Rifle
Caliber: .30-06 Win
Barrel length: 28"
Overall length: 42.5"
Weight: 7.5 lbs
Capacity: single shot
MSRP: $839
The Encore Pro Hunter is worth a look, and it allows to play around with a multitude of calibers, stocks, frames, and finishes. It is customizable to fit your hunt to a T. Whether you are building a firearm or purchasing a complete firearm, Thompson Center Arms is a tried-and-true option, local, and within many people's budget.
It makes perfect sense to invest in a multi-caliber system, rather than purchase four different firearms. But you need to make sure that this is something you will make good use of. Even though the customizability and price point are both attractive, it comes down to whether or not you are able to have faith in the firearm. It is a hunting firearm, after all, and a single-shot one at that, so it is my opinion that you have to really want it, or else you may be sorely disappointed.
Thompson Center Muzzleloader
Earlier, I mentioned that feeling that some hunters know very well. You can be lying prone, or propped up against a tree, or sitting in a boat in the middle of a swamp – that feeling will still get at you.
And when all you have a single shot – and that is the case with muzzleloaders, pretty much across the board – it makes it all the more challenging and interesting. To each his own, of course, but there is something about hunting like an OG and loading your own powder ball and cap, which makes it vastly different from other hunting scenarios.

The following .50 caliber muzzleloaders are available from Thompson Center:
Strike
Impact
Bone Collector
Pro Hunter FX
Pro Hunter XT
The differences between these models are many: frames, barrel lengths, stocks, finishes, plus one model (the FX) which is not an interchangeable system.
Conclusion
I feel Thompson Center is somewhat overlooked, but I could be wrong. For a company that has been around since the 1960s, and who rose to fame in the 70s, I am surprised that their name doesn't come up more often in different reviews and forums. But maybe that is a good sign because that probably also means there are fewer complaints and grievances.
I don't want to make it seem as if T/C is all that. If you are only used to the best of the best, and look down at cheaper manufacturers, there is a chance you wouldn't touch a Thompson Center firearm with a 10-foot cleaning rod. But remember, cheaper is not always synonymous with godawful, and there are some really great deals out there which don't require you to refinance your house, car, or pet goldfish.