So 2017 is almost over and it's been one hell of a year for the firearms industry. We've already seen major news and improvements since the beginning when the U.S. Military announced the Sig P320 as the new standard service pistol. In addition to seeing record growth in the number of concealed-carry permits, 2017 also witnessed the longest confirmed kill shot in history with a whopping 2.2 mile snipe. Overall, this has been a great year for guns and that doesn't seem to be changing anytime soon. With all of these attention-grabbing stories, many folks have missed out on the releases of some of the best AR-15s the world has ever seen.
Besides for new products from perennial favorites like Bushmaster, Colt, and HK, the rifle community has welcomed rising stars like LWRC, Aero Precision, and Radical Firearms and their astounding new weapons. Novice shooters may be surprised find out how different these rifles can be, considering they all fall under the standard AR-15 platform. Nevertheless, the varying levels of durability, aesthetics, and overall quality of these guns provide a broad spectrum of rifles to choose from. With so many new and improved models, we here at Gunivore are here to help find the right one for you. In this week's edition of Fast Five, we're going to look at some of this year's most extraordinary AR-15s. As I mentioned earlier, 2017 was a great year for weapons of all kinds, so if you like this article, don't forget to check out my rundown of this year's Top New Revolvers.
Alexander Arms .50 Beowulf
While many of you may not have heard about Alexander Arms, let me just say that they are one of the most innovative companies in the industry. Founded not too long ago by Bill Alexander, the growing gun maker is best known for creating the insanely powerful .50 caliber Beowulf and 6.5 Grendel. While Alexander Arms' Tactical AR-15s are fantastic rifles in their own right, they really stand out for chambering one of the most hard-hitting cartridges available. In fact, these behemoth rounds, similar to the .50 S&W Magnum, provide so much stopping power that they are often used by militaries at vehicle checkpoints, considering that they can easily penetrate an engine block. That being said, Alexander had to modify the traditional AR-15 platform to handle their trademark ammunition, resulting in one of the most versatile rifles the market has to offer. The .50 Beowulf AR is also an amazing hunting rifle, capable of taking down just about everything from wild hog to water buffalo.
Model: Alexander Arms .50 Beowulf

Alexander Arms .50 Beowulf

Caliber: .50 Beowulf

Action: Direct Impingement Gas

Capacity: 7

Finish: FDE Cerakote

Barrel Length: 16"

Barrel Twist: 1:20

Overall Length: 31.5" to 35"

Weight: 9 lbs. (unloaded)

Stock: Bravo Company B5 SOPMOD Collapsible

MSRP: $1,750.00
BCM HSP Jack Carbine & Recce 16
I was first introduced to Bravo Company Manufacturing (BCM) when I took the Springfield Saint out for a test-drive, but more on that later. As one of the market's most impressive Mil-Spec contractors, BCM produces only the finest-quality components and firearms. Their 100% American-made products are incredibly sexy and intimidating, but more importantly, they offer world-class flawless performance. Nearly every component in BCM AR-15s are hand-crafted to ensure enhanced user-friendliness and unmatched accuracy. Although you may notice its superb BCMGUNFIGHTER pistol grip, ALG Defense ACT Trigger, and BCM Magazine with Magpul Follow, take a closer look and you'll notice its unbelievable Mod 4 charging handle and chrome lined bore and chamber. All in all, it doesn't get much better than the BCM/Haley Strategic Jack Carbine. While Bravo ARs may cost an arm and a leg, they are worth every penny.
Model: BCM Jack Carbine

BCM Jack Carbine

Caliber: 5.56 x 45mm NATO

Action: Direct Impingement Mid-Length Gas

Capacity: 30 Rounds

Finish: Disruptive Grey Cerakote

Barrel Length: 14.5"

Barrel Twist: 1:7

Overall Length: 32.5" to 35.5"

Weight: 7.1 lbs. (unloaded)

Stock: Bravo Company B5 SOPMOD Collapsible

MSRP: $2,263.00
If you were as impressed as I was with the BCM Jack Carbine but don't want to pay the exorbitant price, then check out their RECCE 16 AR-15s. While considered a step down from the Jack, the RECCE is still arguably one of the best in the industry. The lightweight and ergonomic rifle features many of the same remarkable components and technology found in the Jack, but for a more reasonable $1,500 price tag. Lastly, with the Geissele Super Modular Rail, users can completely accessorize their BCM to give it that customized-feel.
Model: BCM RECCE 16 KMR-A Carbine

BCM RECCE 16 KMR-A Carbine

Caliber: .300 BLK

Action: Direct Impingement Carbine-Length Gas

Capacity: 30 Rounds

Finish: Black Synthetic

Barrel Length: 16"

Barrel Twist: 1:7

Overall Length: 33" to 36"

Weight: 6.3 lbs. (unloaded)

Stock: BCMGUNFIGHTER Mod 0 Buttstock

MSRP: $1,500.00
Bushmaster Minimalist-SD AAC
Bushmaster has been manufacturing some of the world's best rifles since the 1970's and their Minimalist-SD is yet another masterpiece. The resilient and versatile AR-15s are not only one of the most user-friendly on this list, but also among the most affordable. The Minimalist is available in two legendary calibers, both variants featuring top-of-the-line components and features. One of the biggest upgrades Bushmaster gave their new modern sporting rifle has got to be the Advanced Armament Corp (AAC) Square-Drop Handguard with KeyMod attachment points at seven different angles. Additionally, they outfitted the long-range precision rifle with Mission First Tactical furniture and other AAC components, such as the 51T flash suppressor. Even more, the Minimalist-SD has also got a crisp and consistent ALG Defense Advanced Combat Trigger to match its already intuitive handling. With a great spec sheet and the reputation to back it, it's hard not to drool over these rifles.
Model: Bushmaster Minimalist-SD

Bushmaster Minimalist-SD

Caliber: 5.56x45mm NATO (.223REM) & .300 BLK

Action: Direct Impingement Gas

Capacity: 30 Rounds

Finish: Black Synthetic (Hardcoat Anodized Receiver)

Barrel Length: 16"

Barrel Twist: 1:8

Overall Length: 35"

Weight (Unloaded): 6.0 (5.56 NATO) & 6.3 lbs. (.300 BLK)

Stock: Mission First Tactical Minimalist Stock

MSRP: $1,169.00
Springfield Saint
When I first got my hands on the new Springfield Saint, it took me a few minutes to pick my jaw up from the floor. Just about everything on this award-winning AR-15 is remarkable, especially its appealing price tag. In fact, that's the most shocking thing – Springfield loaded the Saint with some of the highest-quality components, including several BCM products, and still somehow managed to keep it under $1000! As a recipient of the distinguished Golden Bullseye Award, Springfield Armory's trademark AR is the perfect balance between modern performance and traditional style. I gotta tip my hat to them for putting so much effort into their triggers; the two-stage GI-style triggers on the Saint are all that and a bag of chips. All things considered, I can see the Saint becoming one of the best-selling AR-15s in just a few months.   
Model: SA SAINT AR-15

SA SAINT AR-15

Caliber: 5.56x45mm NATO (.223REM)

Action: Direct Impingement Gas

Capacity: 30

Finish: Matte Black Hard Coat

Barrel Length: 16"

Barrel Twist: 1:8 RH Twist

Overall Length: 35.5" Fully extended / 32.25" Collapsed

Weight: 6.7 lbs. (unloaded)

Stock: Bravo Company 6-Position Adjustable

MSRP: $899.00
S&W M&P Sport II
If you're in the market for great, affordable starter AR-15s that are both budget-friendly and exceptionally versatile, then look no further. The Smith and Wesson M&P Sport II offers remarkable ergonomics, solid durability, and great user-friendliness, all for a reasonable price. The lightweight modular-designed rifle is perfect for just about everything including target practice, home protection, hunting, and law enforcement. For being a budget firearm, I was surprised to see S&W gave the new M&P15 a 6-position stock and adjustable folding MBUS rear & A2 post front sights, just do yourself a favor and get the M-LOK tactical handguard variant.
It should come to no surprise that the Smith & Wesson AR is one of the most popular on the market – pick one up today at your local firearms supplier!
Model: S&W M&P15T with M-LOK

S&W M&P15T with M-LOK

Caliber: 5.56x45mm NATO (.223REM)

Action: Direct Impingement Gas

Capacity: 30

Finish: Matte Black Hard Coat

Barrel Length: 16"

Barrel Twist: 1:9

Overall Length: 36.63

Weight: 6.5 lbs. (unloaded)

Stock: 6-Position CAR

MSRP: $1,189 (M-LOK) & $899.00 (Standard)
Gun of My Dreams: Daniel Defense DD5V2
So I've covered my top five favorite AR-15s of 2017 but I can't help but fall in love with Daniel Defense's new DD5V2. Considering it's a bit over-pricey, this serious upgrade of the DDM4V11 is the 2017 gun of my dreams. I remember walking past the new DD AR-15s at the 2017 SHOT Show and knowing instantly that it was in a league of its own. Featuring an 18" cold hammer forged barrel, low-profile gas block, rifle-length gas system, and chambering high-powered .308 Winchester rounds makes this one the most accurate tactical rifles money can buy. Plus, with the Gen 2 Muzzle Climb Mitigator, Geissele SSA two-stage trigger, and ambidextrous controls, the DD5V2 is not only fun to shoot, but also super easy to use.    
Model: Daniel Defense DD5V2

Daniel Defense DD5V2

Caliber: 7.62 x 51mm / .308 Win

Action: Direct Impingement Rifle-Length Gas

Capacity: 20

Finish: Black Cerakote

Barrel Length: 18"

Barrel Twist: 1:7

Overall Length: 35 3/8" – 39"

Weight: 8.6 lbs. (unloaded)

Stock: Adjustable 6-Position

MSRP: $3,044.00
Best Bang For Your Buck: Ruger MPR/AR-556
If the Daniel Defense AR-15 was my dream rifle, then the Ruger MPR (based on the AR-556) is my budget gun of choice. The iconic company's Multi-Purpose Rifle is not your standard 16" carbine, especially considering its tremendous bang for your buck value. In order to stay relevant in today's competitive market, Ruger had to make some crucial upgrades to their new AR. By first adopting an 18" barrel, instead of the standard 16", the MPR features a shot peened and proof tested barrel crafted from high-grade 9130 steel. This added durability plus its low-profile front gas block keep operation consistent and reliable. Additionally, Ruger caved into peer pressure by switching to the modern M-LOK design, ultimately adding some sweet aftermarket options. While staying within the company for some of its components, like the Elite 452 AR-Trigger, the MPR features several outsourced parts including numerous Magpul products (buttstock, pistol grip). Overall, I gotta say that I'm impressed with Ruger's attempt at the AR-platform – well done guys!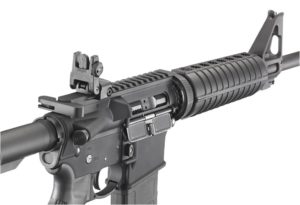 Model: Ruger Multi-Purpose Rifle

Caliber: 5.56 NATO (.223 Rem)

Action: Direct Impingement Rifle-Length Gas

Capacity: 30

Finish: Black Oxide

Barrel Length: 18"

Barrel Twist: 1:8

Overall Length: 35" – 38.25"

Weight: 6.8 lbs. (unloaded)

Stock: Collapsible Black Synthetic

MSRP: $899