Ever since their debut in the late 1800's, the Browning Arms Company has been at the forefront of weapons engineering. This expertise and dedication to firearm excellence has culminated in some pretty remarkable guns. Over the past month I have been reviewing some of Browning's top products, and focusing specifically on their hunting and sporting rifles. I recently got my hands on their brilliant X-Bolt rifle, and this week I got to try out the similar A-Bolt. To read about the X-Bolt and to see how it compares to this rifle, take a look at our Browning X-Bolt Review. In any case, the A-bolt has been a popular hunting companion since the mid-1980's – and rightfully so.

For starters, the A-Bolt's accuracy and versatility is nearly unmatched in its class. For one reason or another, the A-bolts have turned into semi-collector's items since their availability has gone down. Their limited distribution and special models shouldn't deter you; the famous features which made the A-bolt a classic are still in place. If you can get your hands on an A-Bolt, I highly recommend that you do. No matter what type of hunter you are, there is an A-Bolt for you. Get ready, because our breakdown of the Browning A-Bolt starts now!
Model: A-Bolt Medallion
Action Length: Long
Caliber: 300 Win
Overall Length: 46 ¾"
Barrel Length: 26"
Weight: 7 lbs. 1 oz.
Capacity: 3 +1
Twist Rate: 10"
MSRP: $699.99
Browning A-Bolt Rifle Build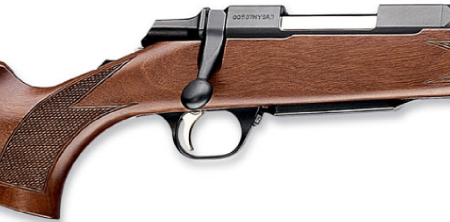 When I think of the A-Bolt's design, I think efficiency. Browning's engineering team crafted this gun as hunter-friendly as possible with tons of great features. One of the first things I noticed was the short and quick bolt throw; this underrated aspect provides plenty of clearance between the scope and bolt knob, ultimately allowing for faster and more comfortable cycling. After further inspection I noticed the well-designed barrel. Browning hooked it up with a free-floating and glass bedded barrel with a recessed muzzle crown to increase its already incredible accuracy.
However, not everything about this long gun is just about practicality –Browning also built this gun with a sexy, distinguished design. The gloss-finish walnut stock with a rosewood forend cap gives the A-Bolt a much appreciated touch of class and elegance. Another great addition is the signature Browning BOSS System. The Ballistic Optimizing Shooting System is just another great feature which contributes to this hunting rifle's reliability and accuracy. Browning clearly understands that not all hunters are the same, so to compensate, they manufactured it to be able to chamber nearly two dozen different calibers. Whether you go for the classic .30-06 or the 7mm Rem, the A-Bolts' weights range from 6 lbs. 4 oz. to 7 lbs. 1 oz.
Browning A-Bolt Rifle Shooting & Performance Review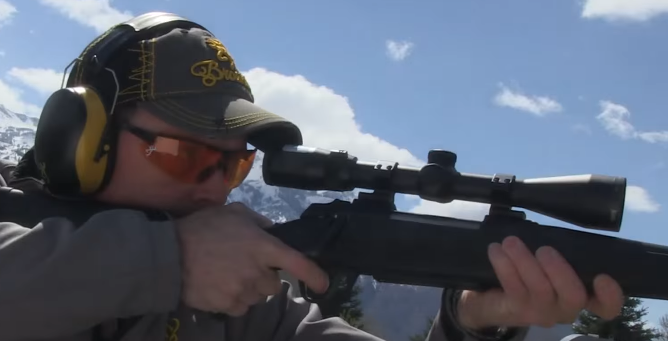 When shooting the A-Bolt, you'll note how quickly it shoulders and how light it feels. Since these Browning's handle so well and shoot impeccably, they are the perfect hunting rifle for nearly all types of American game. In fact, with an effective firing range of nearly 1000 meters, you'd be hard bent to find a better hunting rifle for this price. Nearly every component in this gun was hand-crafted for accuracy. The BOSS System, precision barrel, and smooth trigger all provide the shooter with a clean shot every time.
The chrome-plated, screw-adjustable trigger sear provides a crisper trigger pull and a cocking indicator located at the back end of the bolt offers visual firing pin status. All in all, the A-Bolts are truly remarkable hunting rifles with unmatched accuracy, great ergonomics, and quality components.
Browning A-Bolt Rifle Magazines & Accessories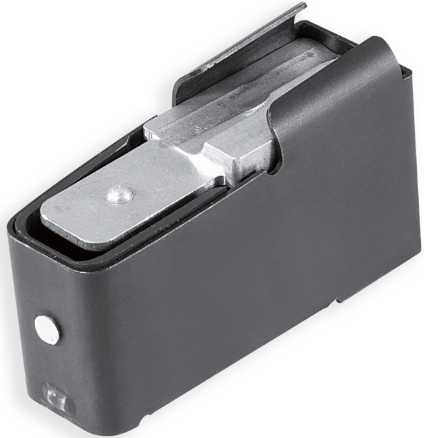 I've said it before and I'll say it again –one of the most underrated factors in a gun's performance is its magazine/feeding system. I've been a huge fan of the Browning mags ever since I was a kid when I would shoot tin cans with my SA-22 (read our Browning SA-22 review). The A-Bolt feeds effortlessly due to its unique cartridge depressor that remains in position (independent of the bolt rotation) as the bolt slides over the cartridges in the magazine. Browning provided the A-Bolts with a detachable box mag with a hinged floor plate which won't disappoint. I've always recommended buying an extra mag or two to keep on you while in the field, and these mags can be found easily online.
Besides for extra mags, you're gonna want a good scope. With the money you'll save from buying this Browning, it's worth investing in a high quality optic. I like the Nikon 4-12×40 or the Bushnell elite 4200 3-9×40. I've always loved Bushnells, but scopes can be expensive. It's important to find the right one for the right price.
Browning A-Bolt Rifle vs. Remington 700 Rifle

As I compared the Browning A-Bolt to the Remington 700, I noted that the Browning was better right out of the box, but the Rem 700 had way better aftermarket options. The Remington may have a slight edge in terms of durability, but the Browning's accuracy is easily better. After shooting each of these rifles, I felt that the Browning handled better, but I can see why people might prefer the Remmy. The 700's trigger is excellent, but to shoot as well as the Browning, it requires several accessories and upgrades. To judge for yourself, check out our Remington 700 review.
Browning bolt chambered in 22-250, Sony camera, Fox Pro Firestorm caller.. Tools for a day of predator hunting… pic.twitter.com/GhepJziWpp

— Team Adirondack (@TeamAdirondack) March 14, 2015
Conclusion
At the end of the day, this Browning is one of the most impressive hunting rifles I've ever shot. From the minute I picked it up I knew that it was something special. It cycles flawlessly, shoots accurately, and handles incredibly easily. As I've said before, I'm ecstatic that Browning offers this rifle in a plethora of calibers. When it comes to hunting, options are important, and there is no shortage with Brownings. The fact that it can compete with most other hunting rifles on the market, plus its affordable price, makes the A-Bolt hard to pass up.