Table of Contents
When John Browning introduced his firearms company, he was looking for a medium to unleash his genius sporting designs. He was already an accomplished inventor, but after dozens of patents and military contracts, Browning wanted to focus more on his sporting weapons. Before his death, John began working on a revolutionary firearm which would see tremendous success for over 100 years. The Browning 22 Semi-Automatic Rifle (or SA-22 for short) was the first semi-auto rifle to chamber .22 long rifle ammunition. Since its debut, over 500,000 units have been sold. These rifles are incredibly easy to handle, making them the ideal starter gun for younger shooters. I've always had an affinity for Rimfire guns, so I naturally fell in love with SA22.

Browning's other Rimfires are also noteworthy – check out our Browning Buck Mark 22 handgun review and Browning X-Bolt rifle review. The SA-22's have become popular not only in use, but as collector's items, especially in Belgium. One of the major reasons for this increased popularity is due to Browning's several grade options which we'll discuss more in depth below.
I remember when my dad first brought home an SA22; it was the first rifle I ever shot, and I've held onto it after all these years. That's the kind of rifle these are –they are rich in history, crafted artfully and are more than just a machine. Let's get down to business and review yet another Browning masterpiece here at Gunivore.
Browning SA-22 Rifle Specs
• Model: Semi-Auto 22 Grade I.
• Caliber: .22 LR.
• Overall length: 37″.
• Barrel length: 19 3/8".
• Weight: 5 lbs. 3 oz.
• Capacity: 10.
• Twist Rate: 16".
• Sights: Blade front/Folding leaf rear.
• Barrel/Steel material: Steel.
• Safety: Cross-Bolt.
• MSRP: $699.99.
Browning SA-22 Rifle Build

The Browning Semi-Auto 22 rifles may not look like your run of the mill rifle, but that's because they aren't. In fact, I can't think of a single weakness or flaw in the build of these rifles. These guns changed the industry when they were released and have managed to stay relevant even after all of these years. Their durability can be seen in their forged-steel receivers – their style in the gloss finish American Walnut checkered stock – their accuracy in their adjustable sights with a gold bead front – and their practicality in their auto-loading action and takedown design. All-around, it's hard to find a more well-rounded rifle at this price level.
Yes, there are plenty of nicer firearms out there, but for the specific intended uses of the SA-22, I don't think there are many better options. With this Browning, I know I have a weapon I can trust. With over a hundred years of engineering put into them, their functionality comes as no surprise. In all my years, I've never experienced any jamming or misfiring. Nevertheless, you must keep your gun clean – check out our overview of firearm maintenance.
Browning Takedown Rifle Explained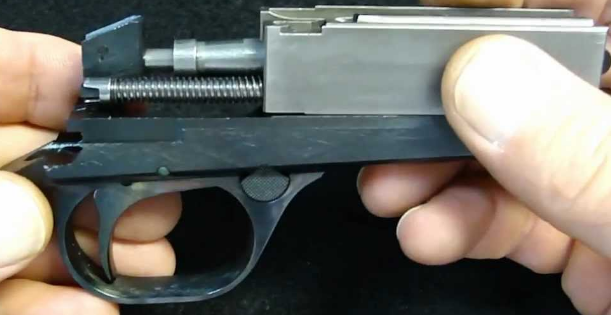 One of my favorite features of the SA-22 is that it's a takedown gun. This means that it was designed to be taken apart, significantly reducing its size and making it easier to transport. I love this because I've used my SA-22 for varmint hunting for years, and it packs up so easily. In short, you get the advantages of having a longer rifle without any of the burdens of carrying it. Additionally, the sleek and stylish forged-steel receiver and barrel break down into two compact units without any tools. If you weren't convinced at this gun's aptitude as a hunting companion, you certainly shouldn't have any doubts now.
Browning SA-22 Rifle Shooting & Performance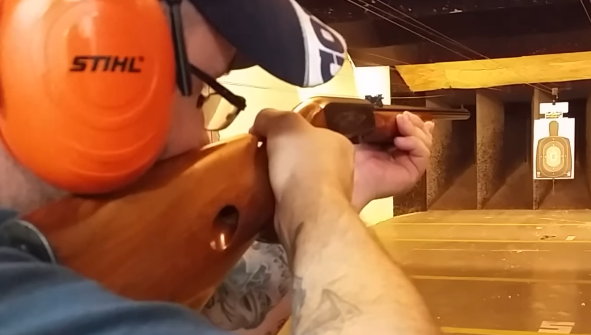 I've already discussed how well these rifles were built, but does that translate into an impeccable shooting experience? In short, I think the SA-22 is the easiest .22 rifle to shoot and definitely the easiest to carry. With one of the smoothest actions I've ever encountered, these rifles are as simple as point and shoot. Right out of the box, this is one of the lightest and easiest varmint hunters on the market.
I've grown to love the bottom eject that Browning incorporated in these too; the SA22 ejects spent cases downwards to keep gasses and projectiles from hitting the shooter's face while firing. By the way, this feature makes it a great option for lefties and righties alike. Last but not least is the trigger; the Grade I's blued trigger is crisp and clean even after firing thousands of rounds. It's hard to beat the Browning Semi-Auto .22.
Browning SA-22 Rifle Accessories
It's worth it to pick up a good scope for your SA-22. I recommend checking out the Nikon Prostaff 3-9X50 scope or EOTECH Vudu scope; check out our review of EOTech's line of optics. Interestingly, I've seen a few guys throw on a red dot sight on their SA-22's –if that's your cup of tea, then check out the Burris Fastfire III.
If you look at the Browning Catalog, you'll note that there are several different grades of the classic Semi-auto 22 rifle. First and foremost is the difference in price! For example, the Grade I goes for a modest $700 and the Grade VI can go for an average of $1600! Besides for their price tags, the real differences between the grades are the types of engraving on the receiver and types of wood used in the stock/forearm. The higher the grade is, the higher the quality the engraving and wood will be. The Grade VI has a beautifully designed game scene engraved with 24 karat gold accents. For the most part, the Grade I is the weapon of choice and the higher grades are more like collector's items.
Browning SA-22 Rifle vs. Ruger American Rifle

I've seen experts compare the Browning SA-22 to the likes of the Ruger American Rifle, but I'm not sure if it's a fair comparison. For starters, they appeal to very different types of shooters. Namely, the Ruger is a bolt-action and is much less expensive compared to the Browning. Also, the Ruger is a relatively new weapon; part of what makes the SA22 so great is the history that comes with it. Furthermore, the Browning has a much larger capacity. Nevertheless, the Ruger is capable of chambering nearly a dozen different cartridges (some of which have higher capacities) which is a huge plus. Both of these guns are incredibly lightweight and accurate, but besides for that, I don't think it's a fair comparison.
Conclusion
It's hard for me not to love these rifles. I grew up shooting the Browning SA-22 and I plan to carry on that tradition with my children. They are the perfect gun to introduce to new shooters, especially younger children. Besides for the great history, the 100 years of SA-22 production has culminated in a weapon that is the perfect balance of sturdy and elegant. It shoots accurately and even looks good while doing it. If you can afford the Browning SA-22, I don't see any reason not to add it to your collection.
Check out our SIG P220, SIG M400 and SIG P239 features here at Gunivore!