Table of Contents
When it comes to AR-15 variants, Bushmaster is the supplier of choice in the United States, and their XM-15 line is full of excellent firearms. It might be hard to imagine how diverse a line of gas operated AR-15 semi-autos can be, but I was astonished at Bushmaster's available options after just a few flips through their catalog. If you're looking to buy a new AR, it would be nonsensical to not at least consider what Bushmaster has to offer (or to consider what we have to offer here in our Bushmaster XM-15 Rifle Series Review).
Since the early 1970's, Bushmaster has been committed to manufacturing accurate, durable, and dependable weaponry. These carbines and rifles were engineered with top of the line products and designed with all types of shooters in mind. They are a pleasure to own and shoot; just take a look and find the one right for you. It's important to note that although there have been many critics of Bushmaster, over the last several years; their products have skyrocketed in quality (as evidenced in their Minimalist-SD Rifle, among other offerings).


Bushmaster XM-15 Rifle Specs
QRC (Quick Response Carbine)
Caliber: 5.56 NATO/223 Rem
Capacity: 30+1
Weight: <6 lbs.
Overall Length: 32.5″
Barrel Length: 16″
Barrel: 4150 chrome-moly steel w/chrome-lined bore/chamber
Handguard: Oval M4-type hand guards
Stock: Six-position "Telestock", pistol grip
Mounts: Receiver-length Picatinny "optics rail"
Muzzle Device: A2 birdcage-type flash hider
Twist: 1:8"
Sight: RT5 Mini Red Dot 3.5 MOA
Safety: Reversible rotating selector
Price: $769
Heavy BBL A2 Carbine (Available in A3)
Caliber : 223 Remington/5.56 NATO
Weight: 7.28 lbs.
Barrel Length : 16.0″
Barrel: Heavy profile chrome lined barrel
Capacity : 30+1
Trigger : Single Stage
Safety : Lever
OAL : 32.5″
Stock Description : Adjustable synthetic Black
Metal Finish : Black
Sights: A2 Front, Battle Rear
Muzzle: A2 flash hider
Twist: 1:9"
Price: Approx. $800.00
M4-A3 Patrolman Carbine Quad Rail Centerfire Rifle (Available in A2)
Caliber : 223 Remington/5.56 NATO
Weight: 6.7 lbs.
Barrel Length : 16.0″
Barrel: M4 profile chrome lined barrel
Capacity : 30+1
Safety : Lever
Sights: Post Front/Adjustable Rear
OAL : 32.5"-34.75"
Stock Description : 6-position black
Twist: 1:9"
Price: Approx. $800.00
20" A2 Classic
Caliber : 223 Remington/5.56 NATO
Barrel Length : 20.0″
Capacity : 30+1
Trigger : Single Stage
Safety : Lever
Sights: Peep sight
OAL : 39.5″
Weight: 8.43 lbs.
Stock Description : A2 Black
Metal Finish : Black
Price: Between $800-$1,000
Bushmaster XM-15 Rifle Build
One of Bushmaster's best qualities is the durability of their firearms. The components of their weapons, especially within the XM-15 line, were engineered to be strong and reliable. Although there are slight variations within this line, most XM-15 models follow a standard AR-15 build. Generally, the XM's are gas operated semi-automatic rifle/carbine with high-grade aluminum upper and lower receivers. The chrome-lined 4150 steel barrel length for the XM rifles is 20" and 16" for their carbines. One of the newer impressive features is their manganese phosphate finish, aimed at protecting their firearms against rust and corrosion. This is especially important for gas-operated weapons which tend to produce a lot of heat. Many of the XM-15 guns are also FNC treated to ensure their longevity.
The M4's in this line are built to meet Mil Spec which is great news for those who want to accessorize. I may be old-fashioned, but I have a real affinity for Bushmaster for designing and manufacturing their weapons in the U.S. More than that, these guns are built extremely well, both in terms of their toughness and their ergonomics. I recommend taking a look at the entire XM-15 series lineup in their online catalog to find one that suits your exact preferences.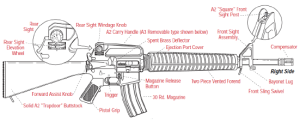 Bushmaster XM-15 Rifle Shooting & Performance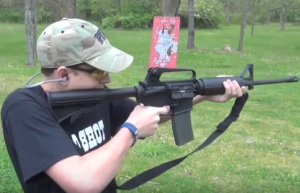 Right out of the box, the XM-15 rifles and carbines are ready to shoot. With their Mil Spec flash suppressors and Bushmaster engineering, these AR-15 variants are extremely user-friendly and accurate. As with most standard semi-automatic rifles, their average rate of fire is 45 rounds per minute. The XM series' practical designs allow for minimal recoil, simplistic handling, and precision shooting at far distances. In fact, their average effective firing range is around 600 yards and a maximum firing range of approximately 3,800 yard. As previously mentioned, the advanced engineering of these weapons have boosted their durability and reliability immensely, assuring peak-performance shooting for years (if kept clean!). For these reasons and more, shooters of all purposes have trusted Bushmaster's firearms for decades.
Bushmaster XM-15 Rifle Magazines & Sights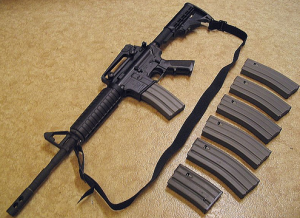 The XM-15 line packs an impressive magazine system. Their feeding system works with the various universal STANAG magazines which mean several configurations and capacities are available. The STANAG's have been adapted over the years and are now made with high-grade steel bodies, rust-resistant chrome-silicon springs, and anti-tilt followers, to be highly resilient and reliable. The XM-15 standard weapons feature magazine release buttons, raised ribs for protection against accidental magazine release, and are shipped with a 30 round mag – meaning less reloading!
Although highly accurate from the start, there are a number of sight options for each of Bushmaster's XM line. It's hard not to favor the QRC when it comes to sights. The quick-detach red dot optic that comes with it is a marvel. Check out the specs for yourself:
Power/Objective Lens: 1×20
Length: 2.65"
Center Height: 40.5mm
Weight: 6.6 oz.
Dot Size: 3.5 MOA
Adjustment Range (in@100yds/MOA): 36/35
Click Value: 1 MOA
Parallex Setting: 50 yards
Battery: CR2032
Brightness Levels: 11
The Heavy BBL A2 Carbine sights are standard, but that is not a bad thing. Depending on which model (A2/A3) the sights vary. The A2 upper receiver features a fixed carry handle and has a 300-800 meter rear sight system with 1 MOA elevation and ½ MOA wind adjustments. The A3 includes a Picatinny rail and a 300-600 meter rear sight system with ½ MOA elevation and wind adjustments.
The M4 Patrolman Carbine also comes in A2 and A3 versions. The dual aperture rear sight system on the A2 carbines affords wind and elevation adjustment. As with all other A3s, the carry handle can be removed and a massive array of sights (red dot, scopes, holo, etc.) can be mounted on the Picatinny rail. Once the handle is reattached, reconfiguring iron sight zero is nearly effortless.
The 20" A2 Classic's sight system is also relatively generic but highly reliable. The A2 upper receiver features a 300-800 meter rear peep sight system which offers a dual flip-up aperture. The short range aperture has a larger opening for better lighting and visibility, while the smaller one is intended for maximum accuracy at longer distances.
Bushmaster XM15 chambered in .223. pic.twitter.com/flhHWj8uOD

— Guns And Range (@GunsAndRange) June 22, 2015
Bushmaster XM-15 Rifle Safety & Assembly
Bushmaster has been dedicated to making their guns user-friendly for nearly 50 years and their safety features and simplistic assembly attest to that fact. Most of the XM-15's have straightforward lever safeties. Not only are their guns engineered to rarely malfunction, they are also designed to thoroughly dissipate heat well. Furthermore, their flash suppressors successfully keep the shooter's vision unadulterated, another underrated safety feature. Even the magazines used in their products are designed to be safer. Bushmaster has taken a lot of heat for their weapons being used in crimes, but credit is not given to them for the safety measures they've taken in the development of their products.
Assembling an XM-15 is relatively simple. Because these guns are designed to be heavily customized, taking them apart and reassembling them should be a breeze for the average gun owner. Their make-up follows the standard AR-15 build, and should be cleaned regularly. For basic manipulation, very few tools (if any) are needed for the process; but for those looking to do a more comprehensive tinkering, Bushmaster sells their own tool kits (available from their catalog).
Bushmaster XM-15 Rifle Prices
Because the XM line offers such diversity, the price range for the different models can vary between $600 and $1,000. I have rarely seen any of these AR-15 variants go for more than that. If price is a concern, buying one used is a very feasible option- but be sure it is from a reputable source! These guns were manufactured to last for a long time (if managed properly) so buying a used rifle/carbine is not inherently risky. Nonetheless, because of this fact, the average resale value is generally pretty high.
Bushmaster XM-15 Rifle Accessories

Bushmaster does not disappoint with their accessory options; there is seemingly no limit to how much anyone can customize their weapons. They offer numerous options for upper and lower receivers, special grips and stocks, variant triggers, tons of barrels, mounts, and sights, flash suppressors, and specialty magazines. Besides for just parts, Bushmaster makes all kinds of kits and tools to aid you in all types of situations.
For the XM-series specifically, the only major accessory that you might want to research is the sight. Sight preferences vary depending on the shooter and purpose, and these guns can mount just about any sight you like. I happen to be a big fan of the QRC's red dot optic (see above: magazines & sights). It functions like a high-tech piece of equipment but handles with ease. Overall, Bushmaster's catalog is full of great accessories – I highly recommend taking a look for yourself.
Conclusion
When you take a look at Bushmaster's weapons and specs, it begins to make sense why they are the favorite AR-15 variants in the country. Since the early 1970's, along with tremendous adversity, Bushmaster has emerged as a leading manufacturer of high-end rifles/carbines that are both extremely accurate and affordable. The diversity within the XM line can easily make any potential buyer feel like a kid in a candy store. Whether you prefer a heavy or light weapon or a carbine or rifle, Bushmaster has you covered. All types of shooters and law enforcement/military men and women depend on these firearms daily. They are coveted all around the world by gun enthusiasts and those who want to keep their family and property safe.
I would happily own any of Bushmaster's XM-15's, but I happen to feel most confident with the QRC. At the end of the day, they are all made by a reliable company known for making durable, accurate, and dependable weapons. However, the XM-15's aren't only practical, they are also incredibly fun to shoot and easy to manage; and if taken care of properly, you'll be shooting yours for years.
Thanks for reading our XM-15 feature here at Gunivore. More of a Glock guy? Check out our the New Glock 17 & 19 Gen 5, 26, 30, and 36 reviews!