The Kel-Tec KS7 is an award-winning Frankenstein bullpup shotgun that shook the firearm industry when it was released. Now, Kel-Tec has a varying reputation and many people won't touch these guns. On the other hand, many people look to Kel-Tec to provide budget-friendly firearms in a variety of platforms that are often unique and exciting. In fact, many would argue that many Kel-Tec guns are more like dangerous toys often placed in the hands of young, inexperienced shooters. However, the debate still goes on and there are plenty of experienced firearm enthusiasts who enjoy these guns for a variety of purposes. I don't think many people think of Kel-Tec as a manufacturer for competitive or carry firearms, but that doesn't mean they don't have a place in your arsenal. In some instances, Kel-Tec created certain firearms with home defense in mind, such is the case with the KS7. 
Kel Tec KSG
Before we dive into the KS7 it's prudent that we review the pump-action KSG, the Kel-Tec platform the KS7 is based on. The KSG is a bullpup 12 gauge shotgun that's budget-friendly with a mixed reputation. The special quality of the KSG, besides for being a bullpup shotgun, is that it holds two magazine tubes each with a 7-shell capacity. As a result, the KSG quickly became the coolest tactical shotgun on the market and sales skyrocketed. The KSG came out in 2011 and is still in a league of its own with almost no competition. Nevertheless, many shooters simply won't touch them. I happen to think the KSG is a cool gun to own but I wouldn't say that it's necessarily practical. I keep one in the safe but it's definitely not my go-to for home defense. Now that we have a little bit of background, let's take a look at Kel-Tec's newest tactical shotgun, the KS7.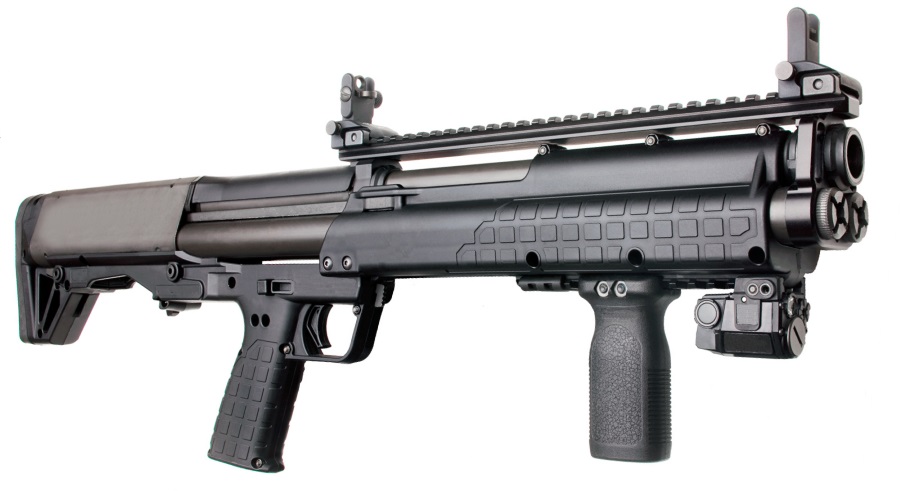 Kel-Tec KS7
The KelTec KS7 looks like it was designed for a cheesy Netflix Original science-fiction movie remake with at least two washed-out actors. Others might say it looks like it was made by Dr. Frankenstein himself for home defense. Besides for all of the debate surrounding Kel-Tec as a company, bullpups themselves are a hot topic of conversation within the gun community. For instance, some folks can't get enough of guns like the Steyr AUG, Tavor X95, and the FN F2000 to name a few of the best bullpups. On the other hand, some people prefer traditional builds and nothing else.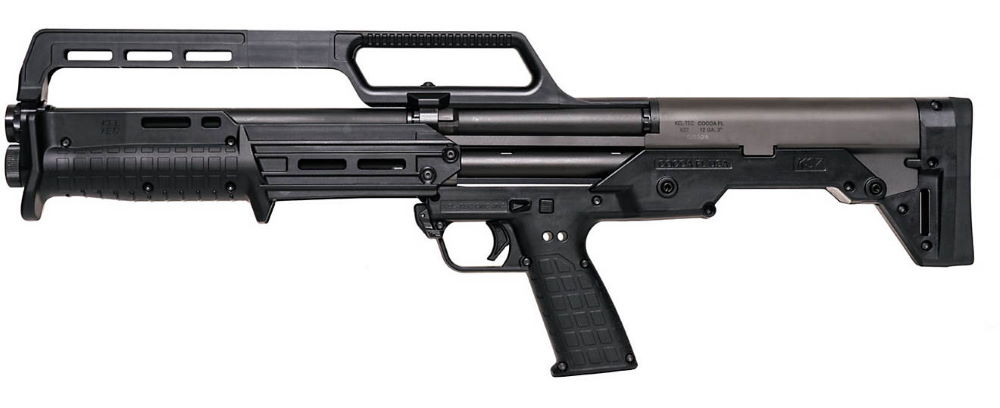 Regardless of any bias, I want to take a closer look at this marvelous gun because it's really something else and did win some pretty prestigious awards from the NRA. The first thing that you have to notice is the versatility built-into this firearm. First of all, a bullpup shotgun can be used for home defense, hiking in the backwoods, or for a great day at the range. Next, you'll notice that Kel-Tec offers optional Picatinny and M-LOK accessory mounting systems for adding even more features. The KS7 also has a nice large barrel considering its small size which leads to better accuracy. Similarly, shotguns can be great for close quarters and the bullpup design maximizes that effect.  
Now you can't miss the carry handle on this shotgun and that's a weird sentence to write, but many owners like this feature. I don't like the idea of a carry handle when a sling can easily replace it and offer a superior sight system. Nevertheless, they did a decent job of incorporating the fiber optic bead sight into the carry handle. I don't love it but it's not bad for a carry handle.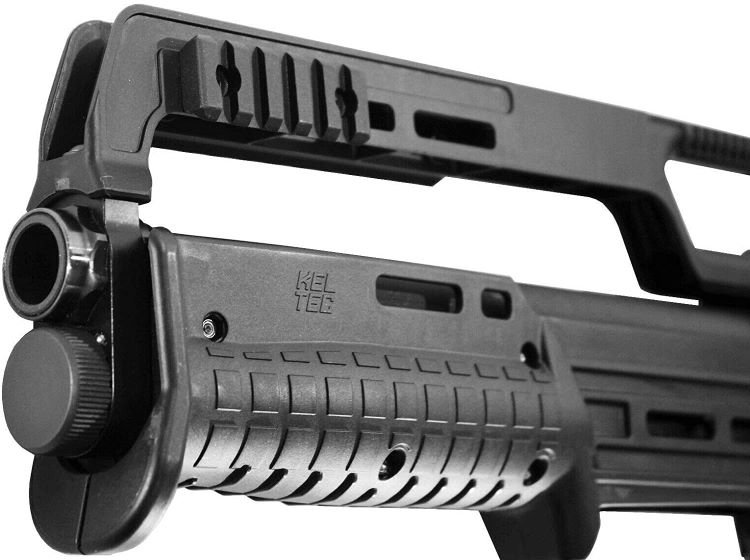 In terms of its tactical abilities, the rear loading and downward ejection make it a solid choice for defense and tactical situations. This also makes it an ambidextrous gun which is a nice bonus. Likewise, the bullpup design does add control to the power of the 12 gauge so shooting on the move, for instance, is way more manageable than a standard shotgun. 
In practice, the KS7 is more dependable than the KSG thanks to its more simple internal design. However, unlike the KSG, the KS7 only boasts a 7-round capacity but that's plenty for a shotgun all things considered. I did some plinking downrange and really got the hang of using the fiber optic sight within the carry handle and I was pleasantly surprised. It was pretty seamless to shift between targets and keep a solid sight picture. 

I've been enjoying my Mossberg Shockwave for home defense but I can see why others might opt for the KS7. Even with all of the unusual elements to this shotgun, it often comes down to the price. Many Kel-Tec owners choose their respective weapons because of their price tag and believe they're getting the most bang for their buck. 
In terms of ergonomics, it's surprisingly ergonomic for a 12 gauge bullpup shotgun. The control was pretty good and the forward handguard was alright. I like the pistol grip texture and control system, though the trigger was subpar and loading the shotgun was not simple. The KS7 has a thin loading port which made it hard for me to load with my fat thumbs but I managed. Just don't expect to win any competitions for speed loading.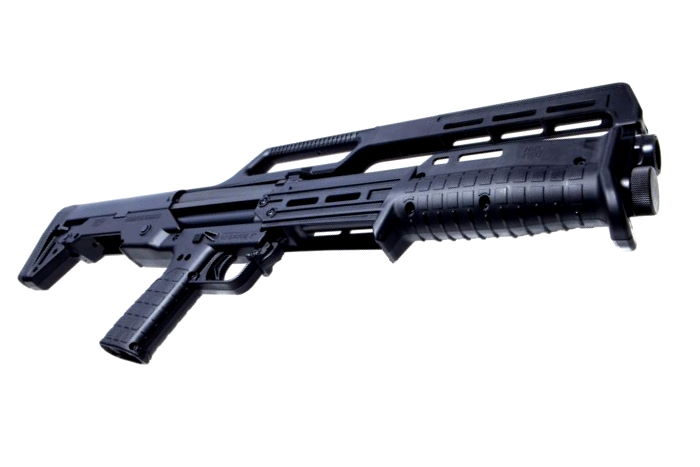 Out in the woods, I had nothing but positive experiences getting on target and transitioning well. I switched between birdshot, double-aught buckshot, and slugs and was able to confidently get on target fast and get my loads downrange without any difficulty. Additionally, my follow-up shots were fast and on-target which was a nice thing to see with this gun. The recoil was definitely felt, most folks with tactical shotgun shooting experience shouldn't have any troubles.
KS7 Specs
Model: KS7
Caliber: 12 Gauge
Capacity: 6+1 (3″ Shells)
Barrel Length: 18.5″
Overall Length: 26.1″
Weight: 5.9 lbs. (Unloaded)
Sights: Fiber Optic Bead
MSRP: $539
Kel Tec KS7 for Sale
The Kel-Tec is readily available in most gun shops and dealers without requiring any tax stamps. While Kel-Tec guns can be problematic in some fascist states like California, the KS7 shouldn't be problematic. For instance, it meets the California 26" minimum length mandate and a less than 10-round capacity.   
Kel Tec KS7 Accessories
While I don't love the carry handle, attaching lights or lasers on the carry handle was pretty seamless and effective for simulated tactical exercises. Anyone using this gun for home defense or tactical uses can benefit from attaching an accessory. I definitely recommend checking out my favorite shotgun accessories but you can't go wrong with the Streamlight TLR-3 flashlight or the TLR-2 combo flashlight and laser sight.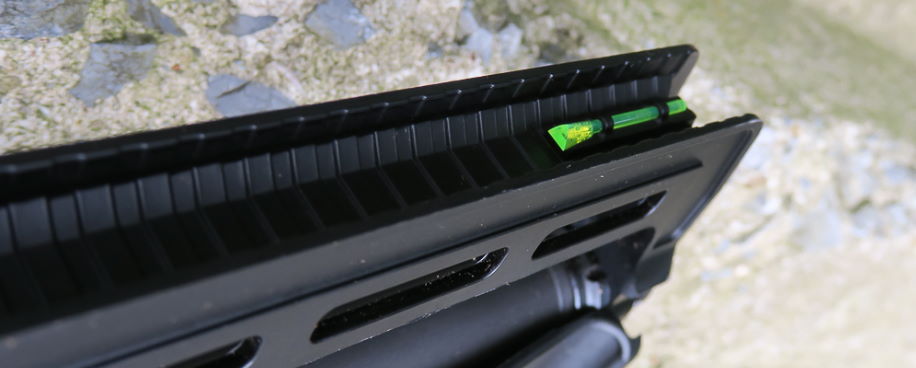 Kel Tec KS7 Problems
So I only had limited time with Kel-Tec KS7 and experienced no issues with it but there are many shooters who experienced serious problems. I spoke with many shooters and heard stories of failures to feed, cycling issues, ejection problems, and jams. That being said, there are ways to help this, such as breaking-in the gun, cleaning and lubing it properly, and making sure your operation is smooth and deliberate. Otherwise, you just have to know it's not the gun you want to put your life on until you've solved all of the issues. When it's working, this is a cool and useful gun, otherwise, it's a liability. 
Conclusion
I like the Kel-Tec KS7 but it's hard to recommend a firearm that has a history of failure. I think this gun has its place but I wouldn't feel comfortable putting my life on it. On the other hand, I think it would be a blast to use at the range to blow up bottles and watermelons. I certainly wouldn't buy this gun without the ability to return it within 90 days. I hope one day these guns will be dependable because I think there is a huge market for them. Even if they were to increase the price to increase the quality, they would be much better off.